We use affiliate links. If you buy something through the links on this page, we may earn a commission at no cost to you. Learn more.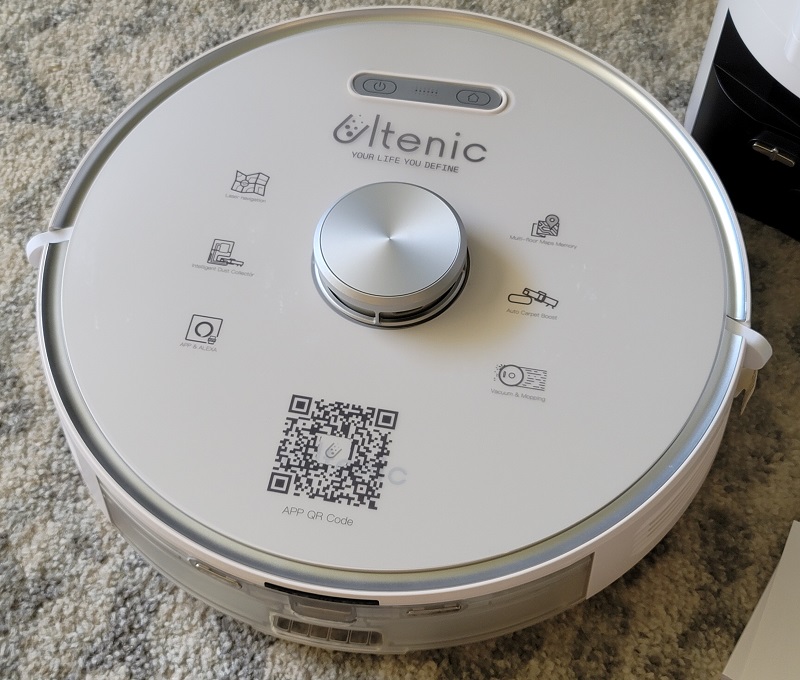 REVIEW – The Ultenic T10 Robot Vacuum and Mop with Self Empty (I feel like there was a missed opportunity to shorten this to "U.T.R.V.M.S.E") ticks off all the boxes I would want for a robot vacuum: LiDar navigation, self-empty, and mopping functions. Ultenic sent it over for review, so I used it regularly for a few weeks and overall I'm pleased with the unit. It vacuumed well, seemed to have plenty of suction, and didn't have trouble with thick carpet and uneven rugs. However, I'm worried about the long term reliability from a relatively new and unknown company.
What is it?
The Ultenic T10 Robot Vacuum and Mop with Self Empty is a smart robot that can clean your floors. The video above shows both mopping and vacuuming done by the unit. I mostly used this on our mixed-floor main floor, but also tested on other floors as well to test the multiple-map functions.  The robot vacuum automatically maps and cleans entire floors, boosts suction power when carpet is detected, and the user has control over no-go and no-mop zones using the mobile app (more detail on this later in the review). It automatically maps out rooms with its LiDar sensors, and cleans in a nice back-and-forth pattern.
What's in the box?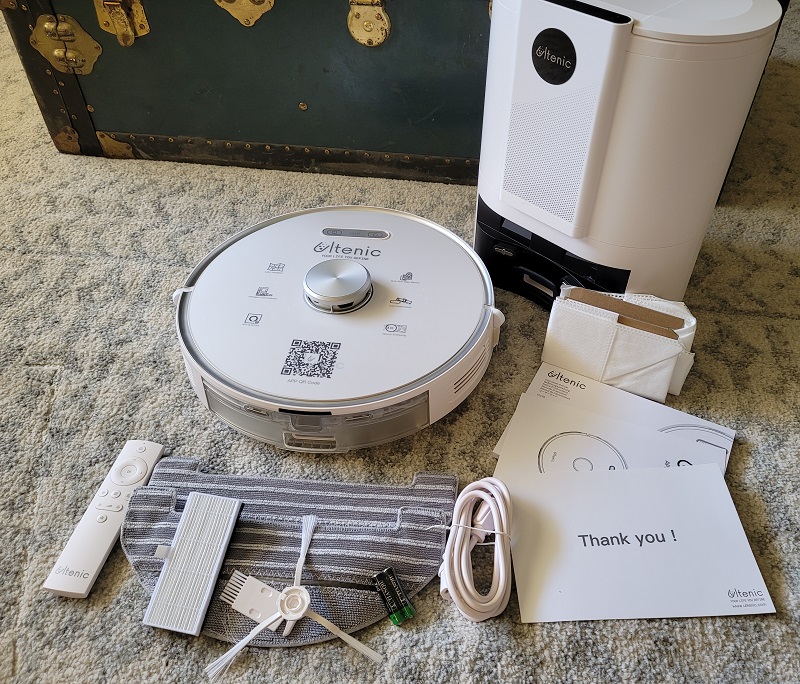 Included in the box is the Ultenic T10 Robot Vacuum and Mop with Self Empty itself, manuals and documentation, replacement filter, auto-empty dustbin and charging dock, extra bags for the auto-empty bin, a replacement side brush, a cleaning tool, two mop covers, power cable, a remote, and batteries for the remote.
Hardware specs
Suction power: 3000 kPA
Dust Bin Storage: 4.3 Liter large bin – "up to 60 days" of cleaning storage
Voice control: compatible with Alexa and Google Assistant
Smart controls: Scheduling, up to 15 No-Go zones, multi-room mapping
Nav and Map technology: 360-degree LiDar and optical sensors
Water tank: 300 ml storage tank
Auto-resume: Robot returns home if battery is low and returns to last location to finish cleaning once charged.
Cleaning modes: spot clean, customized clean, whole-home clean, mopping
Connection Technology: WiFi (2.4 Ghz only)
Carpet mode: automatically boosts suction power when carpet is detected
Design and features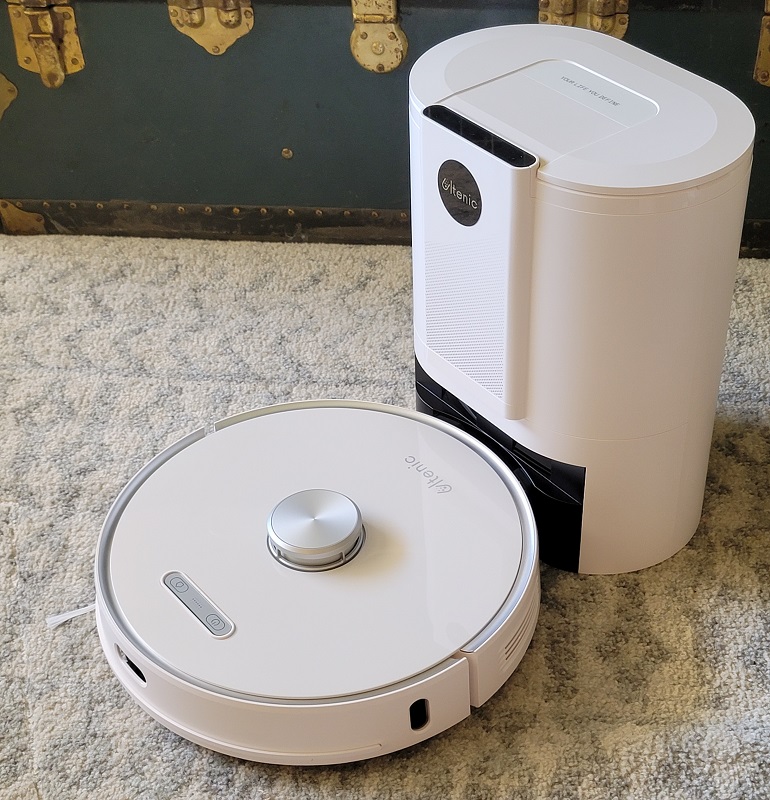 The Ultenic T10 Robot Vacuum and Mop with Self Empty is a white affair (which I prefer to the past few robot vacuums I've reviewed – with glossy black you see every speck of dust but the white is more forgiving).  It's a mostly plastic build but feels like high quality plastic.  The charging dock and auto-empty bin are matching white plastic with black accents.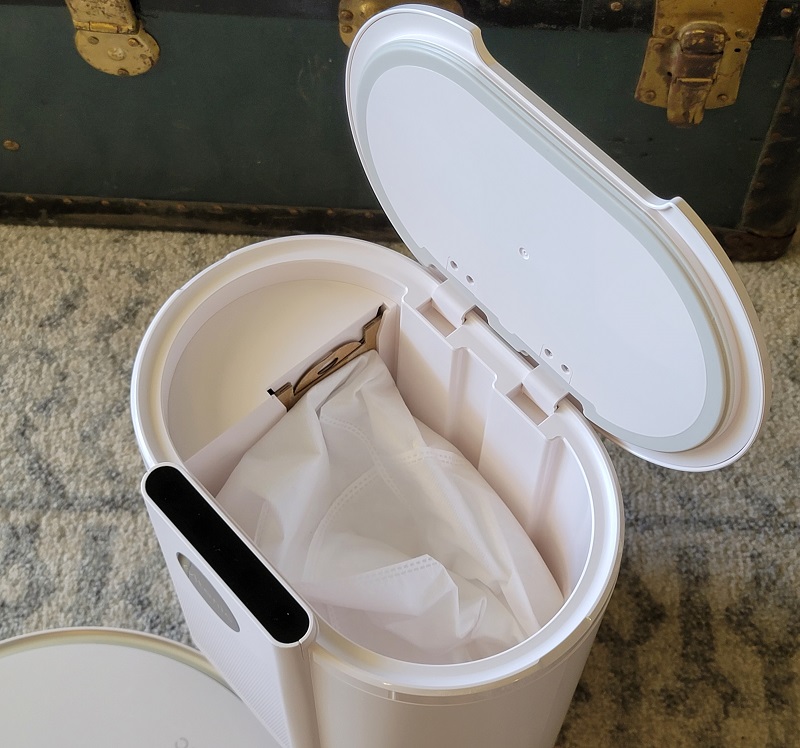 The bin has space for a disposable bag.  Ultenic claims this should hold up to 60 days of dirt and debris from regular cleanings (but they don't quote floor types or square feet).  In our ~800 sq ft main floor with about 10 cleanings it doesn't seem to be even half full at the end of the review period (about a month). I couldn't find any exact match replacement bags yet, but Ultenic says all replaceable parts will be available in their Amazon store "soon". Replacement parts are available through Amazon. This charging dock and auto-empty station is pretty nifty: when the vacuum is done cleaning or if it runs out of battery mid-cleaning, it will return to this dock. It will charge up the vacuum, and a system will also transfer the dust/dirt from the vacuum unit into the auto-empty unit's bag. Neat.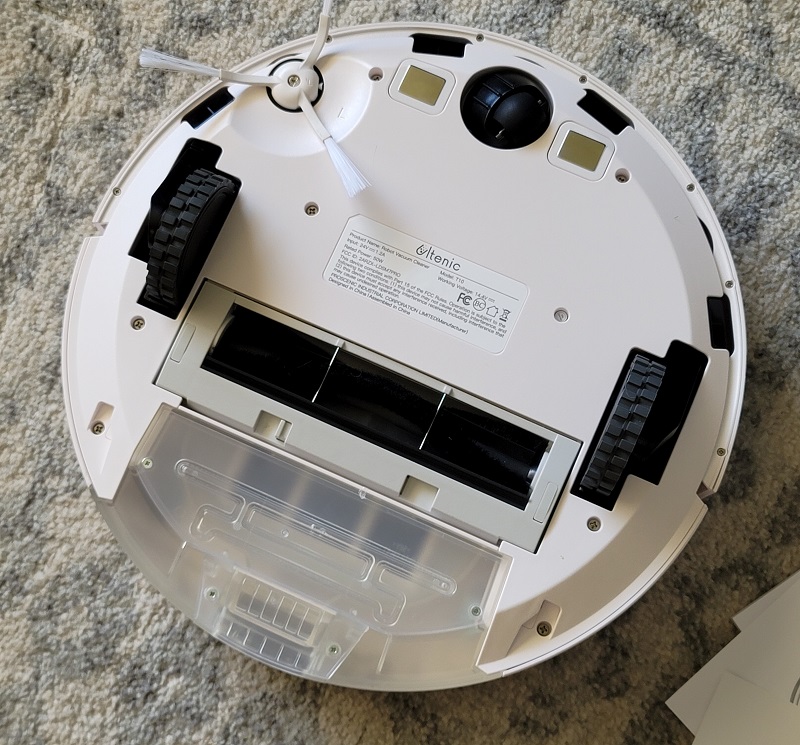 Here on the underside of the unit, we see the water tank/dust bin, universal 360-degree swivel wheel, side brush, 2 large drive wheels, the main vacuum brush, as well as sensors.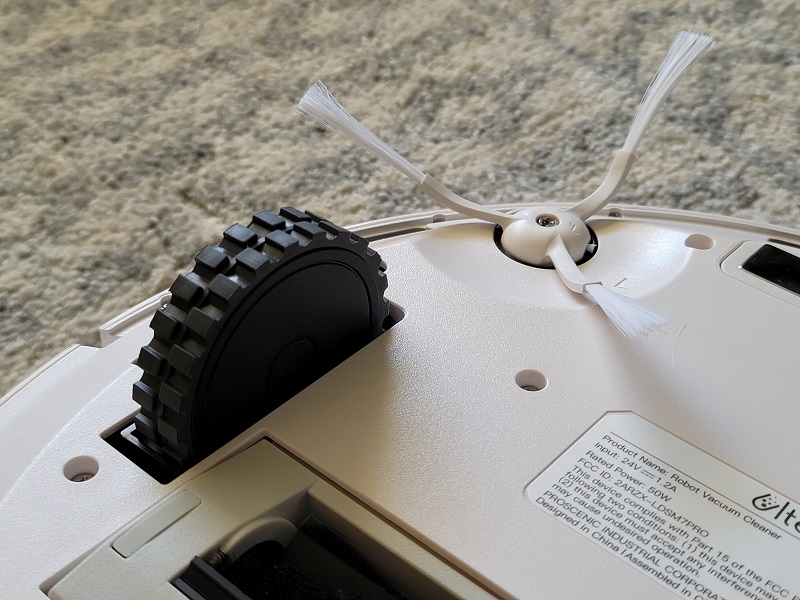 The drive wheels are heavy duty and seem like they're built to last. They easily traversed uneven floors and a rug that has caused other robot vacuums to get stuck.
Installation, App, and Performance
Installing the mobile app for the Ultenic T10 Robot Vacuum and Mop was easy – there were QR codes right on the vacuum itself, as well as in the manual. Setup and use wasn't hard to navigate, here's some screenshots: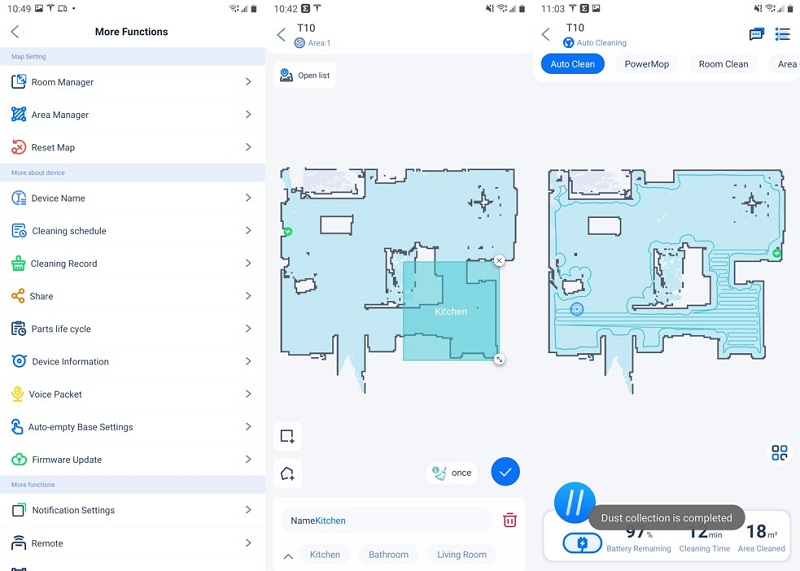 The mobile app was full-featured and relatively easy to use, no complaints here. I was able to set up no-go zones (to avoid wires) and no-mop zones (so it didn't dump water all over carpeted areas). Integrations with smart assistants are available (Alexa and Google Assistant), as well as scheduling so you can have it run overnight if desired.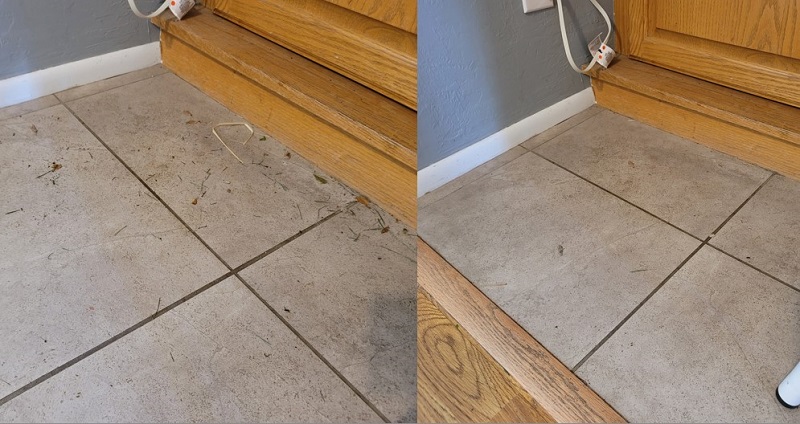 Here's a dirty corner of our floor before and after automatic vacuuming – you'll notice that it still left a bit of debris after. This is pretty common with all the robot vacuums I've used, the side brush will often fling debris past the desired center zone and into areas already vacuumed, so sometimes you'll have to run it twice to get the floors fully clean. That said, it did a pretty good job at getting all the debris out of corners and edges.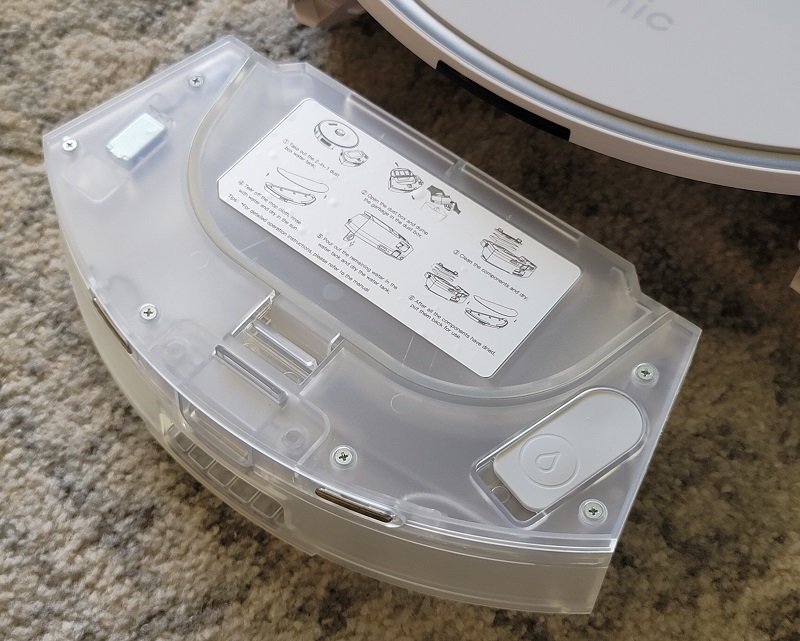 If you want to use the mopping feature, you have to remove the dust bin, fill the water tank with water, and attach the mop attachment to the bottom of the dust bin.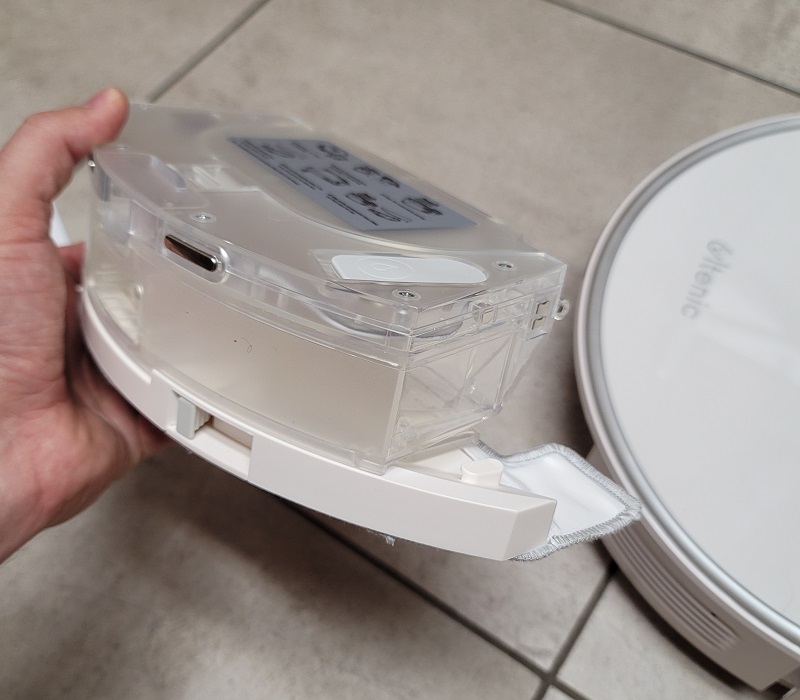 Here's the mopping attachment under the dustbin/water-tank.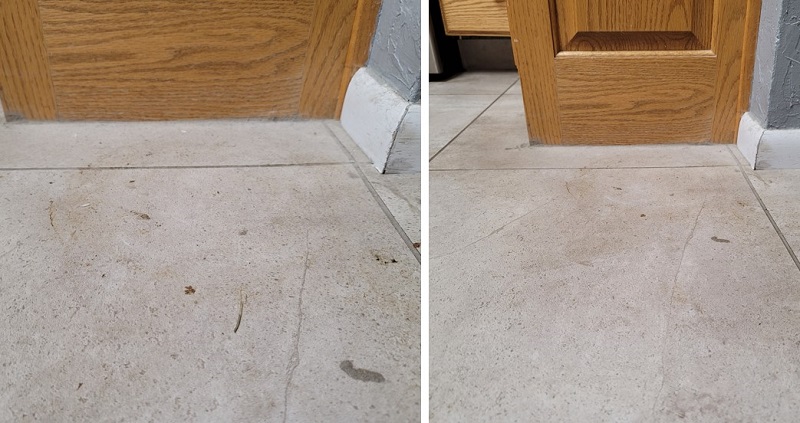 And here's a before and after with the mopping function on our kitchen floor. This corner normally holds our dog's water bowl, and tends to get some gross build up from dog slobber. You can see that some of it was cleaned up after a mop cycle, but it's definitely not fully cleaned. For heavier messes, you'll have to do some old-fashioned mopping.  The mop function on the Ultenic T10 Robot Vacuum and Mop was better than others that I've used and reviewed, but just marginally more effective than just dragging a wet rag around the floor.
What I like
Easy to setup and use
Good vacuum results
Self-empty and auto-recharge functions
What I'd change
Either improve the mop functionality or remove it and reduce cost
Final thoughts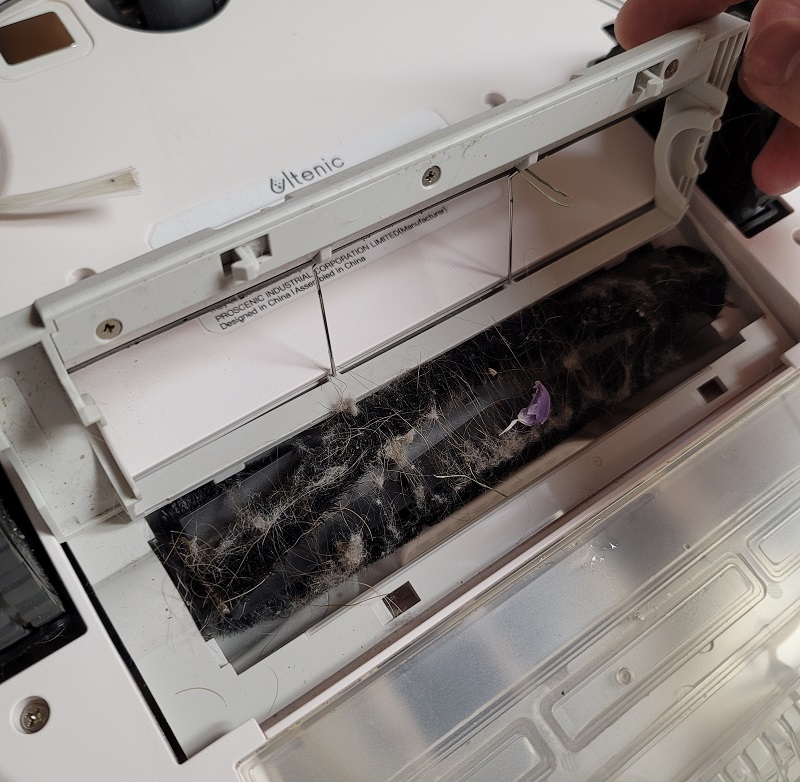 After about a month of use, the Ultenic T10 Robot Vacuum and Mop is doing a good job of keeping our main floor clean (at least from a vacuuming standpoint). I wasn't impressed enough by the mopping feature to continue to load water and clean the mop attachment more than a few times, but it would help to at least get some dust off the floor. Getting the main brush out and cleaned up after weeks of use was easy: there's a latch to release it and a cleaning tool to cut tangled hair or string. Overall, I like this vacuum and mop. I definitely enjoy the auto-empty feature, it's nice not to have to empty the small dustbin on the vacuum itself every few days like I have with previous units.
Price: $559.99
Where to buy: Amazon
Source: The sample for this review was provided by Ultenic.