We use affiliate links. If you buy something through the links on this page, we may earn a commission at no cost to you. Learn more.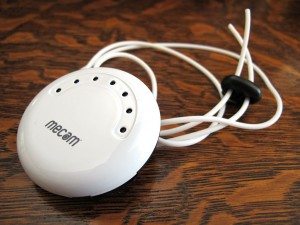 If you enjoy keeping a journal, scrapbooks, stats and info about your daily life, you might be a lifelogger and not even know it. According to Wikipedia the term lifelogging means:
Lifeloggers (also known as lifebloggers or lifegloggers) typically wear computers in order to capture their entire lives, or large portions of their lives.
If you think wearing a computer might be going a little too far, but you would like to try lifelogging, the MeCam is a relatively inexpensive way to get started with this hobby / way of life. Let's see if there are any advantages to using the MeCam over a regular camera or smartphone for doing the same task.
Note: Images can be clicked to view a larger size.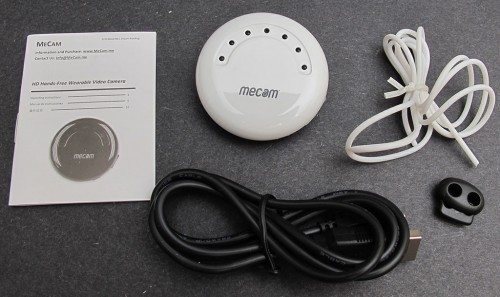 Package Contents
MeCam
Proprietary USB cable
MicroSD card (4, 8 or 16GB)
Plastic neck cord and clasp
Manual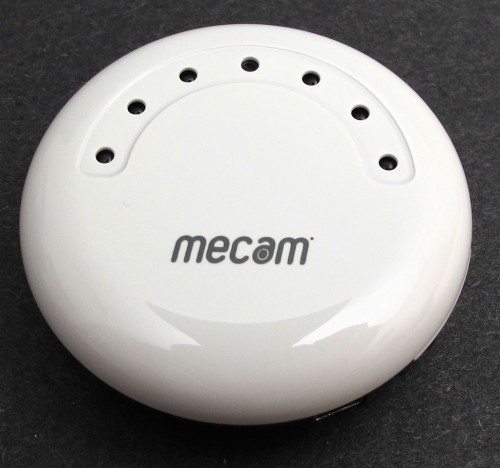 The MeCam is made of plastic and is available in 5 colors including white, black, green, blue and pink. In addition to color, you can also choose between the 4GB, 8GB and 16GB versions. I was sent the white 8GB version to review.
The device itself is relatively small and compact. It's about 2 inches in diameter by .5 inches thick. On the face of the MeCam you'll find the 5MP camera lens flanked by IR LEDs for low light shooting.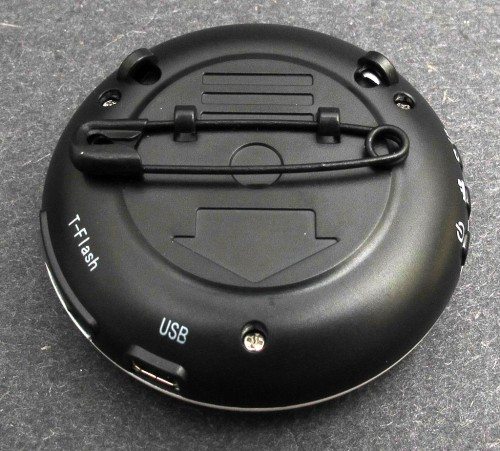 On the back side, you'll find a pin to attach the MeCam to the front of your shirt, the strap of a backpack or some other cloth surface. There are also 2 loops to convert the MeCam into a necklace.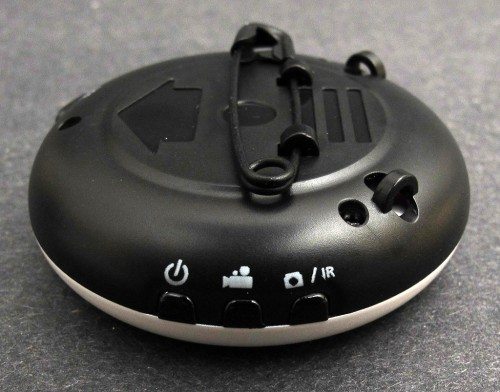 The MeCam is controlled by 3 buttons on the side of the device. There's a power button, video toggle button and a shutter/IR toggle button. The buttons themselves are tiny, have weak tactile feedback, are too close together and almost flush with the surrounding shell, making them tough to locate and press without consciously looking at the device. This is my number one gripe about this product.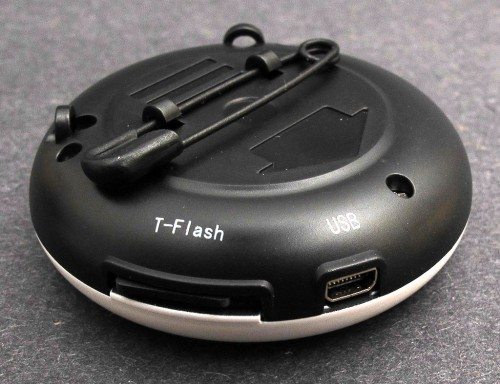 On the other side, you'll find a MicroSD card slot and the USB connector for the included proprietary cable which is used to both charge and sync the MeCam with your computer. It would have been nice if they would have used a regular micro USB connector instead of a special one. Using something proprietary just causes you to have to always carry the cable with you.
While we're on the topic of charging and syncing. The MeCam will operate for 80 continuous minutes after being fully charged. When connected to a computer, the inserted MicroSD card will automatically show up as a mounted drive on your Windows or Mac computer. You can also pop out the flash card and insert it into a separate card reader if you like.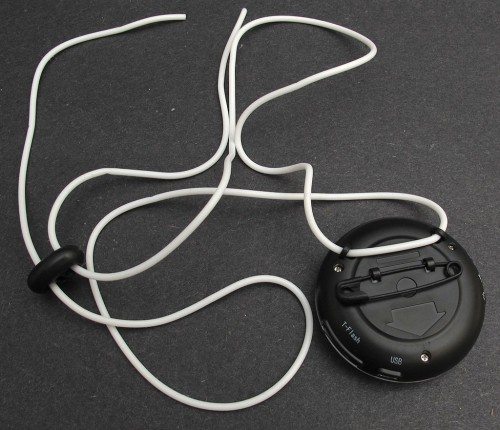 I mentioned above that you can pin the MeCam to your shirt and wear it that way. You can also turn it into a necklace using the stretchy cord included in the package and the spring loaded clasp.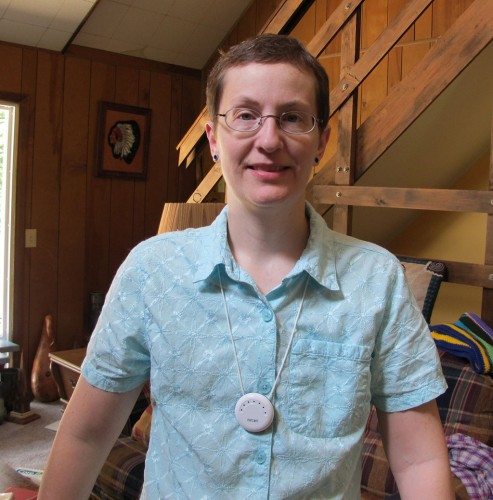 During my testing of the MeCam, I wore it both ways, as a necklace and pinned to my shirt. I didn't really have any issues wearing the camera as it's light weight and not very bulky.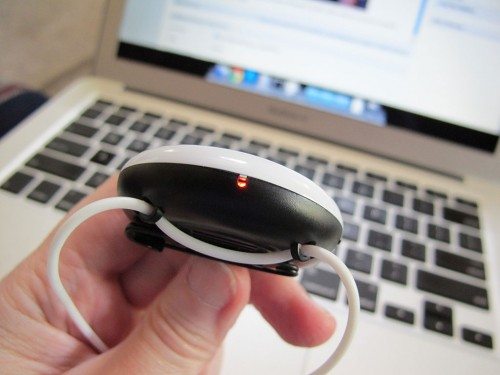 Holding down the power button for a few seconds turns the camera on. A small status LED is located on the top edge making it easy to see when you're wearing it as a necklace. It will glow a solid red when it's on, slowly blink red when it's capturing video, blink blue and go back to steady red after snapping a single image and will shine both the blue and red LEDs at the same time when IR mode is on.
I wore the MeCam for a full day and quickly became annoyed with it for a couple different reasons. The biggest problem is the button size and location. Unless you look at the camera closely, you're not going to easily be able to reach up and press the right button to take a picture. You might just as easily turn it off or switch to video mode.
Another big problem with the MeCam is that it has a 3 minute inactivity auto shutdown feature that is way too short. Having to turn it on every time I wanted to use it felt like it defeated the purpose of the spontaneous nature of the device.
You might overlook the buttons and the time out features if the video and image capture quality was outstanding right? Sorry to disappoint further, but the quality is mediocre at best. It suffers from the lack of image stabilization. Think about it, you're wearing a device that is designed to capture video while you're doing everyday things like walking, driving, moving, etc. If you wear the device as necklace, it's going to flop around as you move. I thought pinning the MeCam to my shirt would solve that problem, but it didn't.
Check out some sample images and video clips copied straight from the camera. I've only renamed them.
Depending on how you wear the device, it's very easy to cut off heads and capture crooked images. The 5MP (1600 x 1200 resolution) images are so-so quality. That last image is using the IR setting. You can barely make out the bottles on the shelf.
How about some 720p video samples:
Video while wearing the MeCam around my neck and walking at a normal pace. If you have a problem with motion sickness, don't watch this video 😉
Video while wearing the MeCam pinned to the front of my shirt and walking at a normal pace. It's not much better than the first video. Pretty much unwatchable.
Video while remaining stationary. This one has much better quality but it's really difficult to frame your video and snapshots when you don't have any type of viewfinder.
I like the concept of the MeCam, but I think it at least needs bigger buttons and image stabilization  before it will be remotely useful. As it is, the MeCam is an expensive novelty toy that is easily beat by even the simplest mobile phone with a built in camera. Hopefully there will be a MeCam version 2 at some point. But until then, my advice is to save your $50 for something else.
Update
CEO Drew Martin is taking all the criticism to make a better version of MeCam, which is slated for an early 2014 release. While this MeCam was designed to be niche & novelty, worn for concerts, festivals, nightlife – that sort of thing – the new one will be all-purpose. Think Go-Pro but not action sports targeted. That said it will have motion stability, accessories and mounts, a waterproof case, 1080p HD video, and much more.
Product Information
Price:
$49.99
Manufacturer:
MeCam
Pros:

Wearable
Rechargeable batter
IR capability

Cons:

Buttons are too small
No image stabilization
Quick auto shutdown