We use affiliate links. If you buy something through the links on this page, we may earn a commission at no cost to you. Learn more.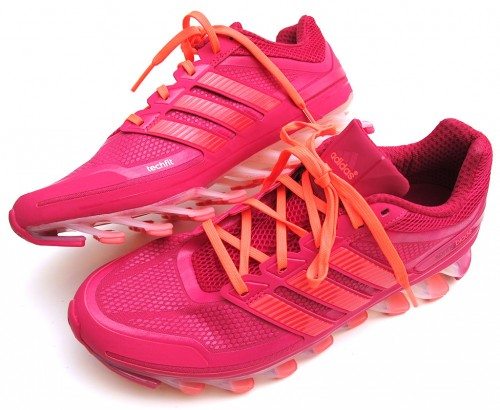 My daily geek uniform includes a pair of sneakers, tennis shoes, athletic shoes, kicks or whatever other name you might call them. I own more pairs of sneakers than "grown up" shoes and am picky when it comes to their style and comfort. A month or so ago when I saw the news about the new Springblade running shoes from Adidas I knew I wanted to try them. My first thought upon seeing them was of the special running blades that amputee athletes sometimes use. Dave Rees is The Gadgeteer's resident runner, so I asked him what he thought about the Springblades. He expressed interest too, so I contacted Adidas to see if they would be interested in a review from both a runner's and a non-runner's point of view. They liked the idea and provided a pair of the shoes to each of us. We've been wearing them for a couple of weeks, so here we go with our dual review.
Note: Images can be clicked to view a larger size.
Julie's comments are in black and Dave's are in blue.
Julie: In case you didn't figure it out, I'm not a runner. I actually tried to start running specifically for this review, but my bad knee (old geek war injury from high school) would not allow it. I do walk several miles a day, so I thought I'd be able to offer my experience wearing these shoes as normal every day wear.
Dave: I am a diehard runner from way back in the day. I have pounded out tens of thousands of miles over the past three and a half decades. I may have slowed down over the years, but I still enjoy getting out there and stretching my legs. I run about twenty miles per week and firmly believe my longevity is due to wearing good shoes and switching them out before they wear out. The Adidas Springblades without a doubt caught my eye when Julie and I first discussed them. So when Julie told me we were both receiving a pair for a joint review, I was definitely excited to try Adidas' high-tech flagship running shoes.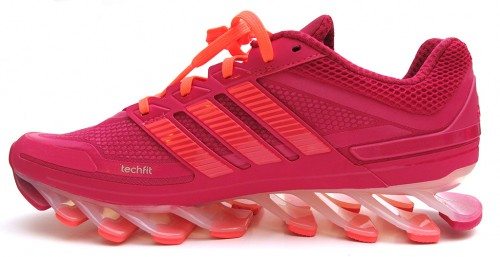 Julie: There's no denying that these shoes look unique. Of course the pink pair with orange laces that were sent to me are hard not to notice. My friend at work calls them my pink shark shoes. 😉 I've had total strangers make comments about them too.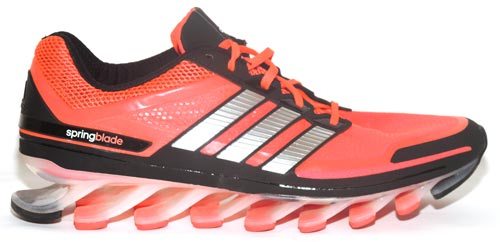 Dave: I received a black trimmed, bright orange pair of the Springblades that are nearly as shocking to the eyes as Julie's pink ones. The orange ones have a bit of pink to them and I too have gotten a bit of flak from those in my office for how bold these shoes appear.
Julie: The Springblades are available in 4 colors for men, 3 for women and 2 for children. Sizes are as follows:
Women's sizes 5-12
Men's sizes 6.5 – 15
Children's sizes 4-6
I was sent women's size 10 and found the fit to be true to size with just a slight slip of the heel if I happen to wear thin socks or don't tie the laces tightly enough. All in all the fit is fine though.
Dave: I have a long, narrow foot that is sometimes difficult to fit. Depending on the manufacturer, I use between a size 12 and 13. I asked for and was sent a men's size 13 that fits very nicely, snuggly around the top of my foot with plenty of room for my long toes.

Julie: The first thing I noticed about the shoes other than the blade design is how light weight they are. That's probably not surprising though considering they are a running shoe.
Dave: The past few years, I have gone away from the classic running shoes for the more minimalistic style/form. I have become very use to their extreme lightweight but during most of my long runs wish for a thicker base to lessen the pounding my feet take. Even if I am using my best front third of my foot running form, the longer distances still wears me down. That said, the Springblades are surprisingly lightweight. They combine the lightness of a minimalistic shoe with a solid base that has a good amount of bounce to it.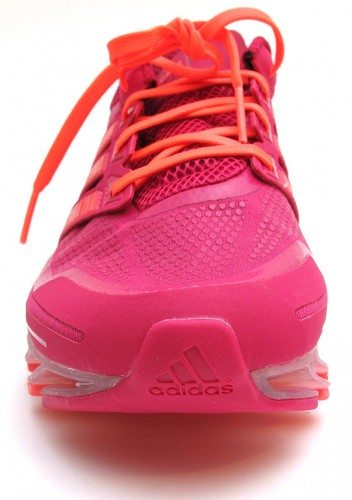 Julie: The area over the top of the foot, part of the sides and the tongue of the shoes is made of a mesh material that is slightly stretchy and allows air to flow through for great ventilation.
Dave: The uppers are comfortable and do not rub when cinched up tightly. They are bright and eye catching, enabling vehicle drivers to hopefully see you better. The Adidas lines on the shoes sides are reflective.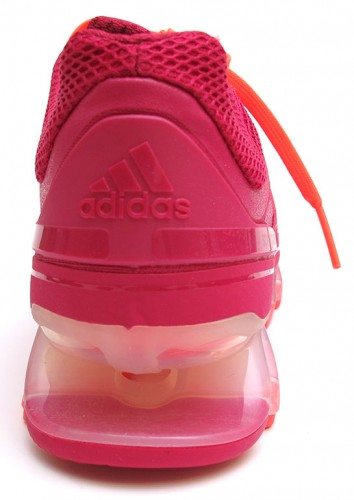 Julie: The insole is removable, so you could replace it with another brand if you prefer something with a bit more cushion.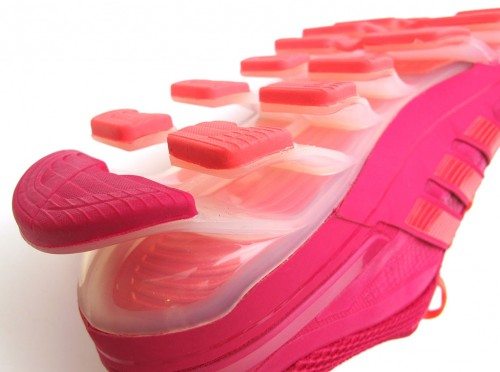 Julie: Of course the main feature of the Springblade shoes are the 16 individually tuned high-tech polymer blades. They look like they would feel strange to walk on, but they really don't feel any different than normal soled shoes. For a walker, the blades do not really offer a spring to your step or any sort of bouncing action. At least not that I have noticed while wearing them for the past couple of weeks.
Dave: I am an old school purest and only use my running shoes for running. I am very pleased with the feel the blades give. It is actually a little difficult to explain; the tuned blades give a firm, stable platform with just the right amount of spring and give when running. They have not rolled on me and have good lateral stability.

Julie: I was concerned with how the shoes would be for everyday wear in different situations like going up and down stairs, walking in gravel, on carpet or on a hard surface. I'm happy to report that the shoes were comfortable to wear in all those situations. The edges of the blades did not cause issues walking up and down stairs. And the spaces between the blades did not cause any issues with small rocks when walking up and down my gravel driveway.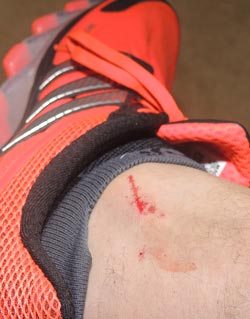 Dave: The only issue I have had with the shoes is that the blades have actually cut me. During one of my runs, I had to quickly move to avoid something in my way and my left shoe ca-thunked my right ankle. The impact hurt a little but no more than any other time it has happened in other shoes. But when I got home I discovered I was bleeding and the blade had definitely nicked my ankle. The cut was superficial and quickly healed but I would definitely choose to not do that again. I know it's minor and am not whining just thought I should mention it.
Julie: Ouch! I actually saw another review of the Springblades where the reviewer mentioned the exact same thing happening to him.
There are really only a few small issues that I have noticed with these shoes. First of all, they make a noticeable clomping noise when you walk on a hard surface like a tiled floor. You definitely could not be ninja quiet in these shoes. Another issue I noticed is that they don't offer a lot of grip if you walk on a greasy or slippery surface. My day job is at Cummins Inc. We manufacture diesel engines. Some of the places where I walk have greasy floors due to oil. I didn't feel 100% secure walking through those areas in these shoes as my feet slid a little bit here and there. I was no where near falling or anything like that, but it's something to be aware of if you plan to use these shoes for everyday wear. The last issue I noticed was that the edge of the last blade in the heel will catch on the floor mats in my car. It doesn't happen every time, but when move my foot from the gas pedal to the brake pedal the shoe would grab at the mat's edge. Again, not a huge deal, but these 3 little problems might make you reconsider using them as every-day shoes.
Dave: From a runner's straight line motion standpoint, the blade design works very well. As I stated early in the review, the base of the Springblade is ideal for my running style and body/foot type. I have had no issues with the shoes I received. Their quality and feel are what I would consider a high end running shoe should be.
Julie: The actual treads of the shoe are not very thick. It makes me wonder how quickly they will wear out for hardcore runners and walkers alike. What do you think Dave? Do runners have to buy shoes more often than walkers when it comes to tread wear?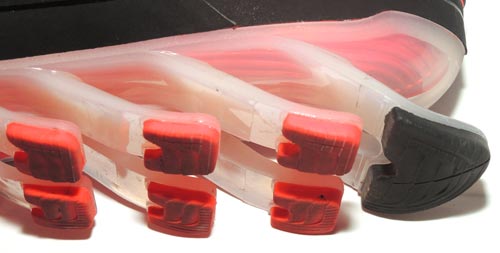 Dave: That is a good question. I was wondering the same thing. Although I see the actual base as relatively tall, it is the thickness and rigidity of the blades I wonder about. How long before they lose their springiness is the question I have. I typically get 300-500 miles out of a $100+ pair of running shoes before I retire them to walking or yard work. Being $180, I would hope and expect to get at least 4-500 miles out of them before the blades lose their form.
Dave: I really like the Springblades and will definitely use them this running season and for walking after that. They are a great pair of high-tech, upper end running shoes. Their form, comfort, and run-ability are what I would expect from a expensive pair of specialized shoes, but they need to be considering their $180 price tag.
Julie: The Adidas Springblades are well made, uniquely designed and comfortable for everyday wear. I've worn them while walking a few miles on a flat surface, while walking around a couple hours browsing a farmer's market and for a couple of weeks doing normal day-to-day activities. I never noticed my feet hurting or becoming sore due to the shoes and they never felt awkward or strange to walk in. That said, I think these shoes are probably better suited for their intended purpose, which is running. But if you want to get noticed wherever you go, grab a pair and get moving.
Product Information
Price:
$180 ($140 for children's sizes)
Manufacturer:
Adidas
Pros:

Unique
Well made
Comfortable
Excellent fit
Lightweight
Stable, firm base w/a bit of spring

Cons:

Makes noise on hard surfaces
Polymer blades can cut skin