We use affiliate links. If you buy something through the links on this page, we may earn a commission at no cost to you. Learn more.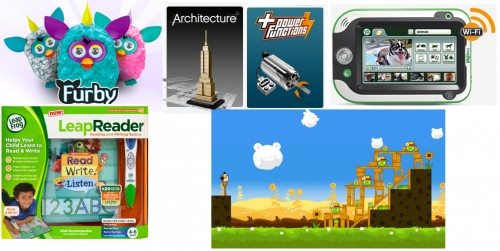 I saw a headline recently that opined that if kids were going to be using gadgets, then they should be educational.  Perhaps my ideas are different from most, but I think using gadgets – under supervision and for reasonable periods of time – is educational.  Even playing with an empty oatmeal box is educational in a sense, because it involves the child's imagination, and many gadgets can do that, too.  I also think that using computers and tablets is important these days, because they are becoming such an integral part of life and business.  Schools have included computer lessons in my daughter's curriculum since kindergarten, and our county is purchasing iPads that will be used by students beginning this new school year.  There are gadgets that pose as simple toys and games, and there are games and books on tablets and computers.  Let's look at a few of them.
Did you have a Furby?  Those little toys were educational; they helped kids learn to care for and train a pet.  Hasbro's Furby is available as a toy (about $60) that can interact with your child.  He'll care for his Furby, feed it, play with it, and learn that how you treat a pet or a person molds how they'll interact with him.  She'll also learn to speak a little Furbish and teach Furby some of her language.  There are also some online games and a smartphone app for iOS or Android that will interact with the Furby and let your child translate and learn his Furby's language.
LEGO toys are imagination in a box.  Children will build buildings or whole new worlds with those little plastic blocks.  They can add LEGO figurines to add another layer of imagination to their play.  The Architecture series may inspire the next Frank Lloyd Wright, and the Power Functions kits can inspire an interest in engineering or robotics.
Do you remember those LeapFrog learn-to-read gadgets from years ago?  Well, those big, clunky devices have been replaced with small smart pens that are easy to take along.  Your kid can use them to learn to read and write letters and numbers.  That's pretty educational, right?  And reading well is the foundation for everything else your child will learn.  The LeapReader Reading and Writing System starts at about $50 for the smart pen and some starting materials.  LeapFrog also offers children's LeapPad Learning Tablets that will educate and entertain kids with age-appropriate games (3-9), apps, eBooks, and music.  Internet access is through the Zui secure browser, to keep your kid safe.  The tablets start at $80, and they'll begin taking orders for their new LeapPad Ultra (about $150) later this month.
Of course, there are gifts that are simply more fun or more memorable than they are purely educational; personal creations has birthday gifts for boys that are fun while still being educational. There are several apps, games, and eBooks available for your tablet or smartphone that are designed for children.  Even Angry Birds is educational;  it teaches kids about trajectories and momentum – without them realizing they're learning about physics.  Just be sure you make your tablet safe from unauthorized purchases before handing over your device.
These are just a couple of ideas of fun, educational gadgets that can help your child learn while becoming familiar and comfortable with technology that will undoubtedly be used in later life.  These are all gadgets that should appeal to both girls and boys, and they are just a glimpse of what's available out there now.