We use affiliate links. If you buy something through the links on this page, we may earn a commission at no cost to you. Learn more.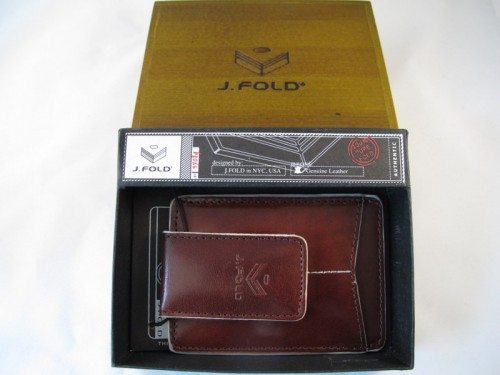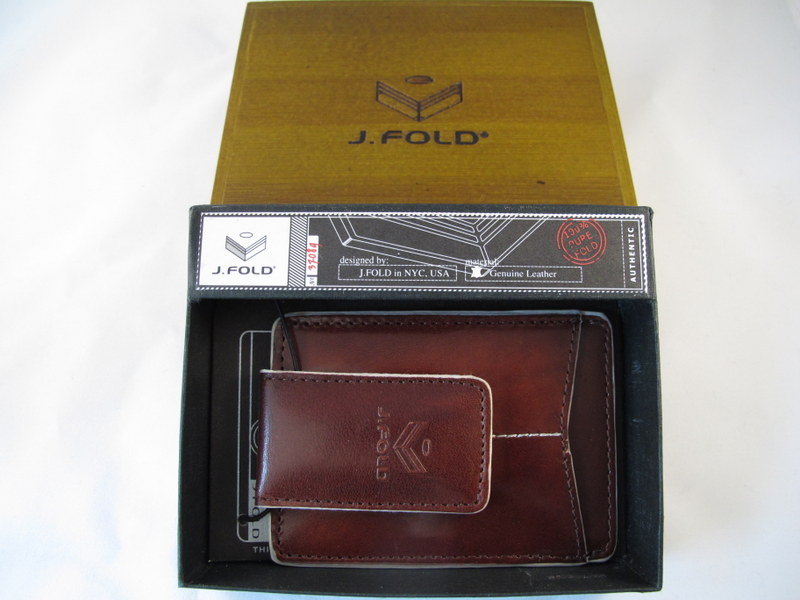 Personally, I'm a money clip-type of guy.  I can't remember when I last carried my cash in a wallet, but I still carry a wallet for the credit cards and identification items.  When I discovered the J. Fold Pocket Wallet and Money Clip from TheWalletShoppe, it seemed like I could finally get rid of that bulge in my back pocket. I've switched over to the pocket wallet for a couple of weeks now and have some impressions to share.First, let me say that this is a very well-made product.  At my stage of life, I've decided that I'm going to buy as much quality as I can afford.  I'm through with items that are cheaply made and wear out in a short time.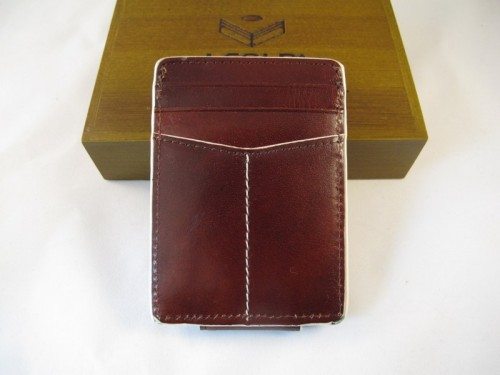 This wallet is made from real leather, and the stitching is even with no loose threads.  The wallet comes packed in a box with a wooden lid.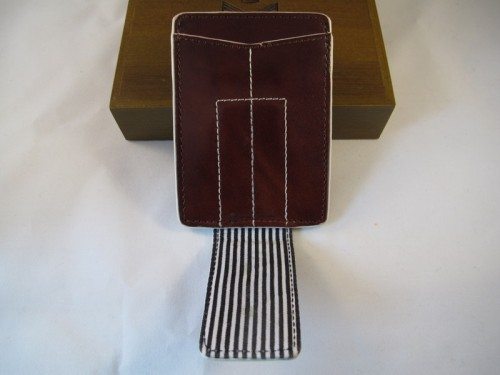 The clip part of the wallet hinge is on the leather.  It has a magnet in both the clip and the wallet.  It was strong enough to hold my meager assortment of bills.
My big concern was how to get all the stuff I have in my traditional back-pocket wallet into the J. Fold.  I decided to rationalize the items that I carry with me all the time.
As luck would have it, I had to take a 3 day trip and figured it would be a good opportunity to see if I could l switch over to the J. Fold without any consequences.
The J. Fold advertises that it has 3 credit card pockets, but I found 4.  There is one on one side and 3 on the other.  You can see these in the photos above.  There is also a slot where the two halves are sewn together, giving me a total of 5 places to put stuff.  After sorting through my old wallet, I decided I could live with the following:  driver's license, a credit card, an ATM card, medical insurance card, and one other card.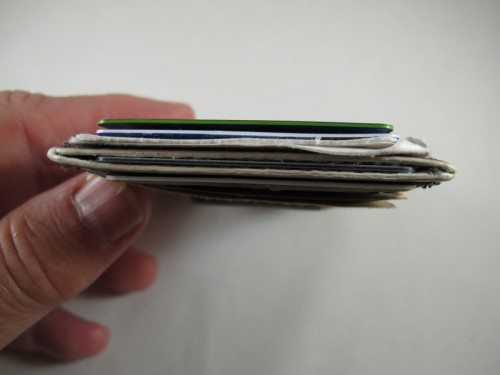 Everything is now loaded.  The driver license is in the center slot.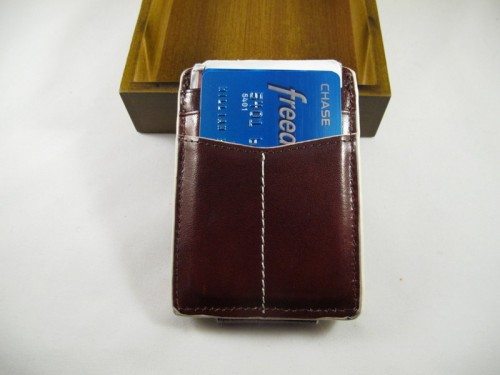 I keep the most used card in the pocket where it is easiest to remove.  Conversely, the license is in the pocket that is hardest to access.  Initially, it is very difficult to remove the cards from the J. Fold.  It was so bad at first, I considered writing this article and just saying it wasn't usable.  However, after some time and a lot of flexing/stretching the case, it became much easier to insert and remove the cards.  I guess it's like a new baseball mitt.  You have to knead it for a bit until it loosens up.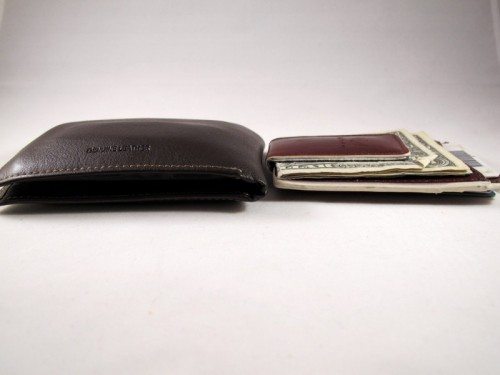 During my trip, the J. Fold served me well.  It is definitely thinner than the carbuncle I used to have on my butt.  My only issue was that I kept thinking I had lost my wallet for 3 days.  It's a funny feeling after all these years.
Now that I'm back from the trip, I've put my old wallet in my back pocket again, but use the J. Fold also.  While on the trip, I didn't need things like rewards cards and my AAA card, but here I do.  Over time I hope to be able to transfer items to a digital form so I can have them in my iPod, and then I can live with just the J. Fold.  Until then, the money clip wallet is complementary to my normal wallet.  It gives me ease of access to my most frequently used cards and keeps my bills safe in my front pocket.
Product Information
| | |
| --- | --- |
| Price: | $39.50 |
| Manufacturer: | J. Fold |
| Retailer: | TheWalletShoppe |
| Requirements: | |
| Pros: | |
| Cons: | Hard to insert cards at first |