We use affiliate links. If you buy something through the links on this page, we may earn a commission at no cost to you. Learn more.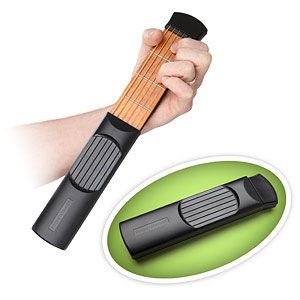 In order to master the guitar, you need to practice… a LOT. The old saying "practice makes perfect" is very true, so today I wanted to show all of you wannabe shredders a tool that you can take with you so you can practice ANYWHERE. Guitars aren't small, so having one with you all the time is probably not an option. PocketStrings from ThinkGeek is a fun and affordable way to easily practice chord fingerings without all of the bulk and sound of a real guitar. What you get is a short guitar neck with real strings and real frets. There's also a strum area to work out rhythm. You wouldn't use PocketStrings all the time, but imagine being able to run through some drills while you're on a break at work, on the train, plane or as a passenger in a car.
PocketStrings are available from ThinkGeek for $29.99.