We use affiliate links. If you buy something through the links on this page, we may earn a commission at no cost to you. Learn more.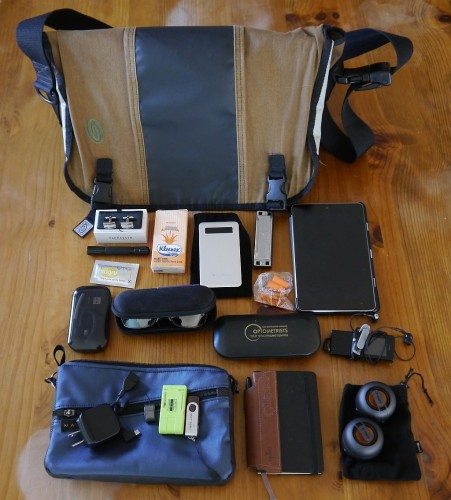 All the other team members are showing off their wares, so suppose I'd better join the herd. 🙂  Problem is I actually have more than one EDC bag depending on things like day of the week, mode of transport, and destination. Things just seem to move in and out of different bags. I've just grabbed what's in my currently most-packed work bag, as it's probably the most representative.
My most used bag is a Limited Edition Timbuk2 Medium Classic Messenger made of old school canvas. This bag's been around the world with me and hasn't skipped a beat.  Canvas isn't as durable as nylon but that's what adds to the appeal, as the canvas becomes more and more worn. Going from the top left, today the bag contains (click on the pic for a bigger version):
A set of cuff-links – I often go to work with my sleeves rolled up, but if I've got to go see a client I like to roll them down and cuff them up 🙂
Spotlight Shifter 1.0 flashlight
5g packet of yellow Sugru
Packet of tissues
Promini 4000+ 4000 mAH battery backup
Lee Oskar Harp (Key of D)
Set of foam earplugs ?!? (Think they might be a leftover from my last overseas trip)
Nexus 7 ( currently running Cyanogen Mod  10.1 ) in Poetic Slimline case
Plantronics Voyager Legend headset
Polarized Oakley Whisker sunglasses
Reading glasses – "My eyes are dim I cannot see, I have not bought my specs with me…"
River T6 MP3 player and Sony in-ear  headphones (mostly used for radio on my walks to and from work)
Waterfield Tablet Travel case with assorted AC adapters, cables, memory sticks and readers
Moleskine with Quiver Pen Holder (with Gadgeteer personalization) and Fisher Bullet Space Pen
X-Mini Max  speakers – successor to the old X-mini MAX 2, smaller, lighter and better sounding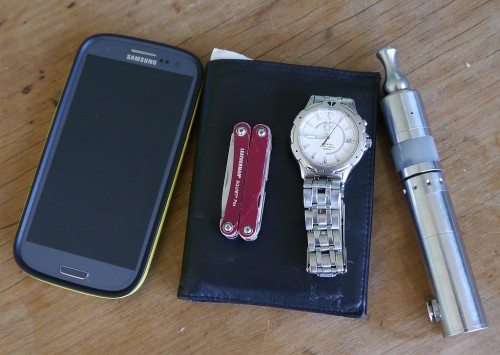 For other EDC with or without a bag:
Samsung Galaxy S3 (dual boot; modified Touchwiz ROM and CM 10.1)
Chinese Spigen Neo Hybrid S3 counterfeited case (I don't condone counterfeiting but Spigen dropped this line of cases for some reason)
All-Ett  Executive Wallet – Been using various models of this since finding them on The Gadgeteer in 2007. A great front pocket wallet.
1980's Seiko Kinetics watch – I went for many years using my phone for the time, but got back into watches and now feel naked not wearing one. (Found for $3 in an opp shop with broken crystal.  New crystal was $40 , so a very nice "vintage" watch for $43 total 🙂 )
E-cigarette – Smok Natural, Smok RSST and 3mg dark chocolate e-juice  ( or should that be e-cigar looking at the size of that thing?  9 months off the smokes and counting 🙂  Pre-ecigarette this would have been a brass Zippo lighter 🙂 )
You can see there's quite a bit of stuff there that I've actually reviewed here on the Gadgeteer, some that I bought because of reviews here, and some that I bought and it just coincidentally happens to appear on The Gadgeteer. That's gotta be a good thing. 🙂
On weekends you'll find me with more camera gear (Panasonic G3, Gorillapod, GoPro Hero2), and if I'm cycling, my load is completely different. As I say, my EDC bags are in a state of constant flux.  I'm pretty sure though that I actually carry too much gear and really should do a "spring clean" of my bags once and a while. 🙂
Hope you enjoy this insight into my EDC.