We use affiliate links. If you buy something through the links on this page, we may earn a commission at no cost to you. Learn more.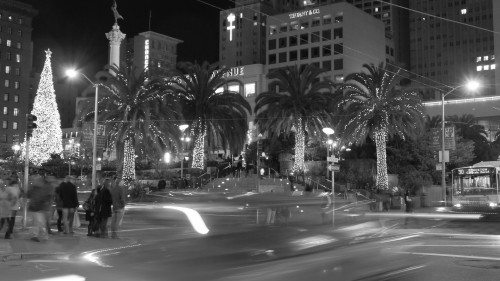 I love taking night or long exposure photos; however, keeping your camera still is always the issue. There are tips and tricks to hand-hold and steady your camera, but often with long exposures, they're still not good enough. Yes, if you're planning your photo session, you could carry a full size tripod with you.  However, like many  photos, the above one was a spur of the moment shot after a long day starting early in the morning, on top of being about 12,500kms+ from home. A tripod's certainly not something I want to carry around overseas for a 10 day trip just to use a couple of times.  I'd known about Joby Gorillapods for quite a while, and when I saw the Gorillapod Hybrid, specially made for Micro 4/3 cameras, figured it was time to give one a go with my Panasonic G2.
BTW: If I remember correctly in the end, the above photo involved a rubbish bin, my messenger bag, a jacket and a few other things to stabilise and position the camera and self timer, and this one's only around a 1/2 sec exposure. 🙂 Will the Gorillapod be a bit easier?  Read on.
Being the cheapskate I am, I must admit that quite a while ago I ended up purchasing a cheap Chinese knockoff which cost me about 1/6th the price of the Gorillapod.  The quality of the knockoff however was, shall we say, substandard. The legs kept falling apart at the joints when trying to bend them, so there was no way I was going to trust my camera gear on it, and it was basically thrown in the bin.
Joby makes a number of different models of the Gorillapod that allow for different size cameras, from lightweight point-and-shoots, all the way up to full DSLRs with big telephoto lenses. The Hydrid is aimed at the larger prosumer type cameras and Micro 4/3 cameras (MILC and EVIL) and is rated to support any camera up to 1kg (2.2lb).
Check out them legs
At 5.5 X 5.5 X 25.7cm (2.2 X 2.2 X 10.1in) and weighing 6.4oz (191g), the Hybrid is light enough and small enough to throw into the bottom of your gadget bag for when you need it. Each leg is articulated at 10 points and bends at these joints.  Rubber rings around the legs "grip on" when you wrap the Gorillapod around all sorts of objects, and the rubber feet give grip on unstable or unlevel surfaces.
Integrated Ballhead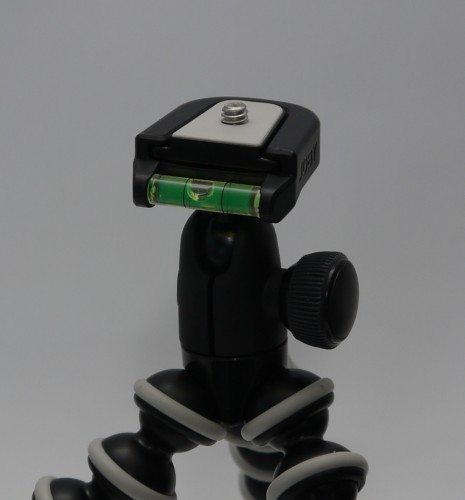 The Hybid is the only Gorillapod that comes standard with an integrated aluminium ball head; for the rest, it's an optional extra. The head comes with a quick-release clip, and you can purchase additional plates if you have multiple cameras or flash units that you want to use with your Gorillpod and easily swap around.  The bubble level is a nice addition to assist in getting level photos.
The ballhead itself has a single knob that loosens off and tightens the ballhead, and the head gives you 360° pan and +/- 90° tilt.  Joby demonstrates how you can actually lock off the tilt and use the pan however it isn't easy with the single knob.  You need to loosen off the knob just enough to allow it to pan without tilting, and it's a delicate balance. It really would have been nice if these two functions were controlled separately.
Quick release bracket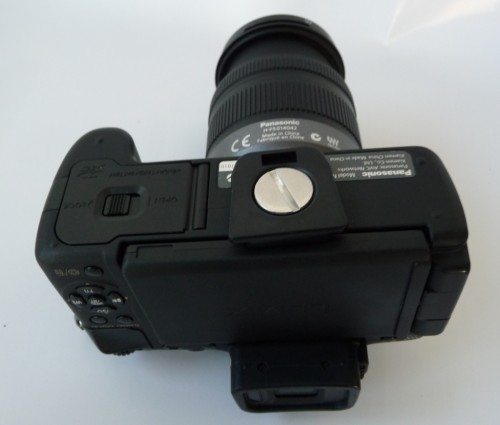 Here's my Panasonic G2 with the quick release base installed. It uses a standard 1/4″ tripod mount, and you do need either a screwdriver or a coin to tighten or loosen the screw properly. The other thing of note is that with the quick release bracket installed, the camera won't actually sit flat on a flat surface anymore.
Hang it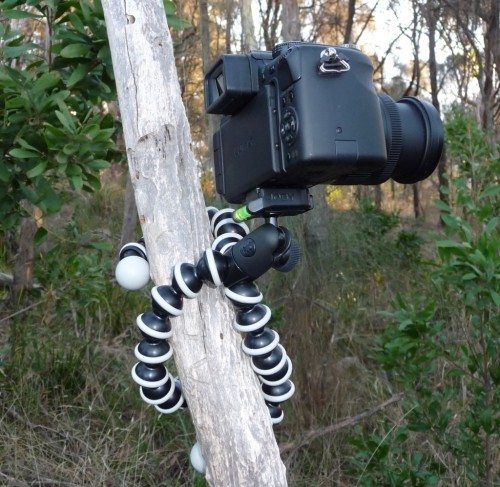 Here it is holding my camera vertically. You manipulate and wrap the legs until you have a stable platform, the rubber rings give you grip.  It works just as well on metal or plastic poles, and once you have the confidence that the Hybrid will actually hold your camera up, you start looking for all sorts of surfaces to hang, wrap or twist your Gorillapod onto.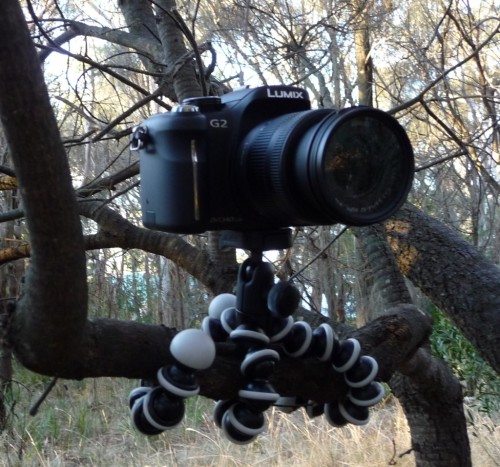 Camera on top, get the shot. 🙂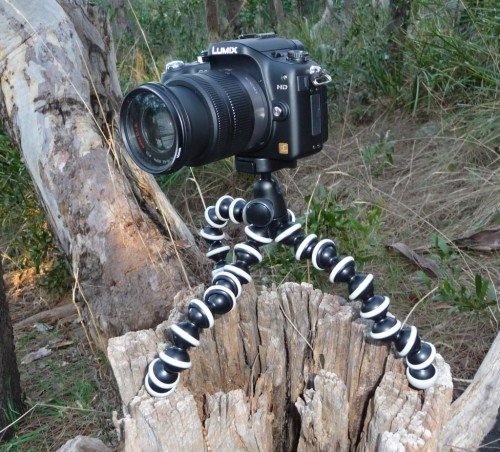 With an unstable surface, you can just bend and manipulate the legs until the required level and angle is achieved.
Conclusion
The Gorillapod really is a handy tool to have in your photographic bag.  In some cases, it won't actually replace a full size tripod, but as a handy, light and portable alternative, it really does the job.  It's not only for night photos either.  It can be used with the self timer to get yourself in the shot, when you're doing long or multiple exposures, and just where you need a stable platform to take photos from. It's not only limited to cameras either; you can use it for your video camera, torches, or anything else with a standard 1/4″ mount.
I'm not sure how both the rubber and the joints will hold up with usage. If the joints start to loosen up over time, then the Gorillapod will lose its effectiveness, but hopefully I've got some time and heaps of photos before (if) that happens.
Product Information
Price:
$39.95
Manufacturer:
Joby
Requirements:

Device with a 1/4" tripod mount

Pros:

-Small, light, and portable
-Integrated ballhead
-Wraps and grips around a whole range of objects
-Easily creates a stable, level platform both horizontally and vertically.

Cons:

-Pan without tilt a little bit awkward.
-Unknown how the joints and rubber will perform long term