We use affiliate links. If you buy something through the links on this page, we may earn a commission at no cost to you. Learn more.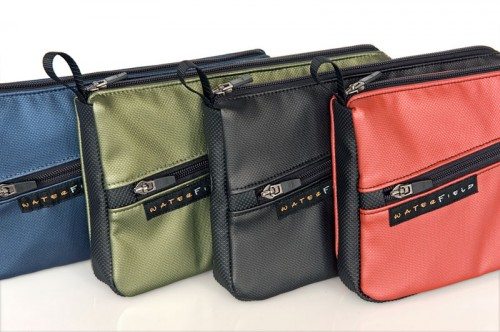 The Tablet Travel Case from Waterfield Designs is a small padded bag made to fit a small tablet and all the associated peripherals you need while you're travelling. It's rain-resistant and can easily be thrown into another backpack, purse or gadget bag.  It's a way of keeping all your bits and bobs organised and close at hand.  For more details, read on after the break.
The Case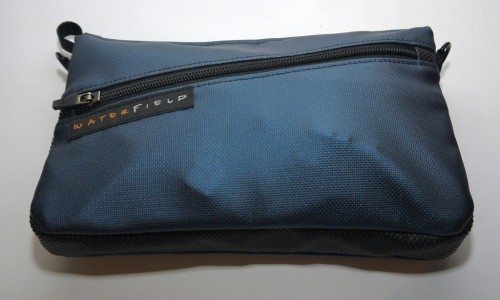 The Travel Case measures 10″ x 6″ x 1.25″  (25.5 x 15.25 x 3.2 cms) and weighs in at  5.5 oz (155 grams), so it's not too big and heavy. The sides and base are made of a non-slip, textured rubber, and you have the option to have D-Rings sewn into the sides for a shoulder strap so that the bag can carried independently. The bag's available in 4 colours: blue, black, green and red.
Front pocket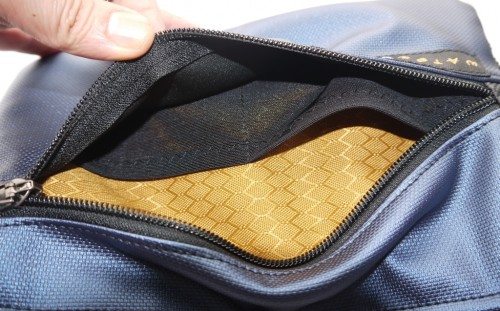 The front zipper pocket has a self-locking zipper and inside you can see there are two stretchie pockets on the back.  Perfect for putting little things like headphones or small cables in.
Inside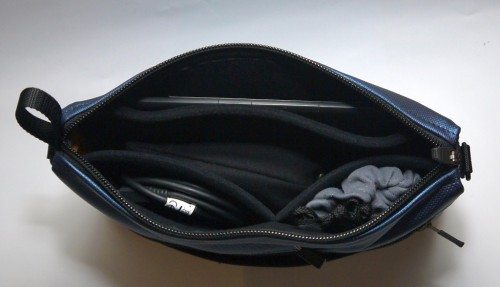 The main bag is closed with another self-locking zipper and inside are 4 compartments all lined with a fleecy, black material (click on the pictures for a larger view).  There's  a full length pocket on the back, a slightly wider pocket on the middle and two half pockets on the front.  The back pockets's just right for putting in your favourite tablet, though it's worth noting that there's no hard protection for your tablet's screen.  I think the best thing to do is put your tablet in with the screen facing the middle. Hopefully that minimises the possible damage to the screen.  The larger middle pocket's great for putting larger and wider items into, and you can always stack a few smaller items on top of each other. It could also be used if you normally carry your tablet in a case that bulks its size out a bit. The two front pockets are fantastic for smaller things like cables.
How much does it fit?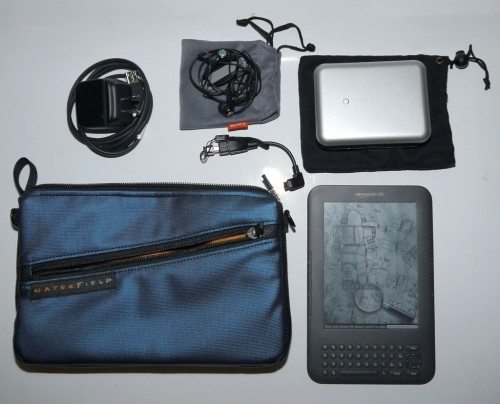 Here's the contents as shown above; my Kindle Keyboard in the back pocket, my Gum Max external battery pack and 10W AC Adapter in the middle and my headphones and USB-to-microUSB cable in the two half pockets.  My OTG cable with 16GB micro SD card sits in one of the pockets of the front compartment. So, quite a bit of gear.
Conclusion
When you first look at the bag, you wouldn't think that that much would fit into it; it's quite deceptive how much gear you really can fit in there. Each item sits nicely in its own place and is always in the right place when you need it. Packed with the above equipment, there's still a fair amount of room left if I start stacking things into the middle section.
I've just been interstate for the last 4 days, and the Travel Case was really handy for keeping things together and always at hand.
For  me while travelling, this is a Goldilocks bag; not too small and not too big. 🙂
The one criticism I have is the lack of a hard screen protector on the small back pouch. This would just give me slightly more peace of mind, especially for an item with a fairly fragile screen like a Kindle.
Just one more thing to note is that the Waterfield web page says this will fit a Motorola Xoom and a number of other 10″ tablets.  There's no way I could fit my work colleagues Xoom into it without breaking either the tablet or the case 🙂 I think you're pretty much constrained to using this case for a 7″ device like a Kindle, Nexus7, Samsung Galaxy Tab,  Amazon Fire or similar.
The Waterfield Tablet Travel case has found a permanent place in my travel kit.

Product Information
Price:
From $49
Manufacturer:
Waterfield Designs
Pros:

Not too small yet not too big
Lightweight
Nice set of pockets for organising your gear.

Cons: