We use affiliate links. If you buy something through the links on this page, we may earn a commission at no cost to you. Learn more.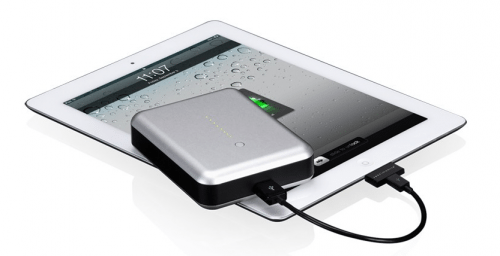 If you read my review of the Just Mobile Gum, you'll have read that I really like it as a backup battery because of its looks, weight, and size.  But what if you want to charge your tablet while you're on the go rather than your phone?  Today's tablets have batteries that hold many more times capacity than your smartphone and require 5V 2.1A to charge properly, and the Gum just isn't going to hack it.  Enter the Gum Max from Just Mobile. If the Gum was Bruce Banner, then the Max is the Hulk – much bigger and much more powerful. (Guess who recently finally got round to watching the Avengers? 🙂 )
A lot of my review for the Gum still holds for the Gum Max (just bigger), so I must admit I have "recycled" quite a bit of my Gum review. 🙂
Packaging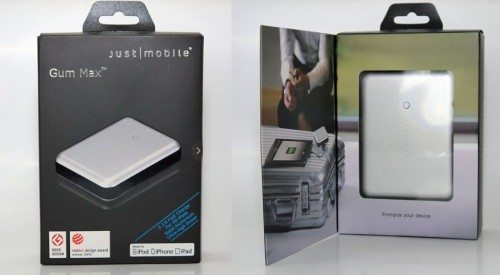 The unit comes in nice and neat cardboard packaging in a "booklet" style box.
Contents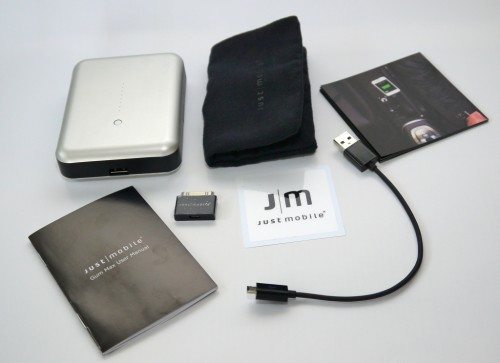 Never miss one of our posts again. Sent MON, WED, and FRI with the latest gadget reviews and news!
Inside the box are an instruction manual (in multiple languages), the Gum Max itself, a micro-USB cable , an Apple dock connector adapter, and a soft carry bag (as well as couple of Just Mobile stickers and product catalog).
The Top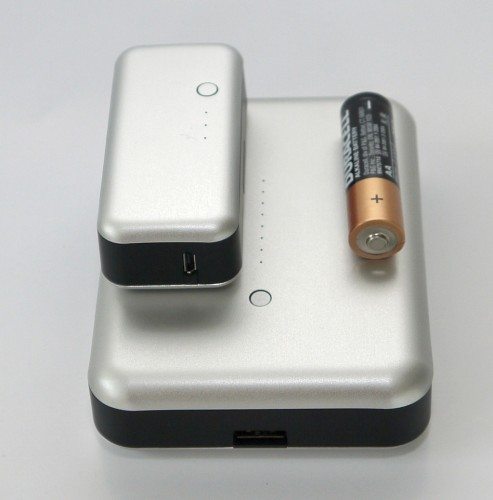 This is the big brother of the Gum (on top) at  8.3 X 11.0 X 2.6 cm (3.3 X 4.3 X 1.0 in), and just like the Gum, it's a sleek-looking unit with brushed aluminium top and bottom and a black plastic layer in between. If you told me it was made by Apple, I certainly wouldn't be surprised; it really does have that Apple feel about it. The Max won a Good Design Award in 2011 and a reddot product design award for 2012.
Stored in the  273 g (9.7 oz)  unit is a 10,400 mAh Lithium-ion battery pack. From  research, this weight is definitely in the lower end of weight for similar capacity units. On the top is a single on/off button and eight LEDs to indicate its charge and charging state.
Unlike some cheaper portable battery solutions, the Gum Max is Apple-certified for  iPad, iPhone and iPod, and also ROHS compliant, both things that are nice to know and are indicative of the quality of the product. I can actually tell you from the paperwork that shipped with the Max that Just Mobile is using Samsung 18650 batteries (4 x ICR18650-26Fs to be exact) inside the Max, not cheaper generic cells.
The Bottom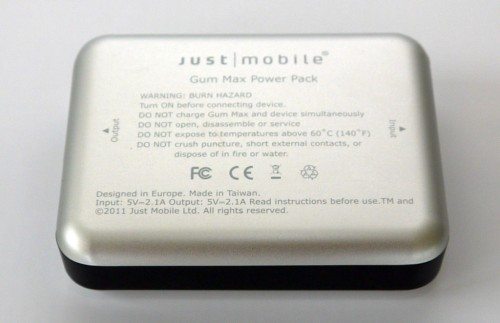 There's not much on the bottom, just a few warnings and instructions and pointers to which port is for output and input. Because of the aluminium finish, I'm not sure how durable the housing is from scratches (just like iPods and iPhones), and I'll most likely add some Sugru feet to protect it. It's nice that they throw in the little bag to protect it while it's rattling around in your gadget bag. The bag itself actually has two compartments in it and I'm assuming that one's for the cable and one for the Max itself, but is this a sign that they're concerned about scratching ? 🙂
Input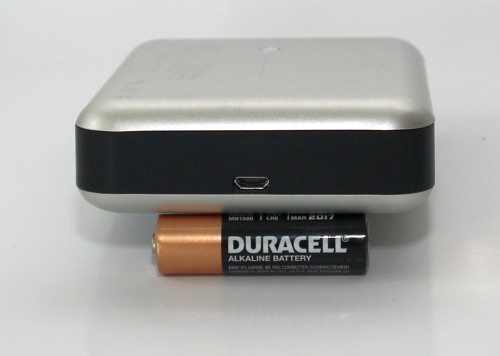 On one side is a micro-USB for charging the unit. It's worth noting that there's no power pass-through feature, so you can't charge the Gum and your device at the same time; you'll have to have the Gum Max juiced up beforehand. And here's one of the kickers with the Max, it won't charge via a normal USB port and requires at least 5V 2.1A to charge, and  Just Mobile doesn't supply an AC adapter that meets these specs. That's fine if you are going to primarily use it to charge your tablet, as you'll already have an approriate 10W adapter from your tablet. But what if you've purchased it to recharge a whole lot of smaller devices while you're out and about?  If that's the case you'll have to factor in buying a seperate 10W USB AC adapter just to charge your Max. Note that it will charge via USB on recent models of iMac, MacBook Pro, or MacBook Air.
Output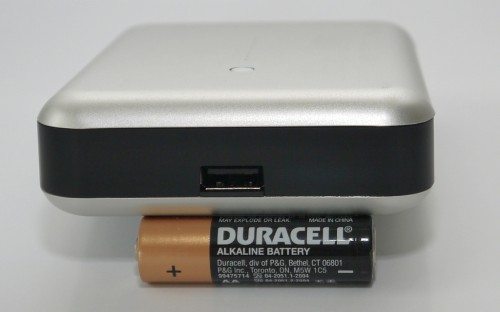 On the other side is a standard USB socket. This is much more useful than having some sort of proprietary connector on it as it can then be used with whatever USB cable you want. So using the appropriate cable, I can use this to charge my devices with mini-USB, micro-USB , Apple or proprietary connectors (like my Jawbone II cable). The port puts out 5V 2.1A, so it should easily charge most USB-chargeable devices including higher specced tablets.  What would have been nice is if the Max had multiple output ports on it so you could  charge multiple devices at the same time.  I know this would probably "compromise" the 2.1A, but surely there's an easy workaround so that I could charge two 1A items at the same time, this would make it just that little bit more flexible.
Charging the Max with a 5V 2.1A AC adapter takes around 6-8 hours.
The supplied cable can be used in one direction to charge the battery and then turned around and used to charge your micro-USB (or Apple with adapter) device. The supplied cable is fairly short at 19 cm (7.5in); I'm assuming that's for portability. The trouble is that it's too short for when you're charging your tablet and using it at the same time.  Because of the weight of the Max, it really does have to sit on the table, so it's awkward to use your tablet while keeping the Gum Max supported. Luckily because of the USB port, you can easily use your own longer cable.
Conditioning the Battery
From my experience with the Gum, I found that to really get the full performance out of a Just Mobile external battery, you have to cycle the pack a few times.  This was easy to do with the Gum, as a single charge would charge my phone and discharge the Gum, leaving it  ready to recharge again within just a few hours.  With 10,400 mAh to play with, recycling a number times just took that little bit longer. 🙂
Test Rig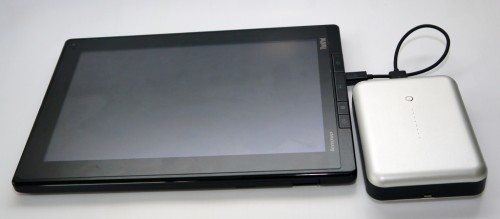 Here's the Max next to my 10.1″ Thinkpad Tablet. The Gum Max easily charged my tablet from 10% to 100% in around 4 hours. At this time, the indicators still showed one battery indicator and the Max successfully managed to then recharge my phone from 37% to full as well.  This was repeatable a number of times. Charging other items such as phones, MP3 players, and GoPro cameras certainly wasn't an issue. This battery pack really does pack a lot of useable juice into a relatively small package.
Other Matters
One thing is that the LED indicators did go a bit screwy at times.  After charging the unit, all 8 LEDs light up to show full capacity. When turned on while the unit is attached to my tablet, they also showed full capacity.  However, the LEDs quickly went down, much quicker than expected based on the indicated charged state of my tablet.  In fact, the battery showed 1 LED for quite a few hours.  And even when my tablet had been completely charged, it was still sitting on a single LED and again still had reserve juice left. Bit weird, and I'm not sure if it's the LED indicator assembly that's a bit dodgy or the fact that the product is really designed for an iPad and was getting some sort of false feedback.
It's worth noting that the Gum Max doesn't turn itself off once your device is full – a function that is available on some backup batteries. So if you set your device to charge overnight and it doesn't flatten the Gum Max, you do need to remember to turn it off in the morning.
It will be interesting to see how long the Gum Max can hold its charge when not used.  I mean it's no good if it's flat when you actually have to use it. The user manual does advise that for best performance the unit should be discharged and recharged once every two months.
Conclusion
The Gum Max is more expensive than some  of the external batteries of about the same capacity out there; however, it's very well designed, looks good, and is well constructed. The Apple and ROHS certification gives an additional  level of comfort in regards to the  quality of the components used in manufacture, which is something that can be a bit unknown in some of the cheaper chargers, especially those Asian "Yum Cha" ones.. 🙂
Because of the USB port, the Gum isn't constrained to being used just with your phone or a particular brand of device.
With external batteries, it's always a trade off between capacity and weight and size.  The Gum Max is a nice compromise between all three factors. As previously mentioned, it would appear that the Max is on the lower side of the weight scale for similar capacity alternative units. I can easily charge my Thinkpad Tablet and have enough juice left to charge up my HTC Desire, or I can easily recharge multiple smaller 1A type devices. While the Gum is smaller and lighter, it will only charge my phone once, and for me, the flexibility of having the extra power on tap with the Gum Max is worth the additional weight in my gadget bag.  I suspect the wife might be getting the Gum for her handbag for when she needs to recharge her phone.
Two factors that do go against the Gum Max though: no AC charger is supplied, so you'll need a 10W AC adapter or a new Apple product, and it would be nice if it had multiple charging ports as its capacity would easily allow it to handle multiple duties.
Product Information
Price:
$129.95
Manufacturer:
Just Mobile
Requirements:

10W AC Adapter or recent Apple product to charge

Pros:

-High quality components
-Looks and feels good
-Nice weight for its capacity

Cons:

-No supplied 10W AC charger
-Durabiltity of casing?
-Only a single charge point