The Gadgeteer is supported by readers like you! If you buy something through links on our site, we may earn an affiliate commission at no cost to you. Thank you! Learn more.
Product Requirements:
Device:
Naked
Compaq iPAQ
I began using a PDA years ago, because it liberated me from carrying around
all the information that I was always toting in my huge and bulging
Franklin Planner.  That planner held my ID cards, credit cards, my
checkbook, a pad of paper, as well as copies of every document I needed access
to in my day to day J-O-B; resized and printed to fit my Classic size binder. I
even had the little calculator that was also a bookmarker!
The beauty of that particular PDA, which just so happened to be a Hewlett
Packard 95lx, was in the fact that I didn't need to carry a 15 pound planner
everywhere I went anymore. Consolidating all of my information on that new PDA
made me even more efficient than I had been before.
Over time, I actually went back to carrying the Franklin. Reason? Because I
needed things to be compartmentalized and categorized. I was having to keep
several business's worth of information separate, and I found that the easiest
way to do this, at that time, was with a planner that I could divide into
whatever categories were needed. This was in 1995.
Fast Forward to 2001. My main PDA is now the Compaq
iPAQ, and although I have tried just about every PDA case available, there
are still times when I miss the simplicity of being able to just tote my Frankie
and its contents. There is something to be said for being able to carry a full
size pen and stylus combo with you, as well as a pad of paper. Since I have
experienced the paperless lifestyle for a while, I can see now that sometimes
either extreme might not be the answer.
If you weren't aware, I have an unbelievable aversion to Velcro. I have
been tempted to carry my iPAQ in a binder style case, but I just couldn't get
past the fact that I would have to affix that crud to the back of my
"baby".
One day, while checking out the Franklin
website (mainly for nostalgia), I came across the Franklin
Planner Binder for the Compaq iPAQ. What they showed was a binder that had
been custom fitted with a leather and elastic cradle for the iPAQ. Realizing
that this could be the solution that I was looking for, I was eager to give the
case a try.
My first impression of the Franklin was that the subtly grained black Nappa
leather was soft, and had a pleasant smell – somewhat like a new car's leather
seats.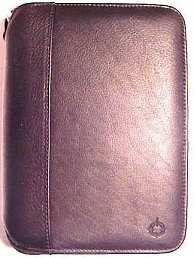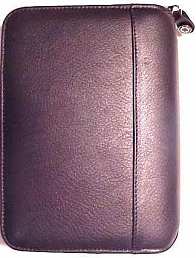 As you can see by the pictures, the Franklin is a classic zippered planner
style. When closed, your iPAQ will be quite secure inside, with no exposed
corners. I think that the nature of the binder, and the fact that the iPAQ is
held securely in place by the leather cradle would protect your PDA from most
falls. This binder is not crush-proof, however.
The styling of the case is professional and understated. Black stitching
follows around all of the borders, and the YKK zipper has a leather fob
attached, with a metal Franklin Covey logo centered on its end. This logo is
also discretely embossed on the lower front right of the case.
You'll notice that the Franklin is a good size – though not huge. It measures
7.25″ (18 1/2 cm) tall x 5.5″ (14 cm) wide x 1.5″ (4 cm) thick.
Upon unzipping the Franklin, you'll find one of the first of many subtle
marks of quality: this case is designed with the zippers installed in such a way
that when opened, the case will lie flat on it's spine.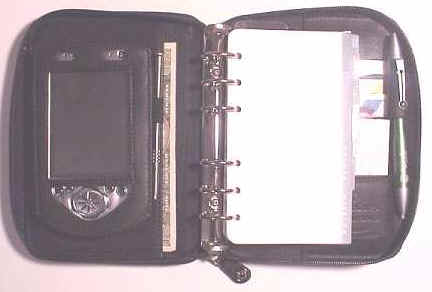 The iPAQ cradle is installed on the left side of the opened planner. It has a
leather faceplate that holds and protects the front of your iPAQ, and long
elastic sides to keep it secure. A leather flap connects the bottom of the
faceplate to the binder.
Upon inserting my iPAQ, I immediately saw that although I had access to all
of the screen area, space was a little tight down at the bottom where the 5 hot
buttons are. Mostly, I think this is because of the leather bar that goes across
the iPAQ, between the buttons and the screen. This bar does not prohibit you
from pushing any of the buttons – it just makes the area feel a bit more
cramped.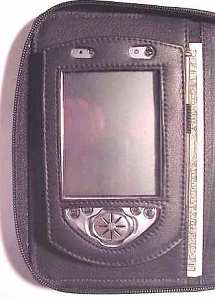 All of the sensors and the power button located at the top of the iPAQ are
accessible through perfectly centered cutouts.
The top of the iPAQ is left free, so there is no blocking of access to your
head-phone jack, stylus release button, or the stylus itself.
Just in case you don't feel like messing with your stylus, or if you are an
iPAQ owner that prefers not to remove your stock one; there is an elastic loop
located on the right of the cradle to hold another stylus.
A long, deep pocket runs the entire length of the wall behind the iPAQ –
perfect for stowing receipts or money.
Pocket Size pages are included with this planner. Instead of bothering with
supplying Address or Date pages (something no PDA owner needs), two sections on
"Values/Mission" and "Goals" are included. If you are
familiar with Franklin, you will recognize that these are part of the system
they have developed to help you identify your goals, figure out "what
matters most", and then set a plan to achieve what you want to accomplish.
There are also quite a few lined note pages, and seven numbered tabs to break
the note pages into sections, if you should choose to do so. As this is a metal
ring binder, you are free to add or subtract the items you want to carry in the
paper section. There is also an included Franklin Covey clear plastic
bookmarker, and a black plastic flap to keep the rear pages from getting
scrunched.
The right inside of the Franklin, or the "back page", is composed
of a long leather pocket that runs the height of the binder. This slot is the
perfect size for inserting your checkbook. The pocket is loose enough that you
can fit your checkbook register in behind everything – that is, if you are one
that doesn't enter your checks into Money or some other program on your iPAQ as
you write them.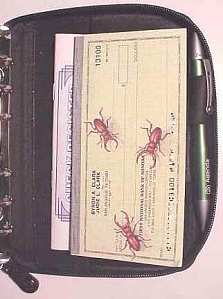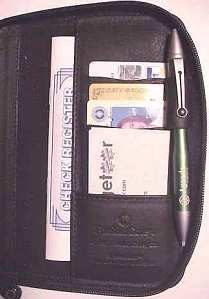 The front of this pocket has three ID or credit card holders, and a deeper
bottom pocket – perfect for holding business cards.
A large sized pen loop finishes out this area.
If I had to make a single complaint about the Franklin – and this is
definitely not something that will bother everybody, it's the fact that there
is no room for expansion sleeves in this case. Part of the beauty of the iPAQ is
its expandability through the use of various sleeves, and unfortunately – I
wasn't even able to make the Silver Slider
fit without causing the leather around the edges of the iPAQ to buckle. If the
elastic on the sides had had just a little more give, I could have made it work
– and it would have been great!
So, if I could improve one thing about this 2001 model Frankie: I would like it
if  the binder could be made a bit thicker, and with a cradle that could
accommodate the iPAQ while in the PC Card Sleeve. Since that's how I mainly use
my iPAQ, not being able to keep this configuration is a con for me.
If you are someone that usually carries a naked iPAQ, then this case will
work perfectly for you. Unfortunately, I always have my iPAQ in the PC Card
sleeve, and there is no way that the binder will even zip shut properly with
that monster inside!
Price: $99.99
Available in Black Napa Leather
Pros:

Extremely well made
Looks very businesslike and professional
Perfect marriage of PDA & paper system
Large pen loop
Lots of pockets
No Velcro!!
Cons:
Expensive
Slightly cramped in lower button area.
Not made to accommodate iPAQ with any expansion sleeve
Product Information
Price:
$99.99
Manufacturer:
Franklin Covey
Pros:

Extremely well made
Looks very businesslike and professional
Perfect marriage of PDA & paper system
Large pen loop
Lots of pockets
No Velcro!!

Cons:

Expensive
Slightly cramped in lower button area.
Not made to accommodate iPAQ with any expansion sleeve