We use affiliate links. If you buy something through the links on this page, we may earn a commission at no cost to you. Learn more.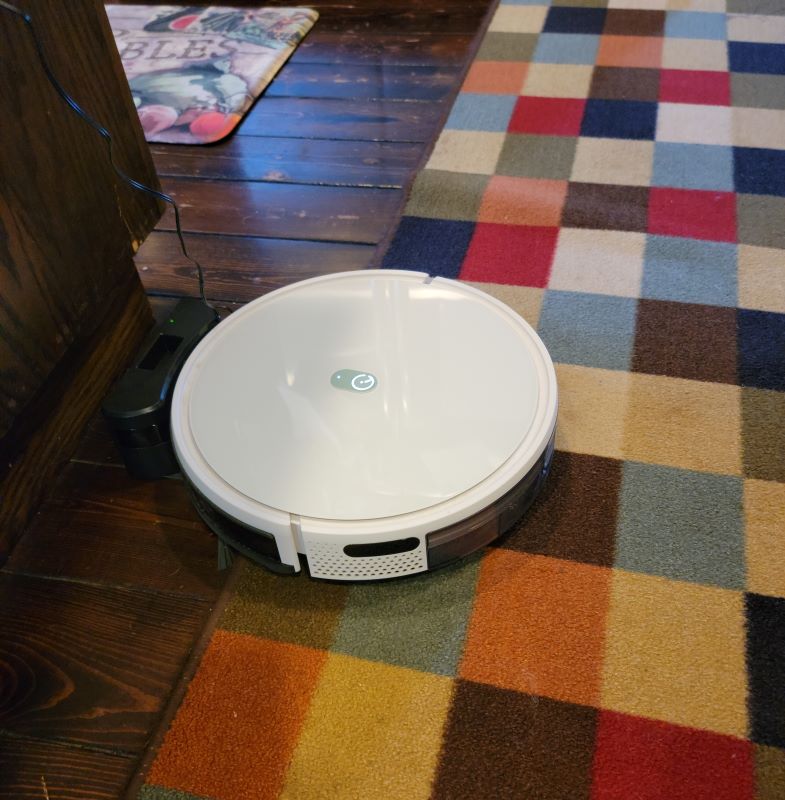 REVIEW – Of all the things "the future" was supposed to bring us…robot vacuums are as far as we've come, which is disappointing, but hey – I'll take it!   Today I'm reviewing the Yeedi K650 vacuum.  If I can't have a flying car, at least I have a machine that will clean up after me.
What is it?
The Yeedi K650 is a robotic vacuum that is controllable by Alexa.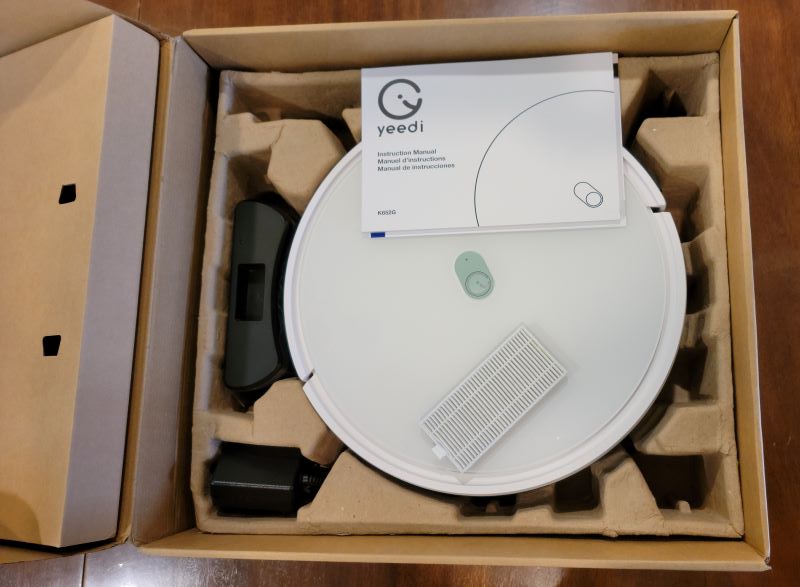 What's in the box?
Yeedi K650 vacuum with charging base
An instruction booklet
A spare filter
Two sweeper brushes
Power cord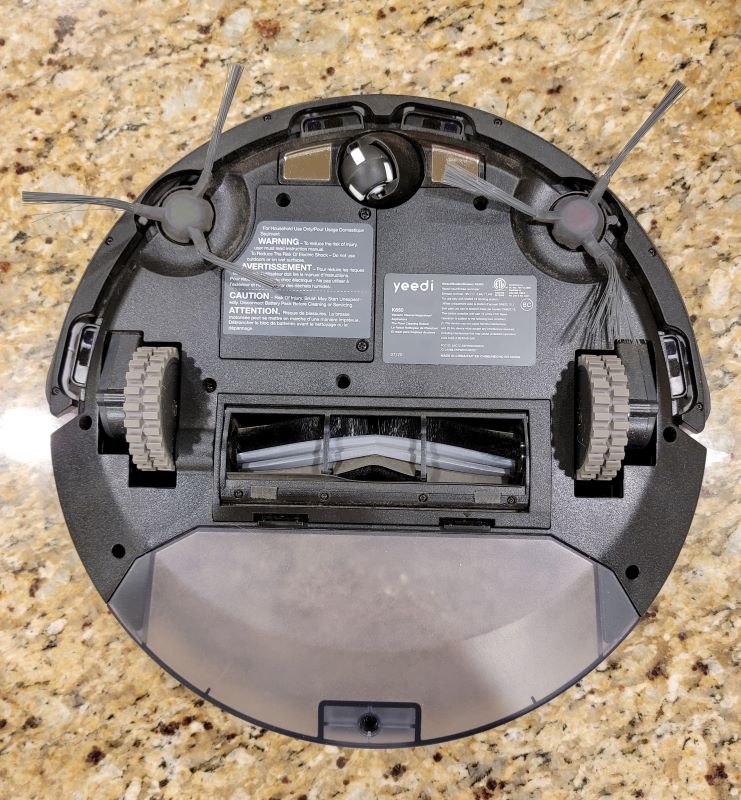 Installation and Setup
The physical setup of the Yeedi involves finding a good place for its home base/charging unit  (it requires a little open space around it) and then popping on the sweeper brushes.  Setting it up to run beyond that involves downloading the Yeedi app and connecting it to your WiFi.  All of that was pretty straightforward and I was freaking out my dogs with it in no time (just kidding – one ignored it and the other one avoided it).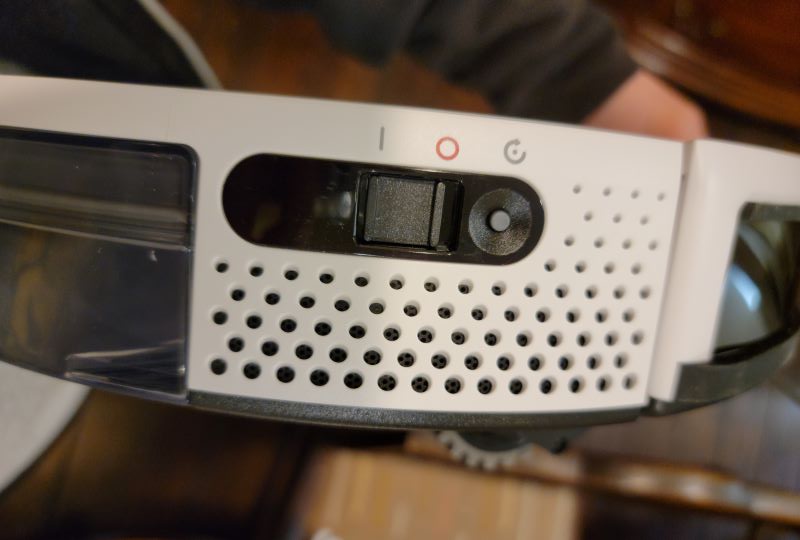 Features
The Yeedi K650 cleans with up to 2000pa, which is about average for a robot vacuum.  One website I read says that it is enough suction to suck AA batteries off the floor, but I'm skeptical of that after seeing the results of my glitter test (below).  It also features an e-filter system that says it captures 99% of dust mites and allergens as small as 6 microns.  The roller brush is supposed to be "tangle free" – more on that later.  It is app controlled and voice controlled if you link it to your Alexa device.
Now, I'm not exactly a newb when it comes to robot vacuums.  I have been the proud owner of a Neato vacuum which quit one day and then my husband dropped its replacement, a Roomba, which he replaced with a fancier Roomba with a camera and mapping capabilities.   I pitted them head-to-head with the toughest vacuum test I could devise:  glitter on my lame softwood floors (they are pine, and if I stare at them too hard they dent).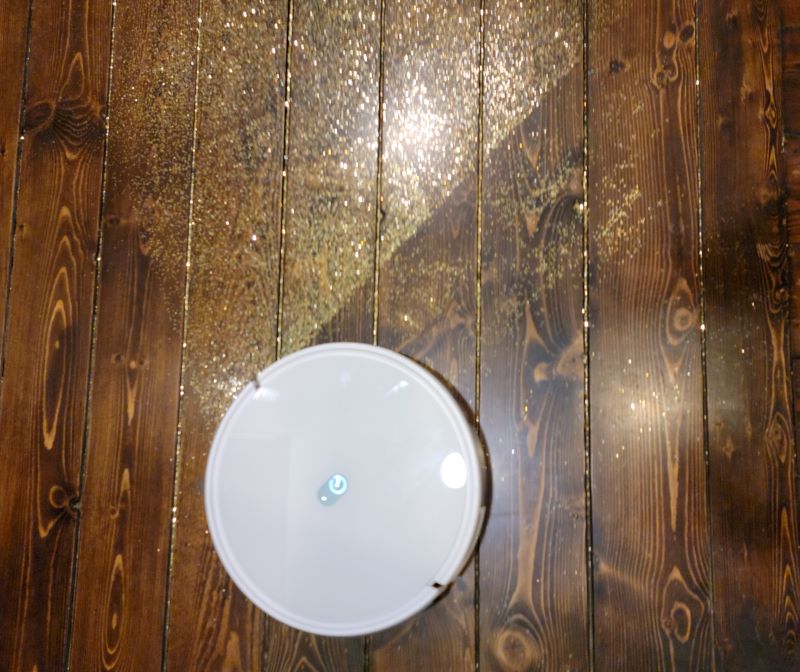 Never miss one of our posts again. Sent MON, WED, and FRI with the latest gadget reviews and news!
I have a friend who calls glitter "the herpes of the craft world" because it goes everywhere and it is kind of impossible to fully eradicate once it is out of containment.  I sprinkled a liberal amount all over my floors, which you will note have ridiculously deep grooves where all kinds of things settle in.  Then I set free the Roomba and the Yeedi and they both did a mediocre to fair job.   They didn't get every speck, but they did suck up quite a bit and I really couldn't tell you which one did better.    I will say, though, that the Yeedi is MUCH quieter (on any setting) than the Roomba.  While I wouldn't want it on in the same room while I was watching TV, if I had earbuds in I doubt that I would even know it was operating.  The literature from the company says that the lowest setting generates 56dbs of humming, which is about as loud as air conditioning or a microwave.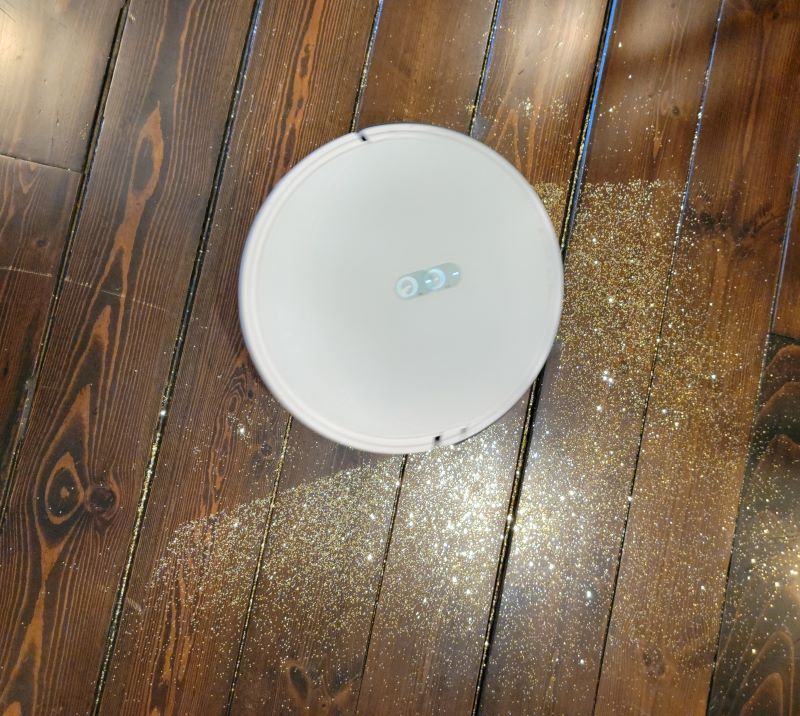 I repeated the experiment with a secret weapon the Yeedi has that my Roomba doesn't:  Max+ mode!  Yes, the Yeedi has four modes:  quiet (which is super quiet but is also barely suctioning so why bother), standard, Max and Max+.  It will also spot clean (where it whirs around and around a specific area) and edge clean (where it follows the edges or whatever you set it next to).  At the Max+ setting the Yeedi did a better job than on the standard mode.  I also ran it  on "spot clean"  at Max+ and still left some glitter.  It also bumped into things and changed direction and wound up quite a way from where the glitter was sprinkled.  Eventually, it found its way back and then declared that it had completed its cycle in its robot voice.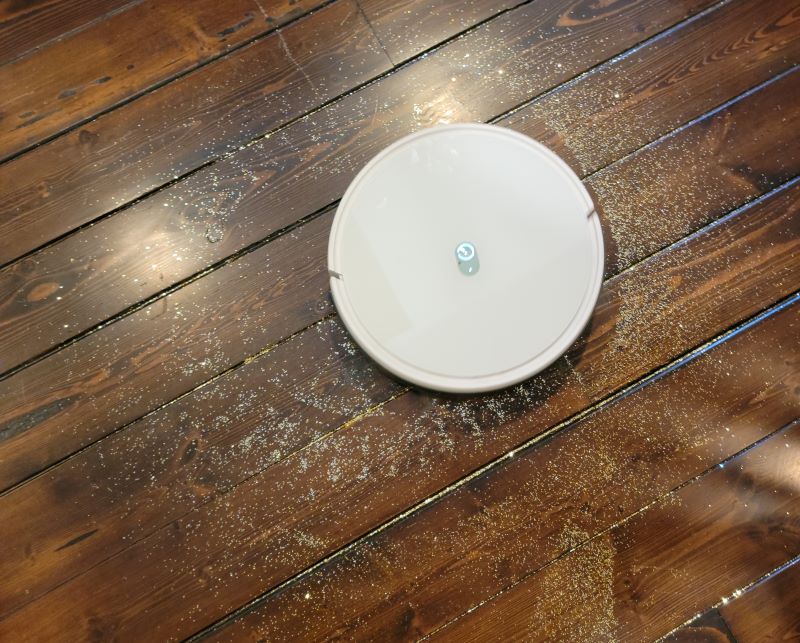 Later I sent it on a normal cleaning cycle around my house.  It was just after my cleaning lady left, so in theory, there should have been nothing to suck up, but it found plenty of stuff because this vacuum fits under furniture my Roomba doesn't (and my cleaning lady doesn't move the furniture to clean).  The Yeedi has quite a low profile at less than 3.5 inches.  It also has a much larger dirt cup at 800ml than my Roomba, which almost never makes it through an entire cleaning job before it needs to be emptied.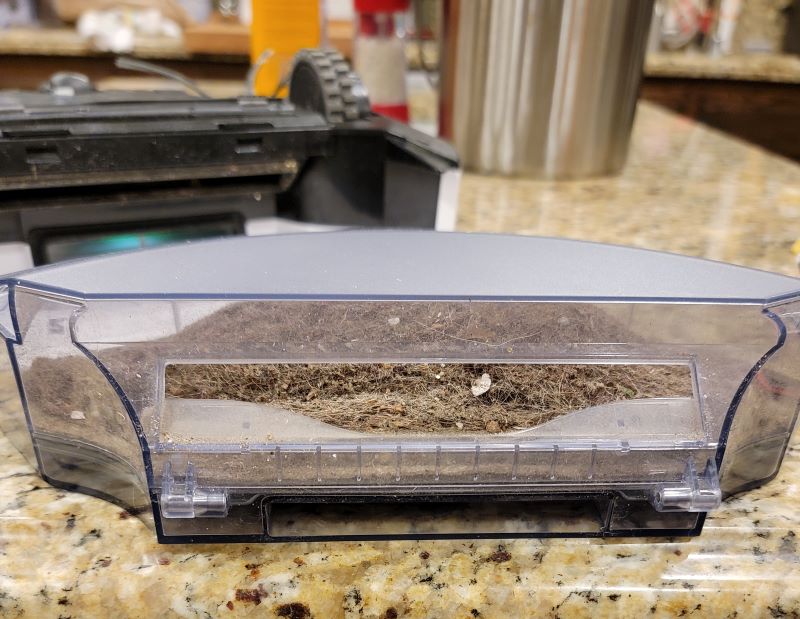 During its adventures around the house, it got stuck once on a power strip and it also sucked up some USB cables.  The "tangle free" cable lived up to its name and they didn't wrap around the roller, but it still didn't move on and let them go.  Whatever "tangle free" means, it was much gentler on the cables than my Roomba, so I consider that a win.  Both times it was stuck I was nearby to set it free, so it might have freed itself if I'd waited long enough.  I don't consider this to be a flaw in the device because all robotic vacuums suck up cords and get stuck occasionally, in my experience.  I'd also like to note that the Yeedi has a very loud voice when it needs to tell you something.  I like it, because sometimes when my Roomba would get stuck it could take a long time to find it because it isn't as loud.  The Yeedi also has a "find my vacuum" setting that my Roomba doesn't.  You activate it in the app and the Yeedi robot voice says "I'm here."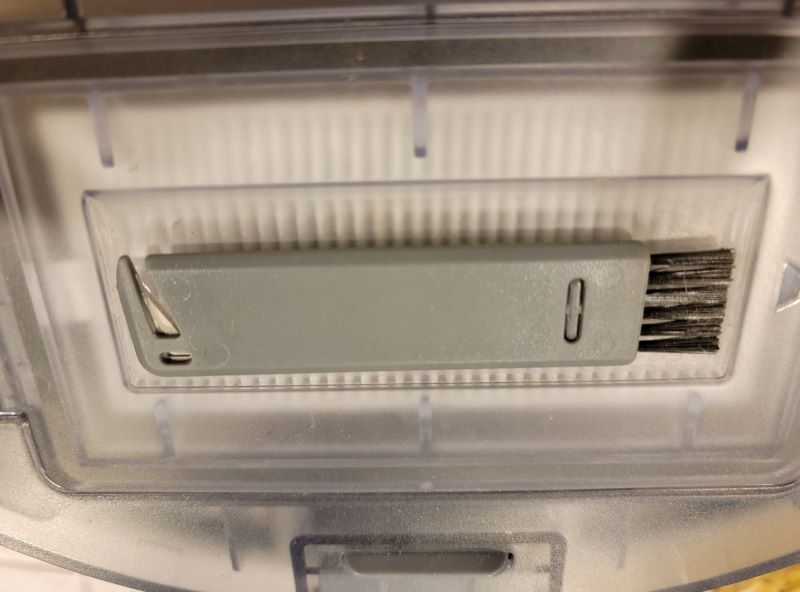 Because this vacuum cleans randomly, I feel like the ideal place for a Yeedi like this one (the K650) is an apartment or someplace with a less complicated floorplan because it would definitely clean a smaller space thoroughly.  My house is about 1400 square feet downstairs and I'm not sure if the Yeedi cleaned every nook and cranny, but in one cycle it cleaned 1335 square feet and ran for 103 minutes, which is impressive because it wasn't even fully charged at the time.  When I went to bed it was aimlessly circling the family room and trying to find its base (which was down a hall and through a doorway).  I didn't have high hopes that it would find the base, but it did!  This must just be how it works, because I interrupted another cycle on a different day and told it to go back to charge up and it wandered away from the base, into another room and circled around for a while.  At some point, it found the base, but my advice is to just walk away like I did and trust it will work out because watching it is going to frustrate you.  Or at least it did me!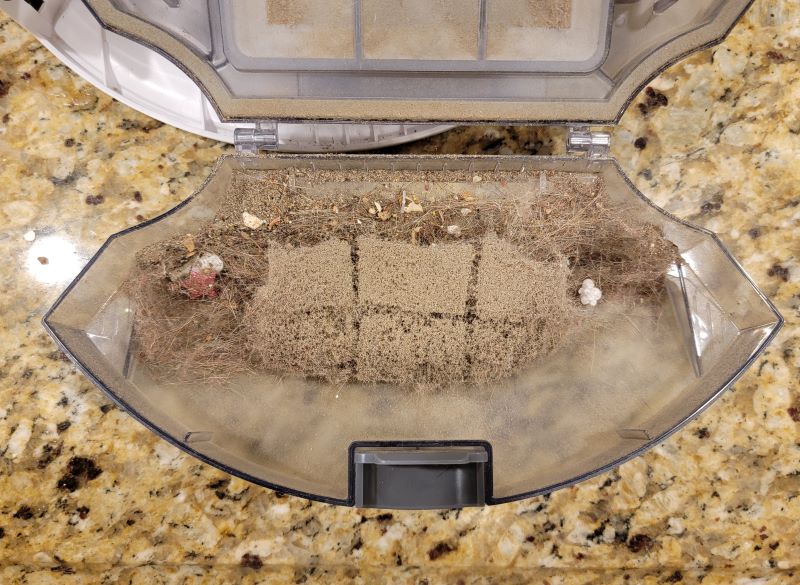 Two bonus things that I liked about the Yeedi are that I can start it by asking Alexa to have it vacuum and you can restrict it from cleaning some areas using boundary strips that you can buy separately.  I was impressed by the amount of dirt it collected and you could see that the filter was working when you opened the dirt cup and there was some very fine dust in the pattern of the filter.
One criticism of the Yeedi is that they didn't make it very clear about how to connect the vacuum to your Alexa account.  I wound up reading some of the questions on the item page at Amazon, and I did successfully connect it.  During that process, I had to reset my password because I'd forgotten, and the recovery email came 100% in Chinese.  So my other caution would be that you better commit that password to memory or rely on Google translate like I did.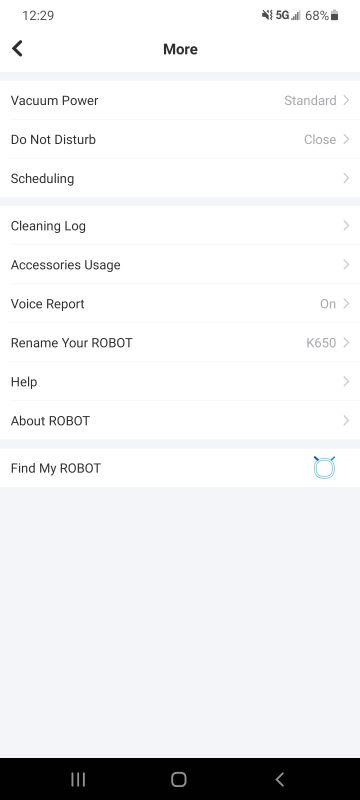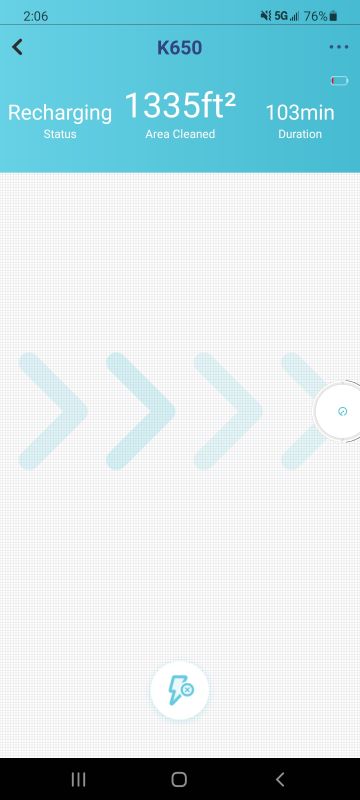 This particular model seems to work OK for my house, but ideally, I'd like one that maps like the Roomba so that I know it cleaned all over.  Yeedi makes one of those, the K700, which also has mopping abilities.  It doesn't use an app or connect with Alexa, though.  Instead, it comes with a remote control.  It also costs almost double.  But if the Roomba ever gives up (or gets dropped by Pierre), I might throw the K700 in my shopping cart.
What I Like
Alexa compatibility
Large dirt cup
Sooo quiet!
What I'd Change
Password recovery email in English
Clearer instructions on connecting to Alexa
Final thoughts:
The Yeedi K650 robot vacuum is a great choice of robotic vacuum, particularly if you have a smaller, simpler floorplan like in an apartment.  If you have a larger, complicated floorplan you might want to bump up to a fancier model so you can be sure your whole house will get vacuumed in one session.
Price:  $179.99
Where to buy:  Amazon  or Yeedi
Source:  The sample for this review was provided by Yeedi