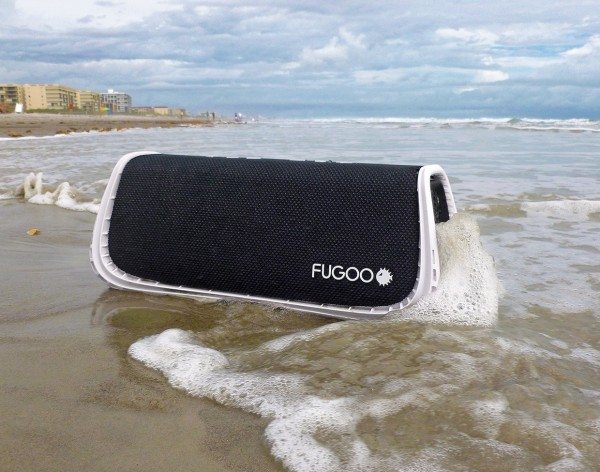 Over a year ago, I reviewed the small, but tough and waterproof Fugoo Bluetooth speaker. It became my choice when I need to just grab a speaker and go. It's not the best sounding portable speaker—that honor goes to the incredible and more expensive Bowers & Wilkins T7—but it does sound great and is one of the easiest and most convenient speakers I have. The Fugoo (Japanese word for Blowfish) speaker has become a constant companion as I putter around my house and property. Well, now Fugoo has upped their game with the visually similar—and much larger—XL speaker. And what a monster it is. Although it's not exactly 4 times larger as claimed, it's pretty darned close. The XL is big, heavy, loud and loads of fun. However, there is an area where the smaller Fugoo has it's bigger sibling beat—more on that later.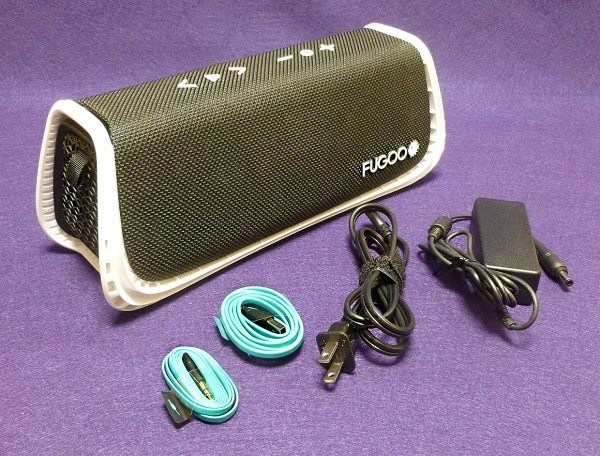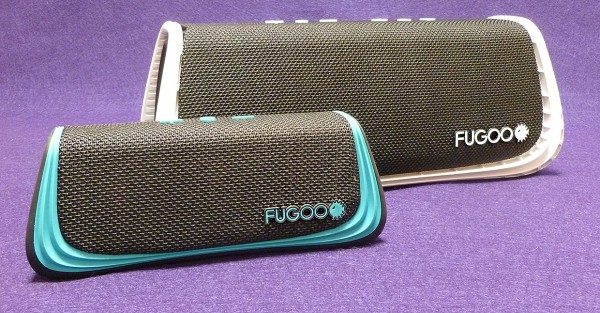 Let's deal with some direct comparisons. I have the Sport version of the new XL, so it will be compared with the Sport version of the smaller, original Fugoo speaker, since both speakers belong in the same family. Like the original, there are three versions of the XL: the Style, Tough and Sport (which I am reviewing). Aside from some minor differences, the XL speakers look just like the smaller versions on steroids. There are some extra-cost options available: A waterproof remote control, a hand or shoulder carrying strap, and an "anywhere" strap for mounting on kayaks, trees, poles, whatever. I got the hand strap because the XL's size makes it clumsy to carry around. I wish one of the straps was included with the speaker itself, especially in this price range.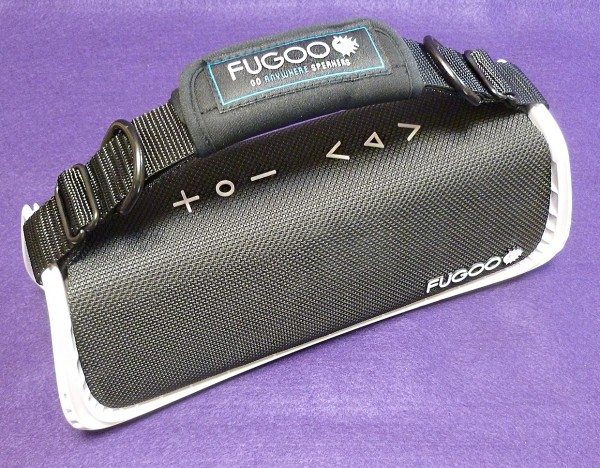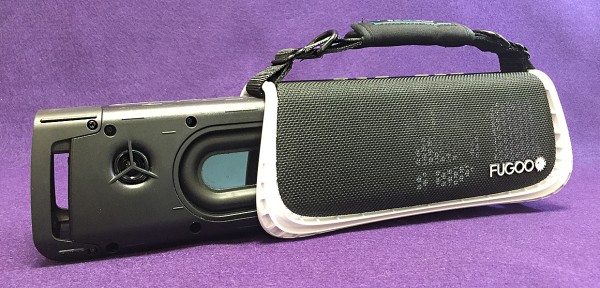 Both speakers are based on an inner core speaker that is wrapped in a removable and changeable shell. The original Fugoo has six speakers vs. eight speakers on the XL. The XL has double the tweeters of the original, so you would think that there would be more power and upper range clarity with the XL, but that's not the case. Maybe it's the fact that the 2 passive radiators of the XL are have much larger mass, but the XL has way more bass then the smaller Fugoo, even with the added high frequency tweeters. That's one of the conundrums of the XL—the smaller Fugoo sounds clearer than the XL. If I'm listening to a talk radio station or streaming a news channel to Bluetooth, I'll choose the smaller Fugoo over the XL every time. However, music is another matter entirely.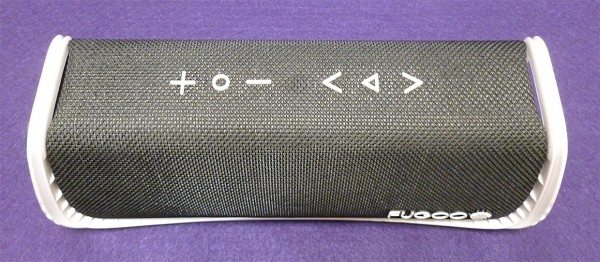 The XL has added buttons on the top of the speaker for Play/Pause/Skip. The smaller Fugoo has those same functions, but requires a sequence of fewer buttons to perform what the dedicated buttons on the XL will do. It's a huge improvement. Plus the buttons on the Sport XL will glow in the dark (but are not backlit) helping to eliminate fumbling.

While the smaller Fugoo charges via USB, the XL requires a dedicated charging cord. It's one more thing to keep track of. The original Fugoo's ports are exposed even though it can be underwater for 30 minutes with no ill effects, but the XL's ports have a tight-fitting rubber seal. I'm not sure why the XL's ports are more sensitive, but the seal does work perfectly. I took the XL to Cocoa Beach and photographed it in the salt-water surf—not something you do with electronics—ever. When I came home, I rinsed it off in the kitchen sink, let it air dry and it was as good as new. Do that with many other speakers—or don't.
Unlike the smaller speaker, the XL will charge a smartphone or tablet via a USB port. Keep in mind that doing so will shorten the Fugoo's battery life. But the XL's battery is large, so battery drain won't be much of an issue. There is a micro USB port exclusively for firmware updates, as on the original Fugoo.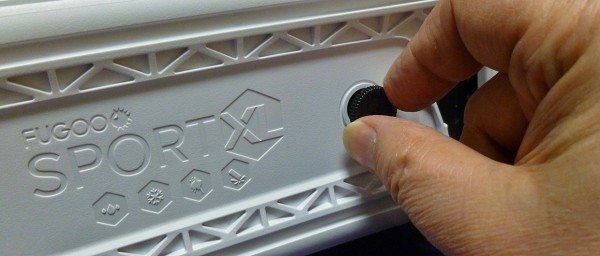 As I mentioned before, the XL is a Core speaker wrapped in a shell. Removing the shell for cleaning is easy. Just remove two thumb-screws from the bottom and the Core slides right out. The Tough XL (which I do not have) requires a supplied hex key to remove many screws—much like its smaller counterpart Tough speaker.
Both the smaller Fugoo speaker and XL deliver 360° sound from identical speakers placed on both sides. So how do the two speakers compare where it really counts—audio quality?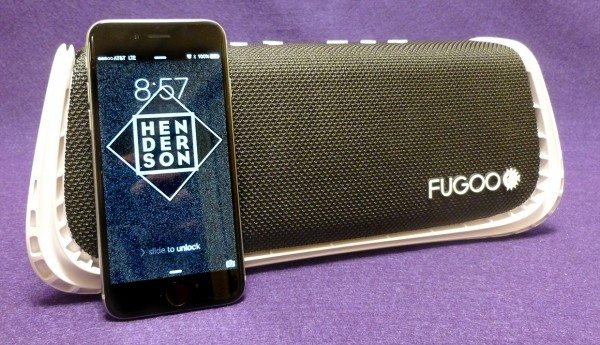 Because of the larger (and more numerous) speakers, The Fugoo XL simply overpowers the smaller speaker completely. Even though the original Fugoo will get plenty loud, it can't compare to the XL where it counts—power and mass. As I said before, I prefer the smaller Fugoo speaker for speaking clarity—talk, sports, news. However, the XL has more presence when playing music. There's more of a "being there" quality to the sound. The smaller speaker sounds slight and hollow when directly compared. While some of that is attributable to tuning and speaker size, it's simple physics that allow the XL to beat the original. It's just much bigger, period.
Whether indoors or (especially) outdoors, the XL can easily give you decent sound to get any party or gathering moving. Bass is plentiful without being overpowering or headache inducing. This is apparent in various Beatles songs. Earlier recordings never allowed Paul McCartney's bass playing to be appreciated. The latest remastered recordings tell a different story. McCartney is an excellent and inventive bass player and the XL speaker brings this out quite well. The psychedelic "Tomorrow Never Knows" from the "Revolver" album has McCartney delivering a monotone bass that gives John Lennon's distorted vocal along with Ringo's almost out of time drumming a solid foundation keeping the song from falling apart.
Vangelis' weird and wonderful "Albedo 0.39" features various electronic tones overlaying someone reciting scientific facts about earth as it relates to our solar system. This is a "song" you play when the party's over and you want everyone to leave. I love it. The song has some high notes that can sound harsh, but any possible distortions are reigned in by the XL speaker.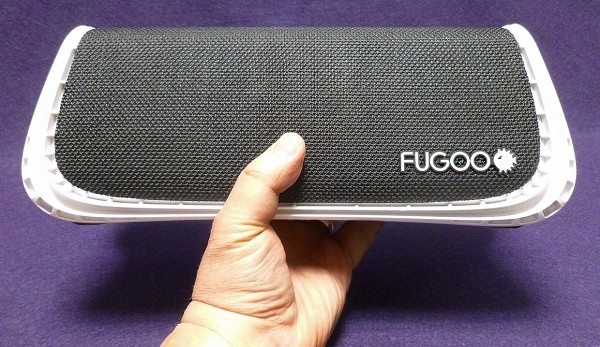 Recently, while reading about an audiophile speaker, the reviewer mentioned his favorite bass-testing song: "Silent Shout" by The Knife. He wasn't kidding. I'm going to incorporate this song into my testing list. As I expected, this song was a bit too much for the XL speaker. There was no bass distortion, but that oomph one gets from a big stereo speaker pumping bass wasn't there. Fugoo can't be blamed—again, it's simple physics However, that does not prevent the song from being enjoyable—even if it's not really my type of music. Great test song, though!
The Fugoo XL is a party speaker that will make your music sound better than those smaller Bluetooth speakers—a lot better.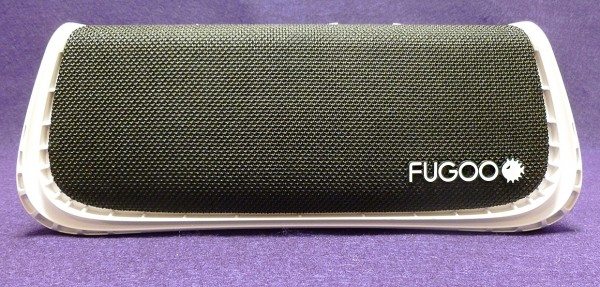 Fugoo has managed to make a name for themselves in an overly crowded Bluetooth speaker market by staying committed to what they do best—making an almost indestructible speaker that sounds astounding and has unbelievable battery life. They're not cheap, but if you want a speaker that will last years no matter how it's used and abused, then the Fugoo XL looks like a bargain.
Source: The sample for this review was provided by Fugoo. Please visit their site for more info and Amazon to check prices and order.
Some of our links in posts like this one are affiliate links, which means that we may receive a small commission on purchases at no cost to you.