We use affiliate links. If you buy something through the links on this page, we may earn a commission at no cost to you. Learn more.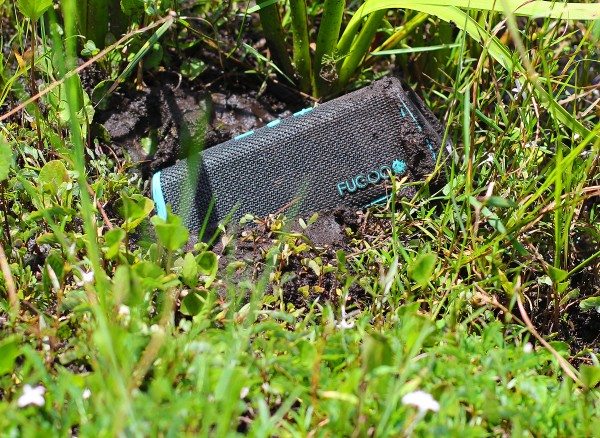 There are now so many portable speakers available that have Bluetooth, speakerphone capabilities, really good sound for their size, and decent battery life, that choosing one is getting harder and harder. But really, who cares? Just a few short years ago, these technological perks we take for granted were mind-blowing. This really is the start of a golden era in portable audio.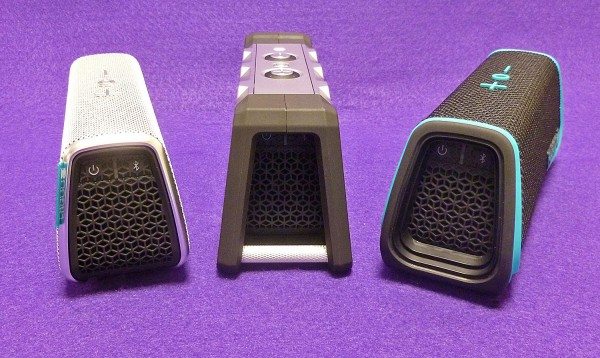 Now, an upstart company named Fugoo (foo-goo) has taken the portable Bluetooth speaker one step farther by making it waterproof, as in WATERPROOF. We're talking depths of 30 feet for 30 minutes with no damage. Not only that but dirt, sand, mud and snow don't seem to bother it either.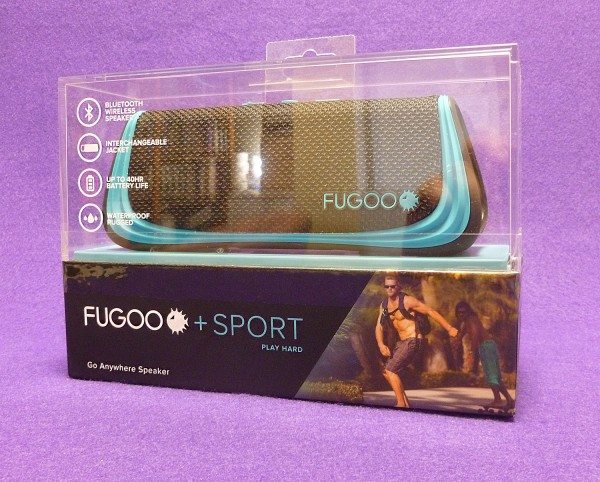 Fugoo's idea was to make a Bluetooth speaker fit any lifestyle, not the other way around. The name Fugoo (and their logo) refers to the deadly poisonous pufferfish (Fugu) that is a delicacy in Japan. If not cooked exactly right, it can kill. I wonder if taking such a dangerous epicurean gamble inspired Fugoo to jump into the risky Bluetooth speaker market? Who knows, but the way they did it is interesting. More on that later.
Just for fun, I decided to take the Fugoo Sport Bluetooth speaker to Cocoa Beach, Florida (near my home) and just throw it in the surf without a care. This is something I would NEVER do with any other speaker I own. I wouldn't even take a speaker to the beach, period. The Florida-Atlantic coast is known for its windy, salty air – not good for electronics. That's why I didn't take my camera along. Call me paranoid, but there was that episode in my 20s with a very expensive 35mm SLR camera and a rogue wave … I still choke up thinking about it.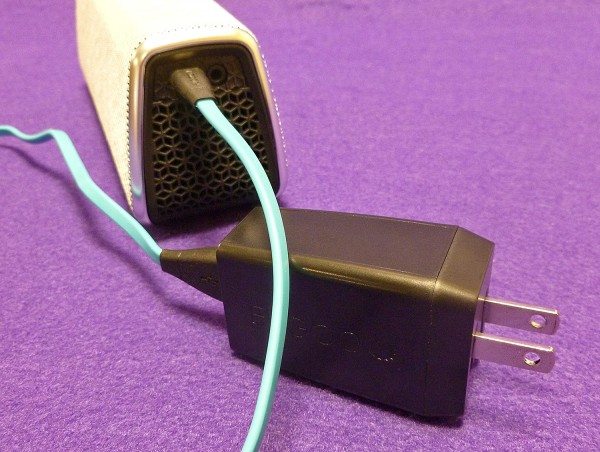 Anyway, as cool as the waterproof angle is, consider this: the Fugoo speaker also includes 40-hour battery life. Yep – 40 hours non-stop at 50% volume. That's not an inflated number, either.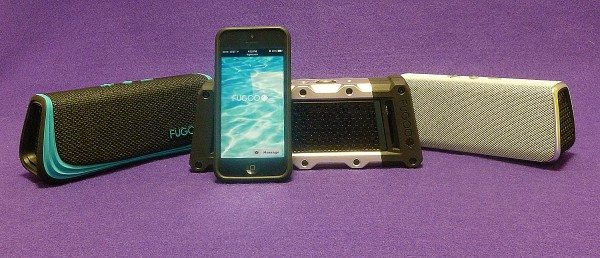 This will be a review of three speakers from Fugoo. Well, not exactly… it's more like one speaker with three shells. Each Fugoo speaker: the Style, Sport and Tough model has an identical core with very different shells that can also be purchased separately if you get bored with the original one. Let's deal with those first.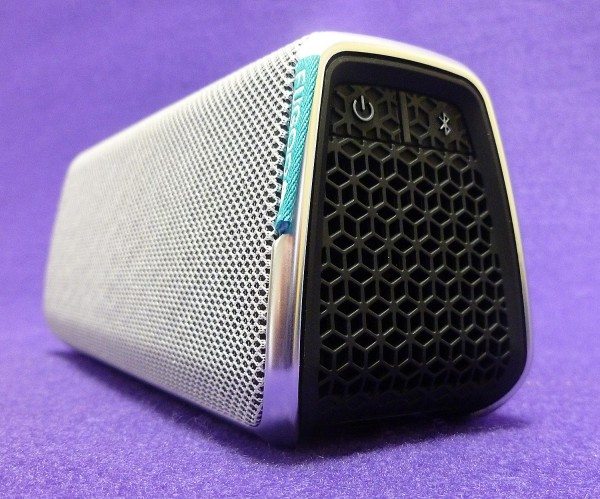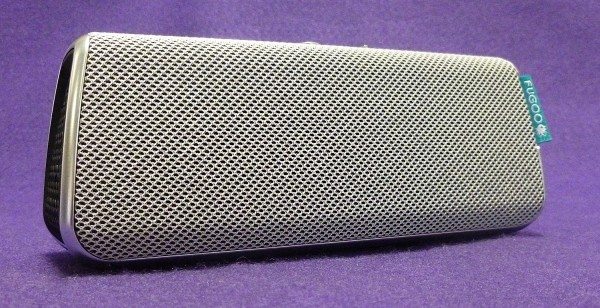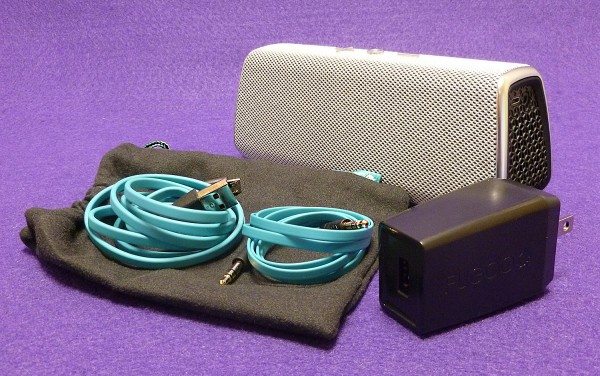 The Style speaker shell has a sparkly cloth cover with chrome trim and buttons and a Fugoo tag sticking out like a teal Levi's label. It looks OK, but the design is a bit too feminine for my tastes. My wife completely disagrees. Case made.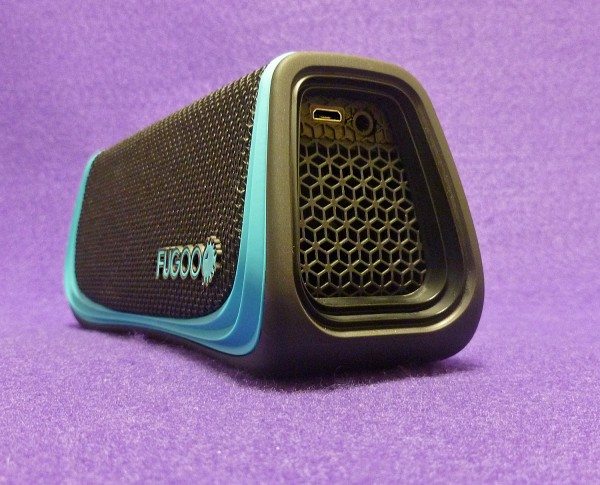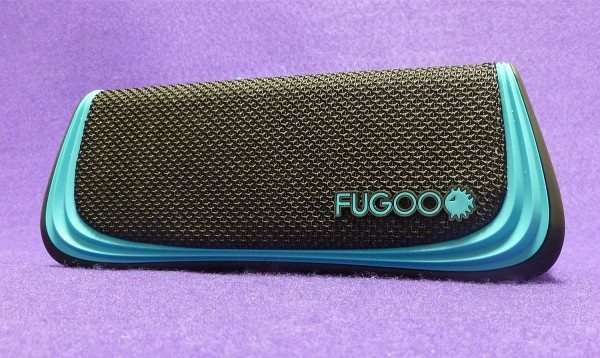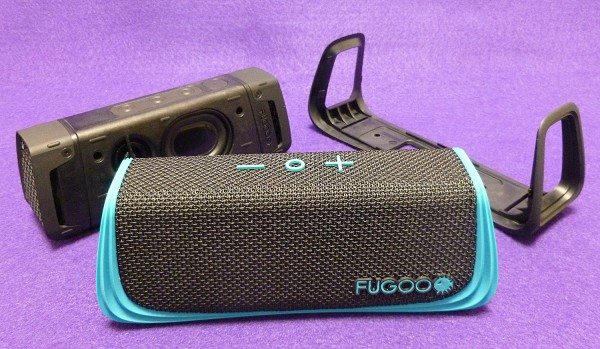 The Sport speaker has that same corporate teal color incorporated into a hard rubber wave design that encompasses a tough, black cloth grill wrapped around a resin shell. This exterior is obviously meant to be tossed around. It can be thrown across  a room, onto concrete or into that Atlantic surf with no damage other than a scuff mark or two. It has a care-free, "surfer-dude" look to it.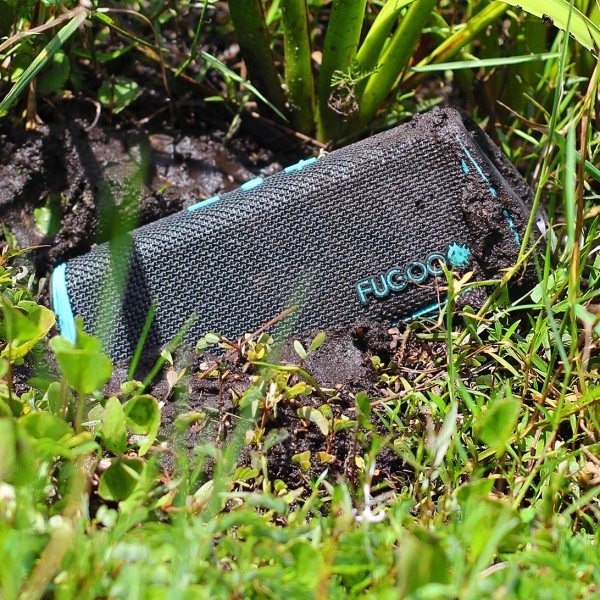 It's this Sport model my son photographed in mud for this review. And yes, after I washed it off, everything worked just fine. However, I recommend that once it's wet, let it dry completely before using. I noticed water still inside the AUX port after about an hour of air drying. Shoving a miniplug into the port when wet can't be good.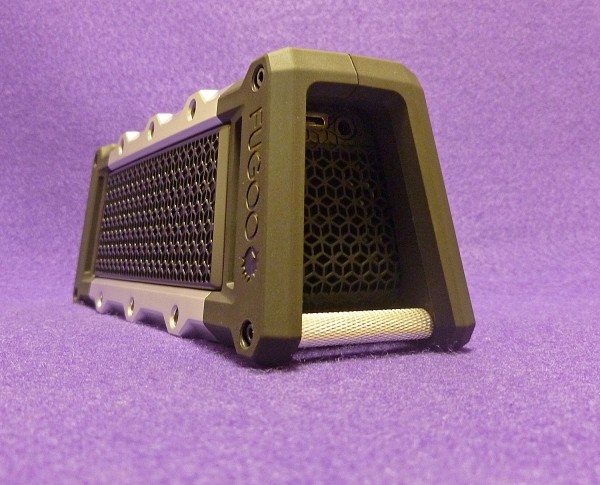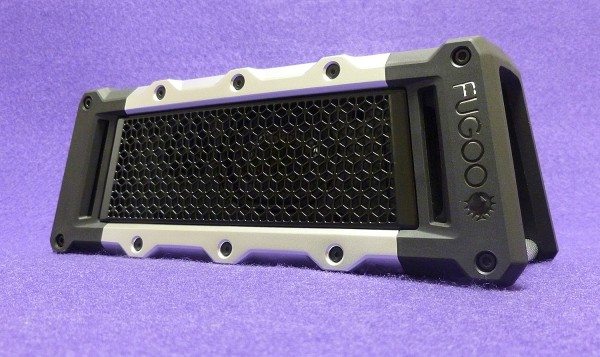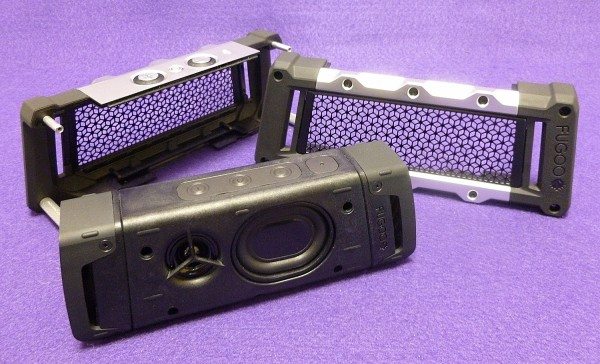 The Tough speaker is just that … tough. It has an aluminum frame and fiber-reinforced resin grill with hard black rubber end-caps. This model can also can be thrown around, but I would be more concerned about scratching this one as opposed to the Sport, which just begs to be abused. Not to say that the Tough can't take it, but any roughness will show more. The design of the Tough is definitely masculine. Interestingly, it has a shape similar to the Contemporary Hotel at Disney World. I live in Orlando, so I notice these things.

Although the Core speakers are identical, each speaker/shell has a different price, caused by the complexity and materials in the shell itself. All included accessories are identical. There are also many optional accessories available from Fugoo. Click here for info.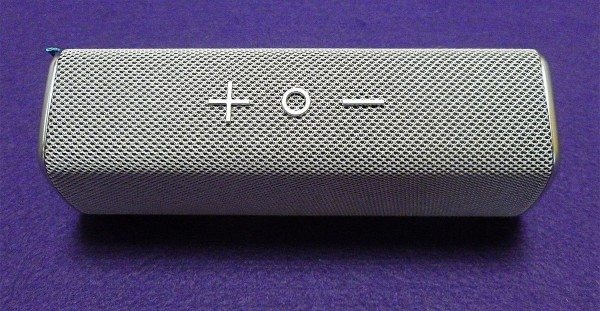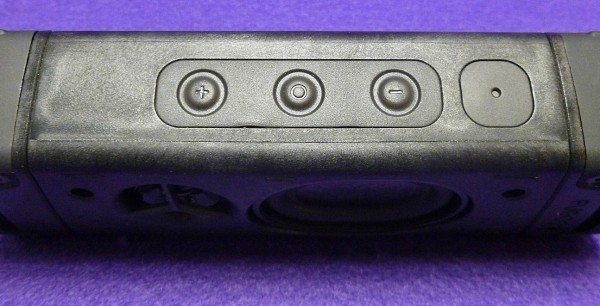 Each of the shells have buttons on the top that line up with hidden buttons on the core speaker underneath. This approach allows each shell's buttons to uniquely match the design of the shell itself.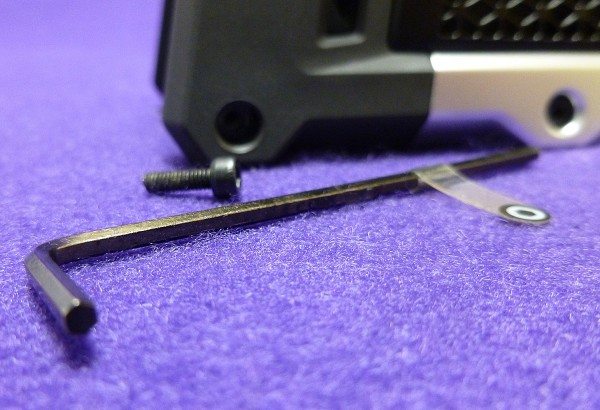 While I appreciate the ability to change shells on each Fugoo speaker, it's not as simple as it sounds. The Style speaker is the easiest shell to remove. Pull a tab and it slides right off. Not so with the Sport shell. I kept thinking I was going to break it trying to pry it apart, but the only thing I broke was a fingernail. I finally was able to force the shell off its frame. The Tough case is another animal entirely. It has six tiny allen screws that have to be removed before it splits in two halves. Fugoo includes an allen wrench, but it's small and easy to misplace. However, it was quite easy to disassemble.
Keep in mind that there should only be two reasons to remove a shell: If you want to change the look or if it gets extremely dirty. Otherwise, Fugoo plainly states that the speaker should never be used without its shell.
One thing I appreciate about Fugoo is their firmware updates. Fugoo has updated the firmware twice in the 3 months I've had the speaker and each update has made substantial improvements. The first update allowed the volume of startup sound and voice to be controlled. It was jarring to hear "Speaker is on" as if I had the speaker turned all the way up. Not good in an office. I reset it so that there are just quiet reminders that tell me it's on, off or connected to Bluetooth. You can also turn off the voice prompts entirely but I prefer english to annoying beeps.
The second firmware update was even more better! While the Fugoo speaker sounded okay when I first received it, the bass was boomy and frankly, I had some other small Bluetooth speakers that sounded better at this price range. After the latest firmware update, the sound was way more balanced and less tinny. Now the Fugoo can compete with any speaker at this size and larger. Updating the firmware was straightforward and simple. It only took about 2-3 minutes with my iMac.
One regret I do have is I wish I had written down some thoughts before I did the firmware upgrade. That would have helped me do A/B comparisons. Oh well.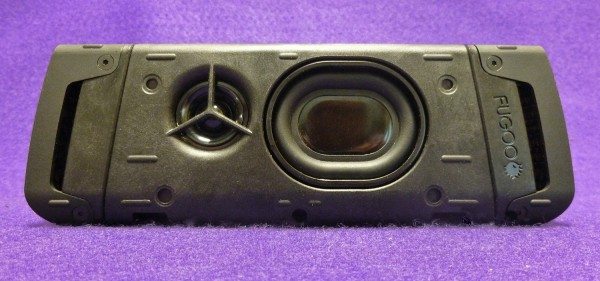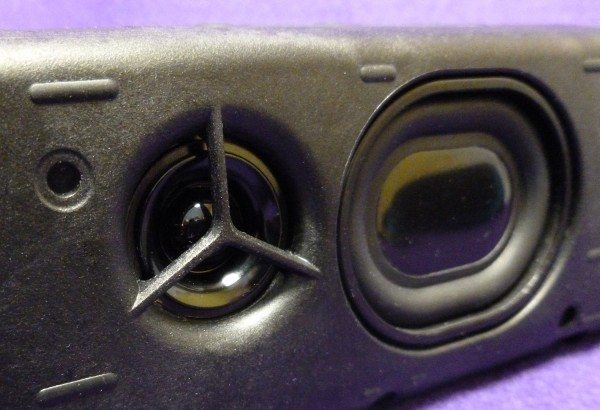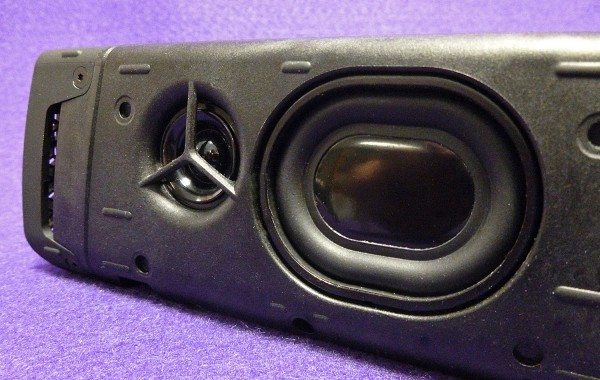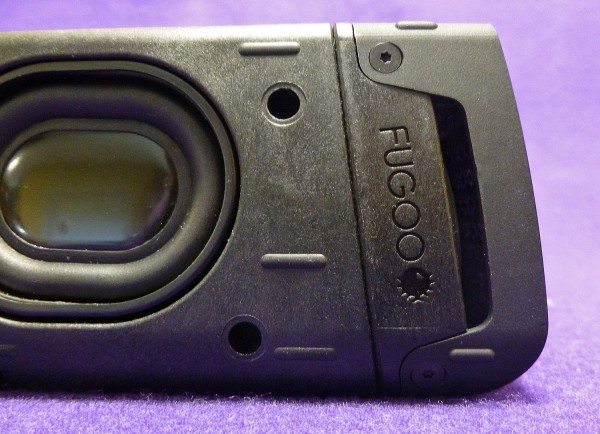 The inner Core contains all the speakers. I say all, because there are a total of six speaker drivers. Two tweeters plus two mid drivers plus two passive radiators help the Fugoo cover a complete frequency range. The ability to play at 96 dB volume is impressive for this size. The six speakers are symmetrically placed. This helps in a group setting because it makes the audio seem non-directional. Plus, the speakers are tilted up for better sound displacement. However, this makes more sense in close listening than across a room.
The built-in mic works with iPhone and Siri as well as Android devices with Google Now. I tried it out and it worked as advertised. Talking to others using the mic was predictable, meaning they could tell I was not speaking directly into the phone. In fairness, I've never had anyone say I sounded great on speaker phone no matter how good the mic was. Bluetooth pairing was simple and quick. Many times, I needed to hold the Bluetooth button to re-connect the speaker to my iPhone if they were separated for a while. It's slightly annoying, but not a big deal.
There's a built-in Digital Signal Processor that dynamically adjusts the frequencies as the volume is changed. This is all aural voodoo science to me. It works, but the biggest benefit I hear (or don't) is the lack of distortion when pushed. Other speakers may use this trick, but they usually cost much more as a result.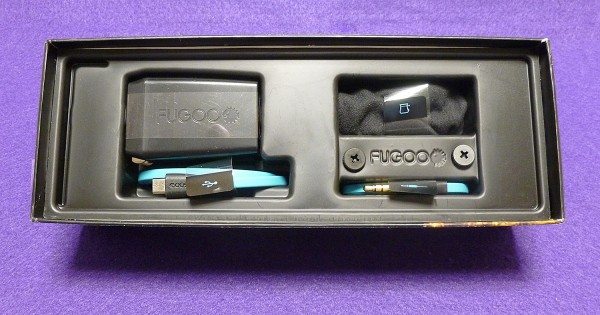 The Fugoo website has all the brain-numbing tech detail if you're interested. I love reading that stuff even though I only understand about half of it.
I divided my listening to Bluetooth and wired. I still prefer wired over Bluetooth, but with this type of speaker, wireless is the way to go. It's their reason for existing.
Note: One annoying thing about the Bluetooth setup was when the Fugoo speaker was near my iMac. There were audible dropouts that I suspect were conflicts with my Bluetooth mouse. However, there were far more dropouts when using the iMac's Bluetooth as opposed to being paired with the iPhone. Weird. Nothing bugs me more than intermittent dropouts. Yes, dropouts also happen with Apple's AirPlay. It's not just a Bluetooth problem.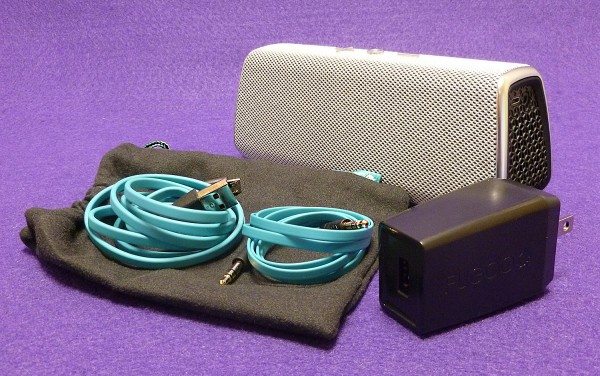 The 70s psychedelic classic "Spirit in the Sky" from Norman Greenbaum (whatever happened to him?) borders on camp, but it kicks where it counts. The percussive bass is sharp and the distorted guitar is some of the best ever put on record. The little Fugoo speaker didn't miss anything on this song. All the song's power and pomp was displayed quite well even when cranked up to max volume.
In Lorde's massive hit, "Royals," there is a recessed bass drum that drives the whole song. Lorde's lead vocals are supported by a choir-like backup which covers the midrange frequencies. When combined with reverbed finger snapping, it highlights the Fugoo speaker's ability to cover a wide frequency range and not favor one at the expense of another.
Claude Debussey's "Prelude A L'Apres-Midi D'Un Faune" is a light classical piece that almost demands a complete speaker setup. While the Fugoo could handle the wide dynamic range (loud to soft) rather well, it sounded much better at lower volumes. So, if you are a fan of classical music and are looking for a portable Bluetooth speaker, keep it at background listening levels.
The late Warren Zevon's twisted sense of humor is most evident in "Roland, the Headless Thompson Gunner." This is not a song to put on your party list unless it's Halloween. Even though this is a rock song, the mix is more acoustic driven, with an emphasis on the vocal range. The Fugoo speaker seems made for this type of presentation. It's very happy accentuating the mid frequencies more so than highs or lows. That's actually a good thing – unless you only listen to instrumentals – like Debussey.

Fugoo has seemingly come out of nowhere with their Style/Sport/Tough speakers and leap-frogged over many more established speaker makers. Their attention to detail and ability to make an extremely versatile and durable speaker with unbelievable battery life will impress many people looking for that all-in-one wireless speaker.
Given your budget, deciding which one to buy couldn't be easier. Just pick the look you prefer and you're good to go.
Updates
The Fugoo Bluetooth speakers still amaze me with their usability. They aren't cheap, but hey, they sound good, are practically indestructible and I use them every day—as in … every day. They are now indispensable in my routine. I use them in the shower, outside or kitchen listening to music, news and even as a speaker for cable TV on my iPhone. I'm not sure how I got along without them, to be honest.
Source: The sample for this review was provided by Fugoo. Please visit their site for more info.

Product Information
Price:
Style: $199.99 / Sport: $199.99 / Tough: $229.99
Manufacturer:
Fugoo
Requirements:

Audio source; wired or wireless

Pros:

Waterproof, dirt proof, snow proof
Good sound for the size
Little to no distortion at volume
Well made

Cons:

Expensive
Shells can be difficult to remove
Some audio glitches near a wireless Apple mouse