We use affiliate links. If you buy something through the links on this page, we may earn a commission at no cost to you. Learn more.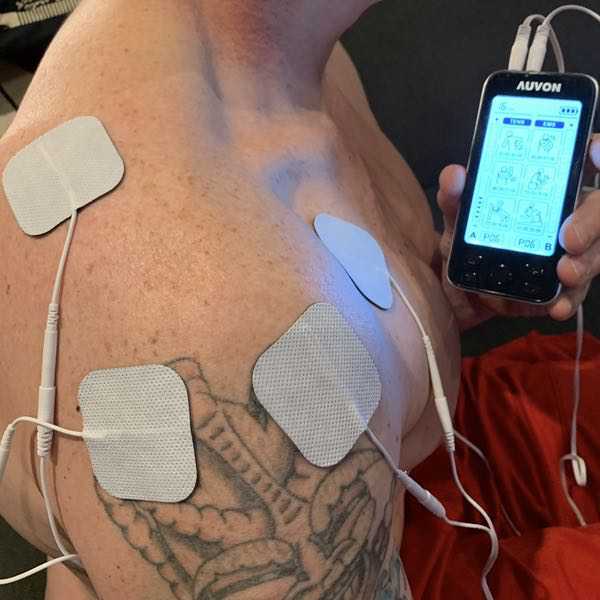 REVIEW – Yup, that's me applying some much-needed relief to my sore shoulder muscles. TENS units are great for pain relief and muscle recovery, and the AUVON 4 Outputs TENS Unit EMS Muscle Stimulator Machine promises to deliver on said relief in a flexible wallet-friendly package. Let's learn more. To the review!
What is it?
It's a TENS/EMS device that features a self-contained control unit, 4 outputs with simultaneous support for up to 8 stimulator pads, and 24 different treatment modes.
What's in the box?
The package includes a whole bunch of stuff:
The base unit
8 – 2″ by 2″ Electrode pads
2 – 2″ by 4″ Electrode pads
4 Lead Wires
1 USB cable
1 USB Charger
1 Base unit tray
A carrying pouch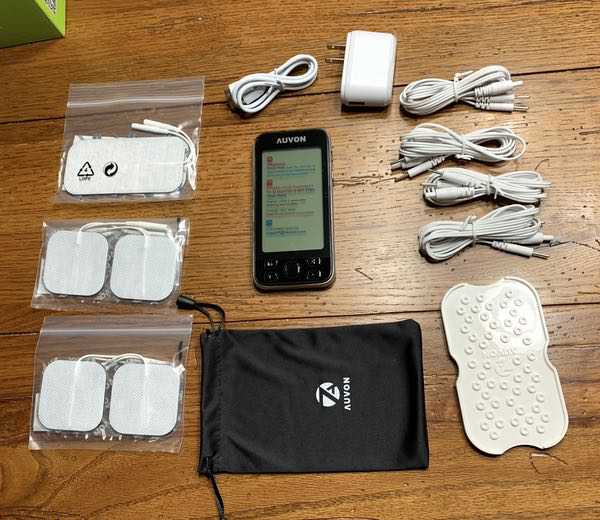 Hardware specs
Four channels of output support up to 8 pads simultaneously
Supports TENS (pain relief) and EMS (muscle building) modes
24 programs with 20 levels of intensity
3.69″ display screen
Design and features
Let's start with a friendly health & safety reminder. TENS/EMS units work by applying a mild electrical charge to the area of use. If you're not familiar with their use and/or have pre-existing medical conditions, I'd strongly recommend that you do a little research to learn about proper use and safety.
We good? Cool. Let's get into it.
The AUVON 4 Outputs TENS Unit EMS Muscle Stimulator Machine is a self contained unit. No smartphone, app, or bluetooth connection is required. All of your controls and functions are managed from the base unit. At 2-1/2″ by 5″ by 3/8″ the unit is roughly the size of a small phone or an old-school personal organizer.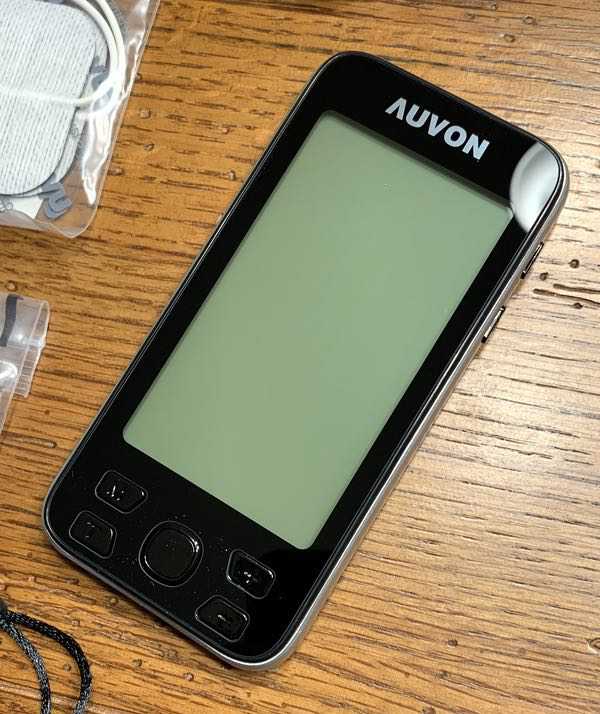 The fixed LCD display is also a throwback to old-school tech. It's big, bright, and friendly.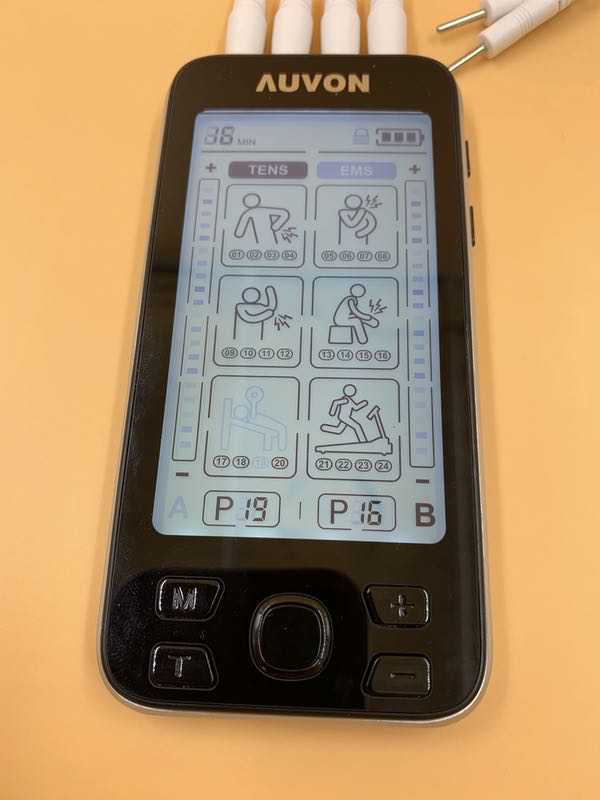 You'll power the device on & off by using the top side button. Once you have set up your program, the lower side button is used to lock the screen so that the program runs without interruption if you accidentally hit the controls.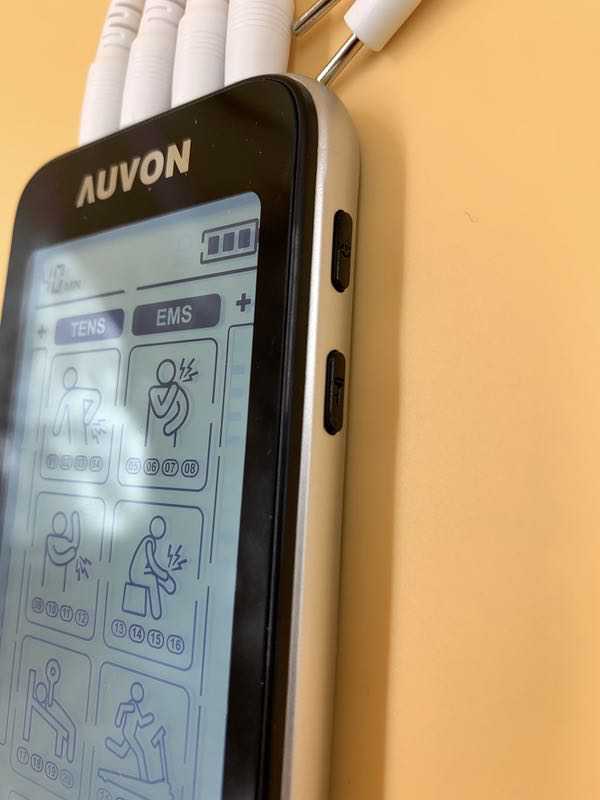 All of your program controls are at the bottom on the front of the device. You'll cycle through the different modes (the M key), desired time duration (T key), and intensity (+ and – keys) to set your program. That center button allows you to toggle between the "A" and "B" stimulator sets, which we'll get into below.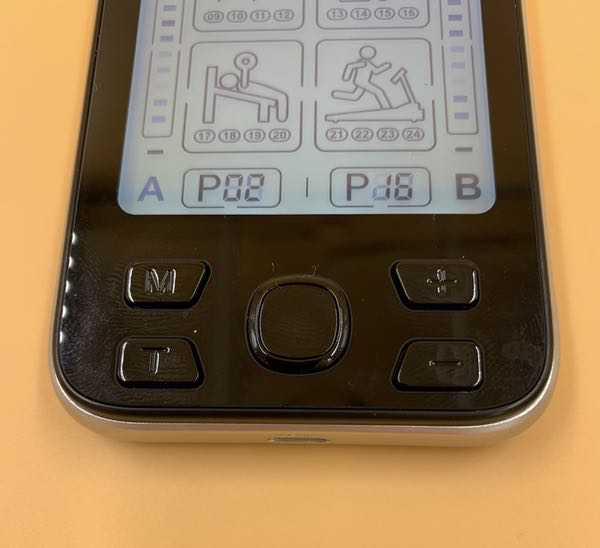 One of the unique features on this device is that you have 4 stimulator outputs, which means you can apply anywhere from 2 to 8 pads depending on what muscle areas you are treating. The A1 & A2 ports are controlled on one channel and the B1 & B2 ports on the other. That means you can set two different  programs to treat up to 4 different muscle groups at the same time.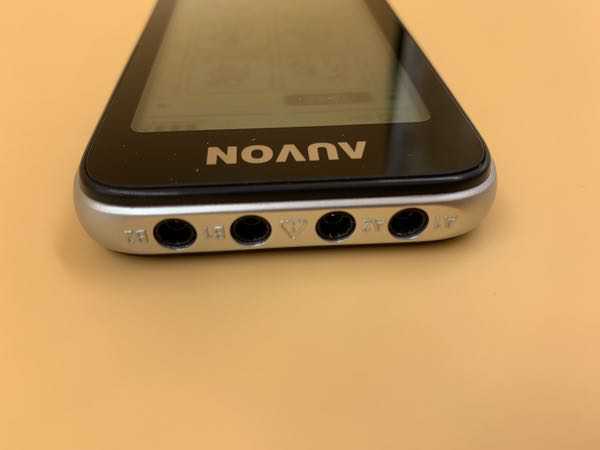 You'll start by cracking the seal on your stimulator pads. These come four to a bag that can be resealed after use. They use solid gel pads to stick to your body which should be resealed in the bag on their plastic tabs after use to keep the gel sticky.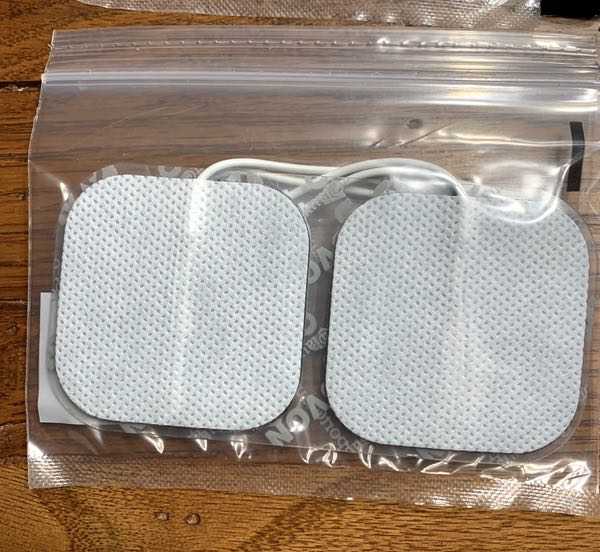 Once you have removed the pads from the bag you will plug the cables into the leads on the pads as shown below. I've got 2 cables here so I am using all four pads in this pack.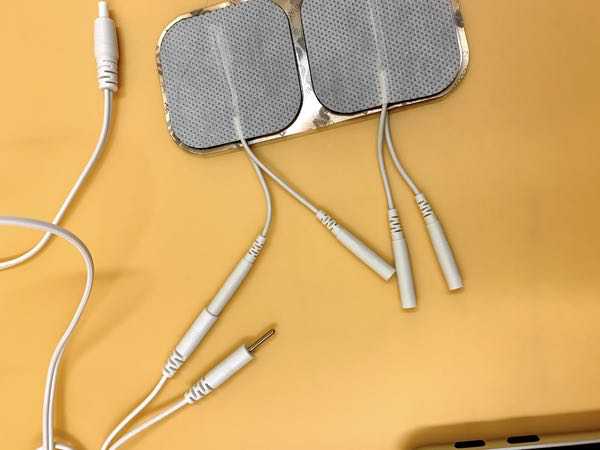 Your kit also includes two double-wide pads (not shown) which may be appropriate for the area you are planning to treat, but they connect the same way.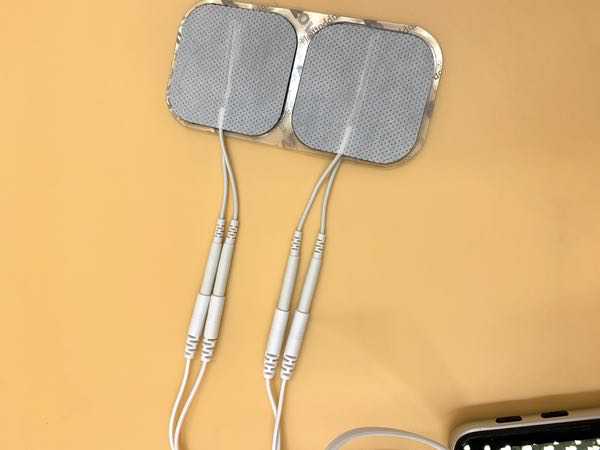 Once the pads are connected, you'll plug the cable into the unit.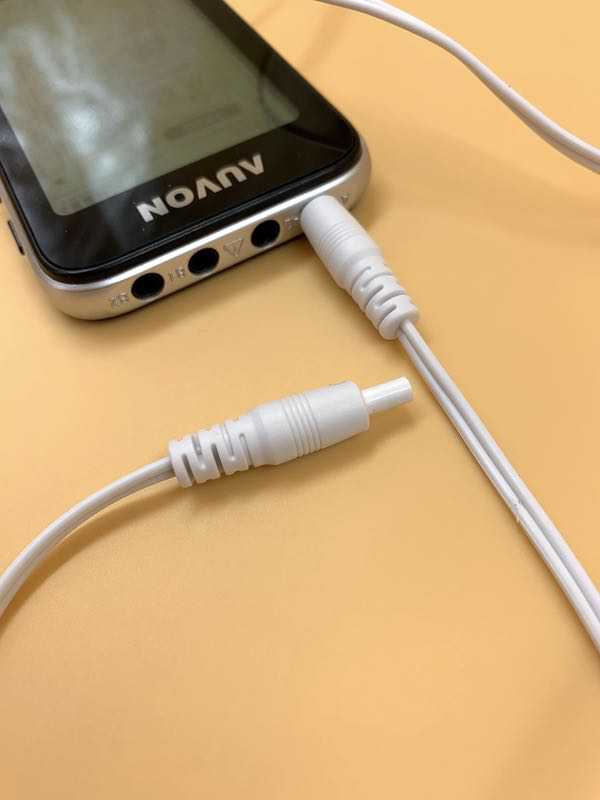 Now you'll apply the pads to the body. My wife is modeling the two-pad treatment (one cable) that we set up to work her neck muscles.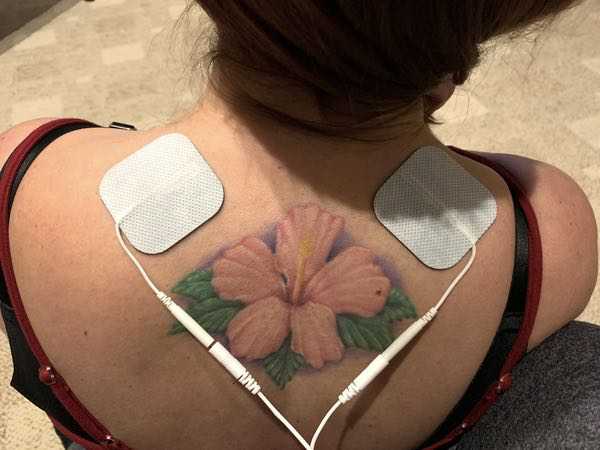 Here's a four-pad setup (2 cables) that I set up for my shoulder.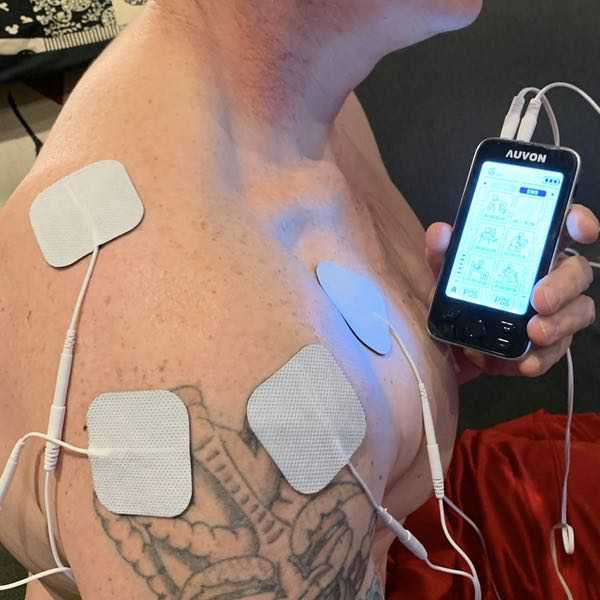 And finally we have a calf treatment setup. I've got 8 pads here and all four cables to work both legs at the same time, which is great for efficiency. The cables are 60″ long which is even better for multi-site use. You've got plenty of reach to do a calf/shoulder treatment at the same time, for example.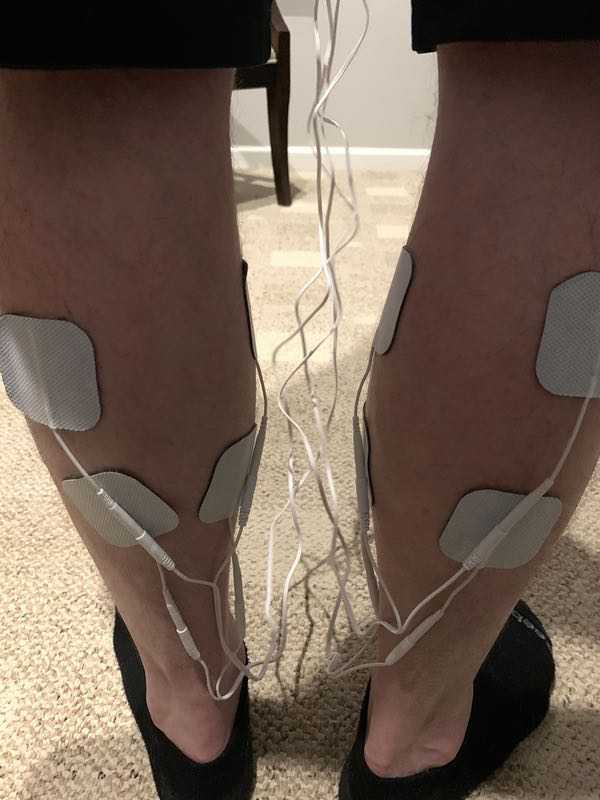 Once you're all plugged in and the pads are applied it's time to start your program. You'll use the center button to choose between the "A" or "B" channel to pick which set of outputs you are setting up.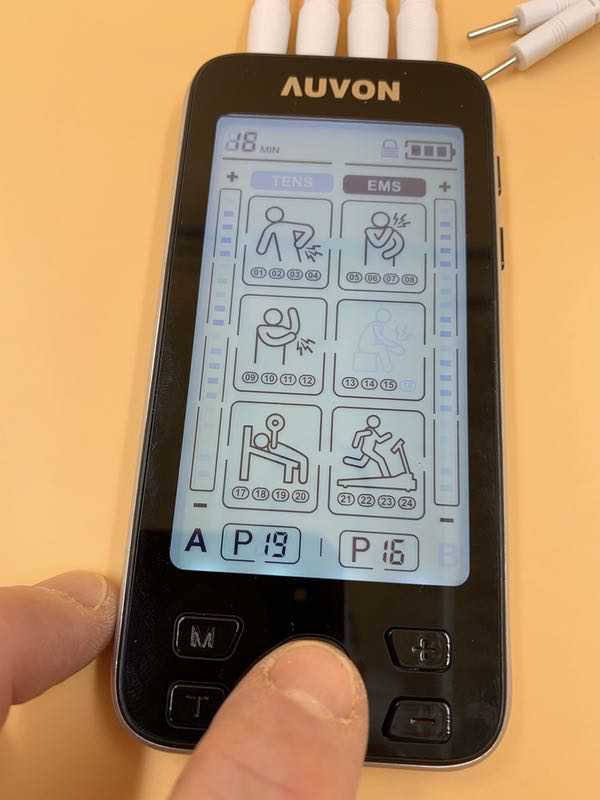 Now you'll use the "M" button to cycle through the program options. There are 24 options to choose from, and you cycle through the numbered programs to get to the one you want.
Unfortunately there isn't any documentation about what each mode actually does, so you have to do some experimenting. You've got four muscle groups on screen (back, shoulder, arms, legs) with four different TENS patterns to choose from for each area. That's programs 1-16 on the screen. Options 17-24 are specific to EMS, which is a much more intense experience designed to build muscle as opposed to muscle recovery.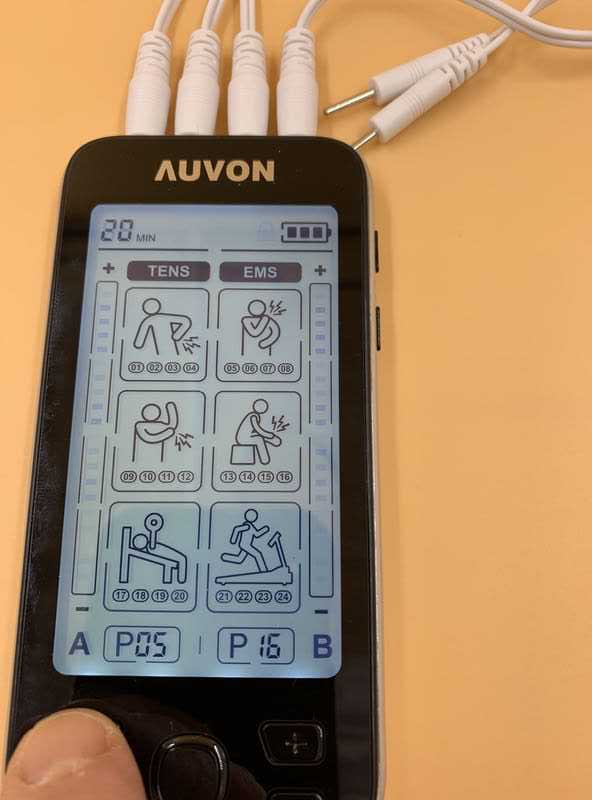 In the example below I have cycled through to program 2, which is a TENS program for your back muscles. Each pattern changes the cycle and intensity of the electric pulses.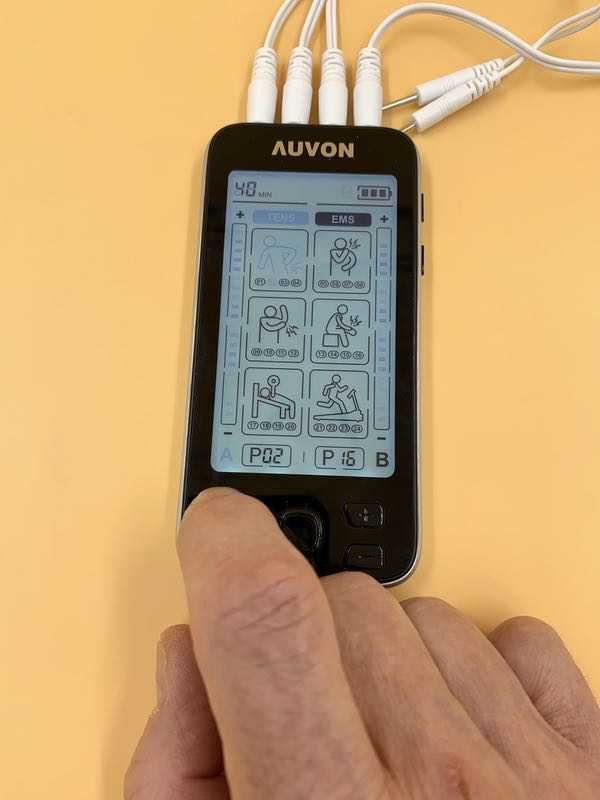 The T button now allows you to cycle through the time allotted for the program, from 10 minutes to 90 minutes.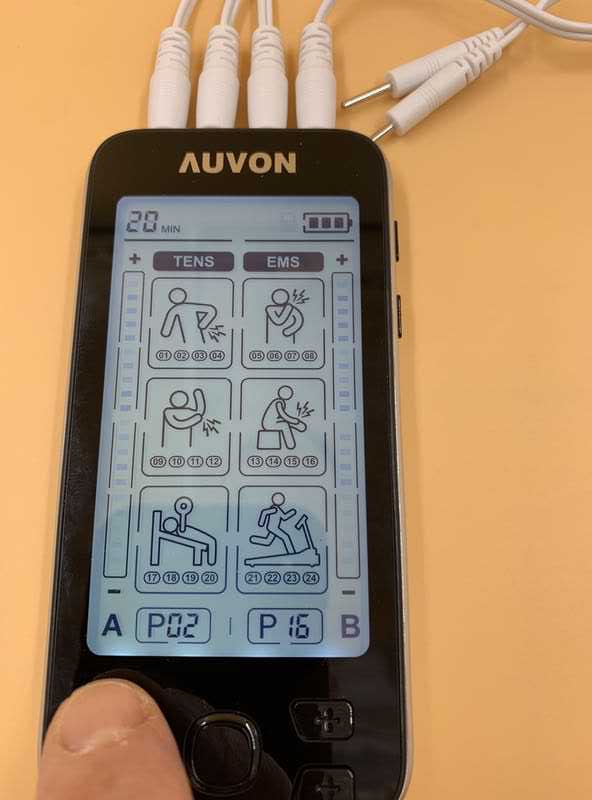 Finally you'll set the intensity using the + and – keys. Things get intense pretty quickly, so I have a moderate/low intensity set here.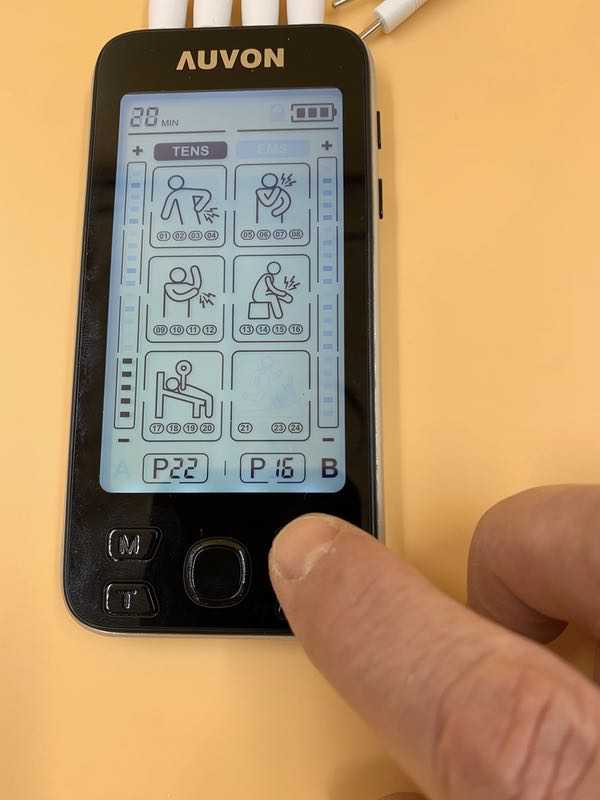 Using these combinations you can set the programs for both the A and B channel sets (if you're using both), then hit the lock button. The program then works until the timer runs out. The pad holder included can be used as you are setting things up or switching muscle groups, but you'll want to seal them in their bags for long term storage.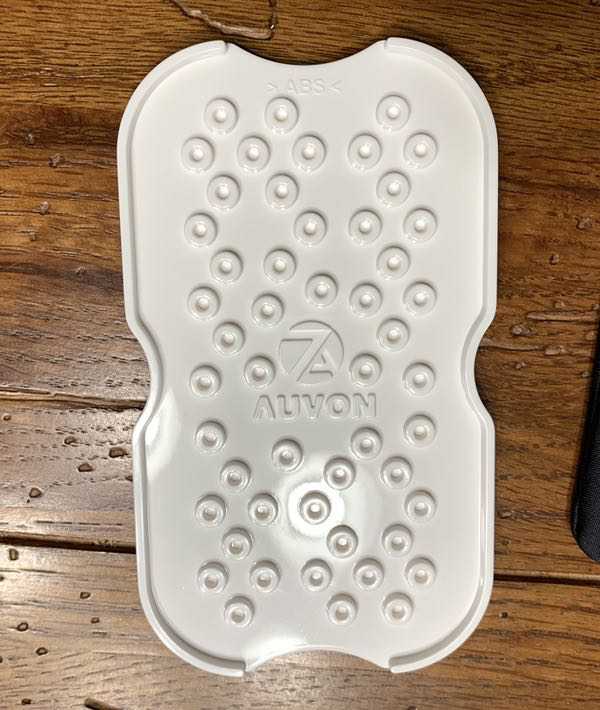 Performance
The AUVON 4 Outputs TENS Unit EMS Muscle Stimulator Machine is great for muscle recovery and pain relief. If you're familiar with TENS devices, you'll find that the use and results are very similar to other products in the category.
The big advantage to this unit that I quite like is flexibility and efficiency. Other units I've played with usually support up to four pads at once, which means you'll work one muscle group (like your right calf), run the session, then switch to another group. The four cable, 8 pad capability on the AUVON unit allows you to work multiple muscle groups at once which saves time. And the ability to set different programs for the two channels gives you all kinds of options depending on your needs.
I do like that the device is a self-contained unit. Other devices I have tested use bluetooth-controlled pods to control the pads and another app that I need to load on my iPhone. While that can be convenient, I like the flexibility and functionality of a self-contained device that isn't draining more power from my phone. The battery life on the self-contained unit is also excellent. I've charged it twice during my 30 day test period, and recharging takes about an hour.
The user interface is a bit wonky. It's got a great big & friendly screen and the buttons are nicely spaced for ease of use, but there's lots of toggling happening here to cycle through the programs. The buttons are super sensitive so it's easy to accidentally whack a button and change your program (that's where the lock button comes in handy). You will spend some time experimenting with the different programs to get the treatment you want because there's no detailed documentation.  Just be aware that there will be a learning curve to get used to this product.
What I like
Self-contained unit with a long battery life (and it's rechargeable)
4 channels enable you to treat multiple muscle groups at the same time with custom programs running simultaneously
Long cables make it easy to reach multiple muscle groups at the same time
What needs to be improved
User interface is a bit wonky and requires a learning curve
Final thoughts
The AUVON 4 Outputs TENS Unit EMS Muscle Stimulator Machine doesn't have the sophisticated user interface or levels of program control that I have seen in other devices of this type. But if you're looking to experiment with TENS therapy, I think the plusses far outweigh those issues here, especially given the sub-$50 price tag. You're getting a well-built, dedicated device with great flexibility and capabilities that get all the basics right.
Price: $41.99
Where to buy: Go to the Amazon product page
Source: The sample of this product was provided by AUVON.