We use affiliate links. If you buy something through the links on this page, we may earn a commission at no cost to you. Learn more.

In my X-mini KAI Capsule Speaker review I mentioned two things that I considered might be worth pointing out.  The first was the price. When I reviewed the KAI  I showed it around to a lot of my mates. The universal opinion was " Oooh I love the size! Oooh I love the sound! Oooh, the price….I don't love it that much!". Second was the fact that the mono speaker might not be enough for stereo "purists". When X-mini saw this they offered to send me review units of two others of their speakers, the II Capsule Speaker and the MAX II Capsule Speaker from their range that addressed these concerns.  Will they meet the grade ? Read on…….
A quick comparison



Above you can see the differences in size between the three models.  The II Capsule  is slightly smaller than the KAI while each MAX II is the largest in the series.
X-mini II Capsule Speaker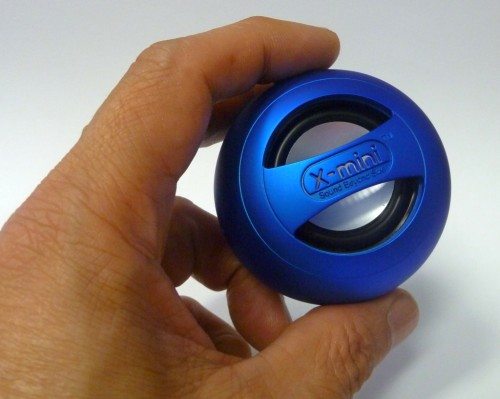 The X-mini II Capsule Speaker is the predecessor of the Kai without the Bluetooth connectivity. The same 40mm speaker, the same 2.5W of power and the same Bass Xpansion System.  It's slightly lighter at 83.5g , and smaller at 60 mm×44mm (closed resonator), and is rated at a higher 12 hours of music, though from my experience if running "conservatively",  the built in battery lasts quite a bit longer. And the price……..well it's SGD$49.90 ($29.90US), compared with SGD$139 ($99US) – so over 2/3rds less than the KAI. And for all you fashionistas out there, it's available in 9 different colours so you can accessorize (black, blue, orange, pink, purple, red, green, silver and white). 🙂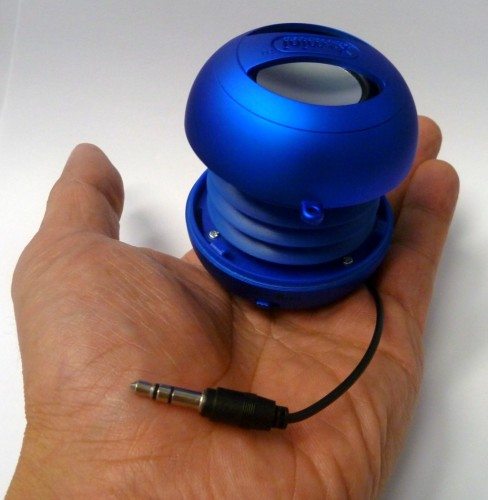 Just like the KAI, it has the integrated (albeit short 11.5cm) 3.5mm stereo connector, Buddyjack port (more on that later), and a USB port for charging, and the longer stereo cable (58cm),  but other than that, there's only an on/off switch and a rotary volume dial. The II Capsule is made of a painted plastic whereas the KAI is has a much nicer matte rubberised finish.
Once again running this from a variety of devices, with many different genres of music, the II Capsule demonstrated the same aural qualities as the KAI.  Crisp and clear with a bass that certainly exceeds what you expect from something this small. If you don't need Bluetooth connectivity (which in the X-mini range certainly comes at a price) and want a tiny and portable mono sound solution, then the II Capsule is definitely worth considering.
The only concern I have is the open driver unit like with the Kai.  I'm still really scared that something's going to get in and pierce the cone even when it's stored in its supplied pouch.
X-Mini MAX II Capsule Speaker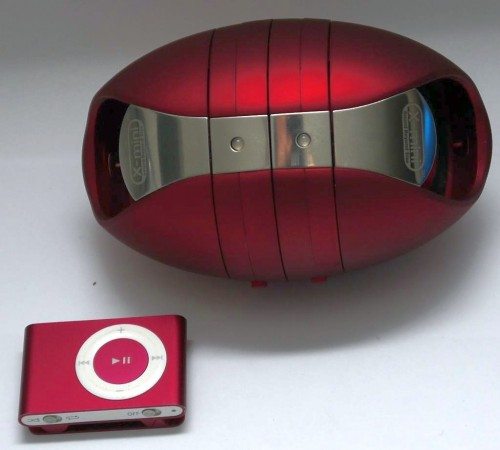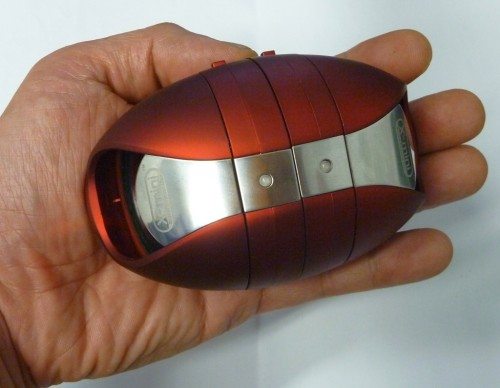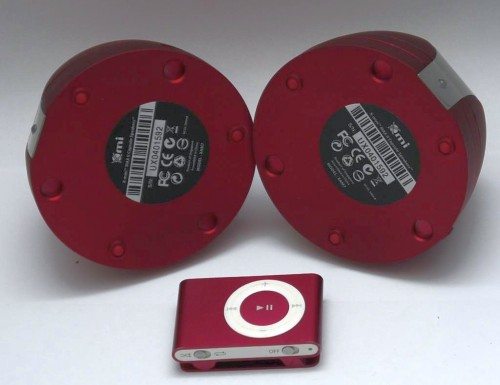 For those stereo "purists", the MAX II Capsule may be the answer. One of the trade-offs you'll have with stereo is having to carry two speakers with you so you'll have additional size and weight and also the associated cables. The neat thing about the MAX II is that the speakers connect together for storage and transport via a couple of small magnets in the bottom.  Available in black, red or white, at 65.8mm×53.4 mm (closed resonator) and weighing in at 178g, they're not going to take up too much space or add too much weight in your gadget bag. Like the capsule speaker above , each speaker independently puts out 2.5W and is rated for 12 hours of music (again  conservative as I've been running these 9 hours a day for the last week). Pricing is SGD$74.90 (approx $50US).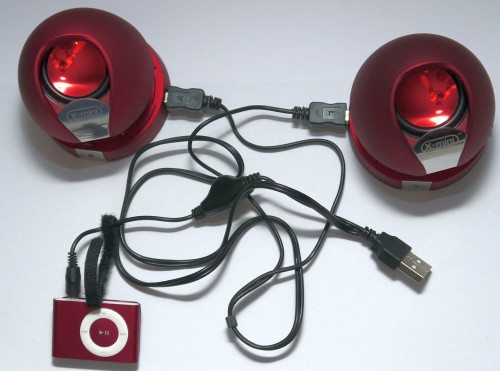 A single cable gives you all the connectors you'll need: 1 X USB, 2 X miniUSB, and a 3.5mm audio. The cable is around 75cm in length and includes a rotary volume knob built in. The cable itself might be the "weak point" of the MAX II. It's a fairly specific cable and while you can get replacement cables from X-mini, if it dies on  you there's not a lot you can do to jury rig up a replacement. Note too that there's a left and right plug on the multi-cable and I've actually rigged them up incorrectly above. 🙂  The cable is easy to set up but a bit unwielding and messy, though in the picture above I have everything pretty close together, something you're not going to do if you separate everything out for stereo sound. Also supplied is a soft pouch to fit all this equipment into when you're on the move.
Rather than a "flat" speaker like the two mono offerings, the MAX IIs have an angled driver in them.  It's not a big angle and is designed to assist in directing the sound out towards the listener. Not surprisingly, each speaker in the stereo pair performs very similarly to an individual II Capsule speaker or KAI.  So you can expect clear, bright, and distinct mids and highs with sufficient bass for most genres of music or movie soundtracks.  If you crank it up enough, you can get those speakers "dancing". Low's appeared to be deeper than the II Capsule; however, this may be because you're getting double the bass with two speakers. The stereo sounds fatter and fuller than the mono offerings, but I suppose this is really to be expected running in stereo.
Once again, and perhaps it's just me as I haven't seen it mentioned anywhere else, but the MAX IIs have even less (no) protection of the speaker – the cones are completely exposed. A ripped or torn cone can't be a good thing, can it?
Buddy Jack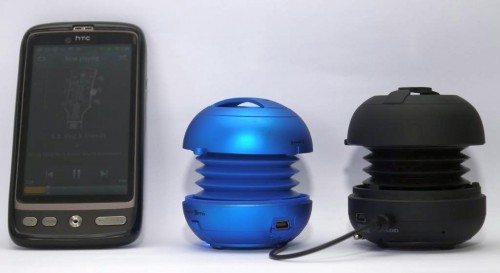 Buddy Jacking is the capability to connect one X-mini speaker to another whether it be a mono or stereo speaker.  Connecting two mono speakers  still gives you two mono signals, but it's amazing how much difference it makes to the volume and fullness of the sound.  In the above example, I can still use Bluetooth to remotely control my music player via the KAI.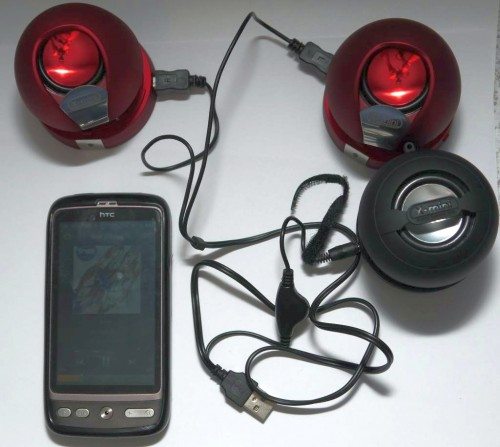 Similarly I can connect the MAX IIs to the KAI.  Buddy Jacking this way results in the  MAX IIs outputting stereo but the KAI was still putting out mono sound.  If you want true stereo sound you don't really want a mixed mono sound in the middle to "muddy" the separation.  Again though, the addition of two sets of speakers made the output volume substantially fuller. This function can also be used to connect your Bluetooth device to a home stereo or something similar.
Stereo separation aside (especially given that it's not really what this function is about), if you had multiple X-minis and want to pump up the volume at a gathering, this feature is very handy to fill that space with a "bigger" and "fuller" sound.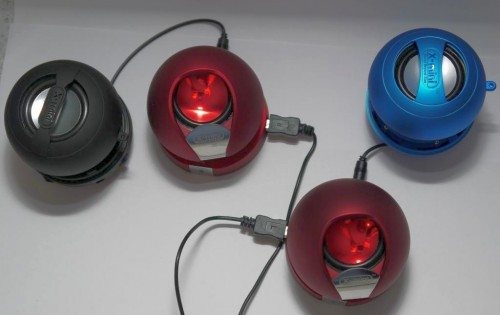 The last option is to connect them all together for 4 X the sound and because the MAX IIs are the master I'm getting full stereo sound. 🙂
In summary
Both sets of speakers met my expectations built from my review of the KAI.  Clear and crisp mids and highs, sufficient bass to let you know it's there, and certainly more prominent than you'd expect from such a small driver.  My mates are all blown away (not quite literally :)) by the sound quality that comes out of all the X-mini range. Okay, they're not going to satisfy a high-fidelity fanatic, and the bass isn't going to rattle your teeth or burst your eardrums, but if that's what you're after you won't be looking at these anyway. They're aimed at the on the move sound enthusiast who wants a good balance between size, weight, and sound. If you need to share some tunes, or need to pump out more volume than the built-in speaker in your player, phone, or tablet currently puts out, then they certainly fit the bill.  If you're in the market for this sort of speaker, either of these speakers is a really good option. If  Bluetooth isn't important to you, they definitely come at a better price point than the KAI but with the same great quality and sound. If you need to fill a space with sound and you (or your mates) have multiple units, the Buddy Jack system works extremely well to further pump up the volume and "enhance" the sound.
Be warned though, like all market-leading and "trendy" products, there  are many reports of pirated and counterfeit versions of these out there with varying build and sound quality. Ensure you purchase either directly from X-mini or from an authorised distributor/reseller.
"Sound beyond size"…….you betcha.
Updates 04/21/16
These have been passed onto my sons to use and replaced with newer X-minis. Now kids ( well 22 and 21 aren't really kids ) aren't known for taken care of things so the original audio cables are now snapped off or frayed and don't work properly but they're still using them via the multi-function cables that came with them.
Source: The sample for this review was provided by X-mini. Please visit their site for more info and Amazon to check prices and place an order.