We use affiliate links. If you buy something through the links on this page, we may earn a commission at no cost to you. Learn more.
There really hasn't been much innovation in the modern wallet / billfold since its invention in the 1950's. While wallets similar to what we know today have been in existence since the 17th century, it wasn't until 50 years or so ago, that wallets with card slots were invented to accommodate a new form of currency called the credit card. These days we tend to carry around too many of these plastic cards, which causes our wallets to become way too thick for comfort. The folks at ALL-ETT have redesigned the ordinary billfold to be super thin, but with the same capacity for credit cards as the bum denting version you have in your pocket right now.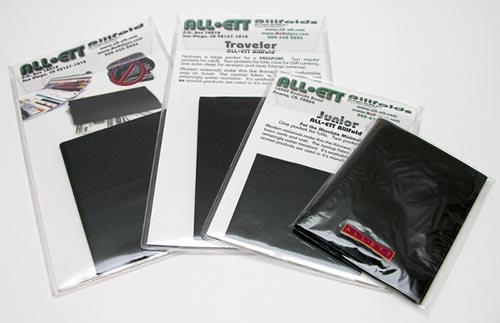 There are three versions of ALL-ETT billfolds:
The Original – Four card slots and two cash slots (one is extra deep).
European (Junior) – Two cards slots and one cash slot.
Traveller – Two card slots, one passport slot and two cash slots (one is extra deep).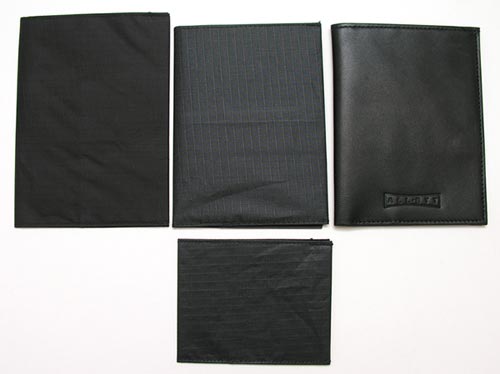 I was sent a Traveller, Original, Executive Leather (same as the original wallet, but constructed with leather) and a European. Each of the three versions is available in Spinnaker cloth or leather. The cloth versions are also available in different colors depending on the wallet style (check the ALL-ETT site for availability).
Spinnaker cloth is a very strong, yet extremely thin and light weight Nylon material that is used in making sailboat sails. It doesn't fray or crack, is water resistant and washable. Vegans might appreciate this material as no animal products are used in its manufacture.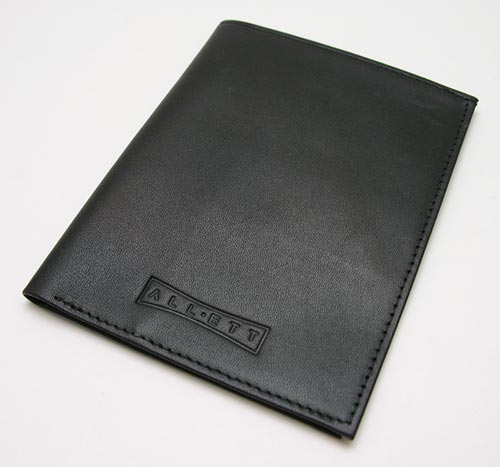 Those of you that prefer leather wallets, will find the leather versions of ALL-ETT's billfolds to be constructed with a fine grain Italian leather shell with the ALL-ETT logo embossed on the front. The leather versions of these wallets are thin, but not as thin as the all Spinnaker cloth versions.
Original / Executive Leather ALL-ETT
First let's take a look at the features of the Original / Executive Leather wallets. Note: the pictures shown below are of the Executive Leather version. The design and features of the Original and Executive are the same. The Executive just has a outer leather shell. The interior slots are made of Spinnaker cloth.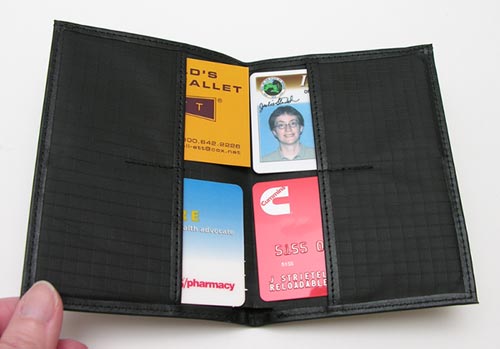 At 3 3/4″ x 5″ x 1/32″ inches (empty and closed), the Original may have a larger footprint that a typical men's wallet. However, the secret to its "world's thinnest wallet" claim is in its design. As you can see from the image above, there are four card slots. Each slot can comfortably accommodate 5-7 standard plastic credit cards. An organization tip listed on the ALL-ETT website is to put a most used card on the top and bottom of each stack. This way you will have very quick access to your 8 most used cards.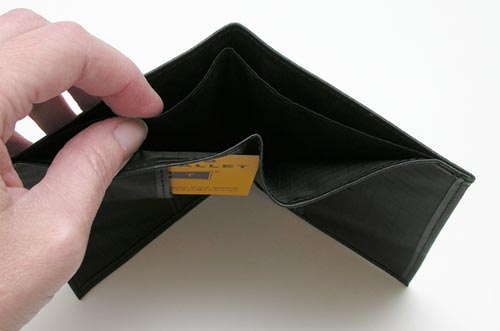 Inside the wallet, you will find two cash slots. One is for actual dollar bills and the other works great for receipts, other papers or even photos.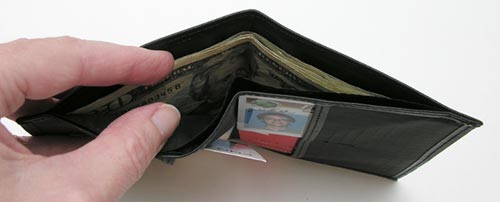 The cash slot is about 3/4th the depth of the wallet. The other slot is the entire depth of the wallet.
European (Junior) ALL-ETT
If you subscribe to a more minimalist way of life, then the European version of the ALL-ETT might be a better choice for you.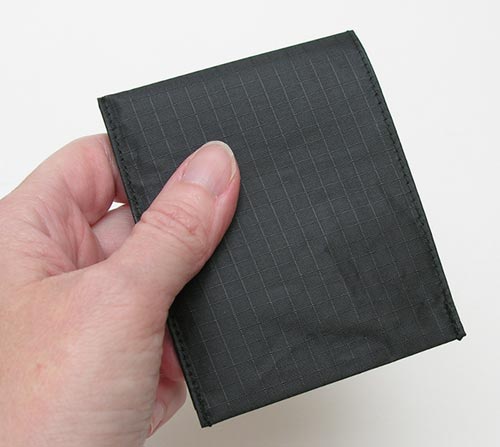 In the image above, you get a better idea of what the Spinnaker cloth looks like. It's very thin and smooth, with a slight sheen to it. I tried a few informal tests with the wallet to see how well it could stand up to abuse. First, I tried to stretch the material. It didn't stretch ;o) Then I folded it up in a little 2 x 1 inch square and sat on it for about 15 minutes. Afterwards, when I unfolded it, it seemed no worse for the wear. A faint crease disappeared after I loaded it up with cards and cash again. In my opinion, this material is quite robust. I do have one slight problem with the Spinnaker cloth though. It's a picky problem… I don't care for the crackly / crinkly noise that they make whenever you pick them up, open them, etc. It gives me the impression that the wallet is made of paper.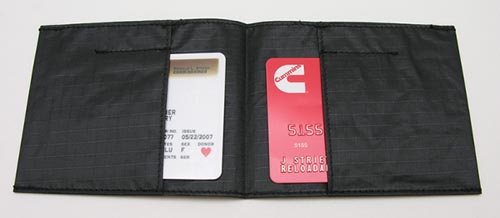 The European has two card slots, of which each slot can hold five cards each.

Inside you will find one slot for cash.
If I were going to carry a wallet in my back pocket, this is probably the one I would choose.
The Thin Test
You all know that I'm not a guy right? Good, I'm glad that we have that fact established. ;o) As a result, I don't tend to carry a wallet around in my back pocket. I won't say that I NEVER put my Waterfield Design wallet in my back pocket though. Once in awhile I will, when I run into the grocery store, just so my hands will be free while shopping. Even during those short times of doing so, I have found that carrying a wallet in my back pocket is not very uncomfortable. So I really feel for you guys that do it all the time :o) Let's see if the ALL-ETT wallets make a difference.

Here's my Waterfield Design wallet and all the cards / cash that I carry in it. I have 20 cards (combination of plastic credit cards and thinner business cards), ten bills and a couple receipts.

Here's the Executive Leather ALL-ETT with all my cards and cash.

And here's the Original ALL-ETT shown with all my cards and cash. The Original does seem to be a lot thinner than the Executive wallet. The added bulk of the outer leather layer does make a difference. But how does ALL-ETT look and feel in your back pocket?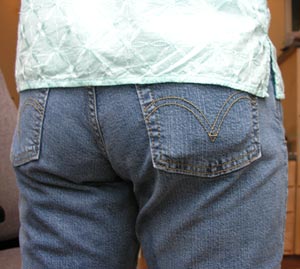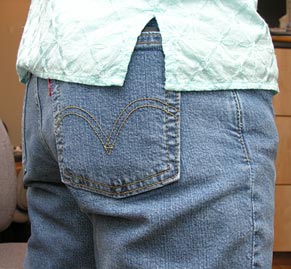 In the picture on the Left, I have my Waterfield wallet in my Right back pocket. You can definitely see a bulge from the wallet and I could feel its bulk pressing against my bun. :o) In the Right picture, I have the Original wallet (with all of the contents from the Waterfield Design wallet) in my Right pocket. You can't even tell that it's there just by looking. I also noticed that carrying the ALL-ETT was much more comfortable in my pocket when compared to the Waterfield. There's a saying that the proof is in the pudding, but in this case I think it's more appropriate to say that the proof is in the bulge. If you want one of the "world's thinnest wallets", ALL-ETT has what you want.
Pricing:
Original – $19.95
Executive Leather – $29.95
European – $14.95
European Leather – $24.95
Traveller – $19.95
Traveller Leather – $34.95