We use affiliate links. If you buy something through the links on this page, we may earn a commission at no cost to you. Learn more.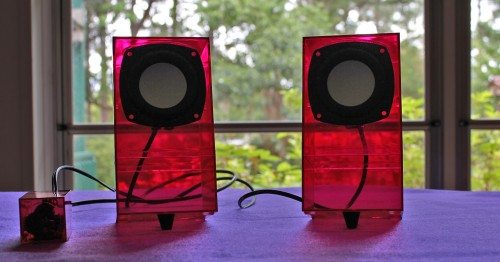 ColorSonik is not a name that people think of when it comes to audio. It's not surprising, since they are new on the scene. ColorSonik's first product is a pair of desktop speakers that pay homage to the Museum of Modern Art's transparent, plastic storage boxes. Even if you are not familiar with MOMA's retro cases, these speakers will grab your attention. They are that striking.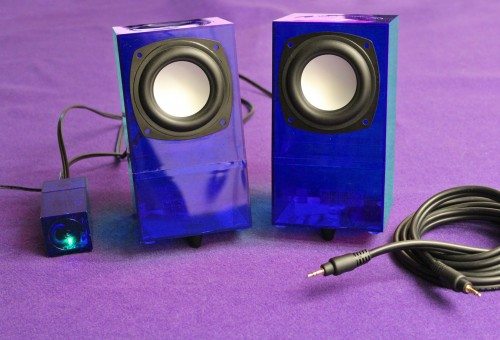 ColorSonik's reasoning for using transparent plastic (other than eye candy) is that a lot of rare woods and eco-friendly bamboo (food for endangered pandas) are often used making high-end speakers and plastic is recyclable. Frankly, I don't know how much rare wood or bamboo goes into speaker boxes, so I'm going to just deal with the look and sound of the speakers and stay out of any eco-argument.
As I said, they are striking. There are six bold colors available: red, blue, green, yellow, fuchsia, and purple. When offered which color I preferred, I couldn't decide, so I picked red because I thought it would photograph the best. Plus, when placed near a window, any sunlight passing through them makes them even more beautiful.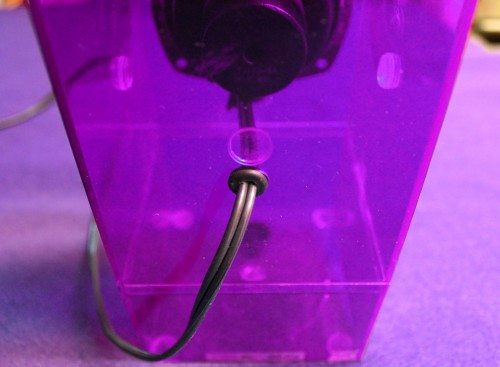 The construction of the ColorSonik speakers is solid. Some quibbles I have are that the speaker – complete with drilling holes – is glued to the cabinet instead of drilled. It's a trade-off for using plastic, I guess. Also, because of the transparency, glue seams and interior wiring are clearly (no pun intended) visible. Sadly, the speaker boxes are not lit from within. I kept thinking how cool an interior light would look because in a darkened room, there is no light showing and that cool look can easily be lost. It would be interesting to see what a DIY person could achieve with some artificial lighting.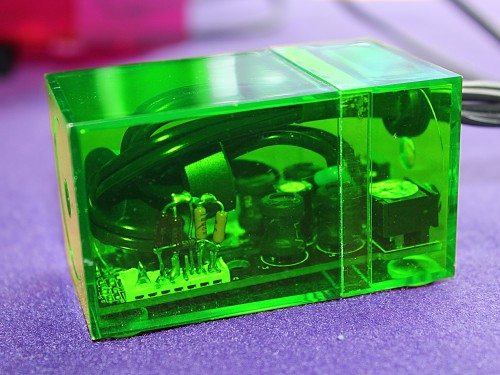 Included with the ColorSonik speakers is a like-colored 15-watt amplifier and an unbelievably thick 6 ft. long mini plug cable for connecting its audio input to a computer, iPod, or other 3.5 mm AUX-out port. The speaker wires are already permanently connected. Setup is a no-brainer. Also included are two small, self-sticking cone mini-stands that angle the speakers up towards the listener. I prefer this approach as it helps reduce vibration through the cabinet onto the desktop.
Never miss one of our posts again. Sent MON, WED, and FRI with the latest gadget reviews and news!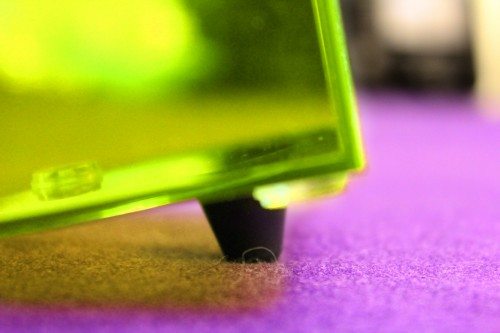 ColorSonik offers an extra cost option of a Bluetooth connector. Keep in mind that the speakers are still wired to each other, so the Bluetooth is for a wireless connection to the music source only. I didn't receive one, so I won't comment on how well it does or doesn't work. ColorSonik admits that Bluetooth is for convenience only, as the audio quality does not compare to hard-wiring. The speakers will also accept Apple's AirPlay when connected to an Apple AirPort Express.
As pretty as the ColorSonik speakers are, it doesn't mean squat if they sound bad. I decided to play different genres and bitrates of music to test how forgiving and accurate the speakers are.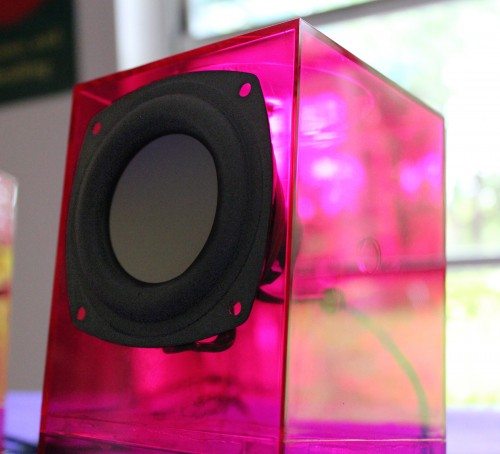 One album I have been playing almost nonstop is the new album, "English Electric", from 80s pop pioneers Orchestral Manoeuvres in the Dark. I am a huge fan, but more importantly, this album is a good speaker test, complete with low bass and piercing high frequencies. That can be both good and bad news. The bad news first: Do not push these speakers to the max. Cross the line with the volume button and you get an unpleasant buzzing. However, if you stay on this side of the line, these speakers pack a fun punch. Vocals – as well as all midrange frequencies – are clear and well defined. The song, "Atomic Ranch" practically covers the entire frequency range within its under 2-minute time. All kinds of aural mayhem swirls around the pushed-forward vocals. In "Final Song", Andy McCluskey's singing is backed by electronically sampled – and slightly erotic – female breathing played as percussion. The remix of "Metroland" features a pulsing synth beat that holds tight – as long as you don't cross that invisible volume limit mentioned earlier.
Note: I am testing these speakers using an external digital audio convertor (DAC). I use it on all tested speakers since my iMac sounds awful without one.
St. Vincent is a terrific artist crippled by lousy production. "Actor Out of Work" is a song with a driving beat and urgent vocals that is destroyed with maxed-out compression that leaves nothing but distortion. Unfortunately, the ColorSonik speakers are not forgiving in the least with this tune – but then, few speakers are.
Listening to (much) older Johnny Cash recordings was a treat. Cash's recording quality were always a bit better than many of his contemporaries and it shows. There is a clarity to the instruments that is not lost on the ColorSonik speakers. Luther Perkin's sharp and deep lead guitar playing on most of Cash's songs is sonically handled with ease. Again, volume is the key in avoiding distortion.
The remixed "A Day in the Life" from the Beatles Cirque du Soleil soundtrack album Love is powerful with Paul McCartney's steady bass and Ringo Starr's potent and kick-butt drumming. The song plays well on the ColorSonik speakers. For some reason, I could play this song louder than others without distortion. It's an excellent quality recording.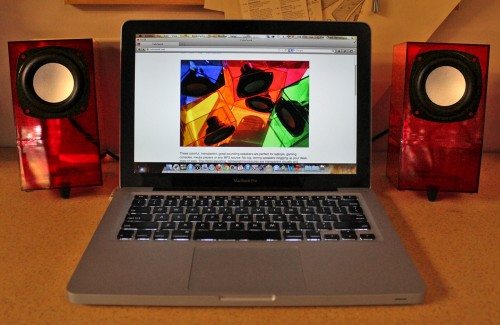 If there is one thing (besides the volume/distortion issue) that gives me pause, it's the price. These speakers are $249. That's a lot of money for small desktop speakers. There are many excellent speakers in this price range, but hey, they don't look nearly as cool as the ColorSonik speakers. Plus – and this is the most important point – these speakers are as fun to listen to as they are to look at. Now, about those interior lights…
Product Information
Price:
$249.99 US
Manufacturer:
ColorSonik
Retailer:
ColorSonik
Requirements:
Pros:

Punchy sound
Fun to look at
Fun to listen to
Set-up couldn't be easier

Cons:

Pricey
Sound distorts at high volume