We use affiliate links. If you buy something through the links on this page, we may earn a commission at no cost to you. Learn more.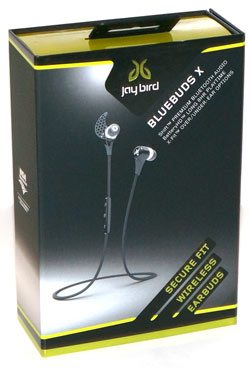 I like to be as minimalistic as possible when I workout, especially on my runs. To keep my mind off the pounding of the pavement, I like to have music with me when I run outside or when I watch movies and shows while on the elliptical machine or treadmill. Typically, that necessitates earbuds with their cord running from my ears to whatever device I happen to be using. The cord is always flopping around and in the way, distracting from the Zen of my run. I have long envisioned wireless earpieces that you wear in each ear like a pair of fitted hearing aids that provide great sound streamed from whatever Bluetooth device you have. We are not quite there yet, but the folks at JayBird have recently released the BlueBuds X wireless Bluetooth sports earbuds and gotten pretty darn close.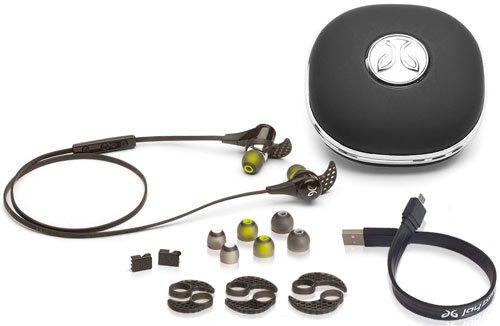 The BlueBuds X are JayBird's top-of-the-line Bluetooth wireless, sports, in-ear, noise-isolation headphones.
In The Box
BlueBuds X Premium Bluetooth Buds
3 pairs ear tips (S,M,L), none installed.
3 pairs secure fit ear cushions (S,M,L)
2 X-Fit cord management clips
Standard Micro USB Cable
Premium Protective Carry Case
Specifications:
Audio
Type: In-Ear Style
Noise-isolation: Passive
Impedance: 16 Ohm
Speaker sensitivity: 103 +-2dB At 1KHz
Output 12mW RMS (with level limit)
Total Harmonic Distortion <5% (1KHz, 1mW)
Audio Format: 16-bit Stereo
Codec: Shift™ custom SBC implementation
Response Bandwidth 20-20000Hz

Integrated Microphone
Type: MEMS omni-directional (2.75 x 1.85 mm2)
Sensitivity: -38 dB + /-3dB (1KHz, 0dB = 1V/Pa)

Bluetooth
Bluetooth Version: Bluetooth Class 2.1+EDR
Frequency Band: 2.4 GHz
Tx Power: Class 1
Profiles: Handsfree 1.6, Headset 1.1, A2DP 1.2, AVCRP 1.4

Pairing
No of Paired Devices: 8

Battery
Play Time: 8 Hrs*
Standby Time: 250 Hrs*
Charging Time: Less than 2.5 hrs
Charging: USB (included)
AC power: DC 5A 100mA
Type: 83 mAh Lithium Polymer
* May vary dependent on usage & device

Operation

Operating: 14F – 122F (-10C – 50C )

Storage: -4F – 140F (-20C – 60C)

Weight & Dimensions
Width: 22 mm
Height: 29 mm
Depth: 13 mm
Weight: 13.8 g
Cord Length: 540 mm

Button Controls
AVRCP Music Controls (Play/pause, next, back)
Call Controls (answer, end, reject call, etc)
General (Volume, pair, power)

Warranty
1 Year Limited Warranty
Lifetime Warranty Against Sweat

Never miss one of our posts again. Sent MON, WED, and FRI with the latest gadget reviews and news!
The BlueBuds X can be paired with up to eight devices, including everything from the latest iPod nano to a majority of iPod Touches, all iPhones and iPads, and most Android devices as well. I have paired these wireless earbuds with my iPhone 4S and 5, iPad mini, and Galaxy SIII. My hope is to get a 7th generation Bluetooth-enabled iPod nano to go with the BlueBuds for this year's running season, since all of those smartphones are (IMO) too heavy for running.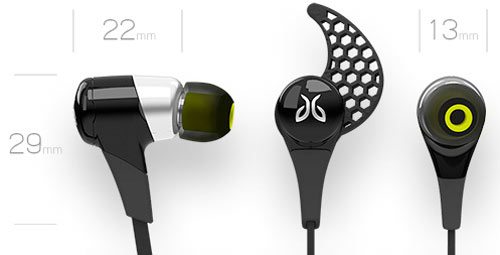 BlueBuds X earbuds are impressively small and lightweight in comparison with other Bluetooth headphones. However, in the earbud ecosystem, BlueBuds X are relatively big, especially compared to ones like Etymotic Research hf5's. In their defense, JayBird packs a good deal of technology in a well-made, nice-fitting, sweat-resistant package. Inside, they jam a Bluetooth 2.1 chip, an eight-hour battery (250 hours standby time), and a microUSB port hidden inside the right earphone.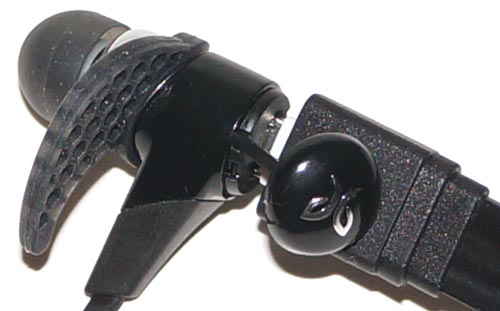 There is a cap on the right earbud that securely covers the microUSB port, attached with a small tether to avoid becoming lost or misplaced. JayBird includes a very rugged but short microUSB cable for charging (approximately 2 hours). There is a small LED indicator light on the right earbud that lets you know the earphones are on and when they are charging.

The headset's battery level is conveniently shown on the upper right corner of any iOS device's screen using Apple's headset power indicator meter.
Where Android has Google Voice Search, iOS has Siri, and the BlueBuds X have Jenna. Once you put your headphones on, voice prompts announce "power on" and then "headphones connected". Push play, and your music/show begins. Jenna also helps with pairing and lets you know when the earbuds are powering down.

The BlueBuds come with three different-sized silicone buds and three "wings" that are designed to keep the earphones in place during workouts. There are two ways JayBird recommends you wear the BlueBuds X, over the top and back of your ear or straight down against your chest. If you are planning on using these earbuds while exercising, you will likely want to use the over the top of your ear and behind your neck method. But either way you use them,  the "wing" attachment securely keeps your earbuds firmly in place during sports-related activities.

The BlueBuds X are designed to be inserted into your ears.  A tight seal is crucial to getting better sound with deeper bass. If that tight seal comes loose, sound quality and volume are definitely impacted. The right earbud was easy for me to achieve a nice fit that stayed in my ear throughout my entire workout. But the left took me a while to determine the right combination of bud tip and wing attachment size combination to keep the left bud in during workouts. Sadly on a good, perky run, I still have to regularly re-adjust/insert it into my ear. That is more of a function of the shape of my inner ear than the earbuds; I have had similar issues with most other of this type of headphones.
Their noise-isolating design does block out a good amount of ambient noise and sound.
When inserted into your ear canal correctly with a nice tight seal, the BlueBuds do sound very good for a pair of sports earbuds, delivering a sound quality that is close or equal to wired equivalents. According to JayBird, it is due to their patented Shift technology: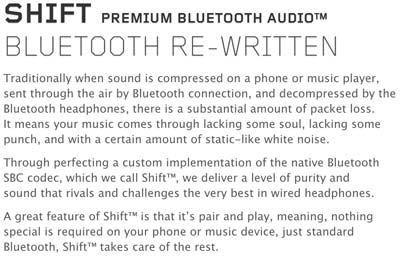 In addition to "Shift", there is "Puresound", which eliminates the white noise with an on-board filtering system. Along with that, JayBird has their own patented system "Signal Plus" for skip-free connectivity from your smart device. The combination of these three technology works very well – not only do the BlueBuds produce great sound quality but I never had any sort of skipping, fading, or signal degradation.

If you do choose to wear them over the top of your ears, JayBird includes 2 X-Fit cord management clips that enable you to shorten the earbud's cord so it sits against the back/base of your head instead of bouncing around – a relatively simple yet effective system. Too bad JayBird does not include a few spare clips; they seem very easy to loose.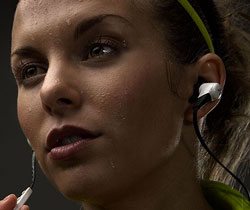 "At JayBird, we're athletes with a passion. A passion for getting products right. We include a Lifetime Warranty Against Sweat across all JayBird products." The BlueBuds X lifetime warranty against sweat damage is a huge plus for me. I get  pretty icky and sweaty when I run and have destroyed many earbuds in my time due to just that.
While the BlueBuds are made of plastic, their material quality and workmanship are perfectly fine for their intended use. That said, I do have to comment on JayBird's "premium" Protective Carrying Case: its not very well made and barely fit the BlueBuds with the large eartips and wings. I actually use a different case to transport and protect them.
BlueBuds X earbuds are definitely expensive at $170. For a pair of sport earbuds, their sound quality, features, and capabilities are impressive, but their bud-size and all-plastic construction does not give a premium or top-shelf vibe. When a good seal is achieved, the earphones sound great, but for me, they did need to be reinserted regularly while running. They did work well and sounded excellent while on the elliptical machine, lifting weights, and working around the house.
Updates 09/09/16
This update is for the JayBird BlueBuds X, Jabra Sport Pulse, and JayBird X2's…all three wireless sports earbuds designed to survive the rigors of the most epic workouts. Or at least that is the promise/hope of both JayBird and Jabra. Sadly none of these premium earbuds lasted that long for me, their "sweat-proof" resistance lasted mere months. My extra sweaty and without a doubt, icky fitness efforts have killed them all.
Product Information
Price:
$169.95
Manufacturer:
JayBird
Requirements:

- Bluetooth-enabled device

Pros:

- Great minimalistic design
- Excellent sound quality (with good fit)
- 8 hours of use per charge
- Lifetime warranty against sweat

Cons:

- Expensive
- Could fit/stay in ear better