We use affiliate links. If you buy something through the links on this page, we may earn a commission at no cost to you. Learn more.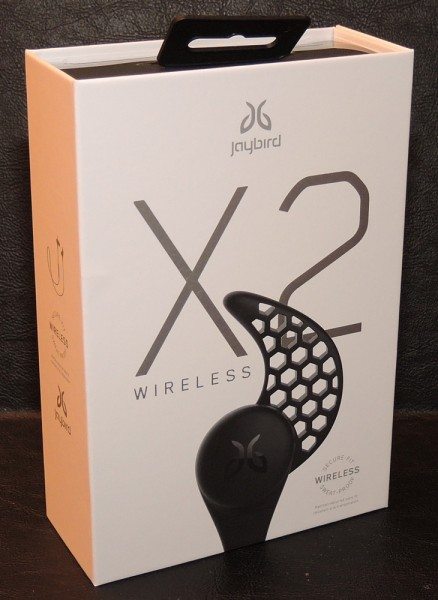 Difficult to believe that it has been nearly three years since I reviewed the original Jaybird BlueBuds X wireless sports earbuds. Jaybird was one of the first manufacturers to create a minimalist wireless set of earbuds engineered to survive a rainy run or extra sweaty workout. Well as we all know, three years is a long time in the tech-world and there are many other players in the game these days. That said, Jaybird has recently released their second generation sports earbuds, the wireless X2's…let's see how they fair in a much more crowded playing field. 
Note: Images can be clicked to view a larger size.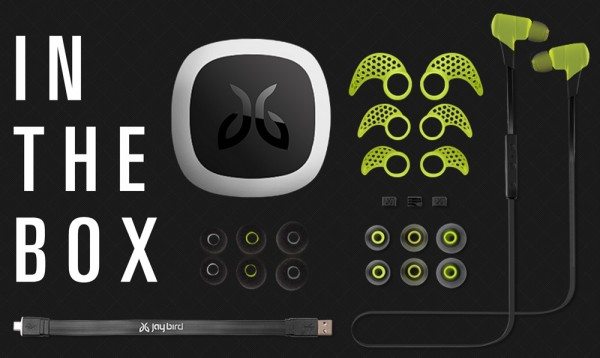 Package Contents:
X2 Wireless Buds
USB 2.0 charging cable
Comply™ Foam Ear Tips
Cord Management Clips
Silicone Ear Tips
Silicone Sport Carry Case
Secure-Fit Ear Fins

Like it's predecessor, the X2's are JayBird's top-of-the-line Bluetooth enabled wireless, sports, in-ear, noise-isolation headphones. Engineered to pair with up to 8 devices and survive the most diligent, epic workouts.
Specifications:
Audio
Type: In-Ear Style
Noise-isolation: Passive
Impedance: 16 Ohm
Speaker sensitivity: 103 +-2dB At 1KHz
Output 12mW RMS (with level limit)
Total Harmonic Distortion <5% (1KHz, 1mW)
Audio Format: 16-bit Stereo
Codec: Shift™ custom SBC implementation
Response Bandwidth 20-20000Hz
Driver Size: 6 mm
Bluetooth
Bluetooth Version: Bluetooth Class 2.1+EDR (Newer versions offer no benefits for headphones as BLE, Bluetooth Low Energy, is not adequate for streaming high bandwidth stereo music)
Frequency Band: 2.4 GHz
Profiles: Handsfree 1.6, Headset 1.1, A2DP 1.2, AVCRP 1.4
Battery
Play Time: 8 Hrs
Standby Time: 250 Hrs
Charging Time: Less than 2.5 hrs
Charging: USB (included)
AC power: DC 5V 1000mA
Type: 100 mAh Lithium Polymer
Operation
Operating: 14F – 122F (-10C – 50C )
Storage: -4F – 140F (-20C – 60C)
Weight & Dimensions
Width: 0.87″ (22 mm)
Height: 1.14″ (29 mm)
Depth: 0.51″ (13 mm)
Weight: 0.49 oz (13.8 g)
Cord Length: 21.25″ (540 mm)
Button Controls
AVRCP Music Controls (Play/pause, next, back)
Call Controls (answer, end, reject call, etc)
General (Volume, pair, power)
Warranty
1 Year Limited Warranty
Lifetime Warranty Against Sweat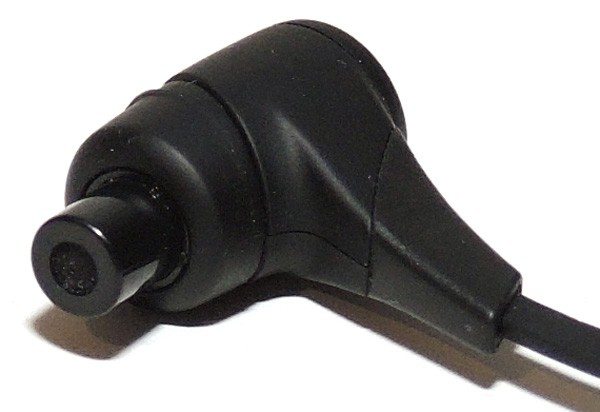 The earbuds themselves look to be a bit more ruggedized than the original. The X2's are made from a hard plastic with a quality on par with other sport-centric earbuds in their price range and feature set. A thin, flat 21 inch rubber cord connects the two earbuds. Another improvement on the originals, the X2's have a small ridge that holds the secure-fit ear fins in place much better than the Bluebuds X.

The X2's come with three different-sized silicone buds, foam ear tips and three "wings" that are designed to create a comfortable, personalized fit while keeping the earphones securely in place during workouts.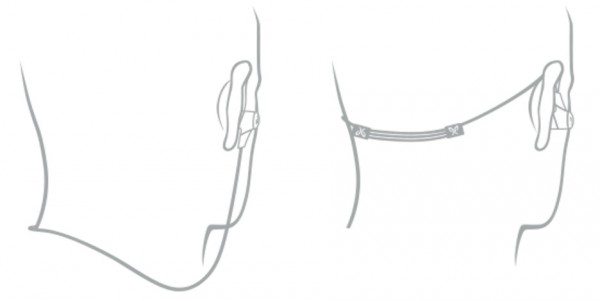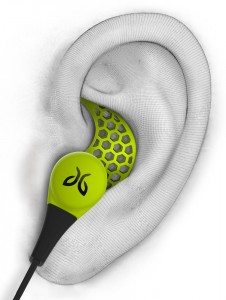 There are two ways JayBird recommends you wear the X2's, over the top and back of your ear or straight down. But either way you use them,  the "wing" attachment securely keeps your earbuds firmly in place during sports-related activities. The X2's sports ear fins set into the top, back & lower surface areas of the ear. This design provides just the right amount of pressure to lock them in place and provide a secure fit so they will not fall out during workouts.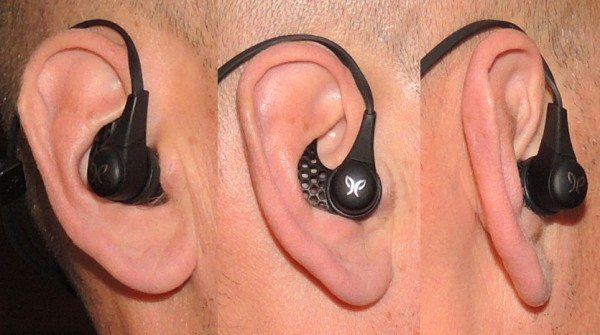 Like the originals, the X2's are designed to be inserted into your ears.  A tight seal is critical to getting better sound with deeper bass. If that tight seal comes loose, sound quality and volume are definitely impacted. With the X2's, I get a more secure fit and better sound quality wearing them over the top of my ears.

If you do choose to wear them over the top of your ears, JayBird includes 2 X-Fit cord management clips that enable you to shorten the earbud's cord so it sits against the back/base of your skull instead of bouncing around – a relatively simple yet effective system.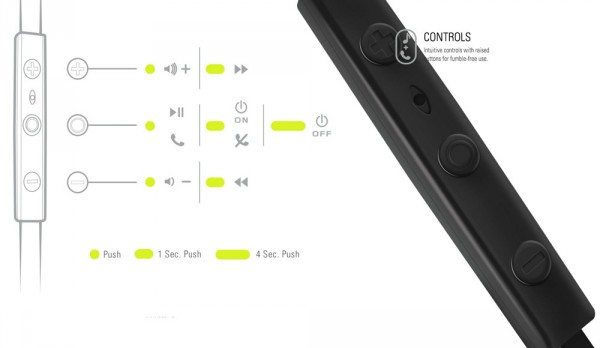 The X2's have a inline remote control with built-in microphone that works well.
Overall, the X2's sound quality is very good, more than adequate to workout with. The X2's call quality is clear and very understandable on both sides of the conversation as you would expect.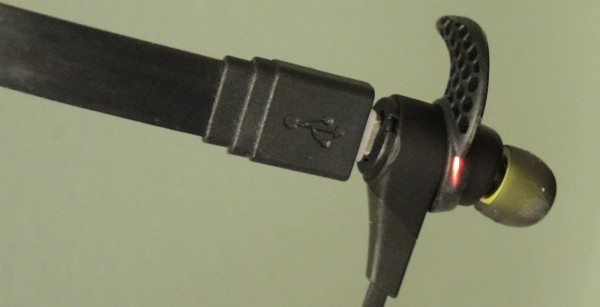 There is a cap on the right earbud that covers the microUSB port, attached with a small tether to avoid becoming lost or misplaced. JayBird includes a very rugged but short microUSB cable for charging (approximately 2 hours). There is a small LED indicator light on the right earbud that lets you know the earphones are on, pairing, charging etc.

The Jaybird X2 is available in a multitude of colors: Midnight, Ice, Alpha, Charge, Storm and Fire.
Jaybird's lifetime warranty against sweat mini-review: Several months before receiving the X2's, my original pair of BlueBuds X wireless sports earbuds died. They were in fine shape due to limited use but for whatever reason they stopped taking a charge or providing any response when pressing the power button. The most logical/likely reason for this failure are my icky, sweat-soaked workouts. Well, I thought with this review, it was perfect timing to see if Jaybird would live up to their blanket lifetime warranty against sweat. So, I contacted Jaybird customer service via their website (they had no idea who I was or that I was writing this review) and went through their RMA process. The return and replacement process went seamlessly, quick and easy. From the point of first contact to receiving my replacement earbuds was approximately 2 weeks.
I have been using the Jaybird X2's for several weeks and like them even more than the originals. For me, the X2's fit and sound quality are noticeably better than their predecessors. The multitude of earbud tip sizes, material types and ear fins combine for a comfortable, solid fit. Their sound and call quality are very good as well, making for a great listening experience while working out. These premium sport-centric earbuds come with a relative high price tag but it is nice to know you are covered by Jaybird's lifetime warranty against sweat.
Update 09/09/16
This update is for the JayBird BlueBuds X, Jabra Sport Pulse, and JayBird X2's…all three wireless sports earbuds designed to survive the rigors of the most epic workouts. Or at least that is the promise/hope of both JayBird and Jabra. Sadly none of these premium earbuds lasted that long for me, their "sweat-proof" resistance lasted mere months. My extra sweaty and without a doubt, icky fitness efforts have killed them all.
Source: The sample for this review was provided by Jaybird. Please visit their site for more info and Amazon to order.