We use affiliate links. If you buy something through the links on this page, we may earn a commission at no cost to you. Learn more.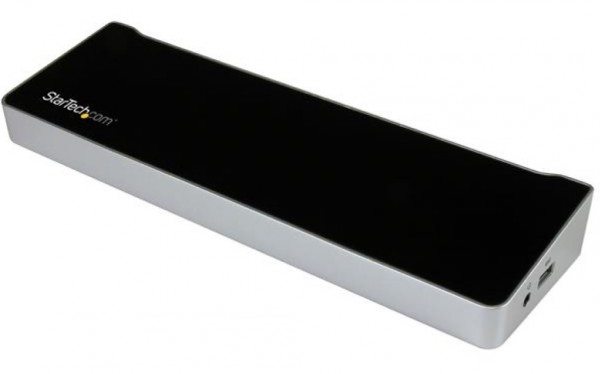 Monitors, monitors, and more monitors – I need as many as possible when I'm working.  I work for a network operations center, so my eyes are constantly on screens looking out for I.T. issues, writing emails, helping users with remote sessions, troubleshooting servers, and the like.  Just like at work, my home office needs a decent set up with at least two monitors connected to my notebook.  I recently had the chance to review the Startech Triple Video Docking Station for laptops, so let's see how it is!

Note: Images can be clicked on to view a larger size.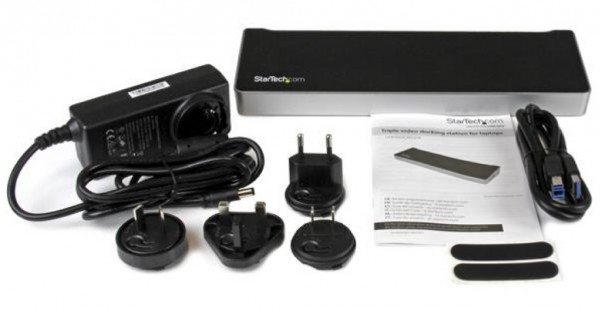 The triple-video docking station for laptops supports up to three monitors for your Windows or Mac laptop.  It comes with the dock, instruction manual, USB 3.0 cable, and a universal power adapter with various connections.  It's made of plastic with a black and silver finish. It's also lightweight at about 13.3 oz.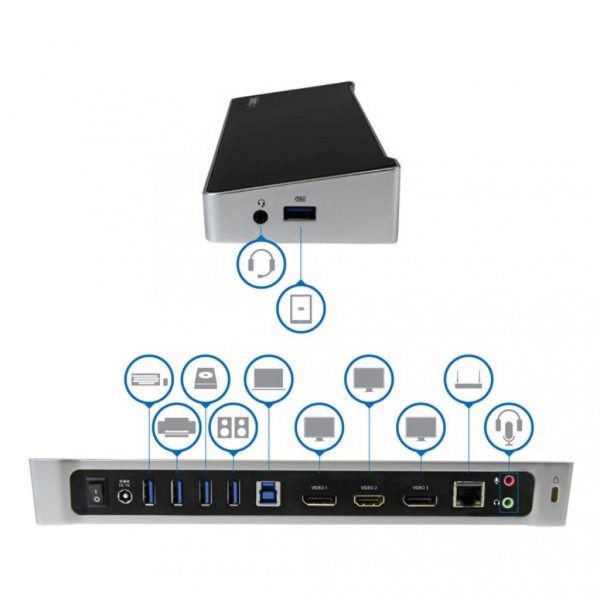 On the back from left to right includes a power switch, DC connection, 4 USB 3.0 (A) ports, 1 USB (B) port,  2 DisplayPort connections, 1 HDMI, ethernet port, headphone/mic jacks, and security lock slot.  On the right side of the dock is another SuperSpeed USB port for charging an iPad as well as headset jack.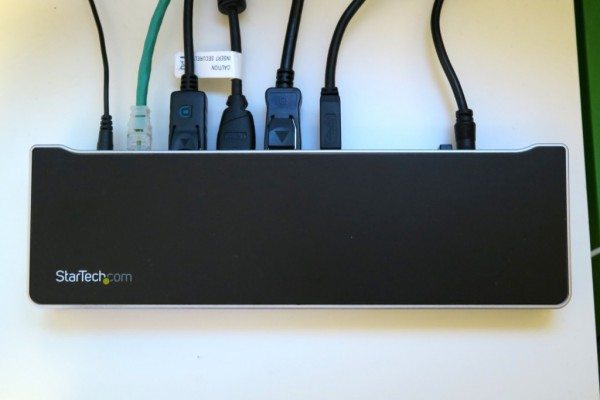 Here is the combination of digital resolutions that are supported:
3840 x 2160 @ 30Hz (DisplayPort Single Display)
2560 x 1600 (DisplayPort Second Display)
2560 x 1440 (HDMI Single Display)
(Lower resolutions are also supported. For example, if the max is 3840 x 2160p (4K), it also supports 2560 x 1600p and 2560 x 1440p.)
So basically, I can connect my main 4K display, and if I had a second 4K display, it wouldn't be the full resolution.  This didn't affect my setup, but it's something to note if you are expecting full support for two or three 4K monitors.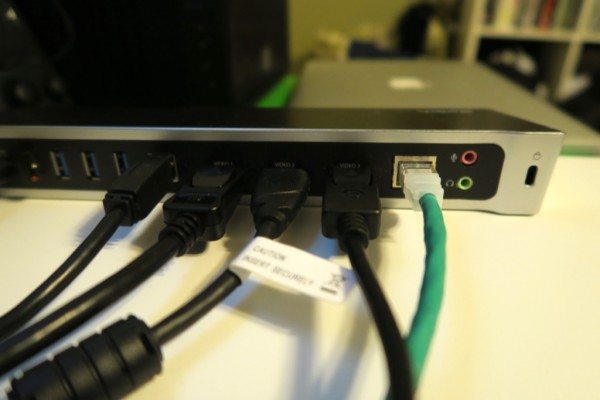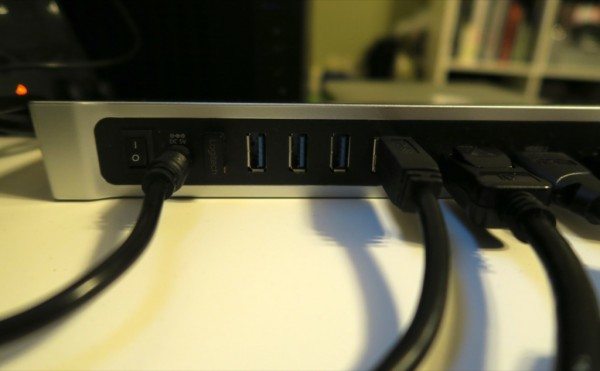 Here are some closer pics of the connections.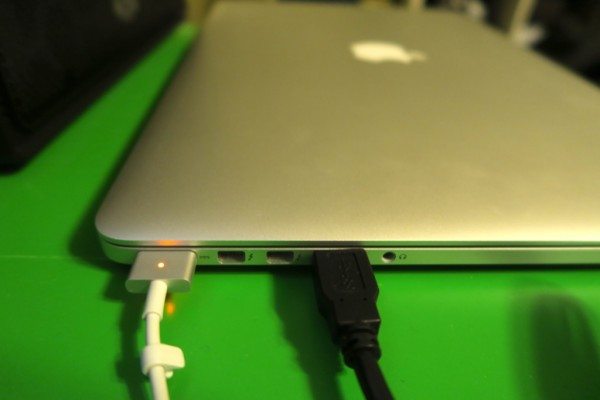 All I had to connect was the USB 3.0 cable to a port on my Macbook Pro.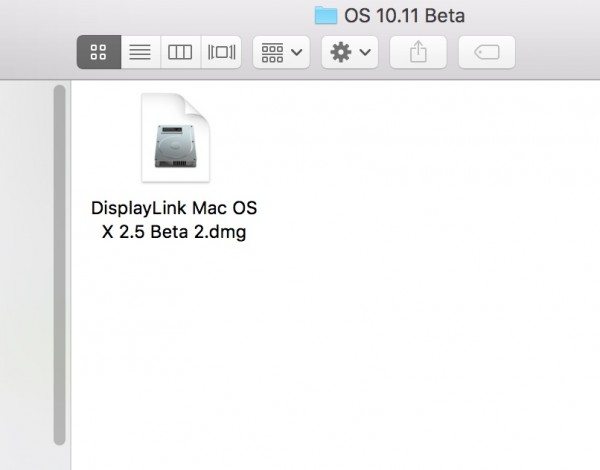 The Startech triple video docking station supports Windows 10, 8, and  7 (all either 32-bit or 64-bit) and
Mac OS 10.8 and later. Since I'm running OS X 10.11 El Capitan, at the time of this review I downloaded the available beta drivers from the Startech website.  It was super easy to install and required a reboot.  Then my displays were all connected and ready to go.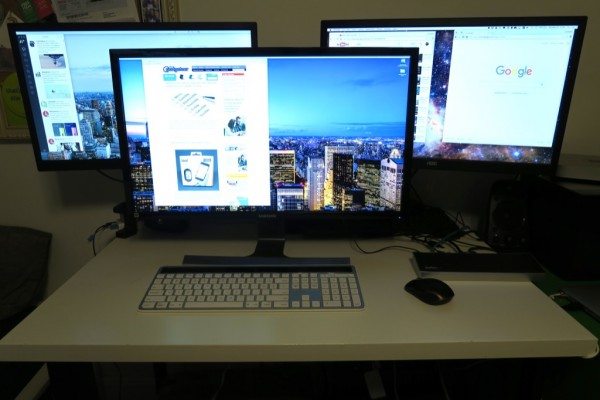 I really wanted to test out my 4K monitor along with my 2 HDMI monitors, so I decide to purchase a DisplayPort to HDMI converter. I set them up just as a proof of concept, since sadly, my desk isn't big enough to lay out my three monitors!  In the middle sits my 4K monitor, and on either side of that are full HD 1920 x 1080 monitors.  Every display was crisp and looked great.  I was pretty impressed with how everything ran so smooth.  Normally when I connect my 4K display to my Macbook Pro, I get some flickering. With the Startech dock, there was no lag or flickering with all three monitors connected!
For practical purposes since my desk is small, I left only two displays open for the rest of the weeks that I've used this; one 4K monitor, and one HDMI monitor.  I've been super happy with this dock. There are five USB connections, so you can use everything you normally use on a desktop.  It's a nice and slim; about 1.3 in x 10.6 in x 3.2 in, so you can fit it under a hutch or stand.  If you are looking to expand your desktop, and only have a laptop, then this is definitely something worthy to invest in. It's a bit pricey at over $200 at the time of this writing, but if you want a nice expansion and you already invested in some displays, then give this a go.
Source: The sample for this review was provided by Startech. Please visit their site for more information and to order directly or through their resellers.

Product Information
Price:
$200-260
Manufacturer:
Startech
Requirements:

Laptop/Notebook with a USB 2.0 or 3.0 port
External monitor

Pros:

Excellent video quality
Great performance
Plenty of expansion ports

Cons: