We use affiliate links. If you buy something through the links on this page, we may earn a commission at no cost to you. Learn more.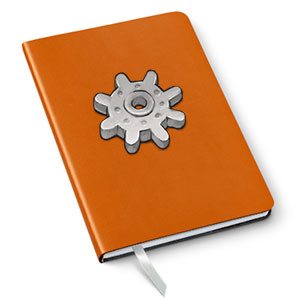 A couple days ago, I announced that I would be trying 2 experiments. Both involved giving up my 13″ Macbook Air in favor of a Samsung Galaxy Note 10.1 Android tablet and a Google Chromebook. The plan was to use a devices for 5 full days to see if it could cut it as my one and only computer. I received the Samsung Galaxy Note 10.1 last Friday and spent a lot of time Saturday installing apps and configuring it. That afternoon, I shut the lid on my Macbook Air and resolved to not open it again until the following Friday morning. But after only 24hrs into the experiment I gave up. Here's why…
Before I get into my 1 day results, let me explain my work flow and how I get things done here at Gadgeteer HQ. The bulk of my work is done in a web browser. My favorite browser at the moment is Chrome. I use it with the Xmarks extension which lets me sync book marks across multiple machines. Although my 13″ Macbook Air is my only computer, I also use Chrome on my Windows laptop at my day job. It's nice to be able to sync bookmarks and open tabs across the two machines. In the browser, no matter what else I might be doing, I always have Gmail, The Gadgeteer wordpress (the software that powers the website) admin dashboard and a Google Reader RSS feed reader tab open.
The other application I use almost every day is Adobe Photoshop. I use it to crop, adjust color levels and do basic editing for the product review images that I take with my Canon G11 digital camera. I also use an EyeFi wireless SD card in my camera which automatically uploads the images to my Macbook as I take them without needing a cable or card reader.
Besides a web browser and a photo editor, I really don't use many other applications. I'll sometimes use a text editor to save / write text files and I'll also use OpenOffice to edit a financial spreadsheet that I maintain for The Gadgeteer. Once a month or so I may use Filezilla FTP client to transfer files to one of the other web sites I maintain. But other than that, my needs are no where near what one would consider power user territory. A high end Android tablet like the Samsung Galaxy Note 10.1 should be able to handle these tasks without breaking a sweat. Right? At least that's what I hoped…
In setting up the Galaxy Note 10.1, the first problem I wanted to tackle was how to get images from my digital camera into the tablet with as little effort as possible. Since the tablet doesn't have a standard USB port, I couldn't use a cable or a USB card reader. I also didn't order the camera connection kit with the tablet, so that solution was out too. Since I already use EyeFi cards, I googled "how to transfer EyeFi to Android" and boom, the first result gave me the solution. All I had to do was install a free EyeFi Android app on the tablet and then setup an EyeFi X2 card to use direct transfer mode. I thought I was going to be out of luck because all my EyeFi cards are older and not X2, which is required. Luckily, after digging around in various gear bags, I found an X2 card. Yay!
After a firmware update on the card and the EyeFi app installed on the tablet, all future pictures I snapped on my Canon G11 automatically transferred to the tablet into a separate gallery folder. This was by far the highlight of the whole experiment. Next up, I needed to be able to edit those images. Usually this involves basic tasks such as cropping them and adjusting the color levels so the background color is as white as possible. The Galaxy Note comes with a premium image editor – Adobe Photoshop Touch pre-installed. This is a full featured app that can do everything I need and then some… including levels adjustment. In the desktop version of Photoshop, you can use an eye dropper tool to click the areas that are supposed to be white, grey and black. I use this ALL the time on my MBA. At first I didn't think the touch version would allow me to do what I needed, but a quick google brought me to a 6 minute how-to video which taught me how to adjust background colors relatively easily. Using the tablet to edit images felt much slower than doing the same tasks with a mouse on my laptop, but it was definitely doable.
Transferring images from my camera to the tablet, check.
Editing those images, check.
I thought I was off to a great start. Unfortunately, from there, things started going down hill fast. My next hurdle was email. According to the automated reports I receive from Google every month, I receive and send a LOT of email. Last month's the report said I received over 3500 emails and sent over 2000. When you receive over 100 emails a day, you need to be able to manage them quickly and easily or your inbox becomes a nightmare. To do this, I take full advantage of labels, stars and multiple inboxes in the Gmail web client. I save a lot of conversations with PR firms and product developers so that I can refer back to them during the gadget review process and also let them know when we've posted a review or news item. Canned responses are also a huge time saver for me. They allow me to quickly paste in the framework of a message so I don't have to type the same thing in over and over again. I'm an email Ninja on my Macbook, but I found the Gmail app on the tablet to be mediocre at best. It will allow for stars (just one star type) and labels, but just barely. With the desktop web client, you can type part of the label name and it will filter the list until you can choose the specific label you want. You can't do this on the tablet app. That means I have to scroll through a list of 100's of labels whenever I need to find a message or archive it. This is extremely slow and painful. The canned response feature is not available either. Before you tell me to just use Gmail through a browser instead of the app, I've tried that. With 3 different browsers. It no worky.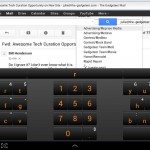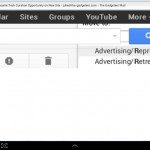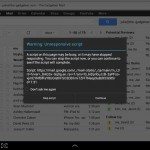 Screenshots showing graphics issue and lockup messages.
Regardless of the browser I used, they would all lock up, run very slowly, wouldn't recognize taps, and had weird graphics glitches that would blow up part of the screen or input fields would be covered by other elements, not allowing me to see what I was doing. Also, when the onscreen keyboard is up, it takes up half the screen. Do I hear you say just pair a Bluetooth keyboard with the tablet so you don't have to use the popup keyboard? Been there, done that. My Apple wireless keyboard paired easily with the Galaxy Note and worked well. The issue is that even with the keyboard paired to the Galaxy, the onscreen keyboard will often popup and won't go away. I suppose it could be an incompatibility with the Swiftkey alternative keyboard I use, but all I know is that it's annoying and makes email tasks feel extremely clunky and time consuming.
Email tasks, fail.
I experienced some of the same issues trying to write articles for The Gadgeteer. I tested the stand alone WordPress app, other WordPress compatible apps and 3 different browsers. Some solutions like the stand alone app are pretty good with WYSIWYG editing and image uploading. But they lack some features like being able to modify the article at the HTML level, change alignments of photos and even editing a hyperlink once you add it. I found using a browser to be the best solution, but I experienced a lot of the same problems I had with Gmail, like the onscreen keyboard popping up when I was using a Bluetooth keyboard. I also had problems when using a Bluetooth mouse too. In some browsers the mouse scroll wheel worked fine and in others it wouldn't scroll at all. The Firefox Beta web browser seemed to work the best, but no one app or browser worked perfectly. While I was working on my Motorola DROID RAZR HD article, I found I needed to switch back and forth between various apps and browsers to get it done. By the time I finished it, I felt like I'd been through a marathon writing session instead of having just written a relatively short article. What took me a couple hours on the Galaxy Note would have taken less than half the time on my Macbook Air. At that point, I realized that I didn't need to subject myself to 4 more days of the experiment to know that the Samsung Galaxy Note 10.1 would not be a laptop replacement for me. I guess I'm a little bit more of a "power user" than I thought 😉
Blogging tasks, fail.
Final thoughts: I don't want to end this article with everyone thinking I hate the Samsung Galaxy Note 10.1 Android tablet, because I don't. I was surprised by how much I like it. I can't say I like it better than my iPad, but the build quality, screen quality, look and feel are all great. Android sure has come a long way in a short time. I remember how I used to harp all the time about how Android apps were no where near as good as iOS apps. That's not true anymore. Granted, Android apps still have a ways to go to catch up with iOS, but most of my favorites are available on both.
The main thing I'll miss after returning the Galaxy Note 10.1 is the S-Pen stylus. It's the way a stylus should feel and work with a tablet. It blows away a standard fat tipped capacitive stylus when it comes to being able to write and draw. I like it even better than pressure sensitive styluses like the Pogo and JaJa.
Even though this 1st experiment was a failure and I'll be returning the tablet to Amazon, I'm excited to try again with the Chromebook. I'll be going into the 2nd experiment less optimistic than this time, but maybe I'll be surprised.
Anyone else out there using a iOS, Android, or Surface tablet as their one and only computer? Tell us about it.