We use affiliate links. If you buy something through the links on this page, we may earn a commission at no cost to you. Learn more.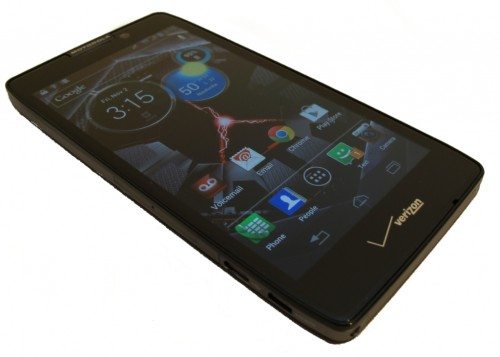 A few days ago, Verizon sent me the Motorola DROID RAZR HD for a quick test drive. This phone comes in 2 flavors. RAZR HD and RAZR MAXX HD. The difference between the two is memory size and battery capacity, with the MAXX having more of each. This will be a quick hardware tour as Bryan will be posting his full review of the RAZR MAXX HD soon. 
Note: Some images in this article can be clicked to view a larger size.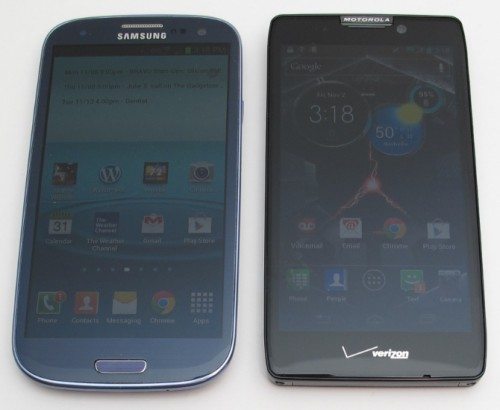 When I was trying to decide which Android smartphone to replace my iPhone 4S, the Motorola DROID RAZR HD and MAXX HD were not yet released. If either had been available, I may have chosen one of them over the Samsung Galaxy S3, which I ultimately purchased. I like the style and look of the RAZR better than the SGS3. The RAZR looks sexier in my opinion with its black iPhone-esque square shape and industrial accents.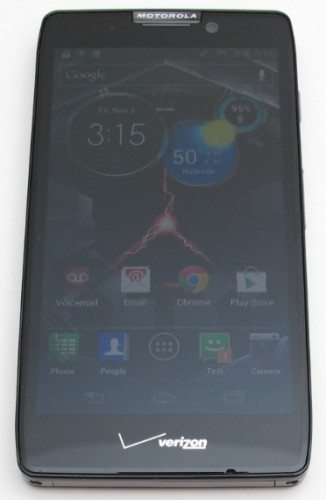 This phone has a 4.7″ Super AMOLED HD 1280×720 display that is just as bright, crisp and vibrant as the SGS3. But missing from the front of the phone is a home button, which I'm spoiled by after having used an iPhone and now the SGS3 for so long.
At the top of the display is an almost 3/4th inch long LED that lights up when you receive a text, email or other notice. However, it doesn't light up while charging the battery which seems odd.
There is a microphone located on the bottom edge just right of center. You can barely see it in the image above.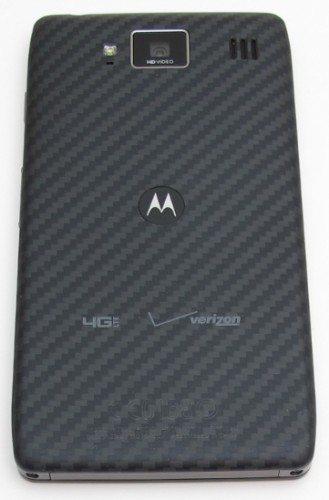 The back has a soft touch cover that looks like a carbon fiber. Also located on the back is the 8MP camera lens, LED flash, speaker and another microphone.

On the left side you'll find the SIM slot for Verizon's 4G LTE network. Below that is a micro USB connector used for charging and file transfers with your computer. There's also an HDMI connector. If you want to hook this phone to your TV, you'll have to come up with the cable though as one is not included.

The opposite side has a power button and a volume button. Both are thin brushed metal buttons that match the wrap around band that gives this phone a cool industrial look.

On the top edge you'll find a standard sized earphone jack.

The only things you'll find on the bottom are two star screws.
This phone is about the same size as my SGS3, but in hand, it feels smaller to me. It is comfortable to hold and does not feel slippery due to the soft cover on the back. This is a very solid feeling phone and does not flex, creak or crack when I try to crush it in my powerful gadgeteer hands. It reminds me a lot of my last Android phone… The Droid X. The shape is similar minus the hump on the back.
From the short time I've had with this phone, I found phone calls to be clear, with proper volume. I found the overall performance going from app to app to be snappy and smooth. And battery life seemed to be pretty darn good. The RAZR MAXX HD has an even higher capacity battery, so I bet it can last for a couple days on a charge.
Would I trade my SGS3 for the Motorola DROID RAZR HD? I'm definitely tempted by the look and feel of the hardware. But there are a few things I like better on the SGS3, such as the calendar app, which is much nicer on the Samsung. Also there's that physical home button. I wouldn't want to give that up. I'm sticking with my SGS3 for awhile, but if you're in the market for a new phone, The Motorola DROID RAZR HD is a nice one. Stay tuned for a review of the Motorola DROID RAZR MAXX HD soon.