We use affiliate links. If you buy something through the links on this page, we may earn a commission at no cost to you. Learn more.
We're a nomadic group, we geeks. Few of our main devices require constant power, a steady place to rest, or a permanent home. But, when you're back from the road, and want to plug that laptop/netbook/tablet into a large monitor, having a proper place to put said device can really make a difference.
The Jas Pro MacBook Pro Display Stand from Cooler Systems, however, does all these things, and more. But first, an overview. The stand itself is a frame that adjusts into an "A" frame stand. Brushed aluminum has become all the rage for fashionable computer accessories since Apple moved from plastic and Titanium. The Jas Pro starts with this, in the ubiquitous bead-blasted finish of most current Apple products, along with cushions of pure grey rubber, and keeps the design light and airy. The stand measures 10″ by 5.5″, and can fold down to less than an inch thick. Every single point that would touch your device or the surface you're resting it on is cushioned to prevent scratching, and to prevent slipping in use.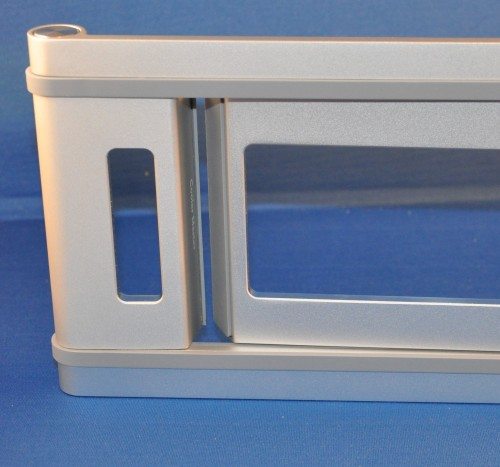 The fully extended size is 10.5″ between rear feet and front stand. This will easily support all but the largest laptop, either in clamshell mode (lid closed, external monitor attached), or in dual screen mode, with the laptop screen raised straight up.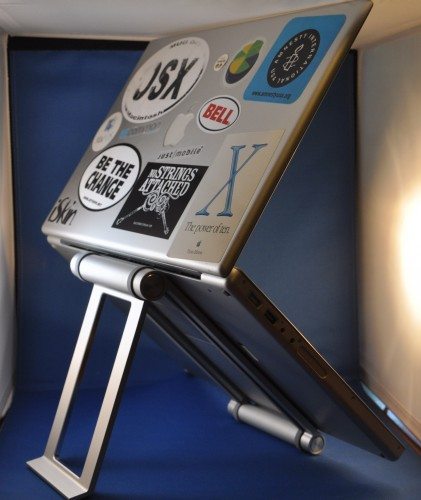 The stand will also hold smaller angles, with smaller laptops and tablets. My iPad can stay stable with the legs spread 5.5″ apart, but at that point, the rear legs are perpendicular to the desk and any lateral pressure on the hinge would fold the unit flat. At this distance, the front part that holds the device is slanted at about 45°.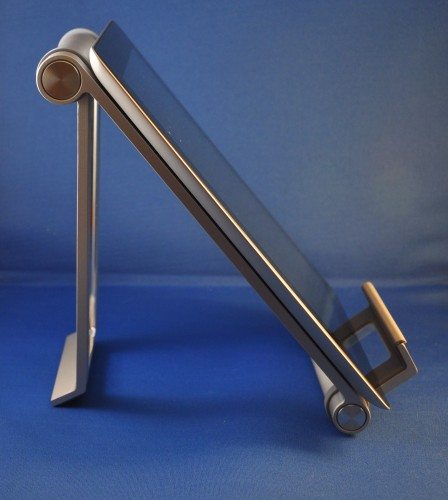 I've been using MacBooks since back when they were introduced as PowerBooks, and have at various times connected to monitors, projectors, and the like on a regular basis. When I finally got a permanent display, I had to find a stand for my portable, since it needed to sit to the side of my monitor. Few were nice looking, fewer held it up at a good height without a few books under them, and none tipped the main body up at an angle that promoted cooling and prevented stacking junk on top of the keyboard.
The Jas Pro not only keeps it elevated to a level even with a large display, but by keeping the hinge up, promotes airflow, aiding cooling by convection. This lets those power hungry processors operate just that little bit faster. Or so the thinking goes.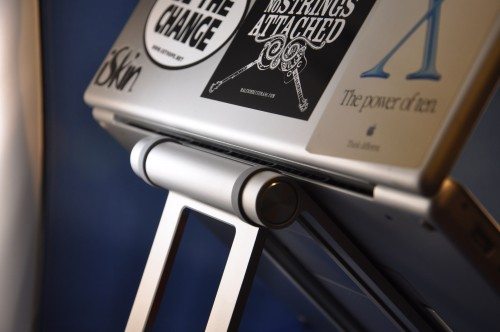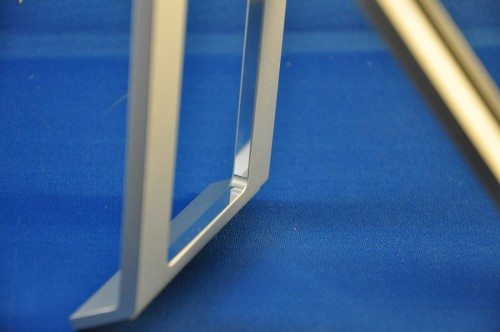 I really like the little touches on the Jas Pro. All of the inner cut surfaces are mirror-finished, while all the outside surfaces are bead-blasted. This, plus the quality rubber cushioning and the finished edges, lets you know you have a quality product. Other metal stands I have used (and bought with personal funds!) have been rougher, with sharper edges and little fine-tuning in the final finish.
The bottom shelf, where the device sits, is very wide, nicely cushioned, and has a large hole for connecting cables. Whether it's HDMI, power, network, USB – they will all fit with no problem. The other three edges, of course, are open and easily accessible as well, but you know how it is with something that was intended to be docked – the bottom center is where the manufacturer wants to put the most important port!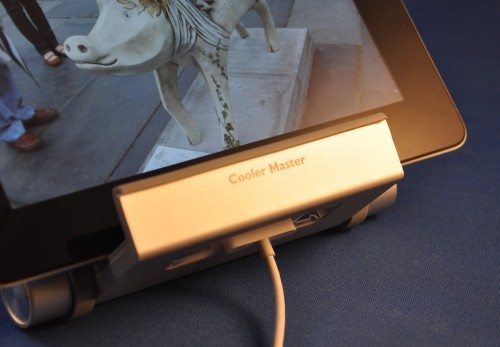 Overall, the stand is quite functional and beautiful. It requires a good bit of desktop space, but much less than a portable sitting flat or on a normal elevated stand would. For a tablet/iPad, the lack of adjustment may give some a reason to think twice, but if you're looking for something that will work in any situation next to your large monitor or in front of a keyboard/mouse, it's very appealing. This unit would be as at home on your dining room table or a boardroom giving a presentation.

Product Information
Price:
$70
Manufacturer:
Cooler Master
Retailer:
Cooler Master
Requirements:

A device that needs to stand upright - laptop, tablet, ereader, etc.

Pros:

Well made
Quality materials
Non-scratch rubber
Very sturdy

Cons:

Large footprint
Not adjustable