The Gadgeteer is supported by readers like you! If you buy something through links on our site, we may earn an affiliate commission. Thank you! Learn more.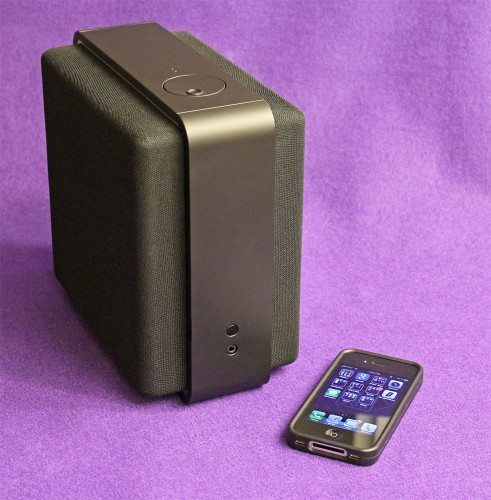 A while back, I reviewed the Audyssey South of Market speaker/dock, which Audyssey has recently renamed the Audyssey Audio Dock. I felt – and still feel – that the addition of Apple's AirPlay wireless streaming technology would have made that Audio Dock practically perfect. It has only Bluetooth for wireless, and I'm just not a fan of Bluetooth for audio streaming. A few months after that review, Audyssey released the Lower East Side Audio Dock Air, also recently renamed as the Audio Dock Air. Audyssey has wisely dropped the confusing urban neighborhood naming scheme.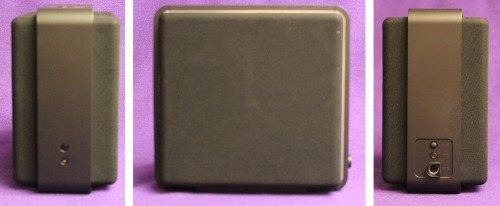 The newly named Audyssey Audio Dock Air includes – you guessed it –  AirPlay. However, instead of adding AirPlay to the original Bluetooth-equipped Audio Dock, Audyssey has created a completely new speaker/dock.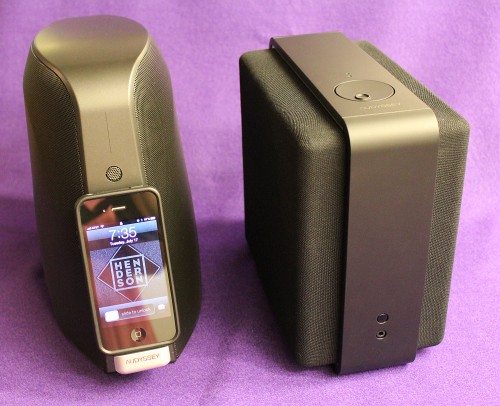 And what a stunner this dock is. Its minimalist sophistication and the smallish box shape will enhance just about any decor. When placed side-by-side with the original Audio Dock, the older, Bluetooth-only speaker looks, well … unusual. However, looks aren't everything.
When I received the Audio Dock Air, I was eager to see how it stacked up against its Bluetooth brethren, especially since the AirPlay version costs $100 more. I needed to see if the higher price was justified.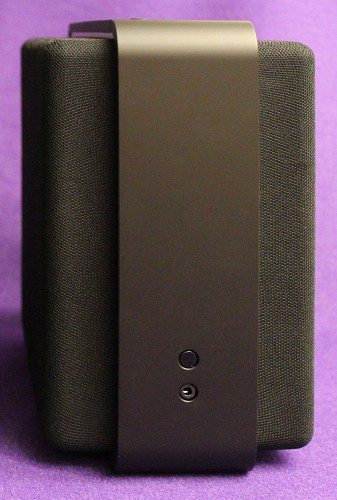 Right off, I noticed what I consider a glaring omission: The Audio Dock Air has no physical dock, and so it will not charge your iDevice. Excuse me?
Now, the extra $100 does get you AirPlay, a premium for which Apple gets a hefty licensing fee. And as I have said many times, AirPlay technology blows the doors off Bluetooth. It streams CD quality sound with a range that is much, much wider than Bluetooth.
A note: In this review, when I refer to the original Bluetooth-equipped Audio Dock, my comments deal only with an iPod/iPhone physically connected to the speaker. Bluetooth was not used for this review because it is not quality audio, so why bother? Also, while I don't like to do comparison reviews, in this case it's hard to resist since both speakers are from Audyssey. However, I will try to keep the comparisons to a minimum.
The original Audio Dock blew me away with its sound, bass, power, just about everything (except Bluetooth, of course). It quickly became my second-favorite speaker dock, bested only by the much more expensive Bowers & Wilkins Zeppelin Air. I still use this Audio Dock daily. It's that good.
Which is why I am somewhat disappointed with the Audio Dock Air. To be honest, if I hadn't heard the original Audio Dock, I would have fallen in love with the Audio Dock Air. The sound is rich, with punchy bass (thanks to Audyssey's own killer BassXT technology) and smooth treble, although the mids can be a bit recessed. The Air Dock has two woofers coupled with passive bass ports (basically holes in the cabinet). The Bluetooth Audio Dock has two larger woofers with four dedicated amplifiers and its own equalizer iPhone app. This difference may account for the weaker overall sound from the Air speaker.
The Audio Dock Air will fill a bedroom or small living room nicely. There's hardly any stereo imaging, but hey, that's true of any speaker dock, no matter the audio quality nor how expensive. They simply cannot compete with two separate speakers and a receiver/amp. But the Audio Dock Air was designed for convenience, and that's where it shines.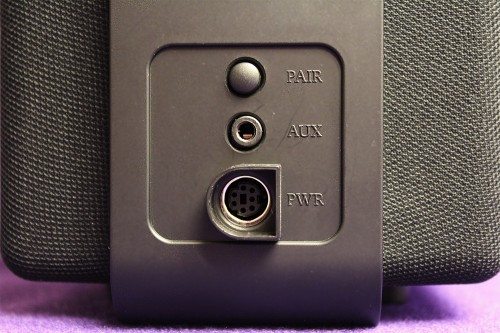 Pairing the Audio Dock Air was a breeze. My iPhone and iPad found it immediately during the initial setup, which was far easier than any other AirPlay speaker I've setup and used. The range is simply incredible. As an example, I have a studio building about 100 ft. from my house. Recently, I was playing an Ultravox album in the studio from my iPhone using Airplay with the Audio Dock Air a few inches away. However, because AirPlay depends on WiFi to work, the signal had to route wirelessly to the house (where the router is) and then back to the AirPlay speaker in the studio building. Only once did I get a 2-3 second dropout. Other than that, it worked flawlessly. There is an annoying lag after you press play, but that's the fault of AirPlay technology and not the speaker.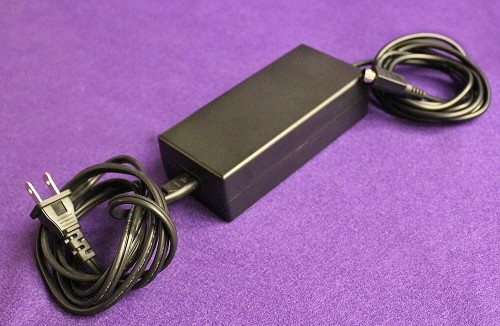 The Audio Dock Air comes with a 3.5mm audio AUX port for connecting to any audio source, and unlike the Bluetooth Audio Dock, a headphone port is included. This is a nice addition. The Audio Dock Air has a power brick attached to the power cord, which allows the speaker to be a bit lighter than it would otherwise be. Should you have the desire (and money), you can pair up to three Audio Dock Airs to iTunes simultaneously for room-to-room streaming. This is not possible with Bluetooth.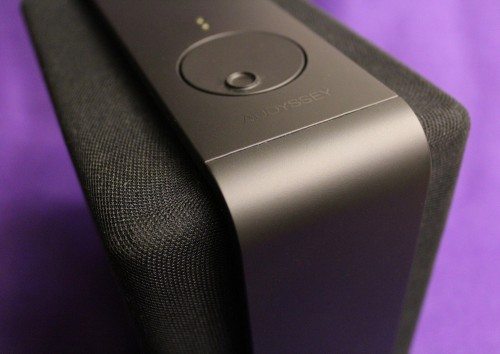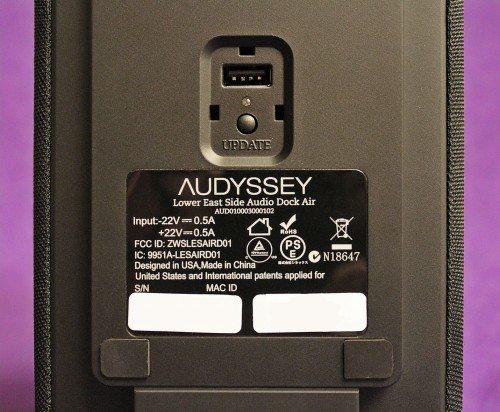 The only knobs on the Audio Dock Air is a volume wheel on top and a small pairing button. That's it. A hidden USB port on the bottom of the speaker is for any future firmware updates. I checked with Audyssey and to date, there have been no updates released.
Even though I prefer the (wired) audio of the original Audio Dock, the Audio Dock Air is no slouch. It was almost impossible to tell whether I was listening through AirPlay or wired through the AUX port. Unfortunately, the Audio Dock Air will not let you take a call and use the speaker as a speaker-phone as many Bluetooth speakers do. Again, the fault lies with AirPlay and not the Audio Dock Air.
As I auditioned different genres of music, I was impressed how the Audio Dock Air handled most of it. As I said before, the mids are a bit recessed, but not too much. Both modern and classic rock sound better than more vocal music does. Due to its extreme emphasis on bass, hip-hop sounds okay on the Audio Dock Air, but not great. I would look elsewhere if rap is your style.
Chrysta Bell's smoky voice backed by David Lynch's murky production suit the Audio Dock Air's sound. There are some very low notes throughout her album, "This Train", and while the Audio Dock Air may not rumble like I would prefer, there was no buzzing or distortion at tolerable volume levels.
"First of May" from the underrated (pre-disco) Bee Gees album, "Odessa," has lower cello playing mixed with brighter piano and triangle notes over a slightly reverbed Barry Gibb vocal. The Audio Dock Air creates a unified mix from this haunting melody while letting the individual instruments have their own space. This song could easily be used to demonstrate the sound quality.
Since the Audio Dock Air handles classic rock quite well, I decided to go way back to 1969: Ten Years After live at Woodstock performing "I'm Going Home," arguably the best performance at this seminal music festival. Alvin Lee's blistering guitar is pushed front and center as it should be, and here the Audio Dock Air doesn't disappoint. When Lee hits the high notes, you can headbang to the attack even if it doesn't quite rattle the windows.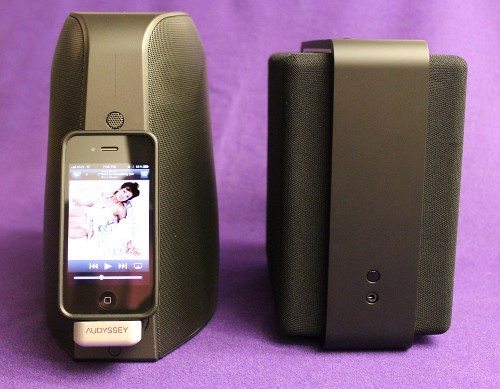 I'm conflicted about the Audyssey Audio Dock Air. While I prefer the more powerful sound of the original Bluetooth Audio Dock speaker, I wouldn't hesitate to recommend this speaker. If you're looking for an accurate sounding speaker with AirPlay and you can live without a physical dock, then you can't go wrong with the Audio Dock Air. But if you don't need AirPlay, would like a charging dock and more powerful audio with a speaker, then save $100 and get the Bluetooth Audio Dock. Either way, it's a win-win solution.
Support The Gadgeteer
:
The Gadgeteer is supported by readers like you! If you buy something through the links on our site, we may earn a small affiliate commission. Thank you! Learn more.
Product Information
Price:
$399.99 US
Manufacturer:
Audyssey
Retailer:
Audyssey
Requirements:

AirPlay (for streaming music)
Audio source

Pros:

AirPlay worked right away – pairing easiest of any AirPlay speaker reviewed so far
Punchy bass
Beautiful in a minimalist way

Cons:

Expensive
Audio not as good as older Audyssey speaker dock
No physical dock