The Gadgeteer is supported by readers like you! If you buy something through links on our site, we may earn an affiliate commission. Thank you! Learn more.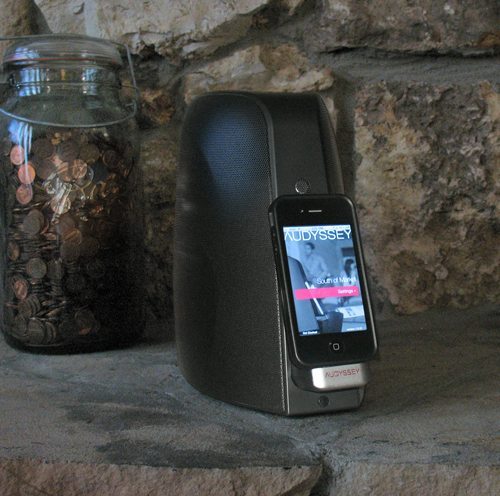 Audyssey is a company that develops audio technologies for various makers of stereo receivers, televisions, recording studios and major cinemas . So while you may have never heard of Audyssey, you have most definitely heard them.
First, let me digress a little from this review with a little anecdote: Once I found out that I would be reviewing Audyssey's first consumer product, the South of Market (SOMA) speaker dock, I visited my local Apple store to check it out before it arrived. When I found one connected to a Mac Pro on display, I docked my iPhone and turned it on. One of the sales girls noticed me messing with it and began to tell me how incredible the dock speaker was. While she didn't know a lot about the technical aspects of the SOMA, she did say that after closing time, the employees use this speaker to play music while they prepare for the next shopping day. She said they prefer the Audyssey speaker over all the others, period. They could crank it up until the store was filled with music and hear lots of bass with no distortion. That's asking a lot from a single enclosure speaker system. She swore that it sounded so wonderful that she was going to buy one for herself. If I was interested in testing the SOMA speaker before, I really wanted to test it now. And now, I have.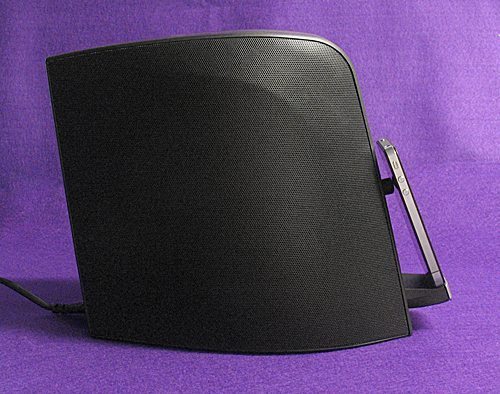 Let me point out right away the one thing that disappointed me in the specs. Bluetooth. I have never liked it and I still don't. It just requires too many compromises. However, even though streaming audio wirelessly using Bluetooth still doesn't sound as rich as a docked/wired connection, the SOMA managed to sound better than any other Bluetooth dock I've yet heard and also sounded better than most other speaker docks using no Bluetooth. That was a shock. I was able to walk around most of my 1,900 sq. ft. house playing music without a fade or glitch with my iPhone still in my pocket. With this kind of audio quality, the SOMA almost makes me a Bluetooth convert. Setting up this Bluetooth could not have been easier. Just pair it and you're done. Boy, after having various Bluetooth pairing nightmares with other wireless products, this was a welcome relief.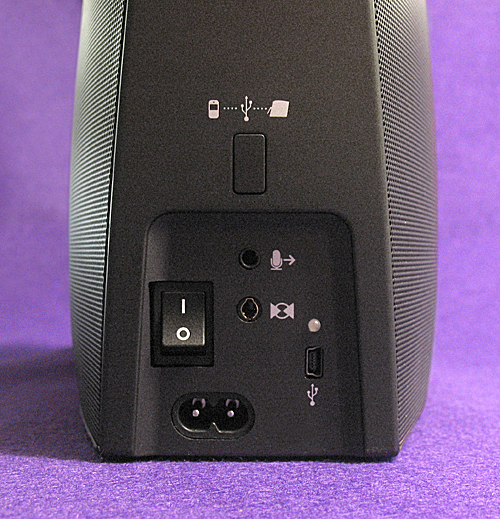 The SOMA dock uses digital signal processing that Audyssey claims enhances sound in ways other speaker docks can't. Well, I will hold judgement on that point until I am able to hear some direct competition from the likes of the B&W Zeppelin or Bose dock. I can say that I am sure the SOMA can hold its own in that group (it darn well should at $400). There is a fullness to the audio whether I am listening with it nearby or across the room. Some dock speakers are designed to be heard "near-field," which simply means you need to be close to the speakers to appreciate them. Back away from the speaker and the audio sweet spot dissipates. Not so with the SOMA. After adjusting the volume accordingly, it doesn't matter whether you are close or far to appreciate a clarity and presence that is missing from other speaker docks.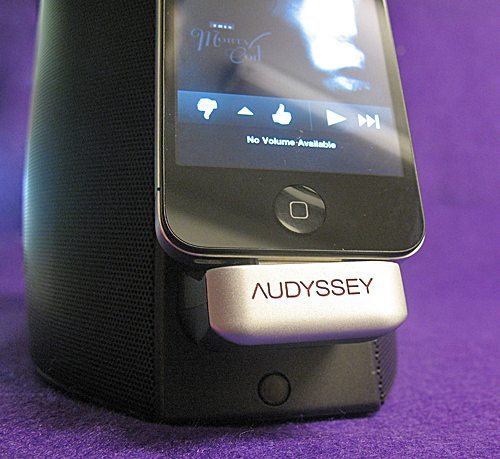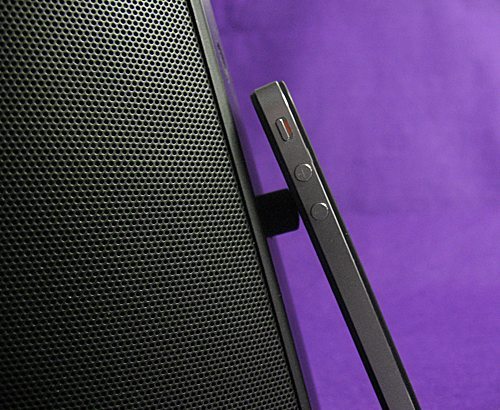 The SOMA's volume/mute button is cleverly hidden in the Audyssey nameplate that supports the docked iPhone/iPod. I like that. Also, along with a typical on/off toggle switch on the back there is a mysterious USB button which Audyssey says is for future upgrades. So far, there have been no upgrades, so this button remains a mystery. Also included is a microphone audio output as well as an analog AUX input for connecting non-Apple audio devices. There is no headphone jack, which I think is a mistake. On top of the unit is a touch sensitive play/pause indicator. I've never felt the need to use it, myself. The iPhone/iPod rests against a neat adjustable bumper knob which takes stress off the fragile 30-pin connector by helping prevent movement once docked.
The SOMA comes with a small remote that lets you play/pause/mute, adjust volume and skip forward and backward. It's standard stuff, although it didn't seem to have a very good range. Beyond 30 feet, I had trouble using any of the remote's functions, which seems to defeat the whole purpose of a remote.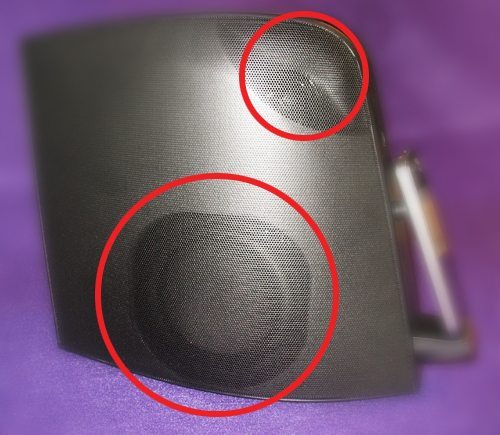 Do you like bass? The Soma has that covered with two 4-inch long-throw woofers. On a portable dock, that's a good size. There are also two .75-inch silk tweeters. If that's not enough, there are a total of four amplifiers; one for each speaker, plus active bi-amplified crossovers to manage it all. With Audyssey's own BassXT technology, the SOMA will pound out bass that will have you looking for a subwoofer.
A good test of SOMA's powerful audio was at another family's house watching the movie, "Secretariat." To really appreciate this film, you should have a subwoofer to reveal the thundering of the horses hoofs as they gallop though the dirt and mud. My friends didn't have any extra speakers except what came with the flat screen, so I brought the SOMA and connected it to their cable box. To say that it made a difference is an understatement. The audio was not quite as engaging as my four speakers and dedicated subwoofer I have at my house, but I gotta tell you, it wasn't that far off. The thundering came through at full volume with no distortion of any kind. Once my friends could hear and feel the impact of this bass, they wanted a SOMA, bad.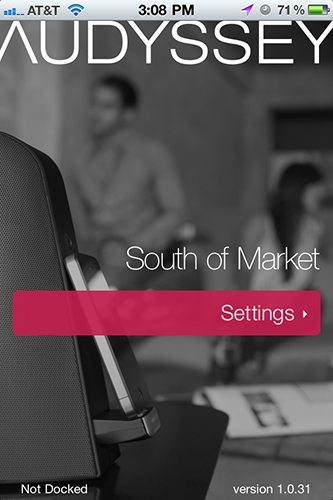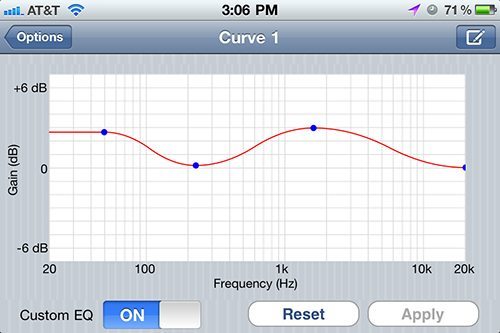 Despite the impressive audio the SOMA puts out, there are other cool things about the dock. If you have an iPod Touch or iPhone, there is a free app that lets you fine-tune the SOMA beyond the basics. The app includes a full-featured equalizer with as many eQ curve adjustments as you can add just by tapping on the visual editor and creating a point that you can then slide up or down. It's a lot of fun tweaking the audio. The main downside to the app is you can't make any adjustments unless the iPod/iPhone is docked. It won't work over Bluetooth. I don't know if that's a limitation of Bluetooth or the dock itself, but it is a bit of a hassle not being able to make adjustments from your easy chair. The good news though, is that once you equalize your music to your preferences, that setting will remain even after you undock your iPod/iPhone. This app does not work with regular or older iPods. However, once docked, those iPods will play just fine without the app. With my older eyes, the visual equalizer feels a bit too small on an iPhone screen. I would love to see Audyssey develop an iPad version of this app. Speaking of iPads, Audyssey claims that the SOMA was not developed for the iPad; only iPods and iPhones. However I docked a friends iPad to see what would happen and it worked just fine. Please don't tell Audyssey I said that.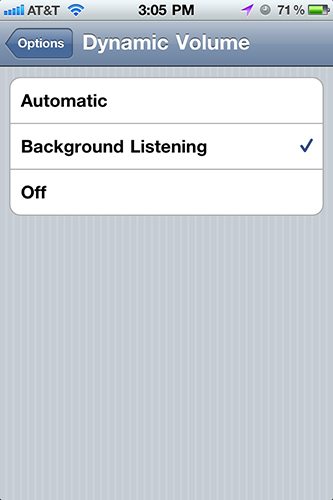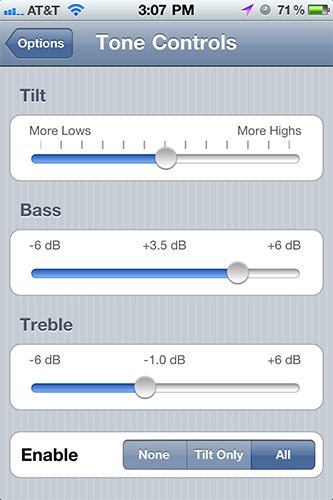 Also in the app, there is a much simplified equalizer called Tone Controls. With just bass and treble sliders it couldn't be much easier. But Audyssey did make it easier. Because even if that is too complicated for you, there is Audyssey Tilt: One slider that moves from bass to treble. That's it. Despite all this neat equalizer fun, there is a far more powerful feature in the SOMA  app called Dynamic Volume. In Background Listening mode, Dynamic Volume compensates for low volume background listening by boosting frequencies that are typically lost in reduced volume. I know it doesn't sound like much but it makes ALL the difference when you want to be able to clearly hear your music in the background without it intruding on conversation. It is a subtle, but amazing feature that is not appreciated until used. Set Dynamic Volume on Automatic mode and all your songs will be played at a more consistent volume level no matter how loud or soft they were recorded.
If you haven't guessed already, the Audyssey SOMA doubles as a terrific computer speaker when connected via USB. That's how I usually use it. At my office I can dock my iPhone and just leave it there while I play iTunes while working. In an office setting, you just can't just crank it to 11 whenever you feel like it. That's where the Background Listening mode I mentioned earlier comes into play. For instance, the bass drum punch of "Another Brick in the Wall (Part 2)" still comes through at a lower volume without disturbing coworkers in nearby offices. And if I'm working late and choose to turn it up to 11, well, lets just hope everyone else likes Pink Floyd, 'cause they're certainly gonna hear it.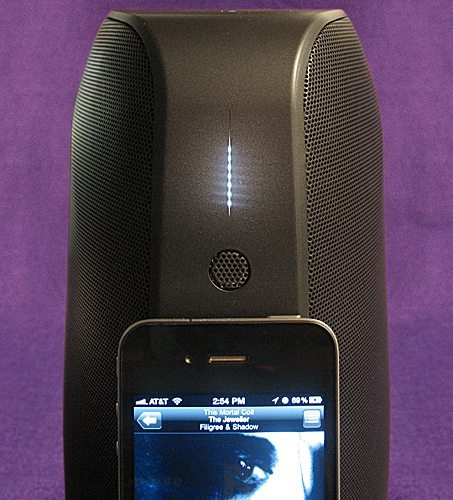 Because The SOMA dock supports Bluetooth, it also serves as a speaker phone. Just use it like any other bluetooth device and the SOMA's built in microphone lets you talk handsfree. In my phone conversations, I did need to speak a little louder than normal when I wasn't right next to the dock. However, the person on the other end always came in loud and clear on the SOMA's speakers, no matter how far I was from the unit.
Many times I have really liked a new audio product at first, but as time passed, I would begin to notice little quirks or annoyances. That's not happening with the Audyssey dock. I have listened to it for well over a month now and it just seems to get better and better each day. After spending all this time with it, I have come to the realization that the South of Market audio dock is a keeper.
Support The Gadgeteer
:
The Gadgeteer is supported by readers like you! If you buy something through the links on our site, we may earn a small affiliate commission. Thank you! Learn more.
Product Information
Price:
$399 US
Manufacturer:
Audyssey
Requirements:

iPhone/iPod Touch/iPod to use dock. Other players can be connected via AUX port on back of unit.

Pros:

Fantastic sound quality
Unusual, futuristic looks
Solid construction
Best use of Bluetooth I have yet heard

Cons:

Price
Weak remote
Would prefer Apple's AirPlay over Bluetooth