We use affiliate links. If you buy something through the links on this page, we may earn a commission at no cost to you. Learn more.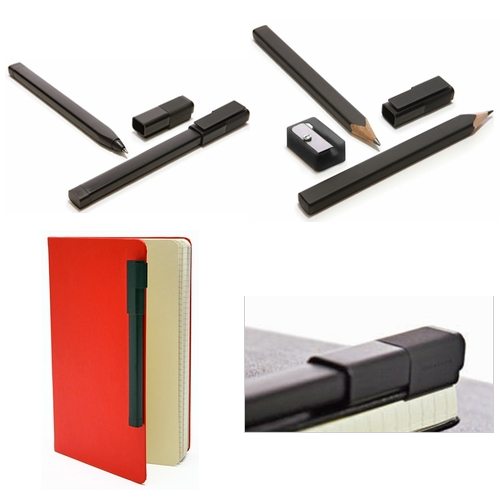 Moleskine is expanding their line with pens and pencils designed specifically for writing in their notebooks.  The pencils (shown top right) are 5″ X 0.375″ X 0.25″;  their rectangular shape allows them to fit more compactly against the notebook and their rounded edges make them feel more comfortable in the hand.  The pencils have 2B lead, and they come with a special pencil sharpener.  They also have a black cap with a lacquered steel clip that slides easily over the edge of the Moleskine's cover so you'll never have to hunt for a pencil.  A set of 2 Moleskine Wood Pencils with sharpener, cap, and decorative labels is $16.95.
The Moleskine Classic Rollerball Pen (shown top left) is shaped like the pencils, but it's 0.5″ longer.  It comes with a quick-drying black gel ink refill that has been specially designed for use with the Moleskine notebooks.  You can purchase refills for the pen in Black, Blue, Green, Red, Violet, and Brown.  The Moleskine Classic Rollerball Pen with black cap to attach it to the notebook and decorative stickers to personalize your pen is $14.95.  A Moleskine Metal Rollerball Pen made of natural-color aluminum is also available for $49.95.