We use affiliate links. If you buy something through the links on this page, we may earn a commission at no cost to you. Learn more.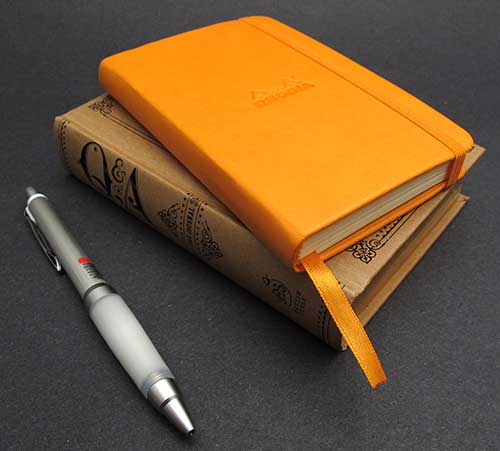 I'm happy to report that I've been writing in my journal almost every day since last Fall. In addition to my regular journal, I've also been writing in a Q&A a Day: 5 Year Journal since January 1st. This is a neat little journal that asks you a question each day and gives you a couple of lines to write your answer. On each page there is room for 5 answers. The idea is to write the year for each entry so you can see how your answers change over time. For those of you that would like to start a journal but don't think you can keep up with it because you can never think of anything to write, this is a super easy way to keep one because the writing topic is given to you each day.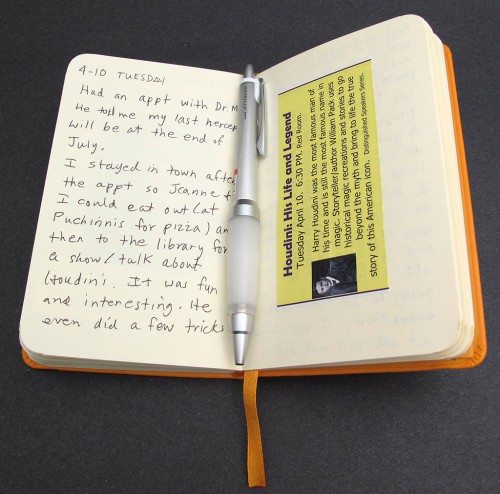 My main journal is an unlined Orange 3×5 inch Rhodia webbie. I don't write anything very important in it. Usually just a quick summary of my day and an occasional clipping, picture, or doodle to go along with it. I love the feel of the Rhodia notebook. It's a hard bound book and the cover has an almost padded feel that I love. The Clairefontaine paper is heavier than Moleskine paper, so you don't have to worry much about ink bleeding through.
So here's the thing… I only have about 30 pages left in this journal before I can start a new one. Although I really like Rhodia notebooks for the reasons mentioned above, I've been having trouble deciding what my next notebook is going to be. Even though I have a whole stack of Moleskines, another Orange Rhodia (lined) and a Quo Vadis Habana (which also has Clairefontaine paper – lined), I remain undecided. I think my problem stems from the fact that the Rhodia and the Quo Vadis are both lined and I prefer blank unlined paper. Btw, the Quo Vadis Habana is a very nice notebook too. It's a little larger than the pocket Moleskine and Rhodia webbie at 4 x 6 inches. But it also has a nice padded cover that really feels good in your hand.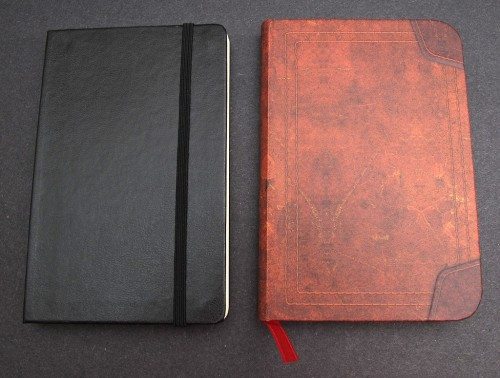 While I've been trying to make up my mind about my journal choice, I've been surfing around to see if there may be other great notebook brands that I've overlooked. I did happen upon this inexpensive Moleskine sized Paperblanks Flexi Mini Back Pocket notebook from Lovenotebooks.com. The description said the notebook had blank pages but it's actually lined… Otherwise I love the look of it. I wish Rhodia and / or Quo Vadis would offer a natural leather colored version of their notebooks.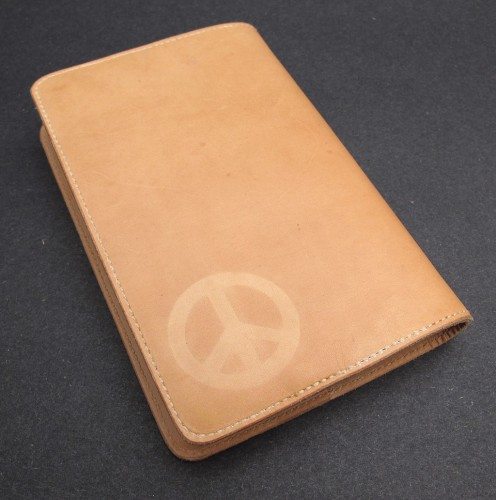 Speaking of natural leather, I got creative the other day… I took the Gfeller Casemakers notebook cover that I reviewed and gave it a sun tattoo. I had a wooden peace sign that I just sat on the leather while placing it outside in the sunlight for about 4 hrs. The sun tanned the leather, making it a little darker, while the leather under the peace sign didn't change. Nifty huh?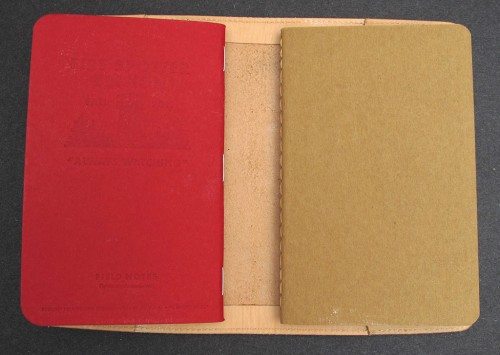 I don't use the Gfeller cover in a conventional way. I've been using it as a holder for a Moleskine Cahier notebook and a Field Notes notebook. I got the idea from the Midori Traveler's Notebook that I reviewed awhile back. It works ok… the notebooks tend to slide around in the slots designed to hold the cover of a 3 x 5″ Rhodia. I've thought about punching holes in it and adding some elastic bands, but I don't want to ruin it. I still have plans to make my own covers and a few other things with a large piece of leather that I purchased months ago. Anyone else out there like to make their own covers, etc?