We use affiliate links. If you buy something through the links on this page, we may earn a commission at no cost to you. Learn more.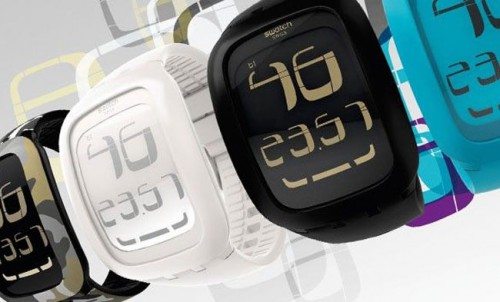 Why wear a certain touch screen mp3 player on your wrist when you can slap on a reliable Swatch?  The Swatch Touch is a new line featuring, you guessed it, the ubiquitous touch screen!  All physical buttons have been removed, giving the watch face a sleek new profile.  The wearer just needs to now swipe the screen to access the alarm clock, timer, date, chronograph, and two time zones.  Three on screen buttons allow for adjustments and settings to each screen, and holding the screen will activate the back light.
Like most other Swatch watches, the Touch line comes in various bright colors (purple, pink, turquoise), as well as the standard unisex white, black, and camo.  All colors feature the same functions and digital number design.  They are available now and retail for $140.