We use affiliate links. If you buy something through the links on this page, we may earn a commission at no cost to you. Learn more.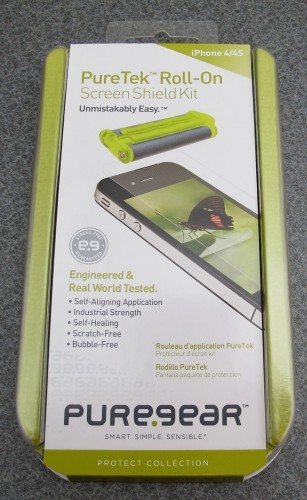 We all know that a screen protector will help keep your iPhone's display as pristine as the day you bought it. But installing one can be a huge pain in the butt. First you have to make sure the screen is clean so you don't install the protector over dust particles. That's actually the easy part. The difficult part is getting it lined up correctly and bubble free. There are many screen protector brands on the market. Some require water to install and some are dry apply. But none of them are as easy to apply as the PureGear PureTek Roll-On Screen Shield Kit for iPhone 4/4S. Their install method is pure genius.
Note: Click the images in this review to see a larger view.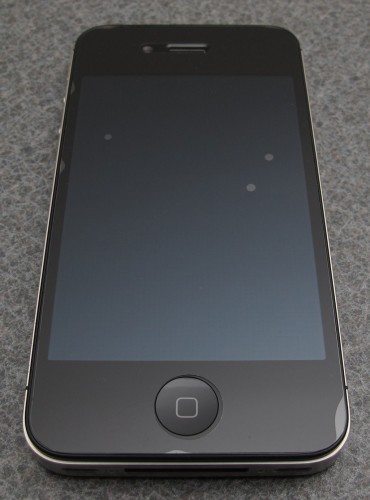 First of all, this is how my iPhone 4S looked before I installed the PureGear PureTek Roll-On Screen Shield. You will notice that I have a screen protector installed (I don't recall the brand – it probably came with a case I reviewed), but there are bubbles. Those dreaded bubbles. Argh… No matter how careful you are it's almost impossible to avoid them. With the PureGear protector, bubbles are a thing of the past.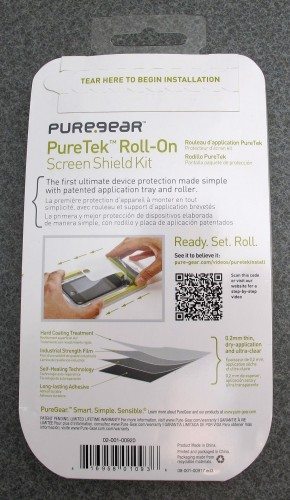 The packaging is actually a fixture that has been designed to align your iPhone and the screen protector for perfect installation.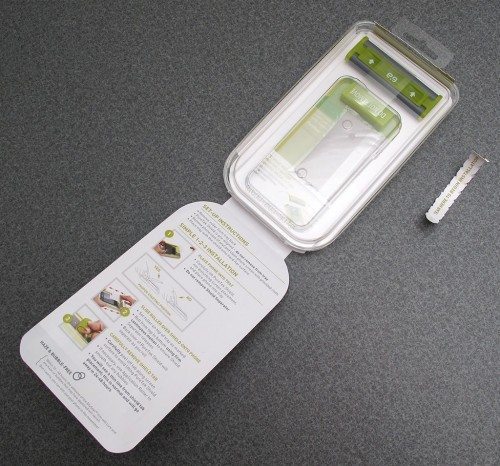 Just tear the paper tab on the back and pull off the outer cover / instructions.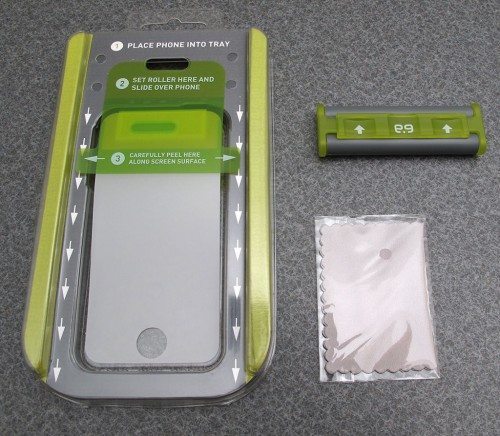 What you're left with is a plastic tray that has the screen protector attached to it. Also included is a microfiber cloth to polish the phone's screen and a special roller.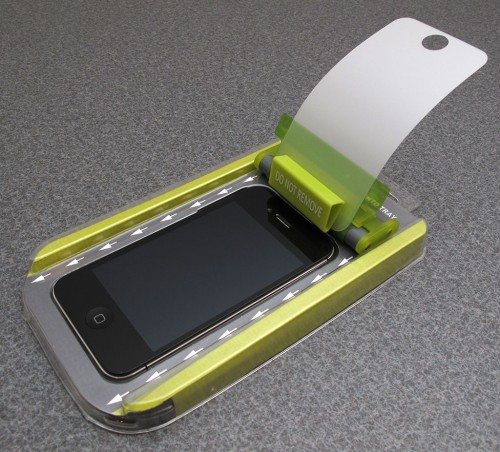 The protector lifts up to reveal a tray that holds an iPhone 4/4S. PureGear also offers versions of this kit for the Motorola Droid 4 and Motorola Droid Razr.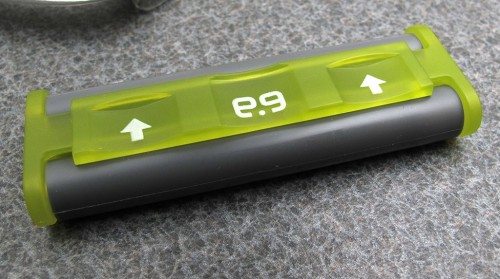 Included with the kit is a dual roller that you use to install the protector. If you've ever installed other screen protectors, you have probably used a credit card to smooth out the protector. I like this roller a lot better.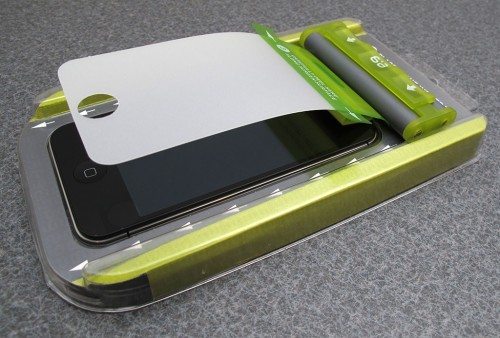 With the iPhone's screen wiped off with the microfiber cloth and firmly seated in the holder, the protector can flop back over the phone as shown above. Then all you have to do is place the special roller between the "rails" and roll it down the length of the phone.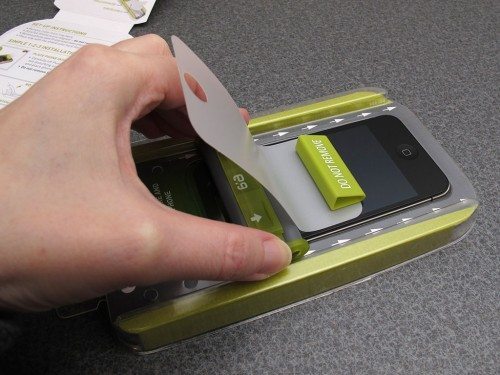 As you guide the roller, it separates the top layer as it sticks the protector to the phone. The trick is to roll it slowly without stopping. I know this because I screwed up 2 protectors in the process of writing this review. With my first try, I didn't roll it without stopping. I rolled it a few inches, snapped some pictures for the review, rolled it a bit further, took some more pictures, etc. I ended up with a protector that had several bubbles that would not go away. I knew the problem was completely my fault, so I pulled off the protector and installed a 2nd one that PureGear sent me. This time I rolled it in one continuous motion. I thought it had installed perfectly till I looked closely and noticed that t was not lined up correctly with the home button. Darn it! I emailed PureGear to tell them about my experiences and they agreed to send me another one.
That is a concern that you only get one shot to get the protector installed correctly. You won't be able to peel it up and reseat it.
As they say, 3rd time is the charm. My last try was a complete success.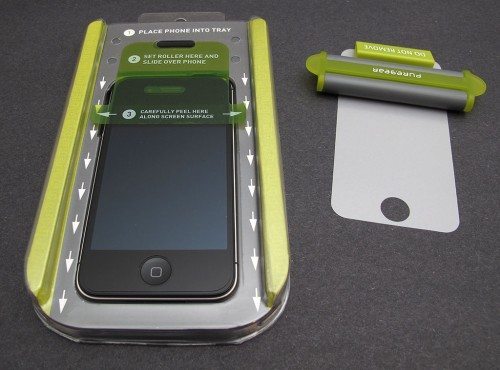 When you're done, you're left with a piece of plastic that you have to peel off.
You might notice that the dual roller looks different in this picture when compared to the earlier pictures. I think the new design may be based on the fact that people were having some issues with the protector not lining up correctly like I did on my 2nd try. This 3rd time it lined up just fine though.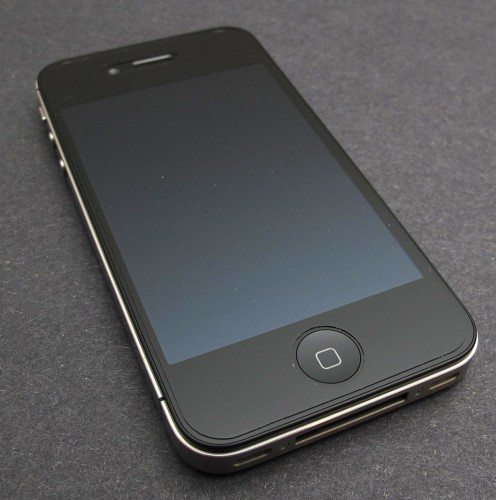 Here is the finished product. No bubbles and perfectly lined up with the home button and the speaker at the top.The protector is slightly smaller than the display, meaning that it should work great with bumper cases.
If you click the image to zoom in, you might notice a couple spots along the very top edge. They disappeared after 24hrs leaving me with a perfectly protected display. The protector is made of an industrial strength film that has self healing technology. It feels smooth and looks clear.
Installing the PureGear PureTek Roll-On Screen Shield is easier and faster than any protector I've ever installed. As long as you pay attention to what you're doing and don't go too fast, you should end up with great results.
Update 2/9/12 – This morning after having the protector installed for 2 days, I noticed that there is a weird reflection issue when the display background is a light color. It sort of looks like thin vertical lines under the protector. This might be what some people refer to as a moire problem. I only noticed it when I went to send someone an text message. The background is a light Blue and I thought the screen had grease strikes on it. But, there's nothing there. It's very slightly distracting, but not horribly so. Unfortunately I can't photograph the problem.
Product Information
Price:
$24.99
Manufacturer:
PureGear
Pros:

Very easy to apply
Perfect alighnment
No bubbles!

Cons:

You get one shot at installing it
You might notice strange reflection issues when the screen background is light colored