We use affiliate links. If you buy something through the links on this page, we may earn a commission at no cost to you. Learn more.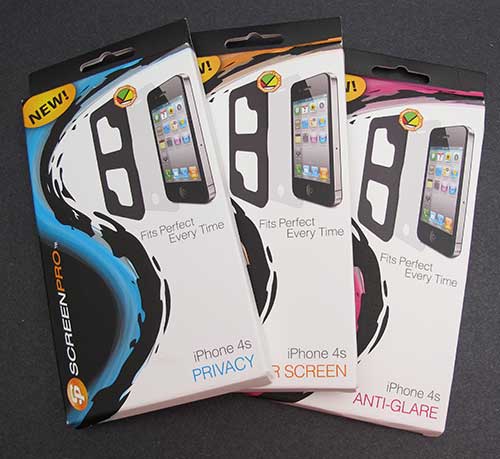 Protecting your iPhone's display from scratches is important to a lot of people. As a result, there are a wide variety of screen protector brands on the market. I've personally avoided applying screen protectors to my own iPhone 4s mainly because I tend to have problems lining them up perfectly. I bet a lot of people want to protect their screen, but fail to do so because they figure they will waste their purchase on a bad install. That must be why we're seeing a few new screen protectors popping up on the market that claim to give you a perfect install every time. A couple months ago I reviewed the PureGear protector and found their unique install method to be a great idea. ScreenPro is a new player on the scene that looks to offer an even better way to install a screen protector on your iPhone 4s.
Note: Click the images in this review to see a larger view.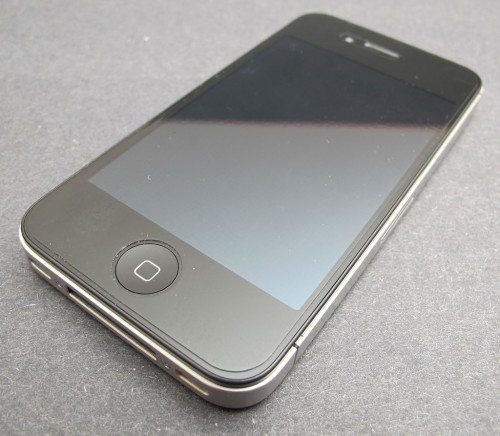 My iPhone 4s has had the PureGear protector installed since the beginning of February. At first I really liked it, but as the weeks, months have gone by, I've become a little less enamored by it for a couple of reasons. The main reason is that it has a rubbery soft texture that makes it almost impossible to use with a stylus. That means it's tough to do drawings when playing Draw Something. 😉 It also means that over time I've started noticing a slight orange peel type effect. I'm not sure you can see what I mean by clicking on the image above, but if you look at the edge where the the shadow falls across the screen, you'll notice what looks like pitting in the protector. This effect doesn't hinder what you can see on the screen or the sensitivity of the capacitive screen. It just looks crummy. This protector also gets smeared and streaked easily.
When I found the ScreenPro protectors in my mailbox, I wasn't all that excited till I looked at the packaging a little closer and saw that they claim a perfect fit every time. Cool… So I peeled off the PureGear and opened the ScreenPro package.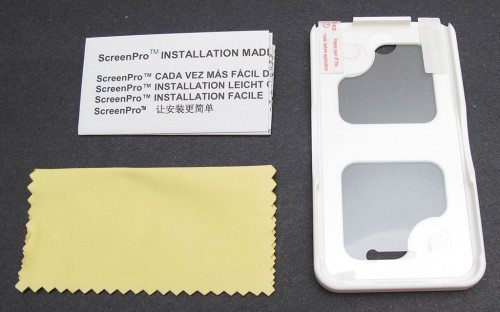 ScreenPro offers 3 different iPhone 4s protectors: Clear, Anti-glare and Privacy. I opted to try the Anti-glare version first. Inside each package is an instruction sheet, polishing cloth and 1 screen protector.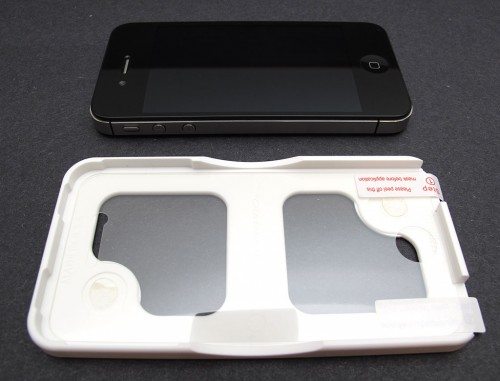 The screen protector is "glued" into a special plastic tray that has been designed especially for the iPhone 4s.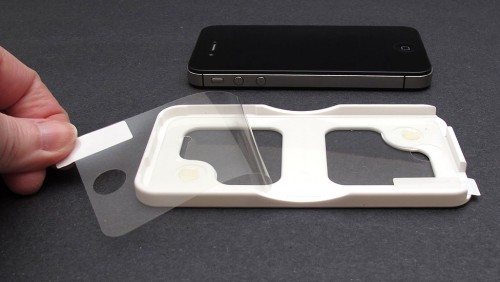 Installation is very easy. First make sure your iPhone's screen is clean and dust free (easier said than done…). Then peel off the top layer of film from the protector.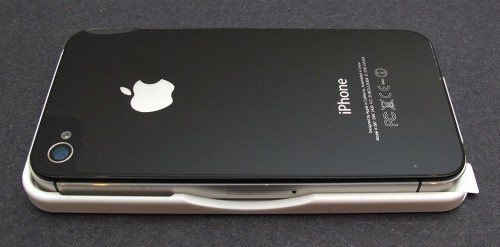 Then the iPhone is snapped into the tray face down after making sure you have the iPhone oriented correctly first of course.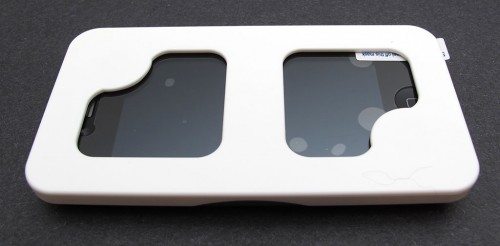 Then all you have to do is flip the tray over and pop it off.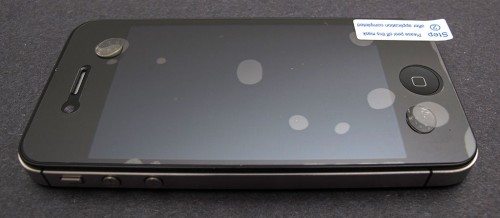 Some little dabs of sticky goo glue can be peeled off and then using the polishing cloth, you can squeegee out the bubbles.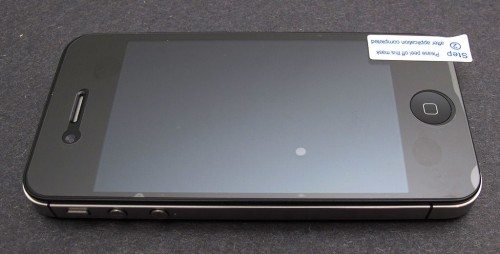 Unfortunately, two bubbles with a tiny dust particle in the center remained after I rubbed and buffed for several minutes. Darn dust!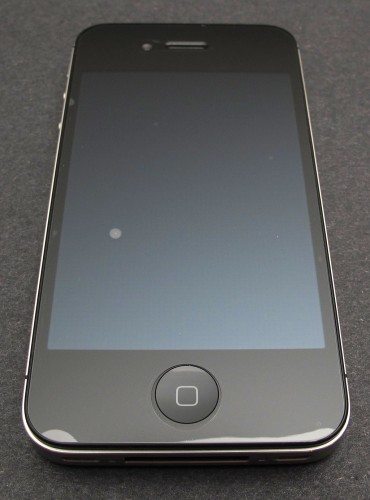 Pulling off the remaining film reveals the screen protector. As you can see in addition to the 2 bubbles, I also have a problem with the bottom edge not sticking. Not sure why that is, but no matter how much rubbing I did, I could not get it to stick. I was able to get rid of the one main bubble by sticking a piece of tape on the lower edge, lifting up the protector and then using a 2nd piece of tape to "grab" the piece of dust on the underside of the protector and then smoothing it back down. I had to do this 3 times as each time I lifted the protector, I would introduce more dust particles. Argh…
This Anti-glare protector has a nice matte finish that is visible and tactile. I'm happy to report that you can use a stylus with this protector with no trouble. It does make the gorgeous retina display look a little grainy though. And as far as I can tell, it really doesn't help that much with direct sunlight.
I think the ScreenPro protector (so far) is a definite improvement over the PureGear. It's quicker and easier to install and the protector itself is thinner and less rubbery feeling. I'll try the Privacy and Clear versions in a few weeks after I get a chance to really use this Anti-glare version. Even though it's early, I am going to recommend ScreenPro for ease of install and stylus compatibility.
Product Information
Price:
$14.99 - $17.99
Manufacturer:
ScreenPro
Pros:

Quick and easy to install
3 types of protectors to choose from

Cons:

Bottom edge won't stick
Does make the screen look slightly grainy