We use affiliate links. If you buy something through the links on this page, we may earn a commission at no cost to you. Learn more.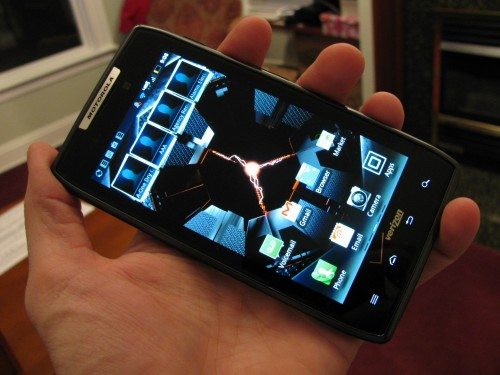 When Motorola burst onto the Android scene with the original Droid (a.k.a. Milestone), the company quickly ramped up to one of the more noteworthy smartphone makers. Then, over the course of a couple of years, their reputation dropped as their phones became less and less innovative, and less and less competitive against the likes of Samsung.
A bright spot was the 2011 CES, where Motorola's booth, with the Xoom, the Atrix, and the Droid Bionic, was among the stars of the show. But, production delays for the Bionic, lackluster performance by the Xoom, and mediocre sales of the Atrix all undercut Moto's momentum.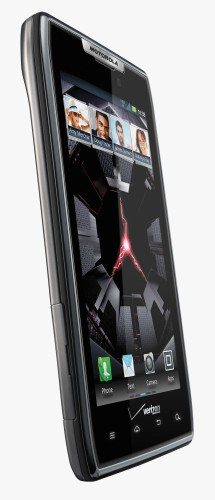 That downward trend could just very well be cut short with the resurrection of one of Motorola's most hallowed of product brands: the Razr.
If you weren't hiding under a rock between 2003 and 2007, you probably saw more Motorola Razr clamshell-style feature phones than any other mobile device, at least in the U.S. It was, by any metric, a blockbuster product line. With the release of the Droid Razr, Motorola is quite obviously trying to capitalize on that brand recognition. But, is the Droid Razr worthy of that name?
HARDWARE
The very first thing you'll notice about the Droid Razr (hereafter "Razr") is that it's thin. Crazy thin. Like, "that can't be an actual, functioning phone" thin. But, amazingly, it is. Except for the hump at the top, a trademark of the Droid family, the phone is 7.1 mm thick.
In comparison to things you might have around your house, the Razr is about the same thickness as:
a stack of 4 US quarters
3 SD cards
6 CD-Rs
In fact, here's a list of smartphones that are thinner:
Now, with that thinness comes some compromises. The first, and probably the biggest, is the Razr's non-removable 1780 mAh Li-Ion battery. Yep…the back doesn't even come off (well, it's not supposed to, anyway).
Also, the entire phone isn't 7.1 mm thick. As mentioned, the hump at the top is actually about 12 mm (~1/2 an inch). But, that thickness is excused when you realize it houses the 8MP back camera, LED flash, and speaker on the rear (see below), the headphone jack and micro-USB micro-HDMI ports on top (see below), and the front-facing 1.3MP camera, earphone, LED indicator, and proximity sensor on the front. At least Motorola was smart enough not to require the use of a silly headphone jack dongle like HP did with the Palm Veer.

The Razr sports a 4.3″ qHD (540×960) Super AMOLED Advanced display, which is pretty excellent. It's not quite as crisp as Samsung's latest AMOLED displays, but it's really very close. You have to have pretty great vision to discern the very minor pixelation I was able to notice when looking for it. In daily use, however, I never had a complaint.
However, the Razr has a rather wide bezel on the sides of the display, making the overall package 2.7 inches wide and 5.2 inches tall. This makes for a rather large object in one's pocket, which can be noticeable even though it's so thin. But, at just under 4.5 ounces, it's incredibly light and easy to forget it's there. Despite that lightness, the Razr feels incredibly sturdy. Perhaps that's because the back is a structural component and not a flimsy piece of plastic meant to be taken off regularly, or maybe because it's built with Kevlar and Gorilla Glass. Regardless of the reason, there's no discernible flex in the phone…it feels rock solid like most of Moto's stuff does.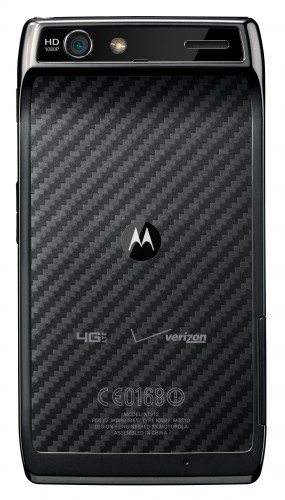 Other than the ports mentioned, under a door on the left-hand edge are microSD (16 GB supplied) and LTE SIM card slots. On the right edge are the power button (which is so small and nearly flush as to be difficult to find by feel alone) and an unfortunately tiny volume toggle. All told, the Razr is one amazingly handsome phone. The slight tapering at the top and bottom, along with the semi-exotic materials and incredible thinness, make this a real beauty to behold.
Internally, the user is treated to some top-drawer silicon:  a dual-core 1.2GHz processor, 16GB of internal storage (separate from the microSD card), a full 1GB of RAM, and all the typical sensors and wireless connectivity (including Verizon's so-fast-it's-silly 4G LTE) you've come to expect in a flagship smartphone.
SOFTWARE
As of this writing, the Droid Razr comes with Android Gingerbread 2.3.5, but Motorola has promised vociferously that it will get Ice Cream Sandwich / Android 4.0 at some point. So, it's future-proof, but how far off that future may be is anyone's guess.
Motorola has also included its latest suite of UI customizations and value-added apps, which they're no longer calling by a specific name (e.g., MotoBlur). So, I'll just refer to it as the Moto UI. Motorola has certainly learned from its past mistakes. Where MotoBlur was a case study in terribleness, the latest Moto UI is very, very functional, if still a little less interesting to look at than HTC's Sense or Samsung's TouchWiz UIs.
In fact, the more I used the Razr, the more I started to appreciate the little things Moto is getting right. Many of the customizations they've added to the Android OS are compelling and add real value. For example, Moto includes on-board a really good automatic profile manager called "Smart Actions." Smart Actions lets you set up profiles consisting of time of day, location, events (e.g., getting docked), and so on that, when activated, cause the phone to automatically do something.
The easiest example is the first one I set up:  every night at 9pm, the phone gets turned down to 0% brightness and all ringers and vibration are turned off. Then, at 6am, it gets restored to 50% brightness and max ringer/notification volume + vibration. I could, for example, add a location qualifier to that to say only change the settings if I'm at home, so that's very cool. Sure, there are lots of 3rd-party apps that do the same thing, but having it already on-board is appreciated.
Another value-added UI enhancement is the ability to discard individual notifications from the notification shade. Stock Android (prior to 4.0) and other OEM UIs all offer only mass-dismissal of notifications, which is pretty silly — sometimes, you'd like to keep just one to get back to later on. With Moto's UI, you can do that.
Also, unlike HTC, which only shows up to 8 recently-used apps when long-pressing the Home button, the Razr will show you up to 20. Nice. So, in a nutshell, whereas Motorola used to have a real disadvantage when it came to comparing their Android UI modifications to those of Samsung and HTC, I would say it's no longer much of an issue. Yes, some of the menus are a little bland — the Settings icons are all still monochrome (seriously, Moto, you can't afford color icons?), for example — but functionally, I'd put the Moto UI up there with any of them.
One piece of software that the Razr offers (along with the Bionic, Droid Atrix, and Photon) is Motorola's innovative Webtop app. See below for more on that as part of the discussion of the Lapdock 100 laptop-style smartphone dock.
Other than that, Moto and Verizon have pre-loaded the Razr with a metric ton of 3rd-party apps. Amazon Kindle, Blockbuster, GoToMeeting, Let's Golf 2 Demo, Madden NFL 12 Demo, MotoACTV, MotoPRINT, My Verizon, Netflix, NFL Mobile, Pandora, QuickOffice, Slacker, VCAST, and many other apps constitute a considerable "bloatware" load on the Razr. Sure, some of these are things I'd otherwise download, but I'd prefer most of them not being there to begin with.
USABILITY
For me, apart from app availability (not an issue on Android), four factors determine a phone's usability: size, speed, stability, and battery life. I've discussed the size and, unless you wear pants with tiny pockets, it's largely a non-issue.
Regarding speed, this phone feels VERY fast. I never once noticed anything I'd call significant hesitation or lagginess. The TI OMAP 4430 that runs the apps and the 300mhz PowerVR SGX 540, which pushes the pixels, combine to provide a really smooth experience. Rendering is fast, scrolling is fast, and downloading is fast, especially when doing so via Verizon's 4G LTE (where I often see download speeds in excess of 15 mbps).
Stability has been excellent…in the short time I've used the phone (about a week), I've not had a single reset, force close, or other noteworthy hiccup.
Finally, battery life. With a non-removable battery, you have to wonder if this will be the issue that sours the whole thing. I've been very pleasantly surprised at how good it is. A couple of times, I've gone a full 24 hours on a single charge in a Wi-Fi environment. Plus, it seems that Verizon has gotten its 4G power settings tweaked, as I was able to get a full day's use on cellular/LTE every day I had the phone outside of Wi-Fi environments. So, all told, unless I was in an area with no Wi-Fi and really poor cellular reception, I'd trust the Razr to make it through a day without any trouble. Of course, YMMV.
WEBTOP & THE LAPDOCK 100
Like I discussed in my review of the Motorola Droid Bionic and HD Dock, the Webtop concept really appeals to me. I love the concept of being able to take my desktop work state with me inside my phone between sit-down computing sessions.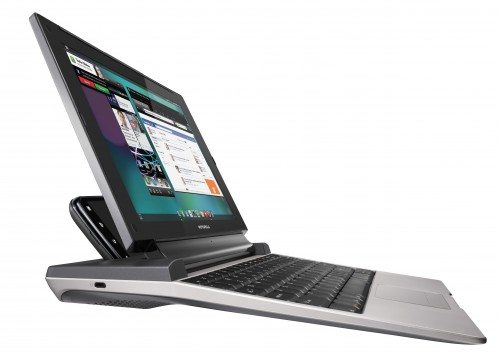 The Razr has two Webtop accessories available for it: the HD Dock (which hooks up to a TV or monitor via HDMI) and the Lapdock 100, a laptop-style portable keyboard dock (shown above). The Lapdock 100 costs ~$250 and consists of a 1366×768 display, a QWERTY keyboard, an extra battery, and a cable to connect the phone.
Below is my video review of the Lapdock 100.
So, I'd give the Lapdock 100 a B. It's pretty functional and does add a decent keyboard and handy extra battery to the Razr, but the entire experience is still a little laggy and slow to be truly enjoyable. Maybe we'll see Webtop become a really powerful tool when quad-core processors like the Tegra 3 make their way to Moto's phones. And, based on how quickly new Android devices are being launched, that should be any day now.
SUMMARY
The Motorola Droid Razr on Verizon is a powerful, compelling, beautiful package with hardly any significant trade-offs. If a Verizon customer was wanting a top-drawer smartphone, he could do much, much worse than by picking up a Razr. Even at the premium price of $300, I would have no hesitation at all about recommending it to friends and family.
The Lapdock 100, however, is not quite as excellent. It's a little too thick and heavy for what it does, and does slowly. But, for less than what a typical netbook costs, it might make a decent backup device for someone who's constantly running between locations. I could see a student using it to take notes in class, for example.