We use affiliate links. If you buy something through the links on this page, we may earn a commission at no cost to you. Learn more.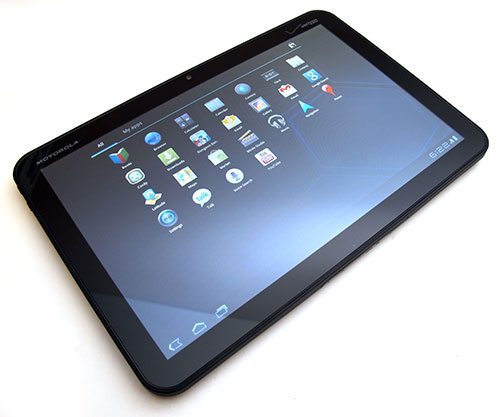 For the past year, the most popular tablet on the planet has been the Apple iPad. I've been a huge fan of this device and have told more people than I can remember, that it's my all time favorite gadget. That said, I've lately become more interested in devices running Android. My main phone is a Motorola Droid X and I've seen the applications for this operating system become better and better as the weeks and months have gone by. Can an Android tablet become my new all time favorite gadget? It's very possible… and the new Motorola XOOM tablet from Verizon Wireless is the most likely candidate. 
The Motorola XOOM is not the first Android tablet that I've had the opportunity to test. But it is the first tablet running the latest and greatest version of Android OS. Version 3.0 otherwise known as Honeycomb is a special verison of Android that has been designed for tablets.
Hardware Specifications
Carrier: Verizon
800/1900, CDMA EVDO rev A, 4G LTE Upgradable
Operating System: Android 3.0 (Honeycomb) – designed for tablets
CPU: Dual–core 1GHz processor
Memory Capacity: 1GB of Low Power DDR2 RAM, 32GB internal memory
microSD™ card – (currently not active – future support for up to 32GB microSD card)
Display Type: 10.1″ HD Widescreen (16:10) Display, Resolution: 1280×800 WXGA
Connectivity: Wi-Fi, Bluetooth 2.1
Camera (Front): 2MP
Camera (Rear): 5MP
Battery: 3250mAh
Form Factor: Tablet
Dimensions (W x H x D): 9.81″ x 6.61″ x 0.51″
Weight: 25 oz.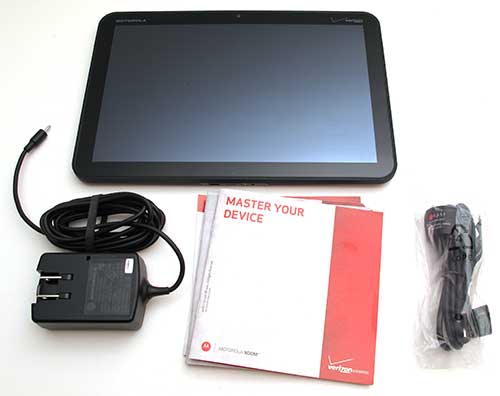 Package Contents
Motorola XOOM Tablet
AC Adapter
USB cable
Quick Start Guide
Device Tour
My first instinct when doing any review is to compare the device to a similar device that I've used. Of course, the first device that comes to mind to compare to this tablet would be the iPad. Sorry, it's only natural.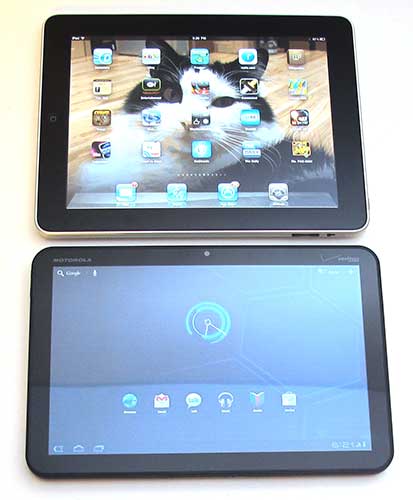 In the image above, the iPad (top) and the XOOM (bottom), don't look much different in size. But in real life, the XOOM is a little longer and narrower than the iPad.

Here's a side view that shows the XOOM slightly longer than the iPad.

Most noticeable though is the height difference, which gives the XOOM more of a widescreen appearance.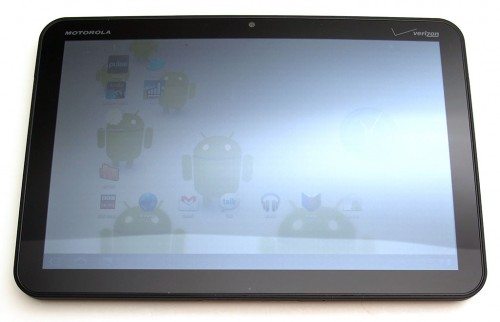 The XOOM's top surface has a thin bezel around a 10.1 inch diagonal display with no physical buttons. The design is sleek and professional. The only markings you'll find are the Motorola and Verizion logos on the top corners. In the top center is the front facing camera and on the right corner below the Verizon logo is a thin narrow White LED that will throb when you have an email or other notification.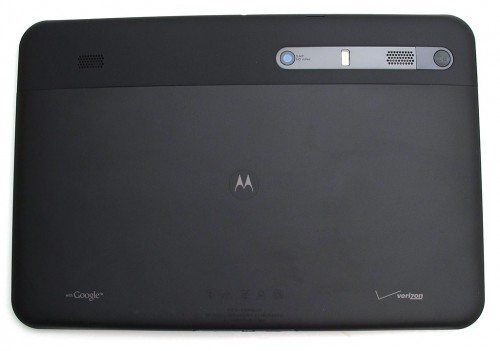 Flip the XOOM over and you'll see the 5MP camera lens, LED flash and speakers.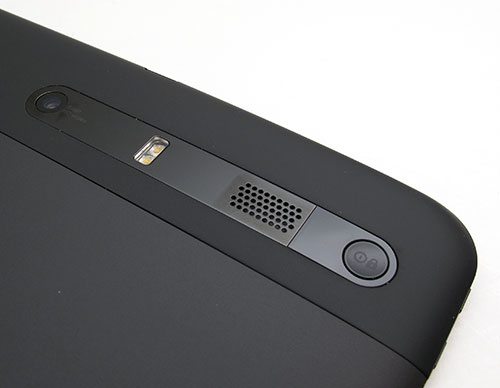 The power / wake button is also located on the back of the device, which I find to be an odd location. It took me a full minute before I could figure out how to turn on the XOOM because it never occurred to me to look on the back.

Along the bottom edge, you'll find the microUSB port, HDMI port and charger port.

It's important to note that you can't charge the XOOM with a microUSB cable. Also, this tablet doesn't come with an HDMI cable. I'm not sure what the two gold contacts are for. My guess is that they are for some sort of docking cradle yet to be released.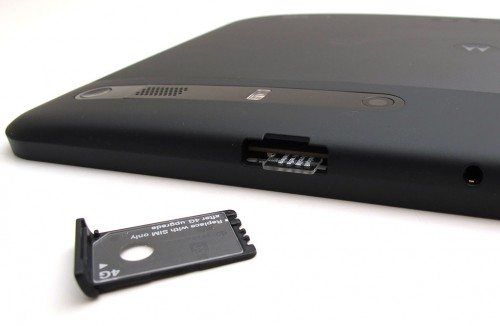 On the top edge of the XOOM is the 3.5mm earphone jack and the combination 4G LTE SIM and microSD card slot. The XOOM is not 4G LTE capable yet. It can be upgraded in the future, but it will require that you send the device in for a hardware update. At least the upgrade is free… Since I probably won't have 4G for at least a year or two, that doesn't bother me as much as the fact that the microSD slot isn't active. Yeah, that's right. At this time, you can't expand your XOOM's storage capability with a microSD card. You'll have to wait for a software update for that feature to be activated. I'm scratching my head on that one…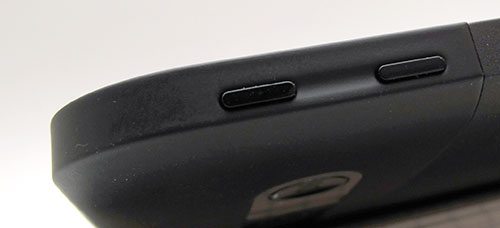 Finally, on the Left side, you'll find the volume buttons.
The Motorola XOOM is a very solid device. It doesn't flex, creak or crack when you shake it or try to twist it. It has a nice heft to it that makes it feels like a quality device. It's actually a couple ounces heavier than the iPad.
As far as looks and feel, I have only one small complaint. The sides and back have a soft rubberized coating over an aluminum shell that picks up smudges and grease marks very easily. That means that in addition to cleaning smudges from the glass display, you'll be doing the same on the back.
Display, Camera, Performance and Battery Life
The XOOM's display is very nice. I think it's very slightly nicer than the current iPad as far as clarity. The iPad is brighter and has whiter whites, but the XOOM is a little more crisp and clear when it comes to displaying small text in a browser.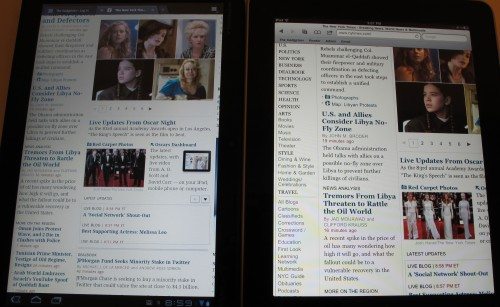 The touch screen is responsive and easy to manipulate as far as scrolling and multi-gesture zooming. No complaints there either.
The XOOM has two cameras, a 5MP main camera and a 2MB front camera for video calls. The quality of the main back camera isn't all that great in my opinion.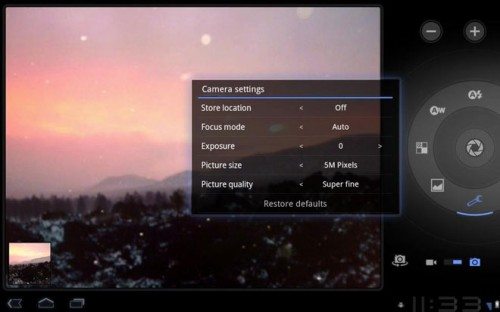 The camera app is pretty basic. It allows you to snap pictures or capture video. One thing it doesn't do is allow you to tap on an area to auto focus. The shots it takes are pretty grainy. Here are some samples.
When it comes to system performance, the XOOM zooms 🙂 Applications open immediately. It's the fastest Android experience I've had so far. No complaints at all when it comes to system speed with loading and switching between applications.
Battery life is excellent as well. It feels very iPad-like in that respect. I admit that I've only been able to test this device for a little over 4 days now. But so far it seems to sip instead of chug battery power.
When it comes to my overall hardware impression, I like the feel of the device, the display quality, system performance and battery life. I am impressed, but not without a few small complaints. I really wish that the main camera was better and that that the microSD card was activated. I think it's really insane that they didn't activate that card slot.
Is Honeycomb Sweeter than Froyo?
Honeycomb is the latest version of the Android OS that has been designed especially for tablets. I have found the experience to be nicer than Froyo (version 2.2) on the Samsung Galaxy Tab.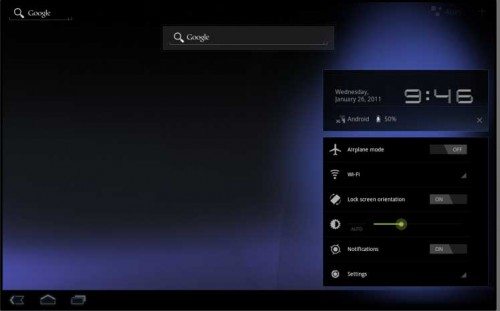 Some of the interface changes include a popup settings window that can be accessed when you click the clock in the bottom right corner. Email and other notifications will also show up at the bottom of the display too.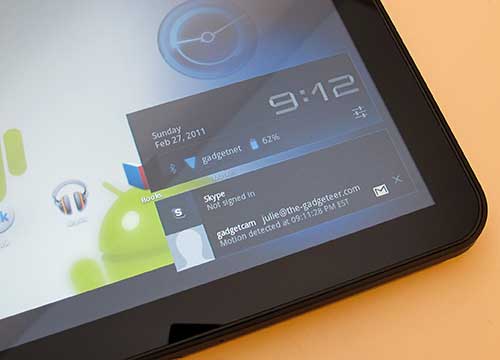 The one thing I found missing though is a CLEAR ALL notifications button. As it is, it seems that you have to click the X for each notification to get rid of it. That can be a little annoying when you have multiple items to close.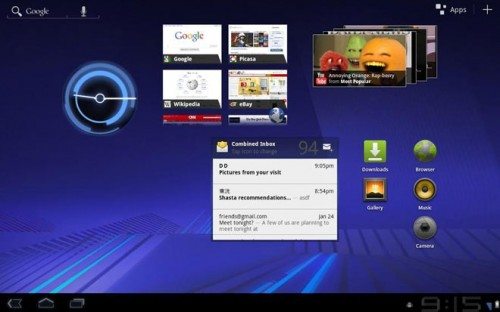 Just like with all other versions of Android, you can add widgets to the home screens.
Also, when you install a new app from the App Market, it will automatically show up on the home screen as well as in the all apps icon screen.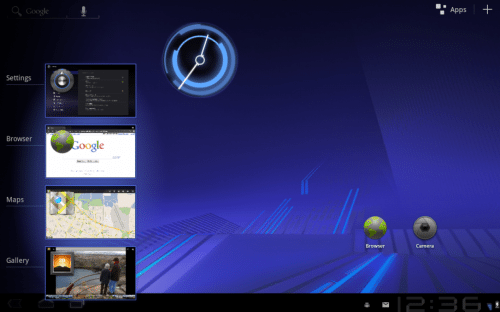 By clicking on the stacked windows icon in the lower left section of the menu bar at the bottom of the screen, a thumbnail view of your last 5 opened apps will popup on the screen so that you can easily switch to one of them. Surprisingly to me, there's no option to close/quit the apps from this view.
I tried quite a few of my favorite games and other apps on the XOOM. These apps haven't been upgraded to be tablet versions and all but one (an old Solitaire game) ran in full screen mode. The Solitaire game ran in a smaller size like the way some iPhone apps run on the iPad. But other than that, I didn't run into major problems running apps on the new hardware.
I did notice a few odd glitches here and there that I couldn't really repeat on demand. For example, while playing Angry Birds on more than one occassion, during different times in the game, the touch screen didn't seem to register my presses/swipes. It was like it was totally dead. But the Home button would allow me to back out of the game. I also had an issue where the Gmail app would not send out some of the photos that I had snapped using the camera app. One of 3 messages were stuck in the outbox. I was using Wifi at the time.
Answers to User Questions
In my first looks post, I offered to answer any questions that my readers might have for this device. Here they are…
Walter asks: This question has been asked, with no answers, maybe because it is a no brainer. No picture has been shown with the xoom in portrait mode. Does it have that?
Julie answers: Yes, the XOOM acts just like the iPad and other tablets when you hold it in portrait orientation, the screen will rotate automatically even when you're on the home screen and icon view screens.
—
Michael Turner asks: Will the Xoom run Java based programs. I understand the iPad will not. Thanks.
Julie answers: As far as I can tell, no. When I try web pages with java apps/games nothing shows up. I even went to java.com in the XOOM's browser to have it check the java version installed on the tablet and it didn't find one…
—
jake asks: crazy!
why compare xoom to the first gen iPad?
pathetic lol.
Julie answers: At this time, there is no 2nd gen iPad to compare to the XOOM. Maybe this Wednesday we'll know more about the iPad2 and then we can talk more…
—
Andy Chen asks: I thought I read somewhere that the iPad's screen is brighter and higher contrast. Has that been your observation in casual use? Or is it a trivial difference you'd never notice unless you put them side by side? I'd hate to get a Xoom only to think, "dang, this screen could look better".
Julie answers: To my eyes, the iPad's display is slightly brighter, but the XOOM's display is slightly crisper when it comes to text. I had both tablets set to max brightness and loaded up http://nytimes.com on both. To me, it's easier to read the text on the XOOM due to the slightly higher resolution.
—
Ronald asks: Please compare the user friendliness of both tabs.
Android phone I've seen thus far (not many) don't give the same ease of use as my iPhone.
How do these two pads compare ?
That's my question.
Julie answers: Android by design is more for tinkers and people who want to customize their devices. That makes it a bit more complicated overall. Android OS (especially 3.0 Honeycomb) feels like a more robust OS than iOS. I would give the nod to iOS when it comes to user friendliness, but I don't find Android overly 'hard' to use.
—
Lynn asks: I am really interested in replacing my netbook with an ipad like device for my business. I want to know if you are able to plug a card reader into a usb port on the device and import pictures from the card into a specified folder. I can import pictures into an ipad, but i have to plug directly into the camera (I use compact flash) and it forces all pictures to go into a single folder. I need to be able to put pictures into folders by performance group. Thanks a lot for any info you can give me.
Julie answers: No, you can not connect a USB card reader to the XOOM. It doesn't have a USB Host mode.
—
Jon asks: Julie–would you say the Xoom is Droid X like, or just Android. (IMHO one would have to know the Droid X to understand the question.)
Julie answers: I know the Droid X and am not exactly sure what you're asking 😉 Even though the XOOM and Droid X share the same manufacturer and Black rubber coating, the XOOM isn't like a giant Droid X for several reasons. It doesn't have any physical buttons, doesn't have a camera shutter button, doesn't have a working microSD card slot, working Flash, Froyo, etc.
—
Martin asks: Julie,
With my android phone when I'm typing with it in horizontal mode the application vanishes and I just get an input box. That's a bit of a pain with IRC as you want to keep up with the conversation while you're typing. With a large android tablet can you see the action on the application while you're typing your own response?
Julie answers: It all depends on the application. The onscreen keyboard does take up about 80% of the screen. But there are 3rd party keyboards that you can install that might help.
—
Alan asks: Probably a daft question but how much is it?
Julie answers: $799.99 w/o contract, $599.99 w/2yr contract. The data plan is extra. $20/month for 1GB, $35/month for 3GB.
—
Michelle asks: Julie, Please test the Xoom outside and comment on any glare coming off the screen and the range of viewing angles. Thanks!
Julie answers: Unfortunately, the weather has been crummy the last few days and we've had no sunshine. I would say the XOOM will look just as bad as other LCD devices in direct sun.
—
Rick asks: Does the Xoom have"swype keyboard"? Or is there an app for that? Thanks, Rick
Julie answers: The XOOM doesn't have SWYPE and it doesn't appear in the app market when I do a search from the tablet.
—
Bob asks: Julie,
Since you ask your daily readers if we have any specific questions for your review given the short amount of time you'll have the device, here are a few I have:
I'm an iPad user and enjoy the device a great deal. It's a fun, easy to use, entertainment device in my opinion. That said I do have a few frustrations that perhaps your XOOM review could look into.
1.) video playback. I try to watch a lot of news videos on my iPad device, especially on the BBC World News application. The iPad will frequently have so many long pauses during spooling (I guess) that I eventually have to close the app after too many frustrations.
Julie answers: That's going to depend on your connection speed. Are you using wifi via dsl? Cable? Or are you using 3G? I tested the Youtube app via wifi and 3G and ran into some pausing issues. But I have that on my desktop sometimes too when I'm trying to watch HD content.
2.) does the XOOM offer flash player access as so many videos user this format? Because the iPad and Steve Jobs refuses to offer video in this widespread format?
Julie answers: Nope, not yet. Android 2.2 has flash player, but not Honeycomb 3.0 – yet.
3.) can the XOOM run multiple applications at the same time? That is to say keep more than one app 'up' and allow the user to switch back and forth without closing one app before opening another. This is one of the most recent iPad enhancements that I enjoy.
Julie answers: Yes, you can have several apps running at the same time. But when I say 'running', that doesn't mean that they are actually processing / working when they are not currently in 'focus'. Some apps do run… Apps like Pandora, Slacker and music players. But other apps like Youtube, games, etc. will stop when you switch focus to another app and will stop playing. When you come back to them, you will have to restart the video or game where you left off.
4.) since it is equipped with cameras, does the XOOM allow a user to create photo albums on the device itself for easy organization/storage and retrieval or force the user to create these photo folder on their laptop/desktop first like the iPad? This is a big frustration for iPad users.
Julie answers: Albums are created automatically on the XOOM by time, location and tags. As far as I can see, you can't create other types of albums.
5.) since the XOOM has cameras, will a now mobile user be able to participate in a Skype meeting on the go vs. being tied down to a desktop in some office. Yes a laptop can run Skype and allow for some mobility but without a backside camera, thus this device could truly open the mobile user to 'anywhere use' of Skype. How fun it would be to sit on a mountain top or a beach somewhere and Skype the scenery and experience with a friend or loved one.
Julie answers: I briefly tested the Skype app on the XOOM with a successful video call.
6.) verify that the XOOM allows access to Kindle's eBook library. Same with the iTunes eBook library although I could understand if Apple limits this access to only Apple devices.
Julie answers: Yes, you can access your Kindle eBook library from the XOOM. No, you can not reference your iTunes eBook library from the XOOM.
7.) same question with access to iTunes music library without the help of 3rd party apps.
Julie answers: No, you can not access your iTunes music library from the XOOM.
8.) how's the speaker quality? A lot of us iPad users like to listen to our favorite music via the speakers and even more frequently via the ear pieces. The iPad speakers lack sufficient volume and fidelity to really rock with your music when you're by yourself.
Julie answers: The built in speakers are more than loud enough to enjoy music in a medium sized room.
Conclusion
I'm really impressed with the Motorola XOOM and wish I would have had more time with it. But in the 4 days that I have had, I've really enjoyed using it. The real question though is will I buy one? At first, I was all excited and ready to part with my cash, but then I decided that the answer is not right now. The XOOM feels too pricey for what you get. I don't want another 2yr contract with Verizon, so I would have to pay full $799.99 price to buy one. With just 32GB, no Flash and no microSD capability, I feel like that's too much to pay. That doesn't mean I won't change my mind at some point because I really do like this device. If I really wanted to buy an Android tablet right now, the Motorola XOOM would be the one I would buy and recommend. I prefer it over the Samsung Galaxy Tab due to the larger screen size, great system performance and Honeycomb OS.
Product Information
Price:
$799.99 w/o contract, $599.99 w/2yr contract
Manufacturer:
Motorola
Retailer:
Verizon Wireless
Pros:

Honeycomb
Nice display
Back and front cameras for video calls

Cons:

MicroSD slot not active - will require software update
No flash support yet
Won't charge via USB
Must send tablet to Motorola for 4G upgrade
No WiFi only version yet
Expensive