We use affiliate links. If you buy something through the links on this page, we may earn a commission at no cost to you. Learn more.
I am a coffee lover (tea too) and I always like a little coffee in my steamed milk.  In other words, save your espresso, save your coffee black, bring on the dairy!
I cannot always get to Starbucks for my morning java.  And for years, I have had to live with cream and sugar or 2% milk in my coffee when what I really wanted was a frothy, foamy latte with sugar free vanilla syrup.
I've tried using useless milk wands from electric espresso makers…you know … the inexpensive ones that you fill with water and the steam pressure isn't even enough to knock the wrinkles out of wrinkle free fabric.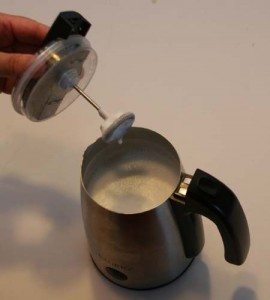 When I came across the Keurig One Touch Milk Frother in my local Bed, Bath and Beyond, I fell in love and got sticker shock at the same time.   BB&B has the One Touch for 89.99.  OUCH.   Keurig's website  has it for $79.99 and Amazon.com has two models; one for $67.99 and $82.95.
The One Touch is going to froth your milk.  It will also heat it up!  It will whip it, heat it and do it all in 90 seconds or less.  Pour it out into your cup, pour your coffee in and you honestly cannot tell the difference from the four dollar a day coffee habit some of us have developed.
There is another added bonus:  the less fat in your milk…the frothier the foam.  No joke.  I tested the One Touch with heavy whipping cream, whole milk, 2% milk, 1% milk, skim and three different commercial  non dairy creamers.
The whipping cream, which I have great success with making butter and whipped cream, falls flat in the frother…literally.  It's still delicious in the coffee but if you're going for a Cafe Breve (drip coffee with steamed cream), you're not going to get a silky foam.   The less fat in the dairy product the frothier your foam.
Whole milk made a nice foam, and there was little difference between the 2 and 1 % milks that I tested.  I got a nice silky foam and the hot milk product.  Skim milk, by far, produces the lightest foam.   And while skim milk has come a long way since the 70's when skim milk looked seriously weak and bluish, I like a richer taste in my latte.
The best bet for taste and richness actually lies in using a sugar free vanilla non dairy coffee creamer.  If you like skinny vanilla lattes, this is your move.  You pour the coffee creamer into the milk cup, froth it, pour it in, pour your coffee and you are seriously good to go.   For other flavors like mocha or hazelnut or whatever, there are several sugar free (or non sugar free) syrups out on the market that could be combined with 1%, 2% or skim milk  or regular flavored non dairy coffee creamer to make the perfect milk foam for your coffee.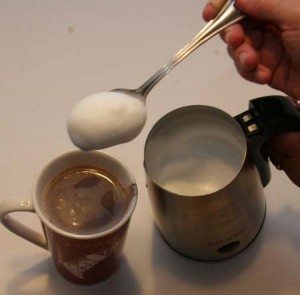 It's a tough economy out there, I get it.  And for some, a $80 to $90 kitchen gadget isn't exactly at the top of the priority list.  Economists Dave Ramsey and Clark Howard both list eliminating barista bar coffee drinks from your budget as a Number One way to save money daily.  And I would agree with them.   Using the Keurig One Touch Milk Frother is one way to do just that.  Depending on your barista bar visits, the Keurig One Touch could pay for itself in under a month.  Also note that the One Touch also makes great steamers ( steamed milk with a shot of flavored syrup) steamed apple cider and hot chocolate.  Almost any hot coffee beverage you're buying in a daily stop, you can save money by making yourself at home.
Also, Starbucks has just recently announced that, in conjunction with Green Mountain Coffee, the company that produces the K Cup for Keurig Single Serve Coffee Brewers,  they are coming out with their own line of K Cups.  This is a move, by Starbucks, that I view as brilliant.  Reports I am reading state that 80% of Starbucks' brick and mortar store customers do not own a single serve coffee brewer.  Starbucks, perhaps in a smart move to reach out to someone other than that Four-Shot-Double-Shaken-Not-Stirred-Fresh-Organic-Dolphin-Safe-Non-Fat-Half-Spun-Macchiato crowd, is pulling in those of us who don't have the time to stand behind the pretentious dweeb at your local coffee house who rattles off a litany of special instructions for a cup of coffee.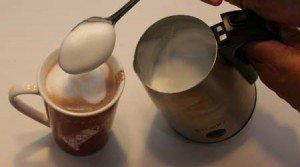 And so much the better.   The One Touch solves several problems and has several uses.  Yes, I'd like for it to be less expensive but I paid the price because it gives me what I'd get in any barista bar and I'd pay for it there anyway.  When it comes to some gadgets, you really do get what you pay for and the One Touch ends up saving me plenty of money in the long run.

Product Information
| | |
| --- | --- |
| Price: | 67.95 to 89.99 depending on where you buy it. Amazon.com and Keurig.com have the best deals. |
| Manufacturer: | Keurig |
| Requirements: | |
| Pros: | Steams and froths milk and non dairy creamer to a nice silky foam for a variety of hot drinks. Will steam apple cider as well. |
| Cons: | I don't know that this a con really but the One Touch does not froth high fat dairy products very well. Whole milk will froth to a somewhat silky foam, heavy cream or whipping cream will not froth. The One Touch will steam these products nicely but will not froth them. 1-2% milk, skim milk and non dairy coffee creamers froth the best. |