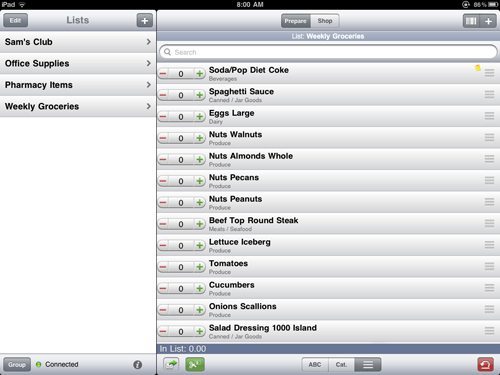 My husband is a great guy with only one tiny flaw – he can't remember more than three things on a list.  So if I ask him to go to the store and pick up eggs, milk, cheese, and bread, I'll only get 3 of them or I'll get a call asking what he was supposed to get.  I've been looking for a good shopping app that will allow me to send him a list on his iPhone that he can check items off – not as easy to find as I hoped.  The Grocery Gadget app for iPhone/ iPod touch and iPad is exactly what I was looking for.  (There are also mobile versions for Blackberry, Android, Nokia, and Windows phones.)  I have the app on my iPad so that I can set up a list for  the grocery store, a list for Sam's Club (my own custom list), office supplies, etc.  I can specify how many of each, brand, even include a picture of the exact item I want.  I can specify stores for the items, enter notes, and enter prices and taxes so I'll have an idea of how much my shopping junket will cost.  Best of all, I can set up a free group account that we both can join so that I can push my grocery list to all devices in the group.  I can log on at the Grocery Gadget website so I can add/delete shopping categories and create lists.  The lists are permanent, so I can set up a master list of the things I commonly buy, then I can quickly indicate just what I need for this shopping trip.  As the items are added to the cart, check it off the list so you'll see only the things still needed.  This checked status is quickly pushed to all devices in the group, so Butch and I can split up in the store and each shop half the list without duplicating efforts.  The universal app is available in a free version, a $0.99 basic version, and a $3.99 fully-leaded version (shown in screen capture).
Support The Gadgeteer
:
We may earn a small affiliate commission from purchases made from buying through links on our site. As an Amazon Associate I earn from qualifying purchases. Learn more.