We use affiliate links. If you buy something through the links on this page, we may earn a commission at no cost to you. Learn more.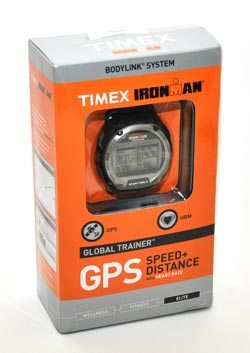 In my efforts to prepare for my wife's 40th birthday wish of us running the DisneyWorld Marathon in January 2012, not only have I been training but looking for tech gadgets to help me do so more effectively and efficiently. The first in this gadget-fitness series was the Sennheiser/Adidas MX 680i Sports earbuds which continue to provide me a worthy musical/sound experience while running/exercising/working out. In this second in my fitness review series, I will be looking at the Timex Ironman Global Trainer w/GPS Technology and heart rate monitor.
My hope is that the Ironman Global Trainer's integrated GPS capability and wireless heart rate monitor will help me train better and more efficiently by precisely monitoring (and logging) my distance, pace, accent/decent and heart rate while pounding out the miles.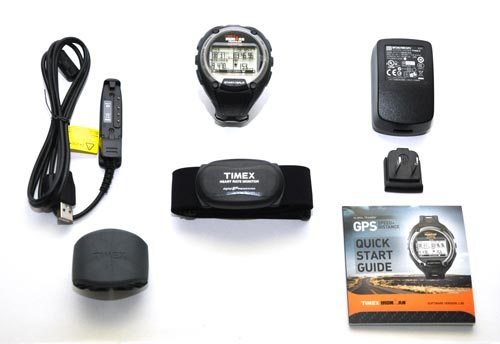 Timex Ironman Global Trainer with heart rate includes:
Ironman Global Trainer Rechargeable, Water-Resistant Watch
Free Access to Online Software Powered by Training PeaksTM
Comfort digital ANT+ heart rate sensor with adjustable elastic strap
USB Recharging and Data Transmission Cable
AC Adaptor for USB Recharging Cable
Watch Bike Mount
Quick Start Guide
Technical Specifications:
Watch Size (WxHxD)
56 x 64 x 18mm
Display Size
33 x 20mm
Display Type
1 – 4 Quadrants
Workout Memory
20
Lap Memory
1,000 Total
Multisport Workouts
Yes, up to 5 Events in Sequence
Routes Captured
50
Waypoints Captured
100
Interval Training
Yes, with Optional Heart Rate Zones
Hands-Free Settings
Auto-Start, Auto-Stop, Auto-Split, Auto-Resume
Basic Alerts
Pace, Speed, Distance, Altitude
Alerts with ANT+ Sensors
Heart Rate, Bike Cadence, Bike Power
Watch Data Communications
USB Cable
Workout File Upload
Timex Online Log Powered by TrainingPeaks
Battery
Rechargeable, Lithium-Ion
Battery Life
2-1/2 to 3-1/2 Hours from Fully Depleted Battery
15 Hours – Full GPS Mode
12 Days – Time Only Power-Off Mode
1 Year – Fully Powered Down LCD
WR Rating
50M Water Resistant
Optional ANT+ Sensors
HRM, Bike Speed and/or Cadence, Bike Power
Product Features:
SiRFstarIII-powered GPS technology requires no calibration
Calculates precise speed, pace and distance in real time
Measures location and altitude with ascent/descent distances and rates
Recalls up to 50 custom routes for pace tracking
Customizable four-window data display provides critical data at-a-glance
Water-resistant up to 50 meters
Rechargeable battery lasts 15 hours in GPS
20-workout memory with dated summaries for up to 1,000 laps
Performance mode features chronograph, interval and countdown timers
Records elapsed time, calories burned and workout data for each lap
Performance pacer function helps the user meet finish-time goals
Hands-free option automatically starts and stops data capture functions
Multisport event mode records activities and transitions in one sequence
Performance and GPS data wirelessly sync with software powered by TrainingPeaks
Compatible with Timex heart rate and bike sensors using ANT+
Compatible with third-party bike power sensors using ANT+
INDIGLO Night-Light with Night-Mode feature
Getting it setup:
Getting the Ironman Global Trainer operational took approximately two hours to fully charge & two minutes to get the various functions working. The watch is durable, lightweight, water resistance to 50 meters and would meet Julie's gadget squeeze/creek test. If you have done any research on this watch at all, you know it is designed for strenuous multisport athletes and exercise enthusiasts. This Ironman can operate up to  fifteen hours using the integrated GPS and having it linked to the heart rate monitor. The watch can go much longer between charges if the GPS is off and the HRM is not connected.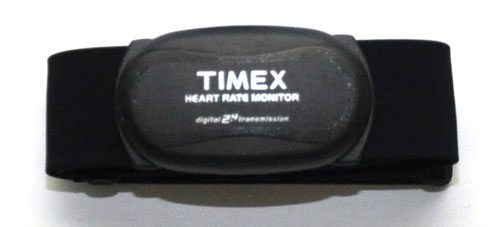 Pairing the watch to the heart rate monitor was relatively quick and easy as well. Personally, I am not a huge fan of the strap that makes most heart rate monitoring work. I am a minimalistic runner (the less clothes/stuff the better) and the strap pressing tightly around my chest is, at least for me, uncomfortable and constricting. That said, I did test it against the hand grip HRM of our ellipse machine and the Timex Global Trainer matched what the ellipse was telling me almost perfectly.
Look and Feel: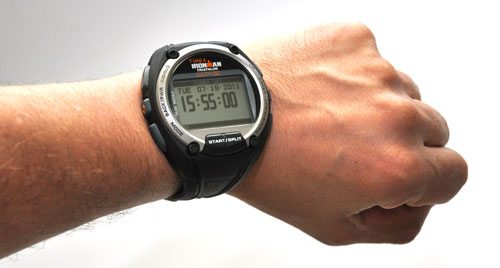 As you can see, the Ironman Global Trainer is not petite by any stretch of the imagination and when you throw in my runners (aka scrawny) wrists, it looks down right huge. While large in size, the watch is relatively lightweight, rugged, and well made. It is about the size of the Garmin 305 but lighter than many of the smaller watches I have owned.
Making it work:
The seven buttons that enable you to operate and control its functions are easy to manipulate and in the classic Ironman configuration.

The buttons on the right side control: (screen) up, enter, and (screen) down/(run/bike/swim) stop/rest.

The buttons on the left side control: (switch) mode, back/power, and Indiglo lighting.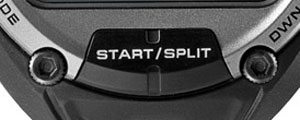 The large center button on the face of the watch controls starting and while timing you if pushed again documents your split times as well. Once you get the hang of how to navigate the various screens and functions, operating the watch is relatively easy.
The large face of the watch enabled Timex to create a large, easy to read display. The display is customizable to display just the data you want/need to see while exercising.
Getting out for a run: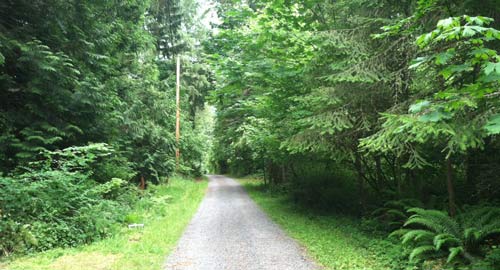 A majority of my runs are down tree lined trails or paths like this or the urban canyons of downtown Seattle. The tree's canopies, cloud cover and/or tall buildings do not lend itself to great, continuous GPS signal. Even in the best conditions, it took the Ironman Global Trainer quite a long time/distance before locking onto enough satellites to begin tracking my speed and distance. I dislike having to wait before beginning my runs. Waiting 4-5 minutes before my watch is ready to go is unacceptable (at least to me). So, I head off on my run and eventually the GPS kicks in and the watch begins tracking my run.
I have used three other GPS enabled running watches in the past and all have this same limitation that I mentioned above. Even though the tiny GPS antennas manufactures put into small devices have gotten more powerful and sensitive, they still take some amount to time to lock onto the satellites.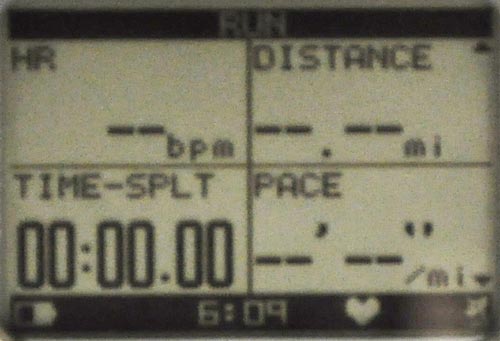 Once the Ironman Global Trainer's GPS becomes operational, it's quantitative tracking of distance is very good. I compared the distances the watch said I ran to mapmyrun.com to see how accurate the Global Trainer really is. Over a 5 or 6 mile run, the difference between the Ironman GPS Trainer and the website was minimal. Typically the differential was 0.1 or 0.2, easily explained by human error (i.e., inputting the route into Map My Run or noting just where the GPS begins tracking).
The Pace tracking is a bit scattered/variable, bouncing between 7 min-miles and 9 min-miles when my actual speed is more like 8:00 min-miles over the course of a long run. The watch has a 'smoothing' function that helps a bit but not a whole lot. Overall, when everything is working correctly my end/average pace seemed reasonable over the whole of my run.
At the beginning of a run, before the watch has locked onto satellites, the watch can (obviously) begin timing you. Once the GPS locks on, the watch begins tracking distance and pace but the disconnect is, that since they did not begin at the same time the watches calculation of average pace is inaccurate. As an example, you begin your run but the GPS tracking starts 4 minutes (0.5 miles) into your run. After a 5 mile, 40 minute run, the watch tells you that you ran 4.5 miles in 40 minutes. Thus, calculating that instead of 8 min-miles, it informs you that you ran just under 9 min-miles….definitely a difference.

Timex's Ironman Global Trainer w/GPS is more than just a running watch; it can track your hiking, biking and swimming as well. Since I do none of those other activities/sports, I did not test these functions. But whether you are a weekend/part-time or a hardcore professional triathlete, this Ironman would make an ideal digital workout companion.
Hooking the Ironman to your computer: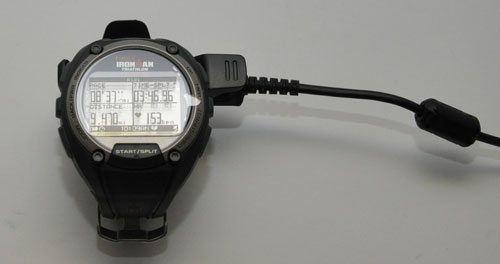 Connecting the watch to your computer is simple. Plug the USB end into your computer and connect the other end to the back of the watch. Turn the watch on, get it into the 'PC Sync' mode, and start the Timex Device Agent 3.0 desktop application and you are ready to download your data or customize the operations of the watch itself.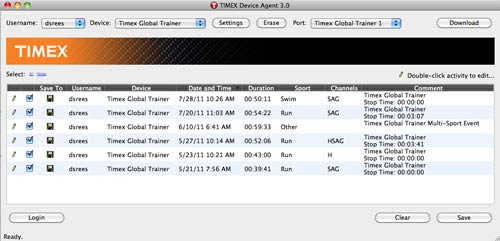 Timex Device Agent 3.0 is the included software (available via download) that enables you to manage your workout data, tweak your watch to display whatever info you desire, set notifications, etc. Timex was nice enough to create this software for Windows and Mac users alike. The main (two) purposes of the software is data download/export and operational management of the watch.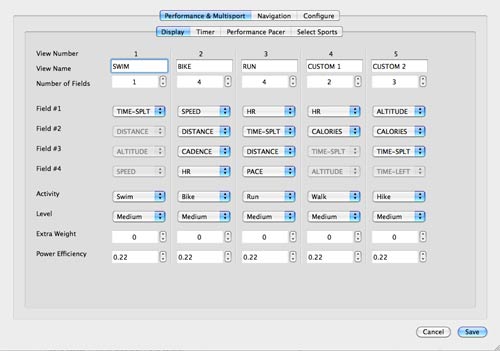 A great feature of the Timex Ironman Global Trainer's management software is that it enables you to truly customize/tweak the watch interface, screen layout, data displayed, alerts, etc  quickly, easily, and (best of all) intuitively. In my opinion, the best feature of the watch. Much easier than trying to do the same on the small screen and interface options on the watch itself. Once you adjust things in the application and hit Save, the changes are nearly instantaneously updated to the watch.
Looking at the data: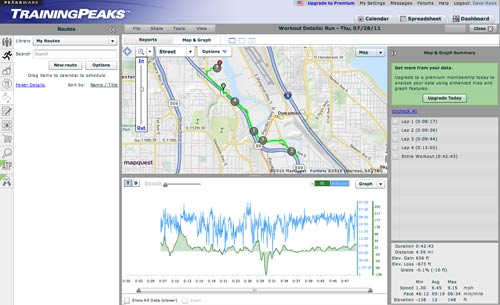 Timex has partnered with website, TrainingPeaks as the primary interface for viewing/analyzing the workout data from your watch. After the Timex Agent 3.0 downloads your workouts, it then exports them to TrainingPeaks where you can view the data graphically and/or visually in a multitude of ways. While the Agent is very simple to use, the website is a relative complex and powerful tool to analyze your workouts. Hopefully enabling you to better optimize your training. That said, the basic functions of the website are easy to figure out so you can hit the ground running :).
Bottom line:
I have been using this wrist computer on and off for over a couple of months now. Overall, the Timex Ironman Global Trainer with GPS and heart rate monitor works very well (less a few operational limitations due the the miniaturized GPS technology). It's accuracy, data package, durability, and functionality make an excellent workout companion. At least in terms of training, it is an outstanding wrist computer. As I have mentioned before, I have tried more than a few GPS enable watches over the years and this Ironman betters them in most categories (data types, ease of use, customability, sync software and overall user experience)….and at $360, it should. There are several similar watches for approximately half as much but they are not nearly as smart or tweakable as the Global Trainer. I would profile/characterize the Timex Ironman Global Trainer for someone who is serious and anal retentive about training (aka marathon runner, triathlete, mountain climber, and the like). If hardcore training is your thing, I highly recommend this Ironman trainer.
Product Information
Price:
$360.00
Manufacturer:
Timex
Pros:

- Highly customizable, very tweakable
- Large display
- Well made
- Lightweight
- Waterproof to 50 meters
- Software for both Windows & Mac
- Software easily exports into TrainingPeaks analysis/viewing

Cons:

- GPS can take awhile to become operational
- Some would consider it big and bulky
- A tad expensive