We use affiliate links. If you buy something through the links on this page, we may earn a commission at no cost to you. Learn more.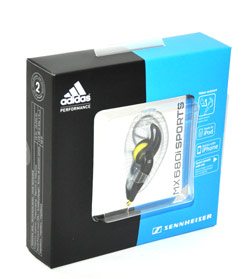 I am currently in my forth decade of running…..tens of thousands of miles. But I have never run a marathon and prefer to run by myself versus running with the masses in organized races. Well, as the story goes….my wife is turning 40 next year and I have agreed to run the DisneyWorld marathon with her. So, throughout the remainder of the year, it is my goal to train for this 26.2 mile pilgrimage and hopefully tryout various tech that will make this labor of love more effective/efficient and hopefully, more enjoyable. The first of these exercise/sports/training related products is the Sennheiser MX 680i Sports Earbuds.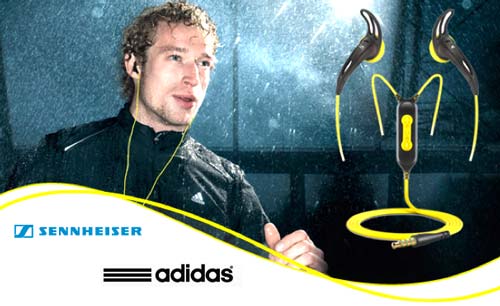 Sennheiser and Adidas have joined forces to create a sports-centric line of headphones; including the CX 680i Sports, MX 680i Sports, OMX 680i Sports and PMX 680i Sports. All specially engineered and designed for use with the iPhone and various iPods. All are sweat- and water-resistant, making them ideal for sports/exercise/fitness and have integrated multifunctional EAC Remote Control and microphone for use with Apple's iDevices.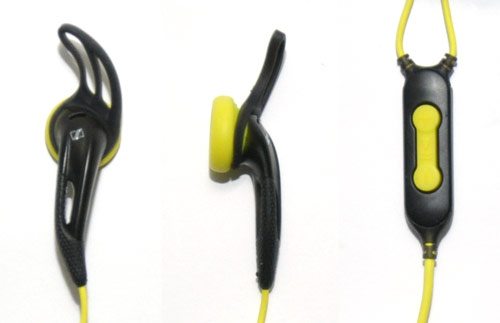 Over the past few years, I have reviewed many high-end earbuds and monitors here on the Gadgeteer. However, I do not use these fancy (& very expensive) earbuds/monitors to listen to my get-up-&-go music while running.  I also do not want to trash/wreck them with sweat or damage them physically while lifting weights. I typically use the less than stellar (aka [email protected]) earbuds Apple includes with its products which are fine enough for running.  At least that is what I thought, until I tried the MX 680i from Sennheiser/Adidas line of sports earbuds.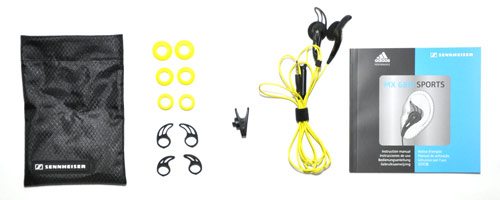 Package Contents:
MX 680 headphones
1 pair of foam earpads
3 pairs of EarFin adapters (S/M/L)
2 pairs of air cushion adapters (S/L)
2 pairs of ear sleeves
1 pair of housing rings
1 extension cable with volume control
1 storage pouch
1 cable clip
1 instruction manual
Sennheiser includes many accessories/adapters/sleeves with the MX 680i to tweak the earbuds to fit well and stay in place while exercising. The most ingenious piece is the EarFin adapters that add a bit of pressure in just the right way to more securely hold the MX 680i in your ear while working out.
Features:
Engineered on legendary Sennheiser/adidas Performance specifically for Apple iPhone, iPod and iPad series
Revolutionary EarFin holding mechanism is comfortable and stable- eliminating "falling earbuds"
Energizing, high-output sound keeps you running
Secure fit in-the-outer-ear stays put without using your hands
DuPont™ Kevlar® reinforced cables are ultra-durable and flexible even in cold temperatures
Sweat and water resistant construction for indoor and outdoor use during any season
Built-in volume control
Includes a 3 button control and mic for management of calls and music
Compatible with adidas miCoach, iPhone and all iPods/MP3 players with a 1/8″ (3.5mm) plug (mic & remote for Apple devices only)
Two YEAR warranty
Technical Specifications:
| | |
| --- | --- |
| Frequency response | 18-20,000 Hz |
| Cable length | 3.9 ft (symmetrical) |
| Sound pressure level (SPL) | 118 dB |
| Ear coupling | Earbud (open), EarFin |
| Impedance | 16 ohms |
| Connector | 1/8 inch (3.5mm) iPhone compatible |
| Total harmonic distortion (THD) | <0.5% |
| Weight w/o cable | 0.42 ounces |
Comfort and Fit:
The MX 680i earbuds features robust on-ear drivers and an EarFin holding system that offers a secure and comfortable fit during workouts. In addition to the EarFins, I also use the (included) foam covers for even greater stability.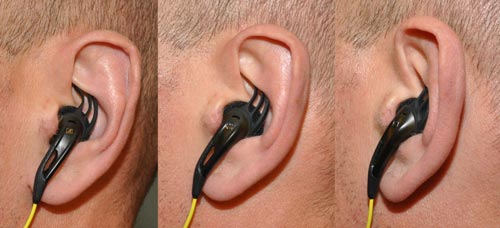 Never miss one of our posts again. Sent MON, WED, and FRI with the latest gadget reviews and news!
The MX 680i are of the classic earbud design, sitting on the outside of your ear-canal with nothing protruding into your ear. As you can see, they are nicely designed to fit the shape of the average ear.
Durability:
Sennheiser and Adidas have done a great job of creating a nice balance of improved listening experience, better stay-in-your-ear design, and rugged durability at a price point that will not break the bank. I am very hard on the earbuds I workout with. While the standard earbuds (without a remote/mic) dies a long (approx. 4-6 months) painful death, the Apple earbuds with remote/mic die in less than a week. On a long hard run, I sweat like a pig which always gets into the remote and it is never the same ;).

I have been using the MX 680i for over a month now (dozens of runs) and they sound and operate as well as the first day I tried them. As you can see from the remote/mic shown above, the 680's are much more durable, water/sweat resistant, hardened than the typical earbuds that come with your standard mp3 player. The remote/mic and earbuds themselves are suppose to survive sweat, rain and hard days….the cabling is Kevlar reinforced and stays flexible in cold temperatures.  Sennheiser also backs up their sport branded designs with a two year warranty.
Listening Experience:
I made the mistake of listening with the MX 680's for the first time by watching a streaming CNET video. My initial thought was 'ehhh, no better than my iPhone earbuds….' But then I used them to listen to some quality sounds and the experience was MUCH better. The base is a lot deeper and highs are clearer than any classic earbuds I have ever worked out with. A very nice listening experience. That said, while better than the usual 'stock' earbuds, they do not come close to monitor quality sound (which is to be expected).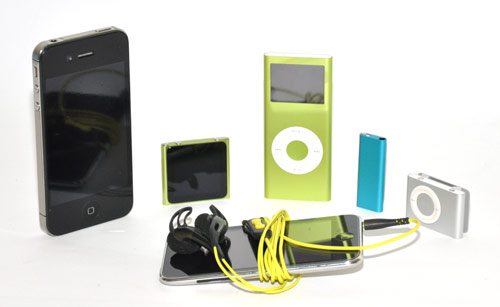 The remote is nice and convenient when using my iPod Nano (or Shuffle), so that I do not need to use its touchscreen interface while running. Especially for the latest Nano, this type of control makes switching songs much easier and more efficient. I attempted using the remote with my wife's Droid Incredible and SanDisk Sansa Clip and it did not work. The Sennheiser/Adidas i-series is specifically designed to work with Apple-tech but if you do not use an iDevice to workout with you can still use the 680i's to listen to your tunes.
The Sennheiser/Adidas MX 680i Sports Earbuds are ideal for running/exercising/working out. They produce a much better listening experience than the stock earbuds Apple includes with their iDevices. The 680i-series are durable, water/sweat-resistant, and give you a much richer base and upper-end sound quality. At between $60-$80, they are a good bang for the buck for upgrading your listening experience while working out.
Product Information
Price:
$79.95 (around $60 on the Net)
Manufacturer:
Sennheiser
Pros:

- Well made
- Good sound quality
- Water/sweat resistance
- Hardened & durable
- Secure fit in the outer ear
- Good bang for the buck
- Two year warranty

Cons: