We use affiliate links. If you buy something through the links on this page, we may earn a commission at no cost to you. Learn more.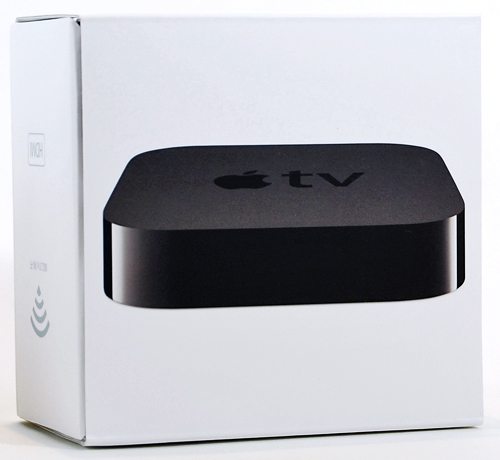 I used to think my cable box offered all the programming I needed.  As cable prices keep rising, I've come to the conclusion that those multi-media boxes and an $8/month subscription to Netflix are a better deal.  While I haven't gotten rid of cable yet, I have pared down some of the programming from Time Warner.  I'm using the Logitech Revue with Google TV in my living room for watching Netflix, but I wanted a smaller box to put with my second TV.  I decided the second generation Apple TV had the features I wanted, so I bought one from my local Apple store.
In the Box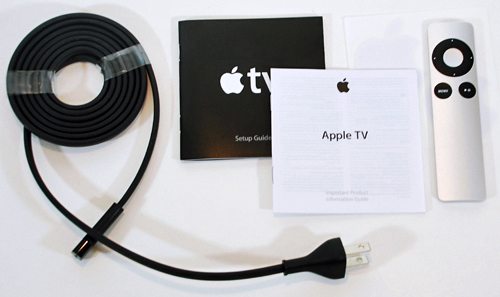 Apple TV
Apple Remote
Power cable
Documentation
Specifications
Dimensions:  3.9" wide X 3.9" deep X 0.9" tall; 0.6 pounds
Processor:  Apple A4 chip
Video formats:  H.264 video up to 720p, 30 frames per second, Main Profile level 3.1 with AAC-LC audio up to 160 Kbps per channel, 48kHz, stereo audio in .m4v, .mp4, and .mov file formats. MPEG-4 video, up to 2.5 Mbps, 640 by 480 pixels, 30 frames per second, Simple Profile with AAC-LC audio up to 160 Kbps, 48kHz, stereo audio in .m4v, .mp4, and .mov file formats.  Motion JPEG (M-JPEG) up to 35 Mbps, 1280 by 720 pixels, 30 frames per second, audio in ulaw, PCM stereo audio in .avi file format
Audio formats: HE-AAC (V1), AAC (16 to 320 Kbps), protected AAC (from iTunes Store), MP3 (16 to 320 Kbps), MP3 VBR, Audible (formats 2, 3, and 4), Apple Lossless, AIFF, and WAV; Dolby Digital 5.1 surround sound pass-through
Photo formats: JPEG, GIF, TIFF
Compatibility: Compatible with high-definition TVs with HDMI and capable of 720p 60/50Hz
Ports and interfaces: HDMI, Optical audio, 10/100BASE-T Ethernet, Built-in IR receiver, Micro-USB for service and support
Wireless:  802.11a/b/g/n
See the Apple website for more details
When I opened the box, I was disappointed to see that there was no HDMI cable.  This device requires an HDMI cable, so I think Apple should have included one.  I used the one from my cable box to hook up the Apple TV while I waited for a $10 cable from Amazon.  I don't have any external speakers or a home theater system with the second TV (Vizio 32" Razor 720p, 60Hz LED, model E320VP), so I didn't need an optical cable to hook up a sound source.  You should know that you'll have to supply your own optical cable, too.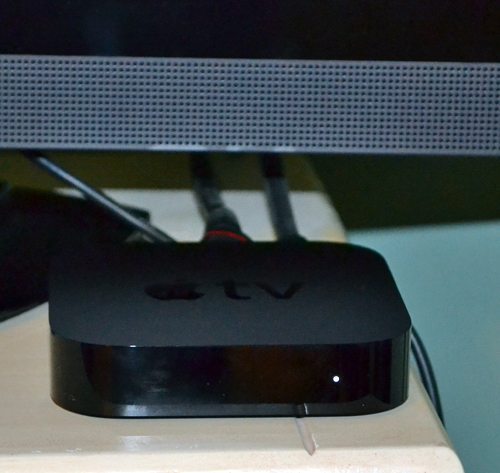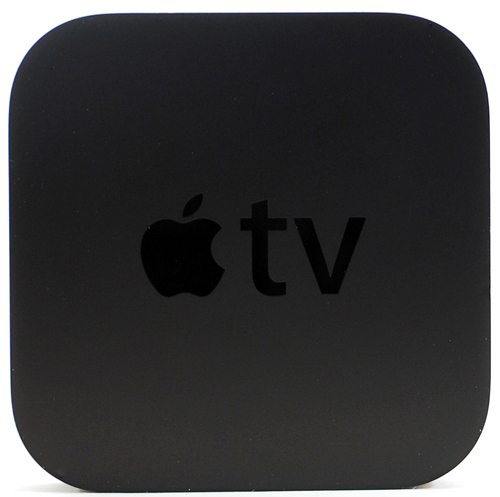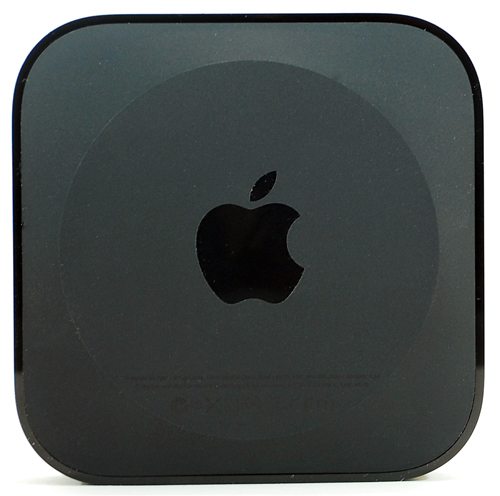 As you can tell from the dimensions shown above, the 2nd generation Apple TV is tiny.  It's a very plain black box with shiny sides and absolutely no buttons.  Hidden on the front is an IR receiver for the remote and a white LED that only lights up when you are using the box.  The back has all the connections.  The top is matte with a shiny Apple logo and the letters "tv".  The bottom has a rubbery base.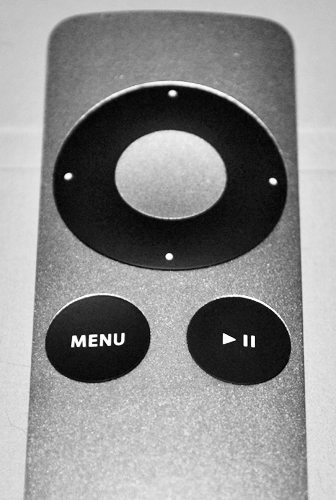 The included remote is the standard tiny aluminum, 3-button remote you can buy separately from Apple to control multimedia functions on Apple computers, iPods, iPads, and iPhones.  The remote came with a coin-style battery already installed.  Be aware that surfing on a MacBook and using the Apple TV in the same room can be a pain.  My computer received and responded to all the commands I sent to the Apple TV box.
Hooking up the Apple TV was a snap.  I plugged in the HDMI cable to the back of the Apple TV; it was already attached to my TV since I had been using it for the cable box.  I already mentioned that I don't have any speakers to connect.  I have a good, strong WiFi signal in my house, so I decided to use the device's built-in wireless connectivity instead of an Ethernet cable.  The only other thing left was to connect the power cable and plug it in.
A note about using wireless:  Apple recommends a sustained 2.5Mbit/s or faster Internet connection for standard-definition programming and 6Mbit/s or faster connection for high-def programming.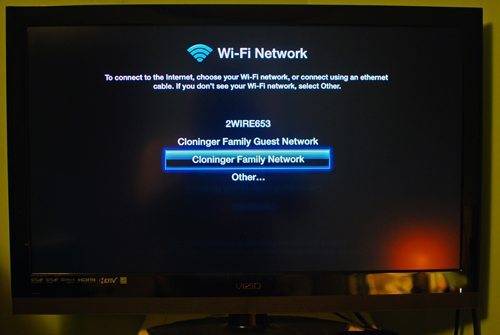 I powered on the Apple TV and my television and began the process of connecting to my network.  Entering the password was a pain because I had to scroll around a matrix of alphanumeric characters with the navigation buttons on the remote.  I tried connecting an Apple Bluetooth keyboard, but it didn't work.  Luckily, it only took two tries to enter my long password correctly.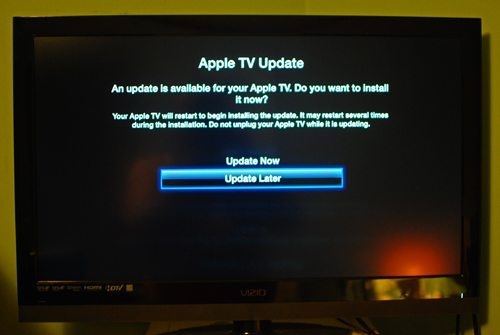 Almost immediately after the network connection was established, I was notified an update was available.  I installed the update before continuing.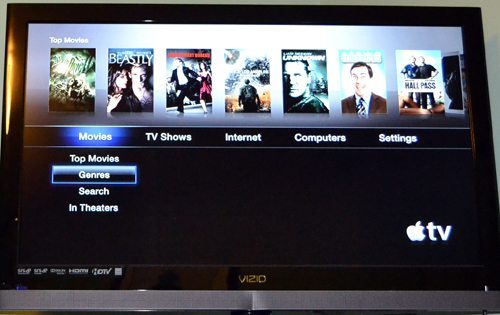 Here's a photo of the menu on my television screen.  The first two options, "Movies" and "TV Shows", are for watching video content from iTunes.  You can search easily through movies and TV shows available to buy or rent.  Of course, you'll need an iTunes account for these functions.  I've watched a couple of movies and a few episodes from the sixth season of the Bones television show from iTunes now.  Even though we have an Internet connection that's at least double the recommendation for high-def, we've always had a delay while the program caches.  Once I saw that it would take 2 hours for my program to be ready to watch, but it never actually takes that long – 5-10 minutes at most.  I just need to remember to rent my movie then go take a bathroom break and get a soda before I settle in to watch my program in the future.  Once the program was buffered and ready to begin, playback was smooth and uninterrupted.  The remote works well to control playback; you can pause/resume, fast-forward, and reverse.
The menu button on the remote has one function – to return you to the previous menu.  You have to back your way out through a tier of submenus to get to the home menu.  It would be nice to have one button that takes you all the way out.  There's no power button on the remote, and the Apple TV doesn't need one because you can't turn it off.  I did find a "Sleep Now" option in the settings.  I suppose it is always powered on to preserve the Internet connection to shorten the time required to start watching programming.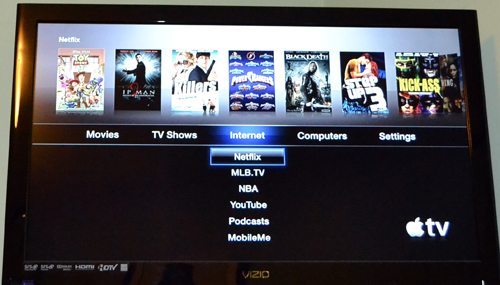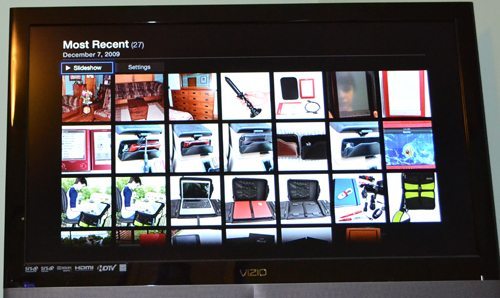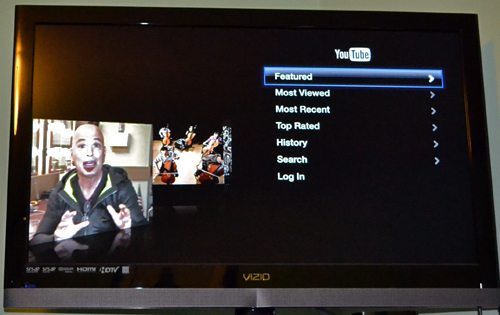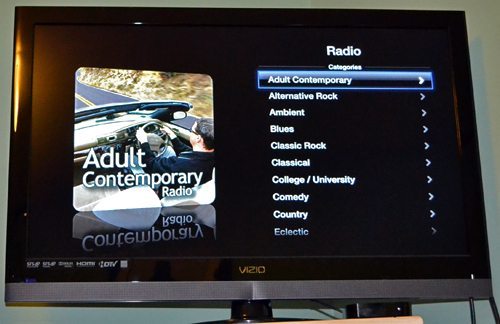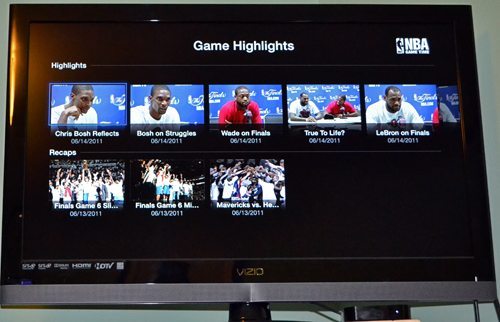 The third option on the home menu is "Internet."  Here you can connect to Netflix, MLB.TV, NBA, YouTube, Podcasts, MobileMe, Flickr, and Radio.  You'll need a paid subscription to watch programming on Netflix, MLB.TV, and NBA.  With YouTube, you can search for and watch videos; you can sign in to your account if you have one.  Podcasts and Radio give you access to programming available from the Internet.  Flickr lets you view pictures; you can log in to your account if you have one.  I don't have a MobileMe account, so I couldn't try this feature at all.  I'm sure it will be disappearing from the menu in the near future anyway.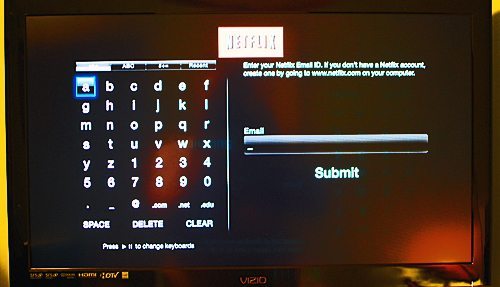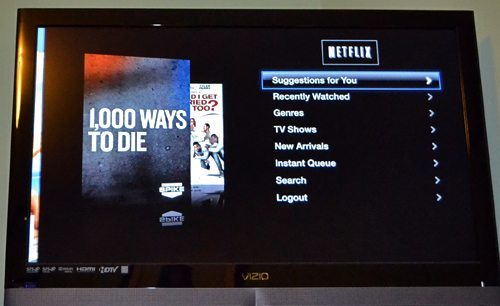 I do have a Netflix account.  I could connect to their programming by either registering the device with my account or by logging in to my account through Apple TV.  I decided to log in, so I had to use that matrix to enter my account information.  Luckily I only had to sign in once; the device remembered my login information.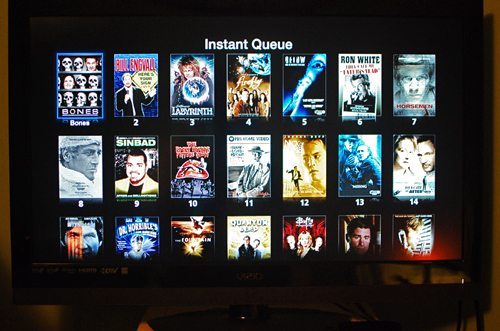 Netflix is where I have really put Apple TV to the test.  I probably have watched some other shows, too, but I watched the first five seasons of Bones in less than a month.  All those episodes of Bones were in HD.  There is only a few seconds delay before Netflix programming begins playing.  I had one episode freeze for a second or two, but everything else from Netflix played smoothly and with no glitches.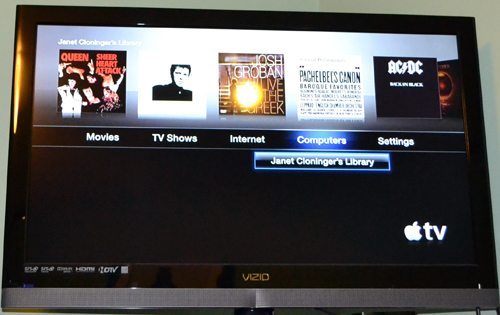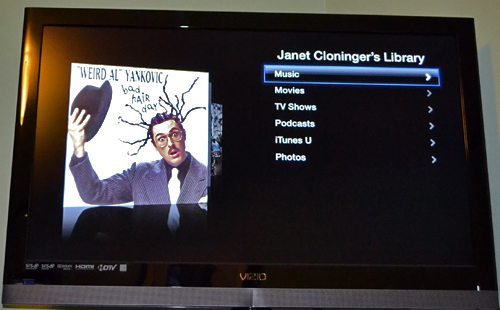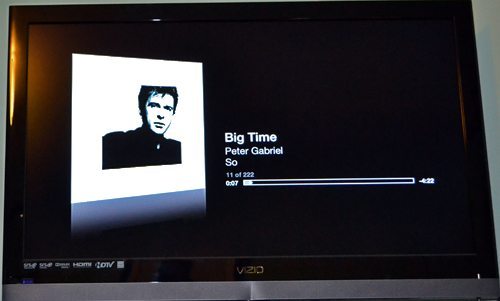 The fourth option, "Computers", shows a list of all the computers on your network that have shared their iTunes content through Home Sharing.  They all have to use the same iTunes accounts, too.  I only have one computer with iTunes on it, but I can connect to it through the Apple TV and access anything in my iTunes library.  I can play any home video files or those I bought from iTunes (and have stored on my computer) on my TV.  Buffering takes only a second or two and playback is smooth with the videos I've tried.  When I play back music, a progress bar and the album cover displays on my TV screen.  I can listen to audio books and podcasts or watch iTunes U programming stored on my computer.  I can also look at pictures that I have made available through iTunes.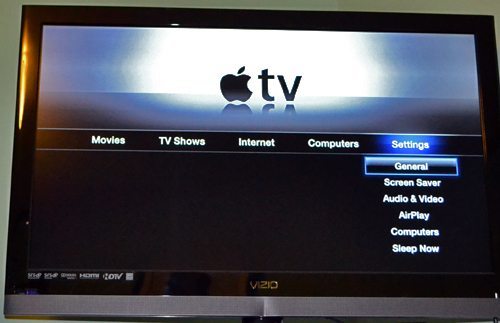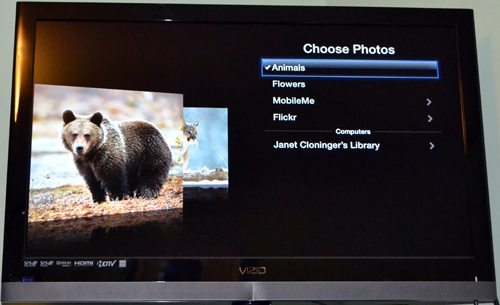 The fifth and final option, "Settings", lets you set up functions of Apple TV – how it displays information on the screen, menu language, turn on subtitles, and select an output type for HDMI, etc.  You can make changes to your network settings, check for software updates, and pair up a new remote.  Here you can turn on Airplay and Home Sharing.  You can also set up a screen saver.  Finally, this is where you can put the Apple TV into sleep mode.  (Note:  the white LED on the front of Apple TV is off when the device is in sleep mode.)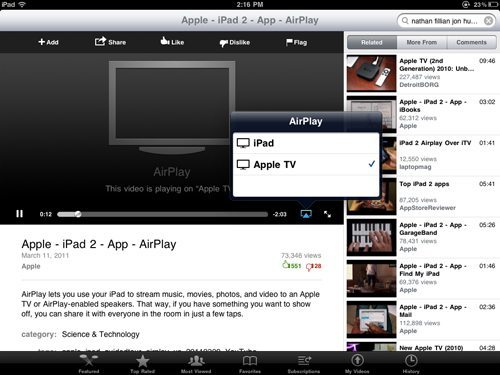 We've discussed a lot of ways that you can get content on your TV using Apple TV, but we have one more to discuss.  With the Airplay function, you can play content from your iPod, iPhone, or iPad on your TV.  Turn on Airplay in setup to make the Apple TV available.  When you start playing content on your mobile device, you'll see something that looks like a pyramid in front of a box.  Tap that and select that you want the content played through the Apple TV instead of the mobile device.  I was able to play music and videos from my iPad 2 on my television.  My photo app was able to display a slideshow on the television.  Airplay is not the same thing as mirroring.  Mirroring requires a special connector, and it displays everything from the iPad 2's screen on the television.  Airplay turns off the playback on your mobile device and streams it wirelessly to the television through Apple TV.  You can multitask on your mobile device while you stream audio or video content to your television.
I couldn't find anything in the documentation that said how much internal storage the Apple TV has.  There is no way to copy over content, so you can't use the device for mass storage of your files.  There are no USB ports to connect an external drive for media storage, either.  Everything is either streamed from iTunes on your computer using Home Sharing, from your mobile devices using Airplay, or from the Internet.  There does seem to be some internal storage that's used as a cache for streaming files.
All in all, I really enjoy the Apple TV.  I've had to restart it a couple of times in the past month, but it reboots very quickly and it remembers all my passwords when it reconnects.  It offers programming from iTunes, and no other multimedia box I know offers that.  I wish that it also offered Hulu+; maybe that will come with a future upgrade.  I guess it's not that important because I've only had to enter data during setup, but it would have been nice to have a keyboard to enter account names and passwords.  I like that it's a tiny box that fits easily on my cramped TV stand.  I think the Apple TV was $99 well spent.
UPDATE (Jan 2015):  I updated the Apple TV on my 65″ HDTV in the living room to the 3rd generation model.  I'm still using the 2nd-gen Apple TV on the smaller HDTV in my bedroom.  Both continue to work like champions, and they are currently the only streaming boxes we use, mostly for iTunes and Netflix.
Product Information
Price:
$99.00
Manufacturer:
Apple
Retailer:
Apple
Requirements:

High-def TV with HDMI and capable of 720p 60/50Hz
iTunes account
Subscriptions required to access Netflix, MLB.TV and NBA programming

Pros:

Gives access to Internet programming (iTunes, Netflix, etc)
Very easy to set up
Lets you access content on computers and iPods/iPhones/iPads on your local network
Tiny form factor lets it fit in cramped spaces

Cons:

Doesn't have a QWERTY keyboard for entering account info and passwords
No HDMI cable provided - and you MUST have an HDMI cable to use it