We use affiliate links. If you buy something through the links on this page, we may earn a commission at no cost to you. Learn more.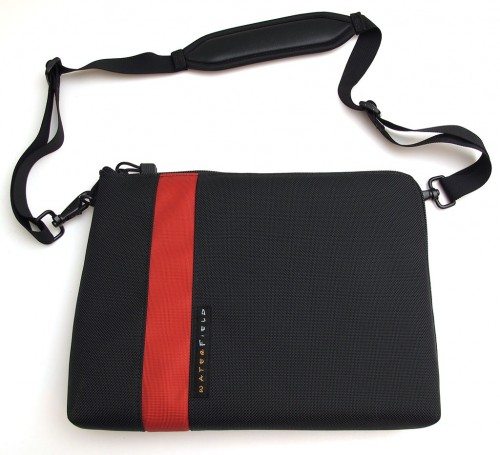 There isn't a shortage of bags and sleeves designed for carrying an iPad or any other similarly sized tablet device. Finding one that matches your particular style  might take a bit of shopping though. In an effort to give you yet another option, I want to show you the WaterField iPad Travel Express which can be used as a storage sleeve or a shoulder bag. Let's take a look.
Note: Click the images in this review to see more detail.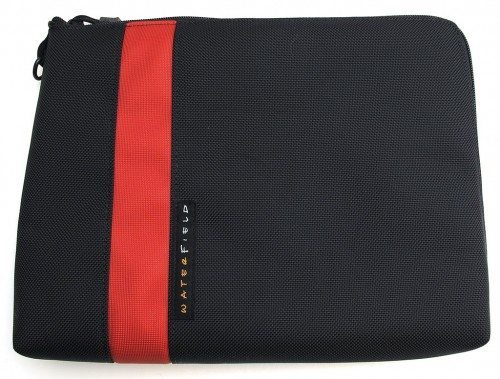 The iPad Travel Express has been designed to accommodate the original iPad or the iPad 2 with or without the Smart Cover.
The bag is made of durable black ballistic nylon (the same material used in bullet-proof vests) with a narrow stripe of color. You can choose from 6 different stripe colors: Black, Copper, Flame, Green Pearl and Pine. I was sent the Flame version of this bag to review.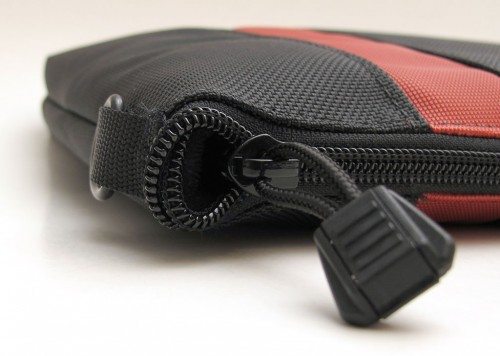 The Travel Express differs from most sleeves / bags in that it has a zipper that not only goes across the top, but also goes down one side. The YKK zippers are heavy duty and have an attached loop to make them easy to open. The only weird thing I noticed is the way the ends of the zipper have been sewn into the bag. As you can see from the image above, they are sort of wrapped around each other. Visually, it's not a big deal, but functionally, I found the zipper doesn't want to completely close. A small fingertip sized opening remains. This will probably either bug you a lot or not at all.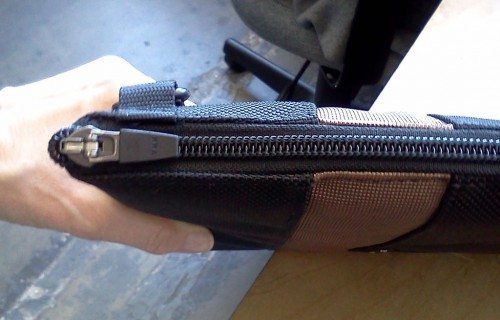 The zipper issue has been resolved since they sent my sample. You can see the improved design in the image above.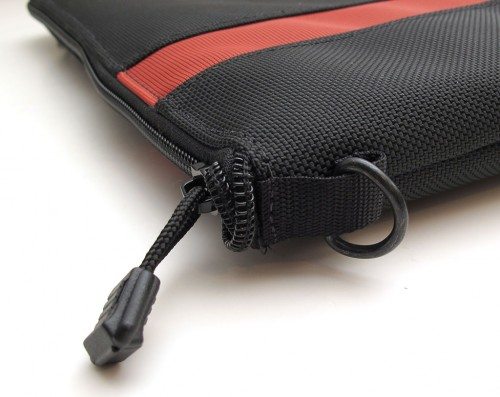 If you're willing to add an additional $5 to the price of the bag, you can have 2 metal D-rings added so that an optional shoulder strap can be attached. One D-ring is located on the Left side.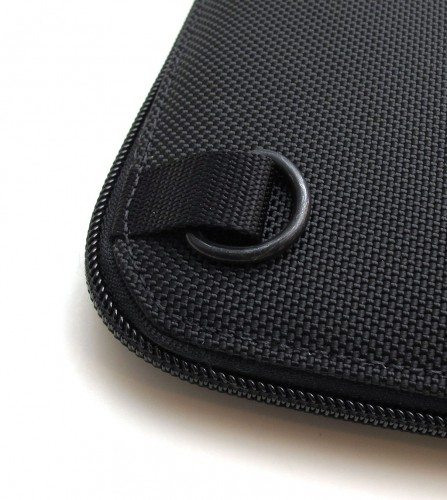 The other D-ring is sewn into the top back Right corner.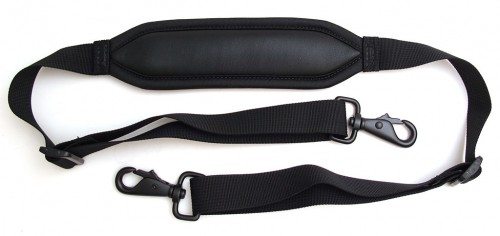 I was sent their suspension strap mini to test with this bag, which costs an additional $22. Also available is a simple strap mini for $12.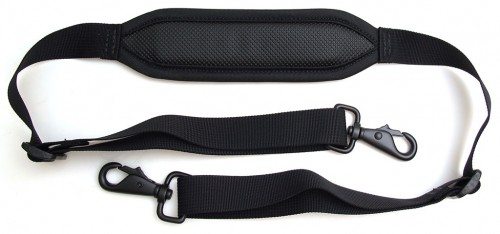 The shoulder pad has nubby rubber surface to keep it from sliding around while you're wearing it.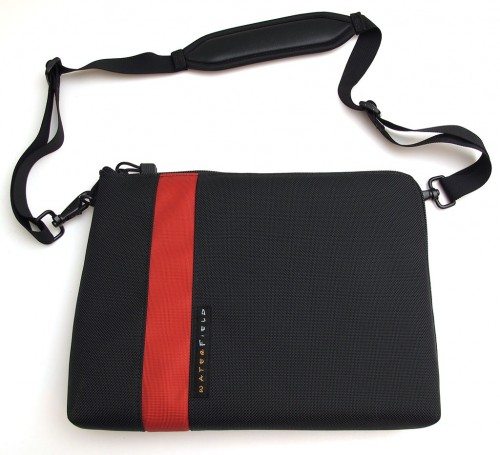 Heavy spring loaded clips connected to the ends of a narrow woven strap that can be adjusted for length.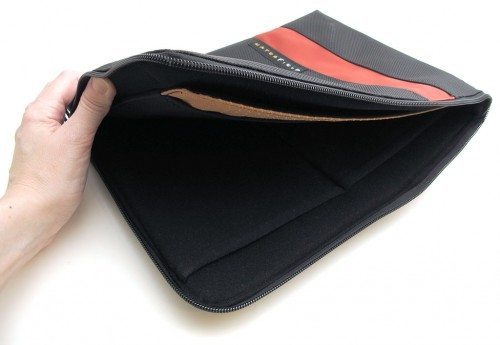 Unzipping the Travel Express reveals the iPad pocket which is lined with a soft knit material that protects the contents from scratches.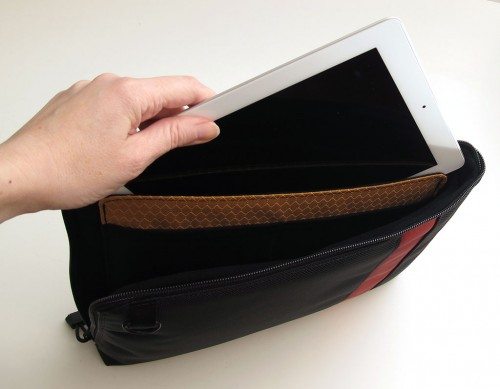 The front and back of this pocket are lined with a rigid plastic insert to offer additional protection.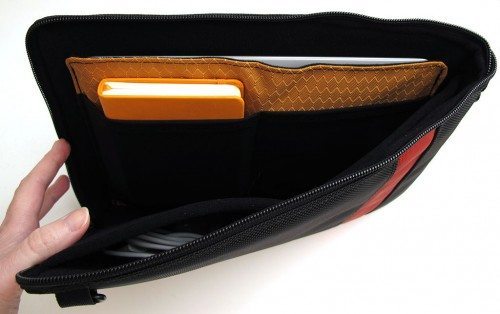 Sewn into the front of the iPad section are 2 stretchy pockets that can hold various items. Here you see that I've placed a Rhodia notebook into one of the pockets. The Rhodia is similar in size to a small Moleskin notebook.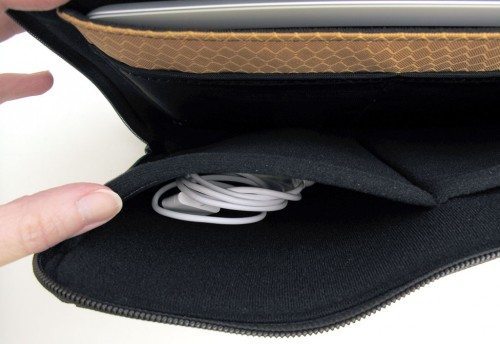 Two more pockets are attached to back wall of the bag. These are thicker pockets that work perfect for holding accessories such as the iPad's AC adapter and charging cable.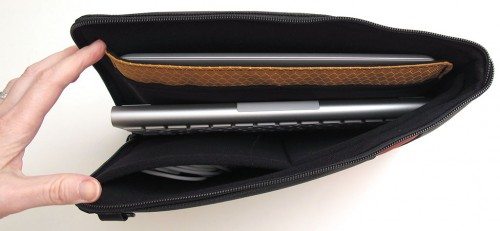 The Travel Express can even accommodate the Apple wireless keyboard.
Like other WaterField products that I've reviewed and used over the years, this bag is constructed very well. I could find no defects in the materials or workmanship. I can honestly say that if you buy this bag, you'll probably never need to buy another as it will last longer than you'll have your iPad. I've been using the same WaterField wallet for almost 6 years and it still looks great.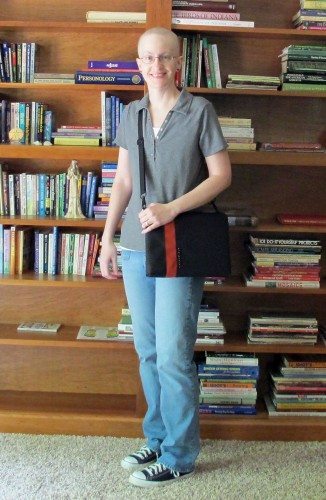 Here I am wearing the Travel Express. It's a great bag that can hold just the right amount of gear.
If I had the ability to make a couple changes to to this bag, I'd fix the zipper issue (see above) and add an additional flat pocket on the exterior that could hold a magazine or plane tickets. That it would make a perfect travel companion – for me. As is, I still really like this bag because it fits my style. It's not flashy, but stylish at the same time. It's made extremely well and does exactly what it's meant to do – protect a tablet and accessories.

Product Information
Price:
$69.00 (extra for D rings and shoulder strap)
Manufacturer:
Waterfield
Pros:

Offers plenty of organization and storage
Made really well
Can hold the Apple wireless keyboard

Cons: