We use affiliate links. If you buy something through the links on this page, we may earn a commission at no cost to you. Learn more.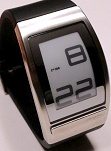 As an amateur horologist, my interest jumped up a tick when Julie posted the news item on the recently-released Phosphor World Time Curved E-Ink Watch.   Though I favor rather largish, shall we say 'robust' watches, the Phosphor E-Ink watch line's appearance, with its unique display technology and case style, was intriguing, so I was happy to have the opportunity to check one out.
Background
As mentioned above, I consider myself an amateur horologist, or fan of timepieces, though I fancy watches much more than clocks.  Actually, I'm more an admirer than a collector, though I have been wearing a wristwatch since 5th grade.  My watch tastes tend toward "tool watches"–large, thick, heavy-duty watches that can deflect a bullet or be used as a paperweight and contain enough features to make MacGyver smirk with pride.  However, I'd seen the news item that Julie posted about the Phosphor E-Ink watches, and both the display and the style caught my eye.  They were different enough from my usual favorite watch styles that I wanted to give one a try.  Phosphor (via Julie) sent me one of their newer World Timer Curved E-Ink watches to evaluate.
Specifications
Case material: Stainless steel
Battery access: User-accessible screw-down hatch on back
Battery type: CR2320 (3 Volt)
Case width: 35.0mm
Edge thickness: 5.0mm
Overall case thickness: 9.3mm (including hatch)
Water resistance: 5 ATM  (50m)
Lens type: Curved mineral glass
Display: 12 hour large; 24 hour small (see Display Modes below)
User Selectable Display Modes
Time of Day + World Time
Time of Day + Calendar
Time of Day Large
Time of Day Small
World Time
Packaging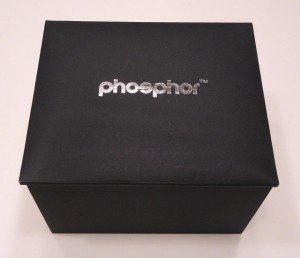 The watch arrived in a black box which had a soft suede-like feel to the touch and the Phosphor logo displayed in silver on the top.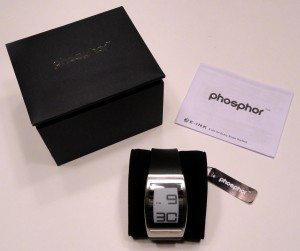 The box was hinged, allowing it to be used as a display box if you are so inclined.  The watch was wrapped around a small pillow made of the same material as the box.  The instruction booklet was hidden in a slim compartment in the inside lid of the box.
First Impressions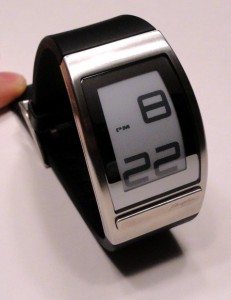 Two things struck me immediately as I saw the watch in person for the first time, the display and the sleek overall appearance.  The display looks similar to a standard LCD display found on millions of other watches, but in a subtle way, it looks different and unique.  It actually reminded me of an Etch-a-Sketch.  More on this later.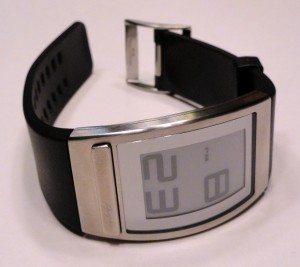 Physical Details
Overall, the watch has a very simple, elegant design.   The case is made from stainless steel and has a brushed finish, while the model I was sent has a matte black polyurethane strap with a double-pronged stainless buckle.  The face of the case is a rectangular shape that curves slightly outward in the middle.  The face of the watch has a silver "bezel" that frames the display.  The strap is integral with the case (cannot be removed) and its shape tapers with the shape of the case.  In addition to the black polyurethane strap, the World Time watch is also available with a white polyurethane strap, a black leather strap and a stainless steel bracelet.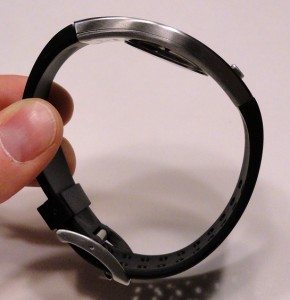 The case also has a contoured curve when seen in profile view, which gives it a comfortable fit on the wrist.  And in combination with the integral strap, gives the whole watch a sleek, almost bracelet-like look.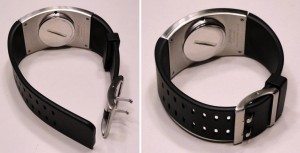 The back of the case has a brushed finish as well, and is secured to the front of the case with six tiny Phillips-head screws.  The battery is accessed via a circular screw-down "hatch."  The hatch has a polished finish and a slot in the center in which a coin or flat head screwdriver can be used to unscrew the hatch to access the battery.  Due to the construction of the case and the battery access hatch, the watch has a water resistance rating to 50 meters.  While this sounds great to the average person ("Wow, I can dive to 150 feet!"), in watch-speak, this rating basically means that it has splash resistance–you can wash dishes or your hands without fear of ruining it.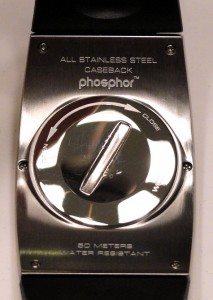 At this point I should note that, inexplicably, the watch died (display went blank) only 3 days after receiving it.  [NOTE: See more on this in the Update at the bottom of this post.] The manual advised that I basically do a hard reset by removing battery for a few seconds, then re-installing it.  However, in the process of unscrewing the battery hatch (using a flat-head screwdriver with the tip wrapped in masking tape), I put a few ugly gouges along the slot, which you can just make out in the image above.  I was not happy with the fact that it died only 3 days into wearing it and required a hard reset, but I was even more unhappy that I had gouged it (rather easily I might add).  At least the gouges did not affect function, did not scratch my skin and would be hidden to all save me.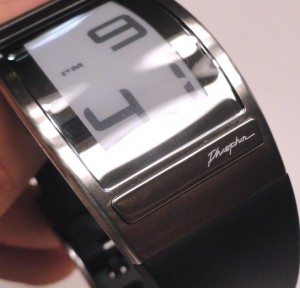 The final element of the case is the single "bar"-shaped key on the front that is located below the display.  The key has a script "Phosphor" logo etched on the right side.  Like many watches the key is used to set the watch and access its various modes.  However, unlike most watches, this single key performs multiple functions by pushing on either the far right or far left side of the key.
Display & Functions
Phosphor's electronic ink, or E-Ink, display is not Liquid Crystal Display, or LCD, like most digital watches available today.  The E-Ink display is actually more similar to the display on many e-book readers, such as the Amazon Kindle, which seeks to replicate a newsprint-like appearance.  It looks similar to a standard LCD display, but there is something different about it that is difficult to describe without seeing it in person.  One difference is that the E-Ink technology allows the entire display to be curved.  Also, because it is not backlit, the E-Ink technology is said to have lower power consumption requirements than a standard LCD, providing a longer battery life.  It also has a higher contrast than a standard LCD display (it can be viewed quite well in direct sunlight) and a wider viewing angle than an LCD display.  As a result of the E-Ink technology, sometimes remnants of previous characters, like ghost pixels, are left behind on the display.  To address this, the display automatically refreshes every 15 minutes, wiping the display of all of the ghost pixels and then displaying the current time once again.   The refresh appears a bit like a double blink, and looks sort of cool.  The watch will be sitting on your wrist when suddenly it blinks off, then back on.
The World Time watch has several modes of operation, which provide varying amounts of information to the wearer.  Pressing the right side of the key switches between the modes.  Pressing and holding the left side of the key for two seconds switches from standard (black on white) to an inverted display (white on black) for all modes.  As listed above, the modes are as follows, starting with the most basic: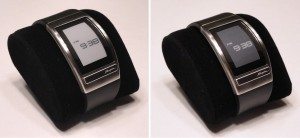 Small Time mode – This is a very basic, standard digital watch display format.  It shows the local time in 12-hour format and a PM indicator if applicable.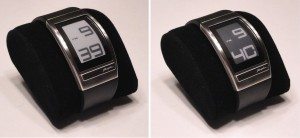 Big Time mode – This mode is also very basic, but a bit more unique.  Like the 'Small Time' mode, 'Big Time' shows the local time in 12-hour format, with a PM indicator if applicable.  However, the digits are larger and the time is broken into two rows, with the hours on top and minutes below.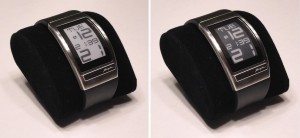 Time/Calendar mode – 'Time/Calendar' mode shows the most information.  Starting with the top row, it includes a 3-letter abbreviated day of the week, the numeric month, the time in 24-hour format and finally the  day of the month.  Initially, I found this mode to be the one I used most often, because it shows the most information.  I like to have the month and day (and day of the week if possible) on my main watch display without having to push a button to see any of this info.  However, this mode quickly became problematic because the local time is restricted to 24-hour format only.  Because I am not accustomed to the 24-hour format, it because a source of frustration for me to have to mentally convert it after noon every day.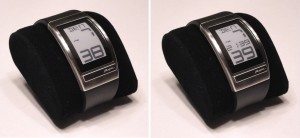 World Time and Dual Time modes – I've included these together here because they are basically variations on the same theme.  'World Time' mode shows, starting with the top row, a user-selected 3-letter abbreviated alternate time zone, and the time in this alternate zone in 12-hour format, broken into two rows like the 'Bit Time' mode above.  The 'Dual Time' mode shows abbreviated alternate time zone at top, time in the alternate time zone in 12-hour format broken into two rows, and the time in your main time zone in 24-hour format in the center.  These modes can be useful when traveling, as you can keep the local time in your "home" time zone, while also displaying the alternate time zone you are visiting.  For example, on a trip to Phoenix, I kept my local time as the EST zone, then selected MST zone as the alternate time so that I could keep track of the time both where I was an back home.
Here I would mention that although the World Time watch can display time, date, day and alternate time zone, that's basically all it can do.  It lacks functions that are common to many digital-display watches today, such as an alarm, stopwatch or even some type of illumination for viewing in low-light situations.  This was a bit of a disappointment to me, both because I am accustomed to watches that perform a LOT of functions, and because I think Phosphor should have been able to include some or all of these functions, especially considering the flexible E-Ink display technology and the price.
In Action
Below are a few shots of the watch on my wrist.  I've received several comments and compliments on it.   On the first day I wore it, one of my co-workers remarked "Hey, nice watch.  Very unique."  And just yesterday I had someone else mention that I had a nice watch.  One of my friends remarked that it looked somewhat "Euro"–not sure if this was intended to be a compliment, but that was how I took it!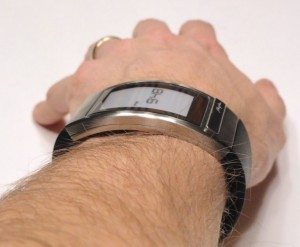 Final Thoughts
Overall, I like this watch.  It is different enough from the watches that I typically wear that I enjoy looking at it on my wrist.  It has a simple, elegant appearance and curved ergonomic shape which helps make it feel comfortable on the wrist.  The E-Ink display has a different look to it than a standard LCD display, which I like.  The big drawbacks to me were its need to have a battery removal hard reset performed so early into its ownership (fail!), 24-hour time format being unchangeable on some of its display modes, and its overall lack of features common to many watches.
Updates 02/22/11
I feel I should mention that the watch has again died, its screen once again going blank.  I am very disappointed by this.  If I had given this watch a rating, it would be dropping rapidly.  Not sure I would recommend it to others at this point.
Updates 03/13/15
As menioned in my Feb 22, 2011 update, this watch kept dying and I think I eventually threw it out and went back to my trusty G-Shock. Too bad because I like the unique look of this watch.
Source: The sample for this review was provided by Phosphor. Please visit their site for more info.

Product Information
Price:
$150.00
Manufacturer:
Phosphor
Requirements:
Pros:

+ Quality materials & construction
+ Modern style & look
+ Comfortable, contoured shape
+ Unique E-Ink display
+ Displays alternate time zone
+ Wide viewing angle
+ Water resistant to 50 meters

Cons:

- Limited to 24-hour time in some modes
- Limited functionality (no alarm, light, etc)
- Expensive for what you get
- Dies for no apparent reason, requiring battery removal to revive it