We use affiliate links. If you buy something through the links on this page, we may earn a commission at no cost to you. Learn more.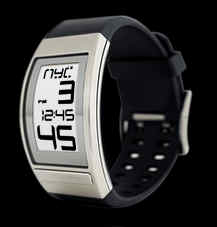 Phosphor has just announced the availability of the World Time Watch with curved E Ink display that utilizing the paper-like display technology found in the Amazon Kindle. This watch offers the ability to select from 24 time zones for one display mode, while optionally displaying a second time zone simultaneously. The Phosphor World Time Watch is only 9.3mm thick and is available in several band styles starting at $150. Full press release after the jump.
Phosphor Debuts E Ink Digital Watch with World Time Function
Next generation watches showcase a unique blend of style and technology by incorporating an E Ink display and curved design
(Dallas – November 9, 2010) – The American watch brand, Phosphor (www.phosphorwatches.com), announces the launch of the World Time Watch, its newest luxury chronometer featuring E Ink's electronic paper display technology.
 
The new World Time Watch with curved E Ink display is one of the only watches in the world to utilize similar electronic ink technology found in Amazon's Kindle™, the world's most popular e-reader. It also offers the ability to select from 24 time zones for one display mode, while optionally displaying a second time zone simultaneously. The dual time zone display can also be user configured to simply display the time of day or both the date and time in either over-sized or conventional-sized segments.
These unique features are packaged in a sleek, ultra-thin, curved case only 9.3mm thick. Incredibly versatile, the new World Time Watch boasts an assortment of functions and display modes and is available in several band styles.
 
"Phosphor's new World Time Watch takes advantage of E Ink's ultra low power and highly readable SURF display technology to make a truly unique statement for both the consumer and business market." said Sriram Peruvemba, Global VP of Sales and Marketing, E Ink Corporation.
 
E Ink SURF products are segmented, ultra-thin, rugged and flexible displays that enable a new generation of innovative watch designs with the following display benefits:
Ultra High Contrast: The display is made up of black and pure white particles, which allow contrast comparable to that found on a printed page and more than twice the contrast of a conventional LCD panel. It can be easily read in direct sunlight.
Low Power Consumption: Since the display technology is reflective, no backlighting is required. The display also requires no power to maintain an image, extending the device's battery life.
Wide Viewing Angle:  With a viewing cone of 180 degrees, the electrophoretic technology overcomes the disadvantages of conventional displays when it comes to off-axis viewing. Together with its high contrast, it allows the user to read the time at a glance from any angle.
The World Time Watch from Phosphor is one of the first commercially available E Ink digital display watch designs, and one of the only curved digital watches on the market today. It is now available from online from Phosphor at www.phosphorwatches.com and through selected retailers starting at $150.
###
About Phosphor TM
Phosphor TM is a new American watch brand focused on the relentless pursuit of watches that integrate new technologies combined with compelling design. The Phosphor TM brand is owned by Art Technology Limited, which has offices in both United States and Hong Kong. More information can be found at: www.phosphorwatches.com.
Never miss one of our posts again. Sent MON, WED, and FRI with the latest gadget reviews and news!
About E Ink Corporation
E Ink Corporation is a subsidiary of E Ink Holdings Inc (8069:TWO), the world's leading supplier of electronic paper display (EPD) technologies. E Ink's technology is ideal for many consumer and industrial applications spanning handheld devices, eBooks, eNewspapers, wrist watches, PC-accessories, public information displays and promotional signs. E Ink's customers include Amazon, Art Technology, Barnes & Noble, Citizen, Hanwang, Hitachi, Lexar, Samsung and Sony. E Ink news can be found at: http://www.eink.com.