We use affiliate links. If you buy something through the links on this page, we may earn a commission at no cost to you. Learn more.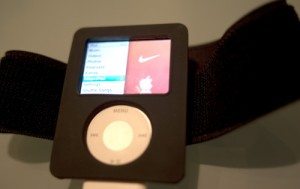 The next piece in my work out puzzle was an armband for my iPod Nano. I still have a 3rd generation Nano so I needed one to fit that. It needed to support the Nike + iPod kit, fit my arm and deal well with sweat. I owned the Nike arm band for my old first generation Nano, but it felt tight, and did not keep the Nano as dry as I would like. I never had a failure, but it worried me.
The Tuneband is a two-piece system. One part is the band, the other is the silicone sleeve for the iPod. In fact, in the packaging, they include an ad for the RunWallet that uses the same band.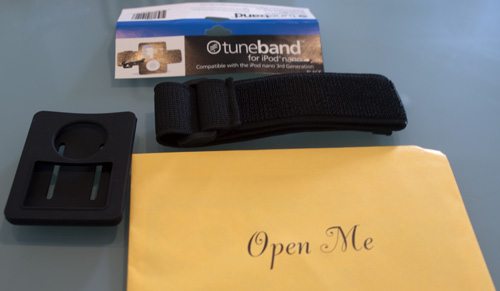 Also included is a screen protector for the Nano. Initially I chose to not install it on my Nano. Assembly was pretty easy. First you thread the band through the belt loops (fuzzy side towards the Nano), then slide in the Nano and finally plug in the transmitter for the Nike + iPod kit.
Later I decided to install the screen protector. They do a lot to make it as easy as possible, but I always find getting them on right to be a pain.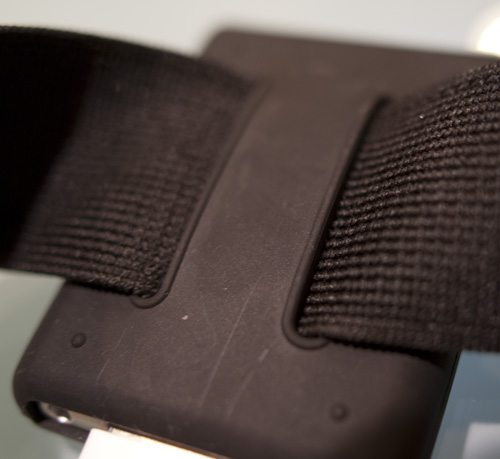 The silicone case fits firmly over the iPod, and the transmitter (or sync cable after a run) has no problem connecting and disconnecting from the Nano. Here is shot of the bottom of the Nano. The hold button (left) and headphone jack (right) are both easily accessible.

I wanted to use it a few times before reviewing, and I have run with it 5 times now. I was concerned with how the band attached to the case. Since the strap enters the case, I was afraid it would serve as a conduit for moisture. So far I have no issues with it. It appears to keep my Nano safe and dry. In addition, the band is very comfortable on my arm.
I am concerned about rain, however. The front and bottom of the case are open, so it will not provide any protection if I run in the rain. I am not sure how much moisture protection the screen saver would provide, and it certainly will not help with the connections at the bottom.
Despite that, I am very happy with the purchase, and feel comfortable running with the Tuneband.

Product Information
Price:
$12.99-15.99 depending on color
Manufacturer:
Grantwood Technology
Pros:

Comfortable
Easy access to connector and headphones
Easy access to control
Secure

Cons:

No external moisture protection
Band threads through case