We use affiliate links. If you buy something through the links on this page, we may earn a commission at no cost to you. Learn more.
See my review of Apple's 2ng generation nano here.


09/20/07 Please also read my review of Apple's 3rd generation iPod nano fatty.
It's no secret that I am a card carrying member of Apple's cult of iPod. Although it took me awhile to become inducted (my first iPod was a 3rd generation model), once I did, I've remained faithful. I followed up my 3rd gen unit with a 4th gen model and then more recently with a shuffle. I was never too interested in the mini as it would not hold my entire music collection (38gb and growing), and the Photo versions didn't have a big enough hard drive capacity to make me want to upgrade. But 20 minutes after I saw the nano, I placed an order for the 4gb version. To heck with the fact that it would only hold a small subset of my tune library. It was sexy, and I had to have it. I just told myself that most of the time I would listen to my newer tunes anyway ;o)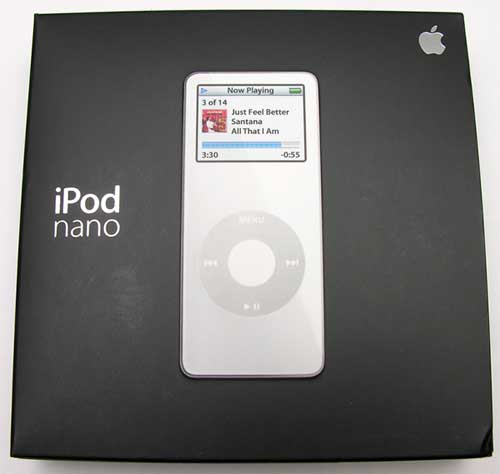 Hardware Specs
Display: 1.5 in. (176 x 132 pixel) diagonal color screen with LED backlight
Storage capacity: 2GB or 4GB flash drive which holds 500 to 1000 songs in 128-Kbps AAC format or up to 25,000 nano-viewable photos
Audio formats: 20Hz to 20,000Hz, AAC (16 to 320 Kbps), Protected AAC (from iTunes Music Store), MP3 (16 to 320 Kbps), MP3 VBR, Audible (formats 2, 3 and 4), Apple Lossless, AIFF and WAV
Headphones: Earbud-style headphones with 18-mm drivers using Neodymium transducer magnets
Frequency response: 20Hz to 20,000Hz
Impedance: 32 ohms
Operating temperature: 32-95 degrees F (0-35 degrees C)
Non operating temperature: -4-113 degrees F (-20-45 degrees C)
Relative humidity: 5% to 95% non-condensing
Maximum operating altitude: 10,000 feet (3000 m)
Power and battery: Built-in rechargeable lithium ion battery with playtime up to 14 hours when fully charged
Size: 3.5 x 1.6 x 0.27 in.
Weight: 1.5 oz
Package Contents
Earbuds with 2 sets of foam covers
USB cable
Dock adapter
User's Guide, warranty info
iTunes software on CD
2 Apple stickers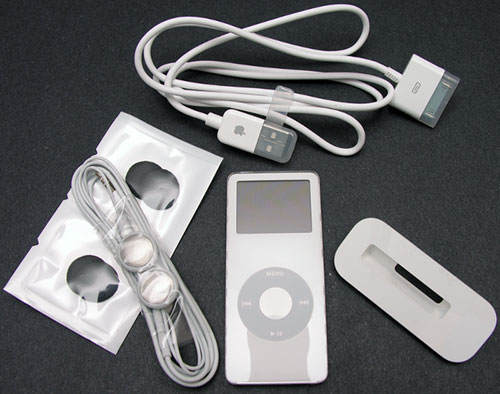 Never miss one of our posts again. Sent MON, WED, and FRI with the latest gadget reviews and news!
Yes, I'll be the first one to admit that I'm a sucker for sexy hardware. Wave something sleek and shiny in front of me, and I'm a goner. The nano definitely fits that description. It is amazing that they could fit a color display, 4gb of flash ram, full size stereo earphone jack and a nice sized touch wheel into such a thin little package.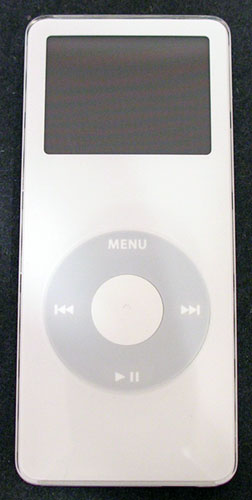 Like all the iPods that have come before (well except for the shuffle…), the nano is gorgeous. In my opinion, it looks like a full sized iPod that went on the South Beach diet for a few months. When I compare it to my 4th gen iPod, it has the same milky white face (there's a black version of the nano too…) with a shiny chrome back. And just like the previous models, the nano is a fingerprint / smudge magnet. And if that weren't annoying enough, the nano seems to scratch even more easily that my previous players. I just noticed tonight while talking product pictures that my totally pampered, less than 2 week old nano already has scratches on the display. :o( I knew it would be inevitable, but jeez! I've had it in a soft leather pouch the whole time. It really would have been nice if some sort of protective sleeve/case would have been included with this player.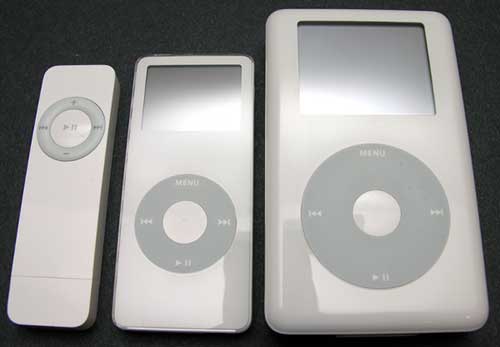 Left to right: shuffle, nano, 4th gen iPod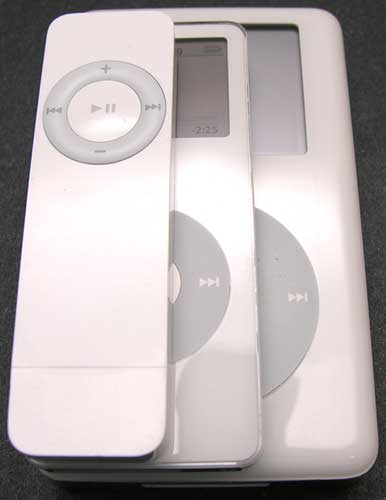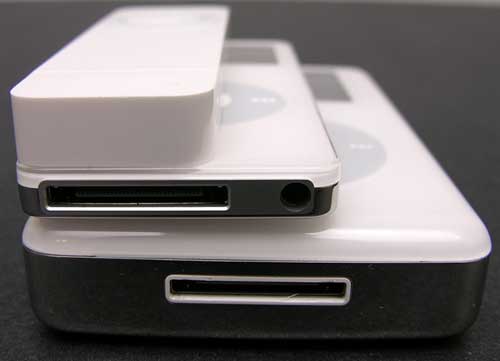 Top to bottom: shuffle, nano, 4th gen iPod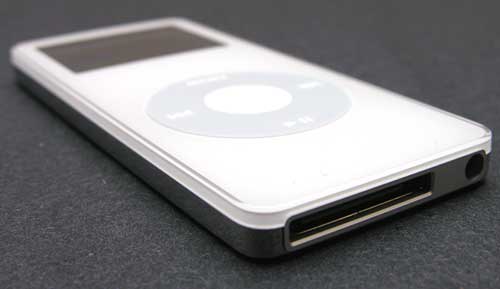 You can see from the images above, just how small the nano really is. And no, I don't think it's too small. The touch wheel is a smaller version of the same thing on the larger iPods, and the 1.5 inch display is bright and easy to read. There are only 2 real differences between the larger iPods and the nano (besides the size…). The first difference is that the nano does not have a physical hard drive built into it. Instead flash memory is used. That means no moving parts to wear out. It also keeps the design thin and power efficient. The other difference with the nano is that the earphone jack is now located on the bottom of the player instead of the top. I really don't like the new location. It just feels upside down to me. Especially when I use the nano with a cassette adapter in my vehicle. The adapter plugs into the earphone jack, then if I lay the nano on the seat beside me right side up. The cord gets in the way.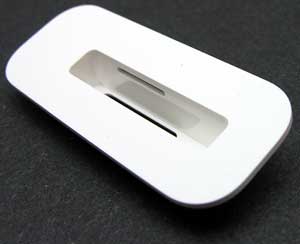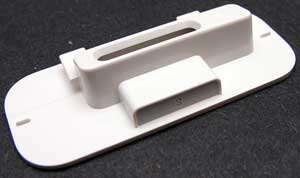 Because the nano is so thin, Apple saw fit to include a dock adapter with the purchase of this player. When I first saw it, I was happy because I thought I would be able to use it with my regular iPod dock to convert it for use with the nano. The nano only comes with a cable, no dock. But guess what? This adapter doesn't work with a standard dock. I think I spent 1 or 2 minutes trying to figure out how the heck it was supposed to snap into it… I finally realized that it didn't! This adapter actually doesn't work with anything right now… It really baffles me why it was even included.
Speaking of the sync / charge cable. Apple seems to be moving away from firewire compatibility with iPods. The cable included with the nano is USB 2.0. If you try to plug in a firewire cable, you'll see a notice on the display telling you that you can only charge with firewire. You can not sync with it…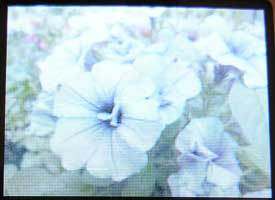 This is my first color iPod. I have to say that the whole idea of viewing photos on my digital audio device still doesn't really appeal to me, but if that feature floats your boat, you'll be happy to learn that the nano can do it just fine. You'll just need a magnifying glass to see the pics ;o) It is kind of cool to use the slide show feature to display a bunch of images though. It's like having a tiny digital frame on your desk.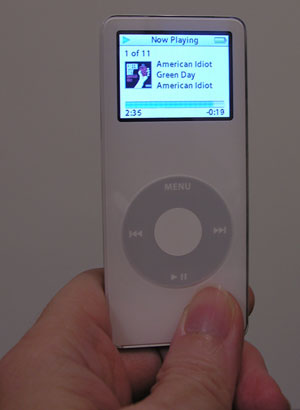 Another benefit of the color display is being able to see the album art while playing tunes. I know it doesn't add all that much value to the listening experience, but it still makes me happy.
As far as the user interface, there aren't many (if any) differences that I'm noticing when I compare with my older iPod. This time around, I decided to finally give the light weight PIM features a try. In iTunes, you can specify that the nano will sync with your contacts, calendar and to-do list. Using this feature, I synced with the stock Mac PIM applications. Windows users can do this with Outlook.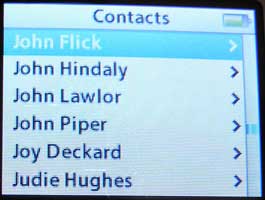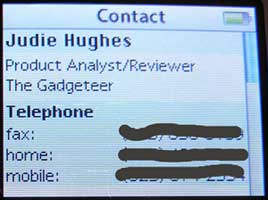 Using the nano as a phone book is surprisingly easy and quick due to the touch wheel. Quite a bit of information is transferred (the image above is only showing part of the info) including address and notes about the contact. You can't enter or edit information though, it's view only.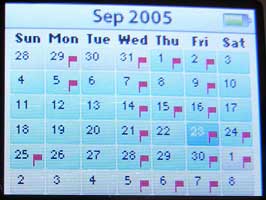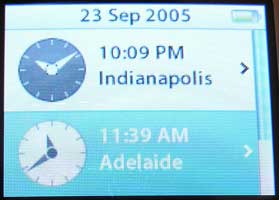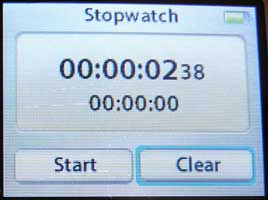 The calendar app is very basic, but alarms will actually go off with a beep. I'm just showing the month view here, but you can scroll around on the calendar and select a date to view any events and details. You can't enter or edit this information either, it's view only. There is also a 2 city world clock and a stop watch built into the nano.
You can also use view text files in the Notes feature of the nano. To do this, you just copy text files into the Notes folder at the root of the nano when it is mounted on your PC or Mac. You can even copy HTML files into this directory. All the formatting will be stripped out leaving just the plain text. It is possible that you could use the nano as an itty bitty book reader. I really don't think it would be all that comfortable to read on a 1.5 inch display, but the ability is there.
Audio book and Podcast fans will be happy to learn that bookmarking now syncs back and forth with your computer. So if you happen to listen to a podcast for a few minutes on the nano and then sync back to your computer, the next time you listen to the podcast on the computer, you'll start at the point where you left off on the nano. Pretty nifty. The same goes for audio books.
I haven't done any scientific battery life tests yet, but I've had no problems playing music for a full 8hrs during a work day. Since I work at a computer, if I did run out of juice, I wouldn't have a problem plugging the nano into a USB slot to recharge.
I've really become attached to this little player. You can't help but love the physical design and the sound quality is very good. That doesn't mean I won't hesitate to place an order the second that a 100gb full size iPod is announced, but the nano is my current favorite digital audio player. It has that same great iPod flavor, but with out the fat.
Product Information
Price:
249.0
Manufacturer:
Apple
Pros:

Sexy
Tiny
Color display
Flash memory

Cons:

Fingerprint magnet
Scratches very easily
Earphone jack located on bottom