We use affiliate links. If you buy something through the links on this page, we may earn a commission at no cost to you. Learn more.
Even though the calendar says that October is almost here, San Angelo managed
to hit 107º yesterday – our
hottest day on record – beating 105º  for the same date in 1977. For
people that live in a West Texas frying pan such as my town, it is simply too
darn hot to go around in long pants. Why, it's soooo hot, that…that making
jokes about the heat doesn't make it any better.
Because of the three digit temperatures, there
are a lot of men wearing shorts while out and about, and for those that are – I
have a suggestion. Just take it as a friendly tip from a concerned citizen: wear
nothing that is too short and nothing that is "cut off." Nobody
wants to see how white or how hairy your legs are, and nobody wants to see your
"business" when you bend over – let's keep it G-rated. As for cut-offs? Those
are only appropriate when working in the yard…and maybe not even then.
For men that want to stay cool while maintaining
their dignity, SCOTTeVEST has
created
Hidden Cargo Shorts. Of course, these are much
more than just your basic pair of warm weather gear, they are made for people
that carry items other than just a wallet on them at all times. Hidden Cargo Shorts do
just as their name implies – they hide their wearer's cargo. What type of cargo?
Well, pretty much anything that can be placed in one of the cargo shorts eleven
pockets. The beauty is that the pockets are not immediately evident when first
viewing the shorts, which gives them a cleaner, more professional appearance.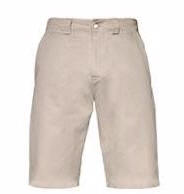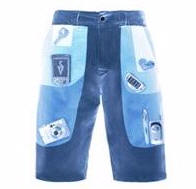 Pictures courtesy of the SeV site
Julie

reviewed the SeV Hidden Cargo Pants last year, which premiered the basic
design from which the Hidden Cargo Shorts are inspired. These shorts are available in waist sizes 28 to 46,
and in the colors army green or stone. I was sent a pair of the army green in my
husband Steve's size, 38. Their inseam is 11", which should be just at or just
above the knee on most men – depending on their leg length.
The Teflon coated 100% cotton material from which the shorts are composed
"repels water and oil based spills," so it can to handle coffee spills while
driving across town without leaving a permanent stain. I was immediately
impressed with the weight and feel of the material when I opened the package.
The material is not so thick that it would be hot, but it is substantial enough
that it won't become threadbare by the twentieth wash. The material feels like a
traditional khaki – slightly stiff – yet not rigid, and gives the impression
that it will soften up substantially over the years as it is repeatedly washed.
Before I get into all of the pockets hidden inside the shorts, I wanted to
cover a couple of features that I thought were significant. Notice the thick
satin lining the pockets in the back? This is really a great touch because the
satin will allow the back pockets to lay smoothly over the wearer's under
drawers, without bunching up like cotton pockets tend to do. In other words,
when the guy wearing them goes to retrieve his wallet, he won't have to stick
his hand back down into the pocket to push it back in place.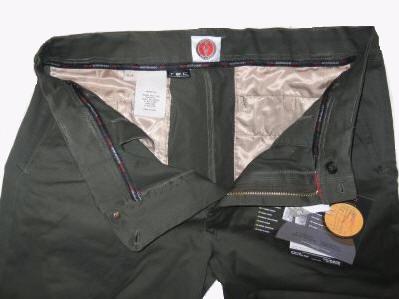 The main button on the front has a clever SeV…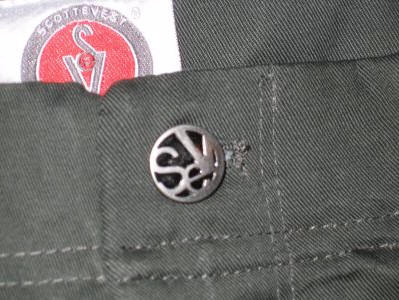 …and the rear middle belt loop has a subtle logo with the stitching in the
same color as the shorts. Only the red "e" stands out.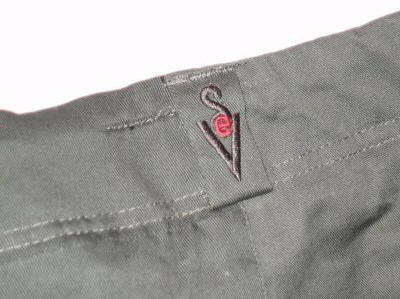 Other than those two exterior logos, the shorts are almost incognito; the
average onlooker would not even realize all of their special qualities. Moving
right along…
SCOTTeVEST is one of the few brands that I know of which use magnets to keep
pockets closed. I think this is very clever because no one wants their pockets
to gape or sag. The center of each rear pocket has a pair of strong magnets,
which provide easy access while ensuring secure closing. Since I have just
started with the rear pockets, lets go through the eleven that this pair of
shorts feature…
There are two rear pockets, each measuring roughly 7" x 7", which should be
plenty of room for a wallet in one and something else in the other – perhaps a
pair of handcuffs for those in law enforcement. Come to think of it, these would
be great for bicycle cops.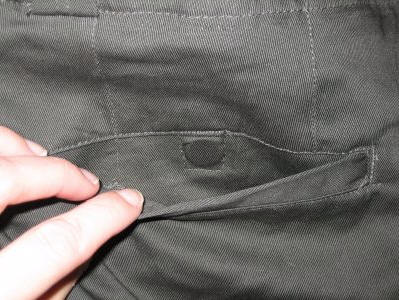 Attached to the inside right hip is a small open pocket that measures 2.5" x
2.5′ and would be great for a pocket watch or some other small item that the
wearer wants to keep close.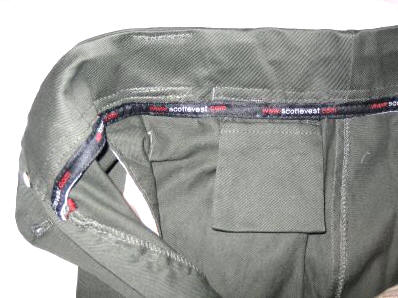 The interior shows quite a bit of planning. Other than the satin pockets
previously mentioned, the 2" waistband is finished with
www.scottevest.com tape. Having such a
wide flat waistband makes the waistband quite comfortable when the shorts are
worn. Notice the "buttonhole" finishing on the interior left pocket shown? That
is actually a Personal Area Network (PAN) opening that can accommodate a cable –
such as one from an MP3 player stowed in the deep interior. The Zipper that can
just be seen poking up at the bottom of the picture is a YKK…of course!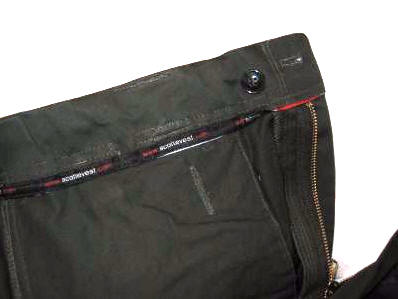 Note the interior button which helps to keep the waistband
straight – even when it is supporting the weight of many gadgets
Located on either side of each front pocket are hidden drawstrings. This is
yet another one of the features that set SeV items apart from the usual fare.
Let's say that a guy wears an in-between size, such as a 35 or 37. He could
order the next size up and simply adjust the interior drawstrings to fit, as it
is always better to wear something a little bit loose versus a little too tight.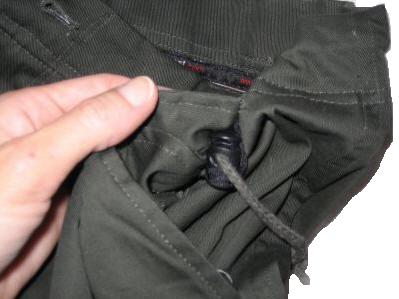 Since the shorts have a flat front instead of pleats, the drawstring solution
can also come in handy after a big meal…just loosen the plastic toggle and
voilà – extra room for that full tummy.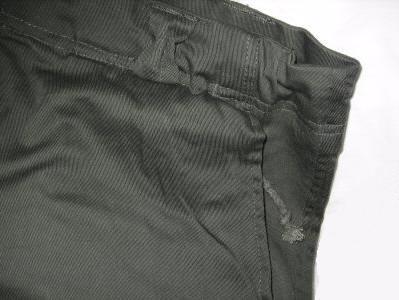 The drawstring does not normally hang out of the pocket – it
is displayed here for the readers' benefit
The front slash pockets on either side of the shorts are very similar in
appearance, but since there are differences, we'll start on the right. Just as
often happens on SeV jackets, this slash pocket is actually divided into two
sections. The main pocket is straight through, and closest to the wearer's body.
It measures approximately 10" deep x 7" wide – or wide enough for me to open my
hand in full span.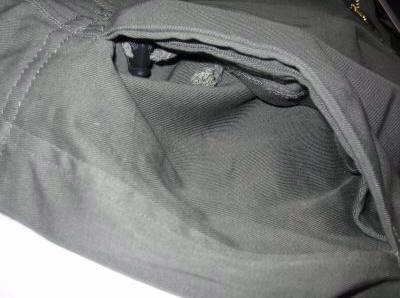 Tucked in front of the open pocket is a deep (approximately
12") two-sectioned pocket that is held securely shut with a magnet. When
the wearer's hand snakes through the magnets and down into the pocket, he'll
feel that there are what feel like two "bays" – one perfectly sized for a

Treo 650 sized cell phone and the other for a slightly larger bit of
electronics – perhaps a GPS. Because the pocket hangs so deeply, against the
thinner part of a man's lower thigh, the contents of the pocket will not bulge.
There is also a hidden bit of suspension worked into the pockets design that
allows the heavy contents of the pocket to be supported by the waistband – and
not by the slash pocket alone. This provides a clean, tailored look without
dragging pockets. This deep pockets is fronted with satin, which keeps it from
dragging against the front of the shorts when an object is retrieved.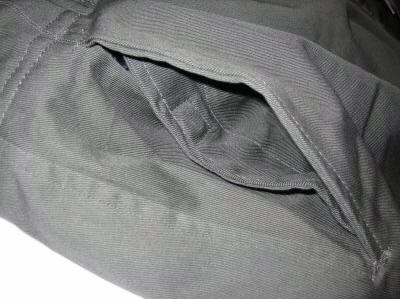 The left side slash pocket is exactly the same as the right, but with a
couple of major differences. For one, the deeper pocket actually has three
sections – one for a pen, and two that can be used for other wider items, such
as a digital music player, camera, etc. There is one last pocket on the left
side – an 8" deep x 6" (at it's widest point) hidden zippered compartment sewn
into the lining between the magnet-secured deep pocket and the front wall of the
shorts. This secure area is a good place to keep small items that the wearer
fears losing.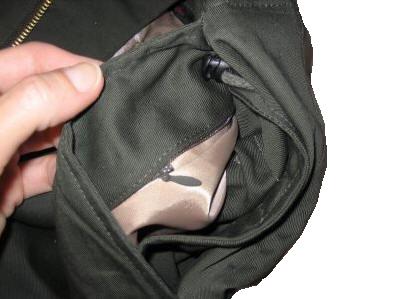 Okay, those are the shorts, and yes – I found all eleven pockets.
Now let's take a look at how the shorts actually look on Steve. He stands
6'4", but wears 33" inseam pants, so don't let his height fool you into thinking
that if the shorts look long on him, they'll be dragging the ground on a shorter
man.
In all honesty, Steve likes his shorts to be about an inch or two shorter
than these appear here, although I think they look great. According to a
slip of paper that accompanied the shorts, certain sizes (including his) were
not pre-washed at the factory; when laundered, the shorts should go to their
proper length but will not otherwise shrink. With that in mind, I washed these
in cold water before this picture was taken, but I probably should have
done them in warm.
In these pictures, he is wearing the shorts as he usually would, with a
comfortable linen shirt that doesn't tuck in. If over time the length of the
shorts really bugs him, I'll just take them down the street for alterations at
the dry cleaners – seven dollars is all they charge to hem an item.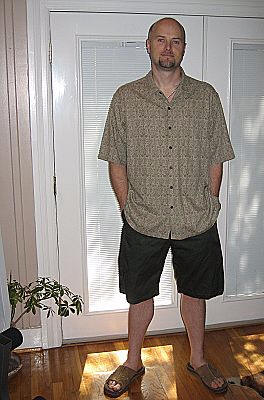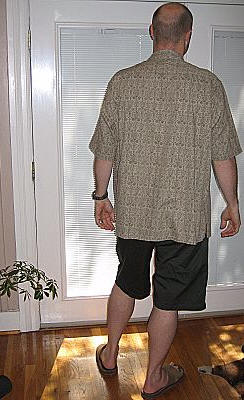 Since this is, after all, a review of the shorts, he let me get several shots
with a tucked in shirt. Looking carefully at his left leg, the outline of my
iPAQ with extended battery inside the

InnoPocket Deluxe Metal Case. His cell phone is in the right pocket and his
wallet is in the right back pocket.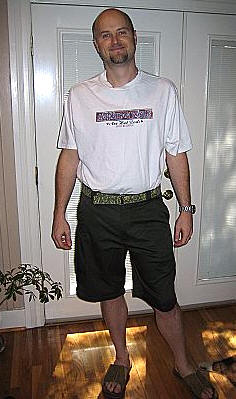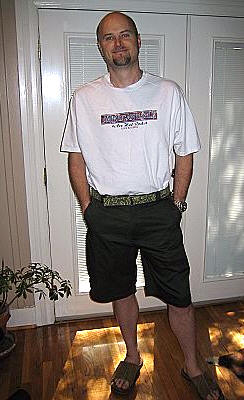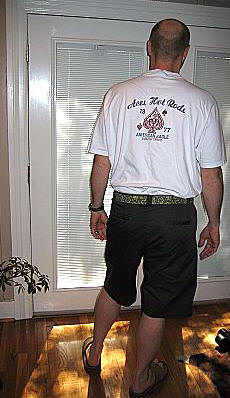 The belt loops will accept a 1.25" belt easily, and a 1.5"
belt will fit – but tightly
The short's care tag says to wash them in cold water and dry on low heat,
using a warm iron if necessary. When I washed them, I did find that the iron was
necessary for a quick touch-up if I didn't want any wrinkles.
You know, the only thing that irks me about these shorts is that there isn't
a version made for women. Lower the rise just a couple of inches, add a few
deeper darts on the rear end, keep the leg wide allllllll the way down – and
sell them as a pair of mid-calf capri pants, or make them a regular pant length
– I think women would buy them! Ah well, maybe one day…
The SCOTTeVEST Hidden Cargo Shorts are a great way for men to breeze through
these last hot days of the year. Of course, here in West Texas it is not unheard
of to wear shorts on Thanksgiving, heck, we've even done it on Christmas.
Depending on where you live, these might just become a three season wardrobe
staple.

Product Information
Price:
69.99
Manufacturer:
SCOTTeVEST
Pros:

Fit was true and comfortable
Multiple pockets allow for undetected gadget storage
Adjustable to fit men that have in-between sizes, or that like a looser pair of pants
May be worn for three seasons, depending on wearer's climate

Cons:

May seem too long for some, depending on leg length and preference