We use affiliate links. If you buy something through the links on this page, we may earn a commission at no cost to you. Learn more.
What was the first television show to pique your interest in Gadgets? For me,
it would have to have been Get Smart,
and of course my favorite character was Agent 86 – Maxwell Smart, played by
Don Adams. I just got an MSNBC
alert that he has died at age 82, and that notice has really opened up a can of
nostalgia.
Even though the show was in reruns by the time I was old enough to watch, Get
Smart was always relevant to me – and funny! The opening scenes where Max walks
through all the crazy doors to get into CONTROL's headquarters, while the "Doot
de Dooo" music played…I remember watching in fascination – knowing that
something incredible was going to happen – and I wasn't disappointed! The capers
that Max, Agent 99 and the others would get into as they battled KAOS, and Max's
classic phrases such
as "Would you believe…?", "Sorry about that Chief!", "I asked you not to tell
me that!", and others found themselves into my daily conversation. The
crazy gadgets featured
on the show, most memorable for me being Max's shoe-phone, really piqued my
interest in items that looked like they would serve one particular purpose, yet
could do so much more.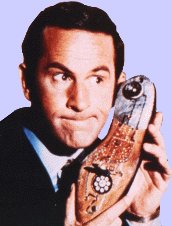 Children, including my daughter Sarah, watching TV in more recent years will
most likely always remember Don Adams as the voice of
Inspector Gadget.
I feel like a personal icon has passed, and I am sure that I am only one of many
gadget lovers that feels this way.