We use affiliate links. If you buy something through the links on this page, we may earn a commission at no cost to you. Learn more.
Of the three updated iPods that Apple recently announced, I would have to say that the updates to the nano have caused me more excitement than the 160GB classic and the touch screen enabled iPod touch. To date, the nano has been Apple's smallest audio player with a color display. But now it's evolved into a video player as well. Dubbed the 'fatty', the new nano is anything but pudgy. It's as thin as ever, but now has a wide display capable of showing your favorite videos and movies.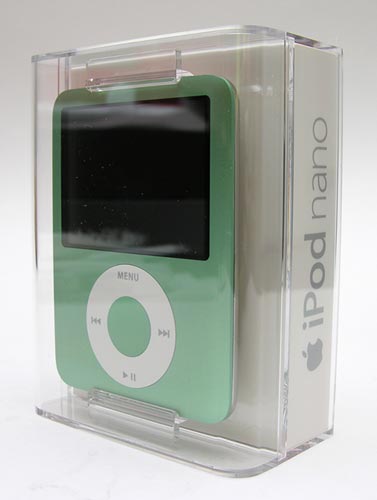 Hardware Specs
Storage: Available in 4GB and 8GB Flash drive capacities
Display: 2.0-inch (diagonal), 320 x 240 pixels 204 DPI
Frequency response: 20Hz to 20,000Hz
Audio formats: MP3 (16 to 320 Kbps), MP3 VBR, AAC (16 to 320 Kbps), Protected AAC (from iTunes Store), Audible (formats 2, 3 and 4), WAV, and AIFF
Video formats: H.264 video up to 1.5 Mbps, 640 x 480 pixels
Audio: 3.5mm stereo headphone minijack
Power: Rechargeable lithium polymer battery (up to 24hrs of audio playback time and 5hrs of video playback time)
Size: 2.75 x 2.06 x 0.26in (69.8 x 52.3 x 6.5mm)
Weight: 1.74oz (49.2g)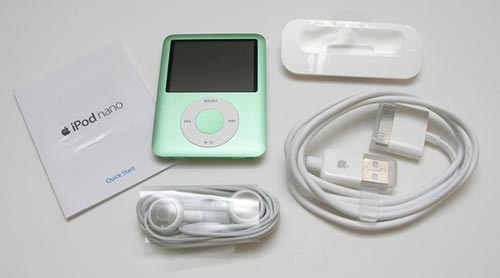 Package Contents
iPod nano
Earphones
USB 2.0 cable
Dock adapter
Quick start guide
Apple stickers
Before we dig into the review of this new nano, I just wanted to take a short walk with you down memory lane…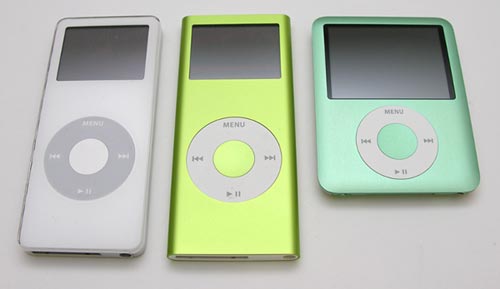 Left to Right: 1G nano, 2G nano, 3G nano
The original iPod nano was first introduced 2 years ago this month. One year later, the second generation nano was announced and right on schedule this latest version was announced a couple of weeks ago. Until this latest version, changes to the nano's design have been minimal.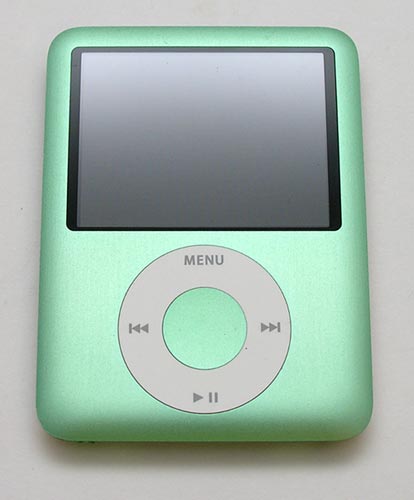 This new nano looks like a cross between the previous version and the full sized iPod classic. It's now wider, yet shorter, while remaining just as thin as ever.
Available in five colors: Silver, Blue, Green, Black and Red, I decided to go with my favorite color: Green. The face of the nano is a finely brushed Aluminum. As you can see from the image above, most of the front is taken up by the color display. With the same resolution (320 x 240) as the full-sized classic, the nano's display is half an inch smaller in diameter. At two inches, that might sound microscopic for a video screen, but I was very surprised at how comfortable it is to watch. Sure, it's no where near as nice as watching a movie on my iPhone, but hey, it's really not that bad at all.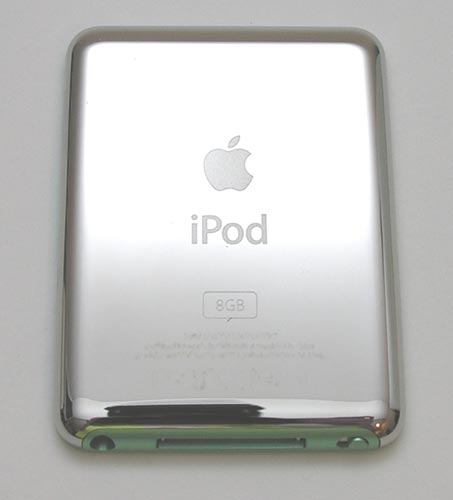 For some reason, Apple decided to return to using chrome for the back half of the nano's shell. This fact didn't make me very happy when I first saw it, as my experience tells me that I need only look cross-eyed at it in order for scratches to magically appear. On the bright side, you can have it engraved if you like.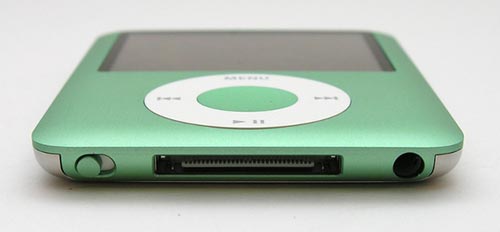 The universal dock connector, stereo earphone jack and hold switch are all located on the bottom edge of the player. The docking connector hasn't changed, so most accessories that employe it should also work with the nano. That is everything except video-out accessories. Getting video out of your nano and on to your TV is another matter. I'll explain more a bit later.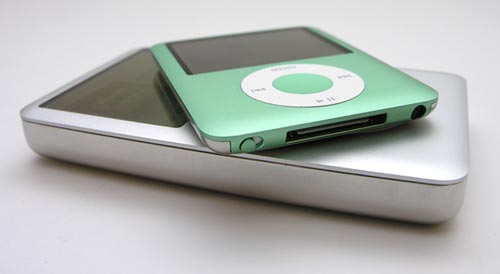 The size of the nano fatty is almost shocking when you first see it. You can't help but love this little thing.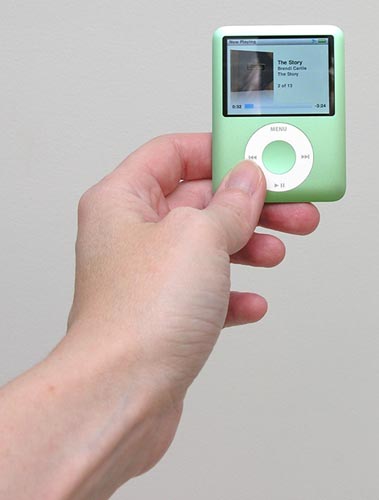 In hand it's small, but very sturdy. No creaking, cracking or flexing was discovered when I put it through my good old gadgeteer squeeze test. I only have one issue with the small size. It's that the touch wheel has been narrowed, which does make it ever so slightly harder to use. Yes, I'm being extremely picky here…
The user interface has had a major facelift with this new nano. I went into a lot of detail about the changes in my iPod classic review, so go take a look at it if you want all the nitty gritty details. I'll just add a few screen shots here for those of you that don't want to go read another review ;o)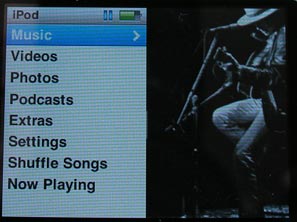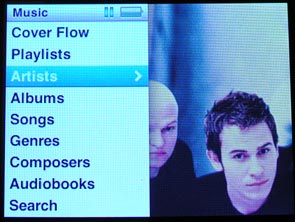 The new interface is more graphical, with album cover slide shows displaying next to menu items.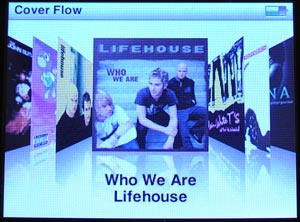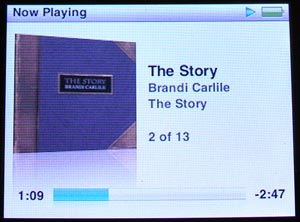 A new feature called Cover Flow is included on the nano, which allows you to scroll through your music collection by album cover art. In my opinion this feature is one that you show off to your non-iPod carrying friends, but rarely use yourself. At least I never use it…
The nano also comes with 3 games and various updated extras (stop watch, alarms, calendar, contacts, etc.).
Audio quality remains unchanged as far as I can tell between the second generation nano and the new fatty. Of course it all depends on the bit rate with which you have ripped your music collection. Personally, I rip all my songs at 192 kbps variable bit rate and they sound great to me.

If you are curious as to how the nano's 2 inch diagonal display compares to the full-sized iPod's 2.5 inch display, I've included a side by side image of my classic and the fatty. Even though it is noticeably smaller, all the details, color, etc are still easily seen.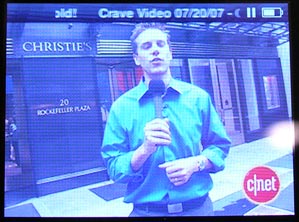 Here's a screenshot of paused video. Even paused, the picture is very crisp. I love it!
If you want to output your nano's video to a larger screen, like your TV, you're going to face some issues… At the moment, only the old universal dock (with s-video) will allow you to connect your iPod classic to your TV to view video. Third party stuff doesn't work. The old video cable (the one with a headphone connector and video plugs) available from Apple does not work by itself on the new iPods, because the new iPods don't have the video output in their headphone jacks any more.
Apparently, there are now two models of the universal dock. One of them has supposedly been discontinued… The previous version is the one called "iPod Universal Dock" has a S-video jack on the back. The new version is called "Apple Universal Dock" and does not have an S-video jack. If you have a "iPod Universal Dock" you can get video out to your TV from the S-video jack or from the old video cable using the iPod Universal dock's headphone jack. If you have the "Apple Universal Dock" you can get video out using the new $49 cables that Apple will be selling soon (they are not available yet). The new video cables work either with the "Apple Universal Dock" or directly on the classic/new nano through the dock connector. The new video cables come in Composite and Component. S-video is no longer available from the new hardware, so you either have to use crummy old composite, or jump up to component 480p. Confusing huh?
Bottom Line
The Apple iPod nano is a wonderful little digital media player. It looks cute, fits in almost any pocket that you have, has great sound quality and excellent video quality for such a small device. The updates to the physical design and user interface have made this device one that will surely be coveted for at least till the next product refresh.
Questions for all of you
Do you think that the nano fatty is too small for watching video content?
Product Information
Price:
199.0
Manufacturer:
Apple
Pros:

Now shows video
Great display
Updated user interface

Cons:

Older video-out accessories not compatible