We use affiliate links. If you buy something through the links on this page, we may earn a commission at no cost to you. Learn more.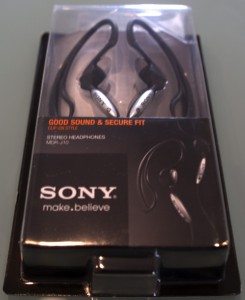 I decided I need to get in shape. What does a Gadgeteer do when he wants to get into shape? He (or at least me) looks for a technological solution. Since I already own a 3rd generation Nano, I decided to give the Nike + iPod kit a spin.
This left me with four needs. First I needed the kit. Next I needed a way to retrofit my non-Nike shoes for the sensor. Luckily the Marware Sportsuit Sensor + was reviewed here 3 1/2 years ago. Next I would need an armband (which I will review later, and finally I needed headphones.
I have a LOT of headphones. Seems any device that can play audio comes with a set of headphones. Not particularly good headphones, but headphones nonetheless. But if you are going to run, you have needs. If you are me, and are going to run, perspiration is an issue. So I was looking for:
No sweat-soaking foam
No slip-prone ear buds
Comfort
Inexpensive
Sound quality
So my rather large collection of ear buds were out. Looking online I quickly decided on over-the-ear clip-ons. When I found these available, I'll be honest, $9.99 was the most compelling specification. For those with more discerning tastes I will add:
Driver Unit : 13.5mm
Frequency Response : 20Hz – 20,000Hz
Impedance : 16 ohms
Sensitivity (db) : 104dB/mW
What you get is pretty basic, these are just headphones: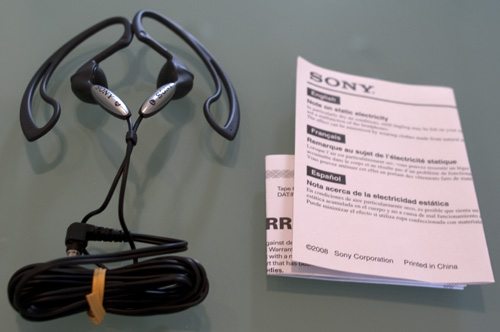 The cord is 4 feet long. Actually a bit long for my tastes, since I planned on using an armband, but easy to tuck some of the cord in the armband.
Performance
The key performance factor for me was that they needed to stay secure, and feel comfortable. These headphones succeed on both accounts. Here is a shot of them in my ear: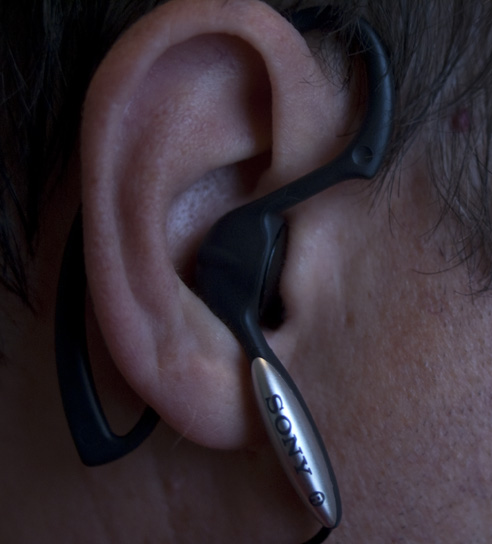 Never miss one of our posts again. Sent MON, WED, and FRI with the latest gadget reviews and news!
The only complaint I have on fit is that it would be nice to be able to rotate the speakers to direct the sound into the ear better. They tend to point slightly out so you lose some volume. On the other hand, it does make the ambient noise easier to hear, and running along the street, this can't be a bad thing.
As far as sound quality, I think it is fine for the application. I looked at far more expensive options, but these are for running, on the street, not for audiophile listening.
These were a great purchase, and I would highly recommend them to anyone looking for good, solid headphones for their workout.
Product Information
Price:
$9.99
Manufacturer:
Sony
Pros:

Secure Fit
Comfortable
Cheap

Cons: