We use affiliate links. If you buy something through the links on this page, we may earn a commission at no cost to you. Learn more.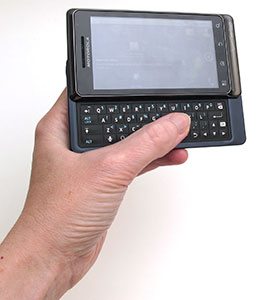 I've recently been assimilated into the cult of Android. So much so that I'm ditching my iPhone 4 and AT&T in favor of the Droid X, which I have on order from Verizon and due to arrive soon. I chose the Droid X after using it for 2 weeks and then comparing it to the HTC Incredible. I made my choice before I had any real one on one time with the Motorola Droid 2 though because the large Droid X screen won me over. Today a Droid 2 loaner device showed up on my doorstep, so I'm anxious to find out if I'll end up regretting my quick decision to go with the DX. I've only had this phone out of the box for about an hour, so this is just going to be a quick first impressions post. I plan to do an actual review in a few days and we'll hear Bryan's thoughts on this device as well.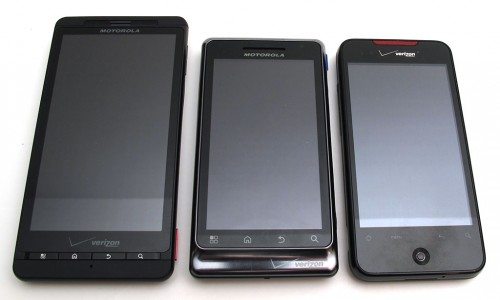 I currently have a herd of Android phones from Verizon at my house. There's the Droid X (Left), Droid 2 (Center) and the HTC Incredible (Right). I also have the LG Ally, but it's not pictured here as it's not really in the same league as these higher end smartphones.
As you'll notice, the Droid 2 has about the same footprint and 3.7 inch screen size as the HTC Incredible.

It's quite a bit chunkier than the DX and Incredible though. Of course, it's no wonder due to its built in sliding keyboard.
Even though the Droid 2 is thicker than the others, its size still hits a sweet spot in my opinion because it's not too large and not too small. Like the Incredible, it fits comfortably in your hand and doesn't look awkward when used as a phone like some people might say of the Droid X. The fact that it also includes a keyboard is a big bonus for some people.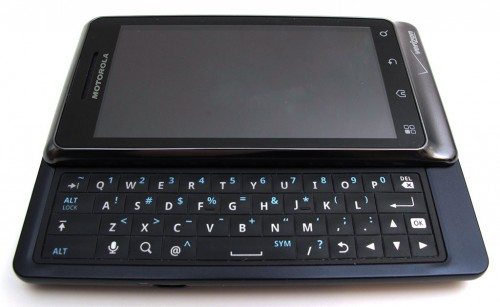 I never had the opportunity to review the original Motorola Droid, but I have seen them and played briefly with one. I can say that the new Droid 2 appears to share the same overall size as the original, but has been spiffied up a bit. It has rounded edges now and a sleek gun metal grey top cover, with a deep Blue soft touch back case.
This is the first Android device that I've used with a physical keyboard since the original G1. It's nicer than the original Droid keyboard because the keys have a slight dome to them and decent tactile feedback. The keyboard on the Droid 2 also feels roomier because it has separate arrow keys instead of the 5-way nav-pad from the original version, which used up too much space.
So far the Droid 2 hasn't made me feel that I made the wrong decision in picking the Droid X, but it's still way too early to tell. Speed wise, it feels snappy ,but maybe a touch less than the DX. The Droid X, HTC Incredible and Droid 2 all have a 1Ghz processor, but the Droid 2 has the latest and greatest version of the Android OS (2.2). The other 2 are sporting 2.1. Since I'm relatively new to the OS, I'm not yet noticing a huge difference in between the two versions.
I have a lot of testing to do, so off I go. I'll have a 'real' review in a few days. If you have specific questions about this phone, leave them in the comments and I'll try to cover them in the review.