We use affiliate links. If you buy something through the links on this page, we may earn a commission at no cost to you. Learn more.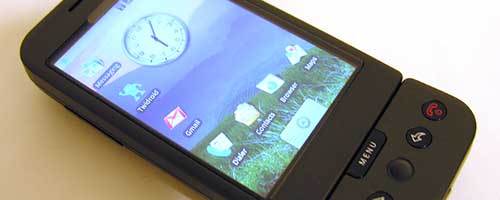 Once I had completed my week with the Blackberry Storm, I asked everyone for some advice on which phone they thought I should choose for my next review. After a few days, the overwhelming choice was the Android G1 Smartphone otherwise known as the Google phone. I'm going to try it out for the next 7 days and let you know my experiences.
The G1 was originally released by T-mobile and locked to their network. Since I'm an AT&T customer and we don't even have T-mobile coverage in my area, I figured I'd have to wait until unlocked versions of this phone showed up on eBay before I'd be able to get my hands on one.
But now it's even easier to get an unlocked G1… You just sign up as a developer at the Android Market. Don't worry, you don't have to prove that you can write a Hello World program in C++ or anything like that. You just login, sign-up, pay the $25 registration fee and presto, you're a bona fide G1 developer.  Then you can immediately buy a totally unlocked G1 for $399, which is just what I did.
Day Zero – Hardware Tour
I haven't included a picture of the box because it's a totally unbranded, White box. Not exactly exciting…
Specifications
Processor: Qualcomm MSM7201A, 528 MHz
Operating System: Android
Memory: ROM: 256 MB, RAM: 92 MB
Dimensions: (LxWxT) 117.7 mm x 55.7 mm x 17.1 mm (4.60 in x 2.16 in x 0.62 in)
Weight: 158 grams (5.60 ounces) with battery
Display: 3.2-inch TFT-LCD flat touch-sensitive screen with 320 x 480 (HVGA) resolution
Network:
HSPA/WCDMA: Europe: 2100 MHz, US:1700/2100 MHz
Up to 7.2 Mbps down-link (HSDPA) and 2 Mbps up-link (HSUPA) speeds
Quad-band GSM/GPRS/EDGE: 850/900/1800/1900 MHz
Connectivity: Bluetooth 2.0 with Enhanced Data Rate
Wi-Fi: 802.11b/g
Camera: 3.2 megapixel color camera with auto focus
Audio: Built-in microphone and speaker
Ring tone formats: AAC, AAC+, AMR-NB, MIDI, MP3, WMA, WMV
40 polyphonic and standard MIDI format 0 and 1 (SMF)/SP MIDI
Battery: Rechargeable Lithium-ion battery 1150 mAh
Talk time: Up to 350 minutes for WCDMA, Up to 406 minutes for GSM
Standby time: Up to 402 hours for WCDMA, Up to 319 hours for GSM
Expansion Slot: microSD memory card (SD 2.0 compatible)
AC Adapter Voltage range/frequency: 100 ~ 240V AC, 50/60 Hz
DC output: 5V and 1A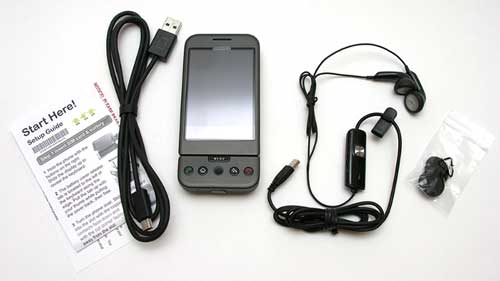 Package Contents
G1 Phone
Battery
USB Cable
AC Adapter (not shown)
Earbuds / microphone with earbud covers
Setup Guide
You might be wondering how the developer's version of the G1 differs from the T-mobile consumer version. For one thing, it has a special bootloader that developers will appreciate. Me, I'm not a developer, so I care not. The obvious difference is the color. The dev phone is dark gray, while the T-mobile G1 is available in Black, White and Bronze. There are some software differences that I'll get to later on in this series.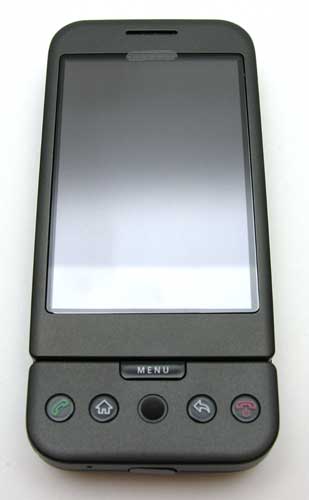 When you look at the G1, the words sexy, flashy, chic and cool probably do not pop in your head. This phone is about as far from sexy as a phone can be. It looks like it would be right at home in a soldier's hand given the military-esqe design it seems to ooze.
The case is plastic, with a matte finish. The front has the 3.2 inch touchscreen display, with a panel of buttons below it.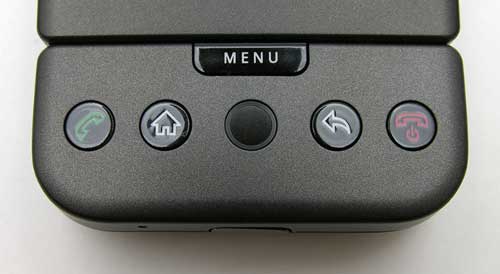 There is a Menu button at the top, a roller ball in the center and two buttons on either side. The menu button will bring up a menu for whatever application / screen that you happen to be on. The roller ball is a slightly springy hard trackball like cursor mechanism. You can roll it continuously and also press it as a select. The buttons on either side of the roller ball are hard flat back lit buttons. Pressing all the buttons except the roller ball will wake up the phone when it is in standby.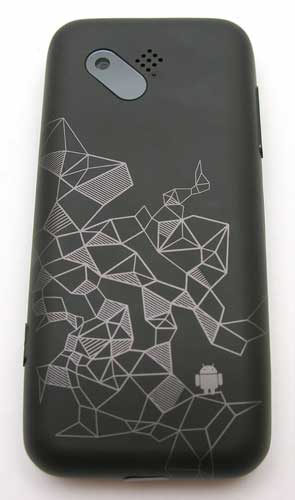 The back of the dev phone has a wild design printed on it along with the little Android mascot. This back cover can be removed (takes some practice) to get to the battery and SIM slot. The cover is made of flexible plastic and feels like it has a very thin layer of grippy rubber on it.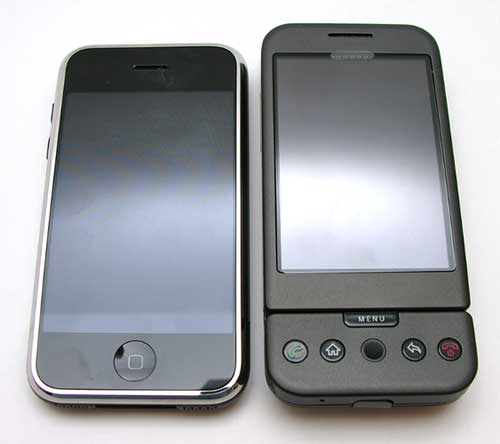 Just to give you a idea of the size of the G1, here we have it next to the original iPhone. The G1 is a bit narrower…

But definitely thicker.

The G1 has an interesting shape. It has a 'chin' at the bottom edge. On the Left side there is a slightly raised one piece volume control button.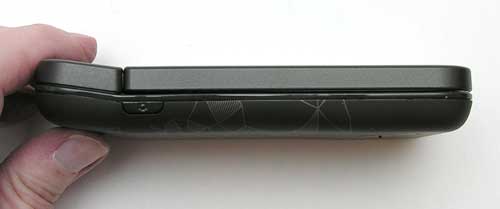 On the opposite side towards the 'chin' is a small camera launch / shutter button. This button is a little awkward to press and doesn't have very good tactile feedback.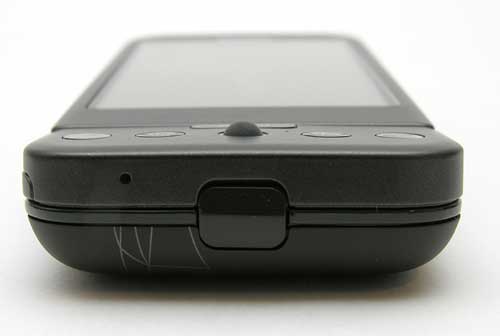 If you take a look at the bottom edge of the G1, you'll see the microphone and the mini USB connector cover.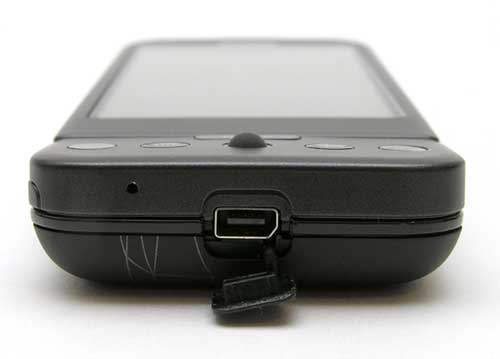 The cover is tethered to the phone by a short length of plastic. One annoying thing that I need to mention is that the G1 does not have an earphone jack. The included earphones / mic use the USB connector. Bleh! I hate it when devices don't have standard ports.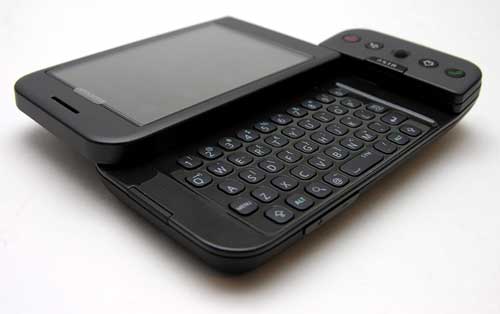 The G1's screen slides sideways to reveal a backlit QWERTY keyboard.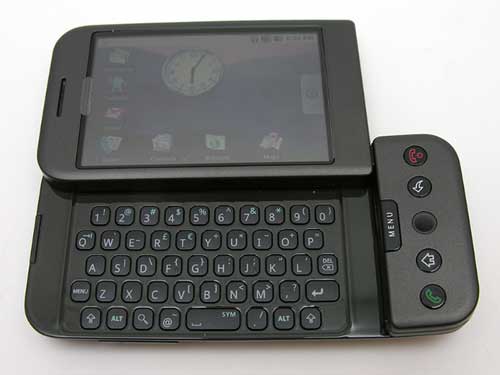 The sliding mechanism feels pretty robust. It slides open and closed with a strong click.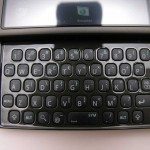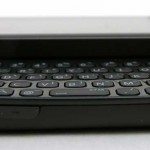 Click thumbnails to see full size images
The keys are hard plastic and have a matte finish that makes it easy to see the silkscreened letters in almost any light. Even though the keys are small and very flat, I haven't had any problems typing as they have good tactile feedback.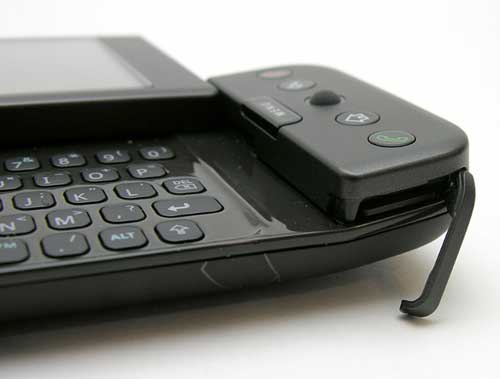 The microSD slot is hidden in the bottom right corner of the 'chin'. You have to slide the keyboard open in order to open the slot. Included with the phone is a 1GB card.
In hand, the Android G1 feels solid (like a tank). It doesn't rattle when you shake it and passes the gadgeteer squeeze test if you don't count the slight sliding of the screen. Holding the phone to make calls feels pretty comfortable.
You can slide the screen sideways to access the keyboard with one hand. But to type and access the other buttons with the keyboard exposed is pretty difficult. The G1 isn't a good one-handed phone in that respect. In my opinion, some of the best one handed phones are the Palm Treos and the Centro.  I guess that's why I continue to go back to them.
That's it for the hardware tour. I'll be back with my Day 1 and 2 impressions, which will include:
Moving my calendar and contact info from my Mac to the fluffy Google cloud
First impressions of the user interface
Using the keyboard