The Gadgeteer is supported by readers like you! If you buy something through links on our site, we may earn an affiliate commission. Thank you! Learn more.
Fans of Palm smartphones and PDAs continue to wait as days, weeks, months and years drift by without a major update to their favorite mobile operating system. It's not far from the truth when I say that the Palm operating system hasn't changed all THAT much since it's introduction back in the late 1990's. It still has the same look and feel, which is both comforting and let's face it, kinda boring. While the OS side of Palm remains the same, they have offered hardware updates on a semi-regular basis. The latest one in the stores is the Palm Centro. This is a CDMA EvDO smartphone running on the Sprint network. How does Palm's most affordable (when purchased with a 2yr contract) smartphone stack up? Let's find out…
Hardware Specs
Operating System: Palm OS 5.4.9 (Garnet)
Processor: Intel XScale 312 MHz processor
Memory: 64MB non-volatile flash memory available for user storage
Display: 320 x 320 pixel 2.2in TFT touchscreen with support for over 65,000 colors
Wireless: CDMA2000 EvDO with fallback to 1XRTT and IS95, Bluetooth 1.2, Infrared (IR)
Digital Camera: 1.3 megapixel 2x digital zoom, Video capture with 352 x 288 pixel resolution
Expansion Slot: microSD (up to 4gb)
Battery: Rechargeable 1150mAh lithium-ion, Talk time: up to 3.5 hours, Standby time: up to 300 hours
Size: 4.22 x 2.11 x 0.73 in
Weight: 4.2 ounces
Package Contents
Palm Centro smartphone
Rechargeable battery
AC power charger
USB sync cable
Software installation CD
User documentation
Hardware Design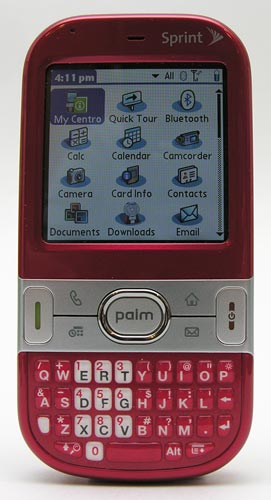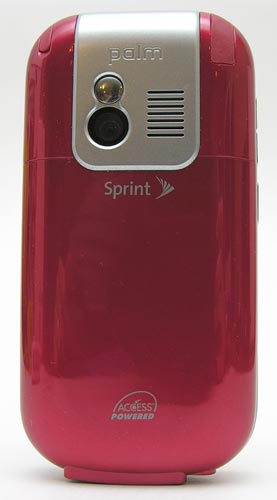 Front
Available in Onyx (Black) and Ruby (Red), I was sent the Ruby Centro to review. The Onyx version is available now and the Ruby model will be available in November. Unlike the Treo 680, the casing on the Centro is slick plastic. The kind of plastic that easily attracts smudges and fingerprints. You don't notice this on the face of the Centro, but it is visible on the back.
Compared to Treos, the Centro is smaller in all dimensions. This is a good thing as it is much more pocket friendly. The smaller display is still comfortable to view though. It's crisp, bright and has vivid colors. I had no issues even reading ebooks on this device.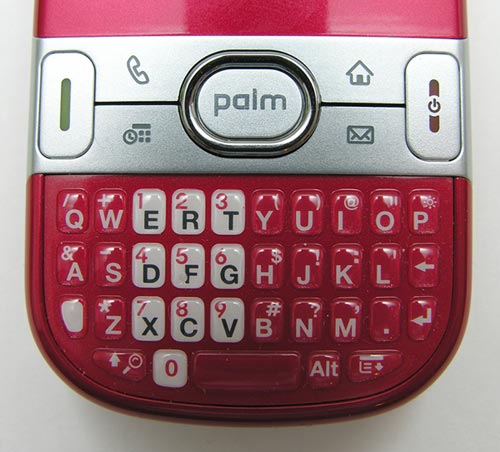 For people familiar with the Treo line of smartphones, they will recognize the small thumbboard keyboard. It is significantly smaller than the Treo's keyboard, but is still very usable. The semi-soft plastic keys are backlit, which is great for low light. The spacing of the keys is tight, but I found my normal practice of using my thumbnails to work equally well on the Centro. No complaints at all as far as the keyboard is concerned.
Above the keyboard is a grouping of main navigation keys that include four app launcher buttons, a 4-way directional button, the power/end button and the talk button. All of the buttons have adequate tactile feedback and are backlit.
Back
If you flip the Centro over, you'll see the camera lens, built-in self portrait mirror, speaker grill and stylus silo. The Centro's camera is on par with other Palm smartphone cameras. That means it's pretty mediocre. That said, it works fine for quick snaps when you don't have access to your 'real' camera.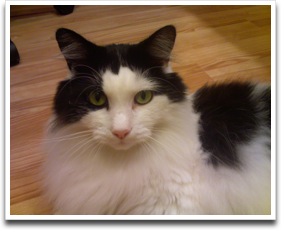 Click thumbnail to see full size image
The built-in speaker on this phone is loud! Quite a bit louder than my Treo 680. If you want to use this phone as an alarm clock, I don't think you'd ever be able to sleep through an alarm. The Centro also includes a ring tones and alarm sounds that my Treo 680 does not have.
Left Side

On the Left side of the phone you will find the up / down volume adjustment buttons and a user assignable button below it. I wish the volume buttons protruded a bit farther from the side of the phone. As is, it's a bit difficult to feel them when you need to make an adjustment.
Right Side

On the opposite side, you'll find the infrared port, lanyard attachment point and the microSD card slot. The card slot isn't immediately noticeable. It's directly to the Left of the IR port. You can't access the slot without removing the battery cover on the back of the Centro though.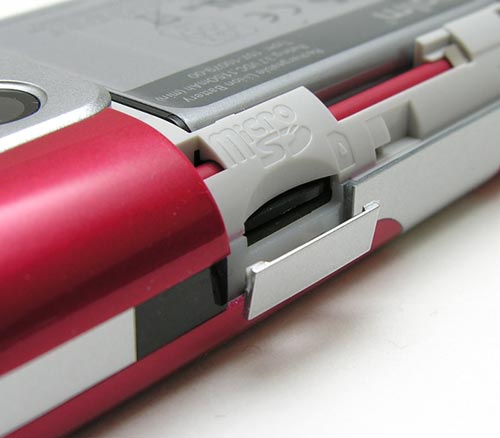 Once the cover is removed, the door over the card slot can be opened and you'll have access to the card. Not overly convenient, but I suppose that microSD cards are easily lost, so it's best not to be fiddling with them often anyway ;o)
Top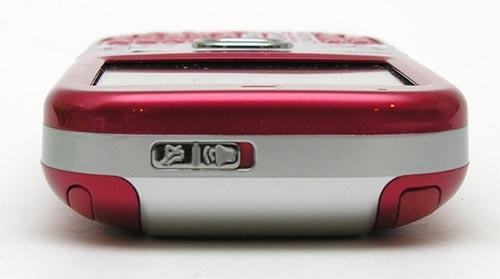 On the top of the Centro, you'll notice the always handy mute toggle switch. When activated, the phone will vibrate for calls. Very useful during meetings and other places where you don't want to disturb others.
Bottom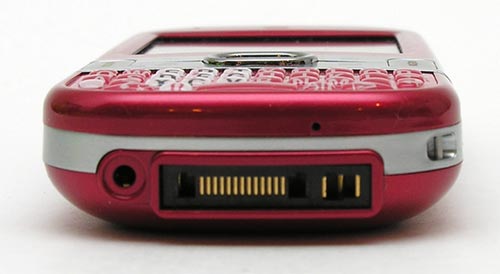 The universal charging / sync connector is located on the bottom of the phone. This connector remains unchanged from previous Palm devices and is compatible with existing cables.
Next to the universal connector is a 2.5mm headset jack. Too bad Palm didn't include any earbuds with the Centro… As is, you'll need an adapter if you want to use a regular 3.5mm set of earbuds with this phone.
I remember when I originally saw images of the Centro, that I was not impressed with the design. It appeared very toy-like / cheap. After having actually held and used this phone, I now don't feel that way at all. Now, I would probably not opt for the Ruby version of the Centro, but I do like the overall design and size of this phone.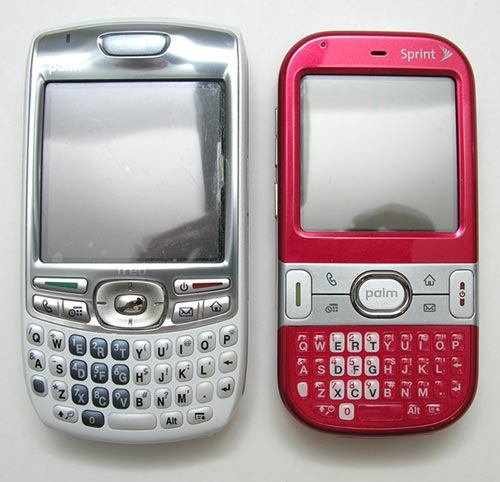 Treo 680 and Palm Centro
It feels great in my hand and fits more easily in my back pocket when I'm walking around. As far as being cheap, the Centro does not feel that way in hand. It's solid and does not creak or flex when subjected to my tried and tested Gadgeteer squeeze test.
Software
Installed in ROM
Documents to Go v10 – Read, edit and create MS Word, PowerPoint, Excel and text files
Sprint TV – Video
On-Demand – Web portal
Google Maps
Palm's Pics & Video
PocketTunes
IM – Chat client for AIM, Yahoo and Windows Live Messenger
Palm Blazer v4.5.8 web browser
VersaMail v4.01 – Email client
Sudoku – Number game
pTunes v4.0.4 – Pocket Tunes audio player
Phone – dialer application
Voice Memos
World clock
Calculator
Camera
Camcorder
Calendar
Contacts
Memos
Messaging – Threaded SMS client
Tasks
There's really not a lot new here that wasn't in the Palm Treo 755p that I reviewed a few months ago.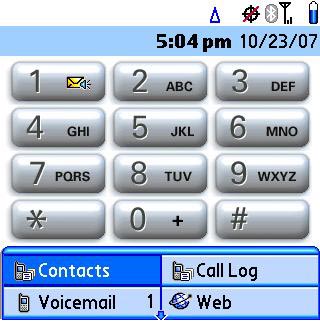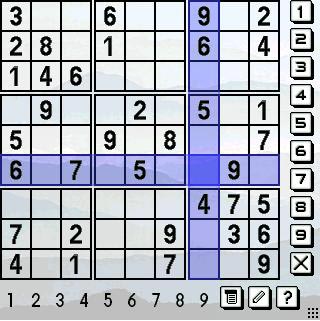 Just like the 755p, the Centro still has the old style phone dialer application. This doesn't bother me as I am not a big fan of the tabbed application included with the Treo 680.
There is a new game though… Sudoku. Fans of this game can rejoice… others (like me) just say whoopdeedoo. ;o)
This is the point in the review where I'm trying to think of what more I can say about this product. The thing is that there is no innovation in the Centro. The software is the same as it's been for a long while now. Really, the main features of this phone are a smaller form factor than previous Palm phones, and the excellent price. You can pick up a Centro from Sprint for $99 if you opt for a 2yr contract. That's crazy cheap for a great little phone like this one. If you compare the specs of the $199 Palm Treo 755p to the Centro, you'll find that it has the same processor, same screen resolution and same camera resolution. The 755p does have more memory though. It has 128MB (60MB persistent user storage).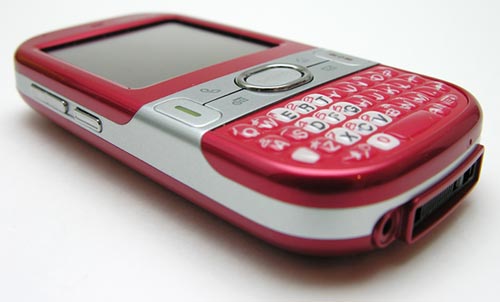 If the Centro was available in a GSM version, I'd gladly trade my 680 for it. I like the size a lot and find it to be just as snappy as the 680 and equal in all other aspects of operation. The Centro is basically the same phone as the 680, only for Sprint. If you're a fan of Palm OS devices and a Sprint customer looking to purchase your first smartphone, I think the Palm Centro is a great buy.
Price with 2yr contract is $99. Without contract the price is $399.00
Support The Gadgeteer
:
The Gadgeteer is supported by readers like you! If you buy something through the links on our site, we may earn a small affiliate commission. Thank you! Learn more.